Korean beef bulgogi doesn't have to be hard. Make a simple sauce. Slice some beef against the grain. Stir fry briefly. Add the sauce and finish cooking. Eat. Just as easy as that. Sometimes easy is just delicious.
If you've never heard of beef bulgogi it's time to learn. This is one of Korea's national dishes. It's been around for a couple thousand years. It means "fire beef".
Beef bulgogi can be grilled or stir fried
Traditionally it's grilled. That's probably best but it's tricky. Stir-frying is getting pretty big these days – probably because it's way easier.
But you can grill it. Just be ready to move fast. The beef is sliced thin. Think about using one of those grilling pans with the holes in so you don't need to individually flip bits of beef. That's enough to drive anyone crazy.
If you want to serve it old school – in a lettuce wrap – you should think about making ssamjang. That will mean a trip to an Asian market. Takes a few ingredients you won't get at a grocery store.
You can get gochujang and doenjang at any Asian grocer
Gochujang is a fermented soy red pepper paste. It's spicy but not crazy hot. Doenjang is that same fermented soy bean paste without the red pepper.
Confused? It's like any new cuisine. You will figure it out. I promise. If you are getting into Korean cooking you need the ingredients anyway.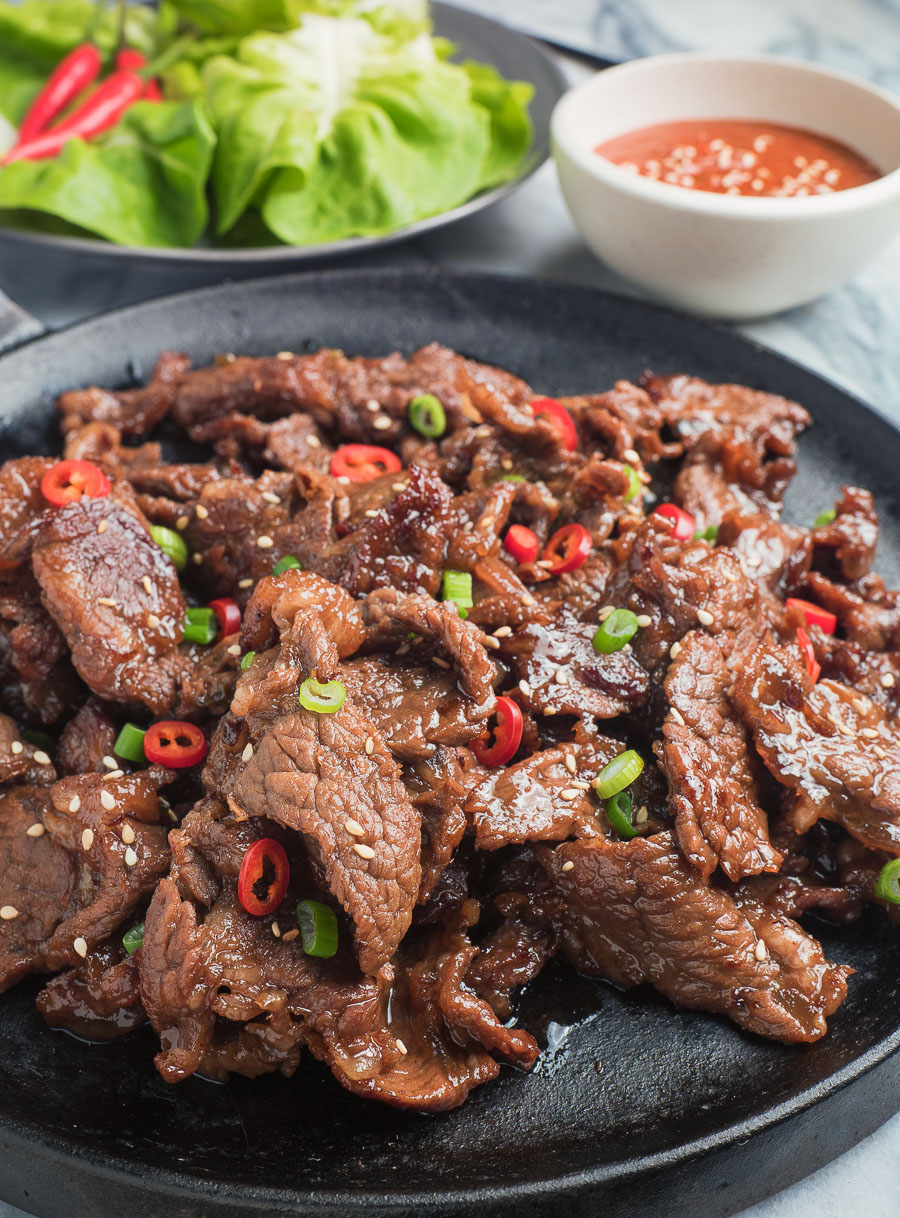 Bulgogi makes the perfect Korean lettuce wrap
Bit of rice. Bit of beef bulgogi. Drizzle of ssamjang. Maybe some sliced radish. All wrapped up in a piece of lettuce.
The original lettuce wrap. Maybe the first wrap of any kind. Maybe not. I'm not making claims here…
You can serve it on rice. That's bibimbap. Mound it on some baguette and drizzle it with some gochu mayo. That's just crazy goodness for your mouth.
Any way you serve it, beef bulgogi is famous for a reason. It's just tasty, tasty stuff. Stir fry turned up to 11. And it's easy. Did I mention that?
easy korean beef bulgogi with ssamjang dipping sauce
Easy Korean beef bulgogi with ssamjang dipping sauce is a fun meal that isn't as hard as you think it might be.
Ingredients
Easy Korean beef bulgogi
1

lb

top sirloin or striploin

thinly sliced against the grain

1/2

cup

bulgogi sauce

- see note

3

tbsp

vegetable oil

divided

lettuce, rice, green onion, sesame seeds, red chili and/or sliced radish

to serve
Korean ssamjang sauce
3

tbsp

doenjang

- korean fermented soybean paste

1 1/2

tbsp

gochujang

- korean spice paste

1 1/2

tsp

sesame oil

2

tsp

mirin

1

green onion

finely minced

- green part only

1

clove

garlic

- crushed (about 1/2 tsp total)

1-2

tbsp

apple juice or water

to thin to desired consistency
Instructions
Make the ssamjang
Combine all the ingredients except the apple juice or water. Stir to combine thoroughly.

Use the apple juice or water to thin to the desired consistency. You want it pretty thick but you also want to be able to spread it out a bit in your wrap. Like hoisin sauce if you are familiar with that.
Make the beef bulgogi
Beef, sliced against the grain, is fundamental here. Buy a small roast. Chuck it in the freezer for about 20-30 minutes. That makes things easier. Use your sharpest knife. Slice against the grain. You are trying for about 1/8 of an inch thick. It's not dead easy but it's not that hard either...

Heat half the oil in a large skillet until it shimmers. Season the beef with a bit of salt. Add half the beef to the pan. Resist the urge to start stirring right away. Give it a minute to brown a bit. Give it a stir and cook about another minute. Remove from the pan and set aside. It doesn't have to be fully cooked at this point. It will cook a bit more in the sauce.

Repeat with the rest of the oil and remaining beef. If you get a bit of browning in the pan be happy. That's fond. You will scrape that goodness up when you add the bulgogi sauce. More flavour. More better!

Return the first half of the beef to the pan and the bulgogi sauce. If you are lucky enough to have some fond, scrape it up so it melts into the sauce. Cook over high heat, uncovered, until most of the liquid has evaporated. This takes about 2-3 minutes.

Serve with lettuce, ssamjang, and condiments. Place a bit of rice (or not) on a lettuce leaf. Top with a bit of beef. Add a light drizzle of ssamjang and sprinkle with whatever condiments you like. Eat with your hands. Or use it in bibimbap. Make a killer hoagie. Just have fun with it.
Notes
You can buy Korean bulgogi sauce but it's much better to make your own. See here for a recipe that you can make in 2 minutes.
This recipe makes a lot of ssamjang. You will have extra. Half the recipe if you don't want as much. Bet you want it though. Try it with eggs. Or smear it on a sandwich. Or make more bulgogi tomorrow...
Gochujang and doenjang are Korean fermented soybean pastes. Like Korean miso. Gochujang is spicy and comes in a red tub. Doenjang is not spicy and comes in a brown tub. You can buy ssamjang if you don't want to make it. It comes in the green tub. Confused? You will understand when you get to the Asian market. Just remember - red is spicy, brown is not, green is ssamjang.
Nutrition
Serving:
4
servings
|
Calories:
335
kcal
|
Carbohydrates:
19
g
|
Protein:
25
g
|
Fat:
16
g
|
Saturated Fat:
9
g
|
Cholesterol:
66
mg
|
Sodium:
711
mg
|
Potassium:
531
mg
|
Sugar:
2
g
|
Vitamin A:
40
IU
|
Vitamin C:
3.3
mg
|
Calcium:
28
mg
|
Iron:
2
mg