Restaurant style aloo keema is a delicious, Indian potato and beef or lamb curry that makes a great change to the usual suspects.
Jalfrezi is number one in the UK for a reason. Vindaloo might be the most famous. A well executed madras is a truly wonderful thing. Classics.
But sometimes you should go a different way. Mix things up. Try something new. Something fresh. I love the classics. But I need variety.
Aloo keema fits the bill nicely. Well spiced beef or lamb. Creamy potatoes. A bit of heat from the green chilies. All wrapped up in a restaurant style sauce. Just tasty stuff.
Aloo keema done restaurant style
It's basically really good samosa filling. Not exactly. But close. You could use it to make samosas. That would work. Or you could serve it up along side the usual suspects and surprise your guests. Expand their horizons.
This is Indian restaurant style cooking. It uses something called curry base to make that luscious sauce.
The one you get when you go for Indian. And can never replicate at home. Trust me and read on. This is the real deal.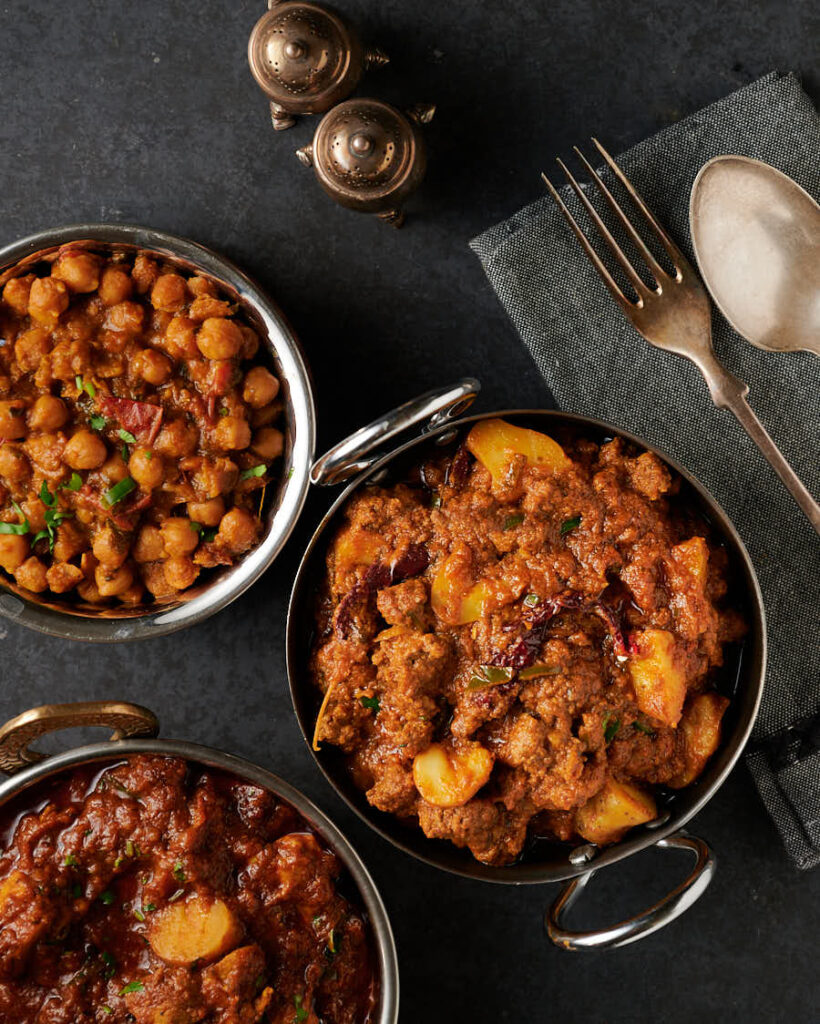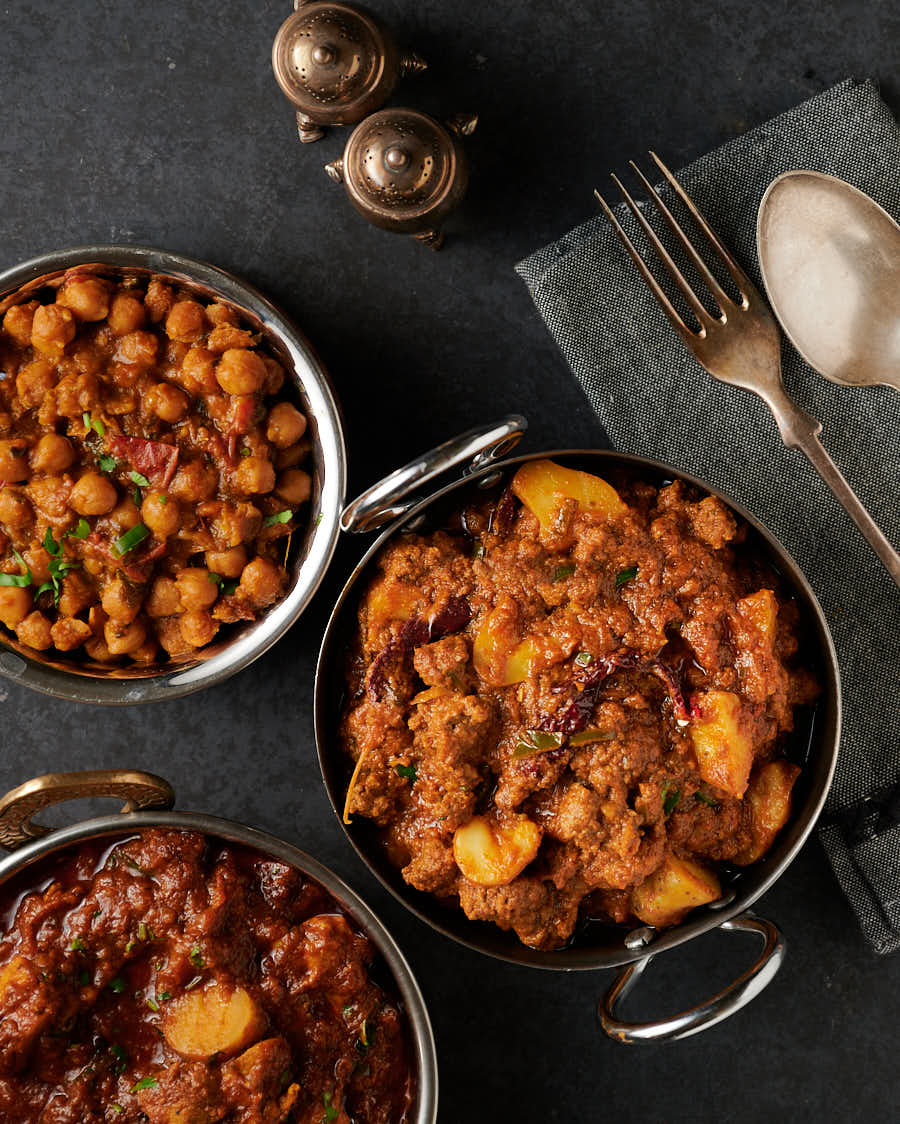 Restaurant style means do your prep up front
Restaurant style goes fast. Really fast. Like 10 minutes from start to finish. So do your prep. Please. This is critical. If you don't you're headed for a train wreck. Not good.
Make your curry base and have some heated and ready to go. Pre-cook your keema. Measure out your ingredients.
Have everything ready. And wear old clothes or put on an apron. Indian restaurant cooking is messy stuff. If it doesn't splatter you aren't doing it right. You are playing line cook here. Dress the part.
If you have not read the guide to Indian restaurant technique yet, do it now. It has pictures to help you understand the recipe.
There's also a guide to Indian ingredients in that post. And a master technique video complete with commentary. Worth a quick visit if this is new to you.
Once you're ready to go, the whole thing comes together in 10 minutes.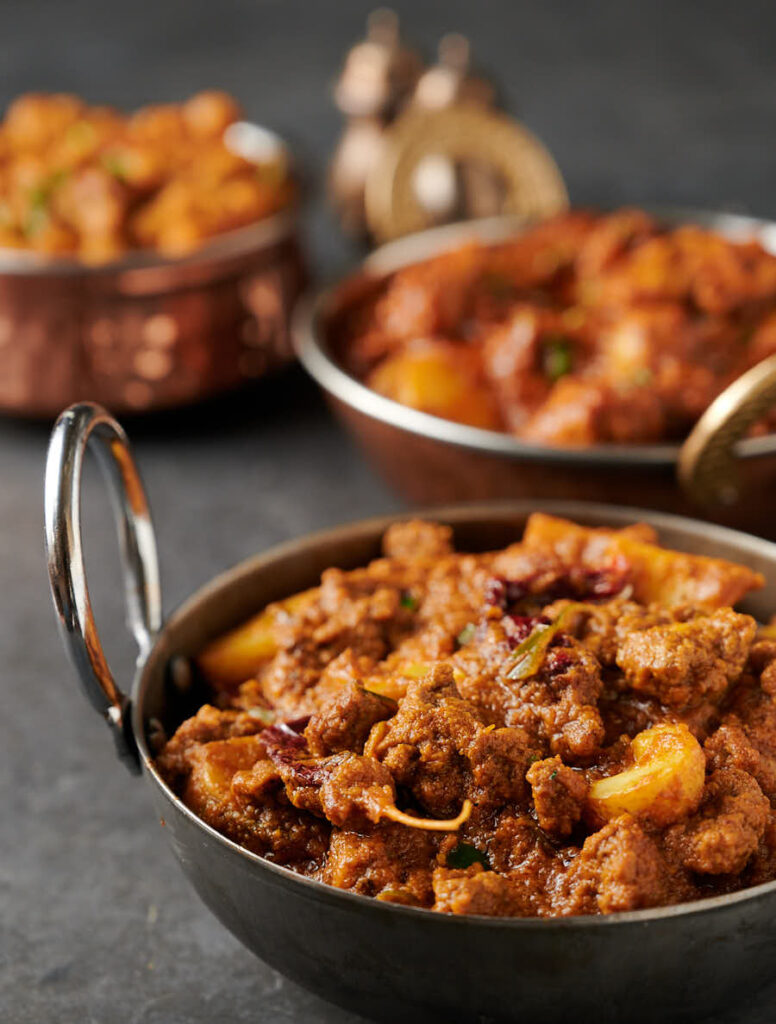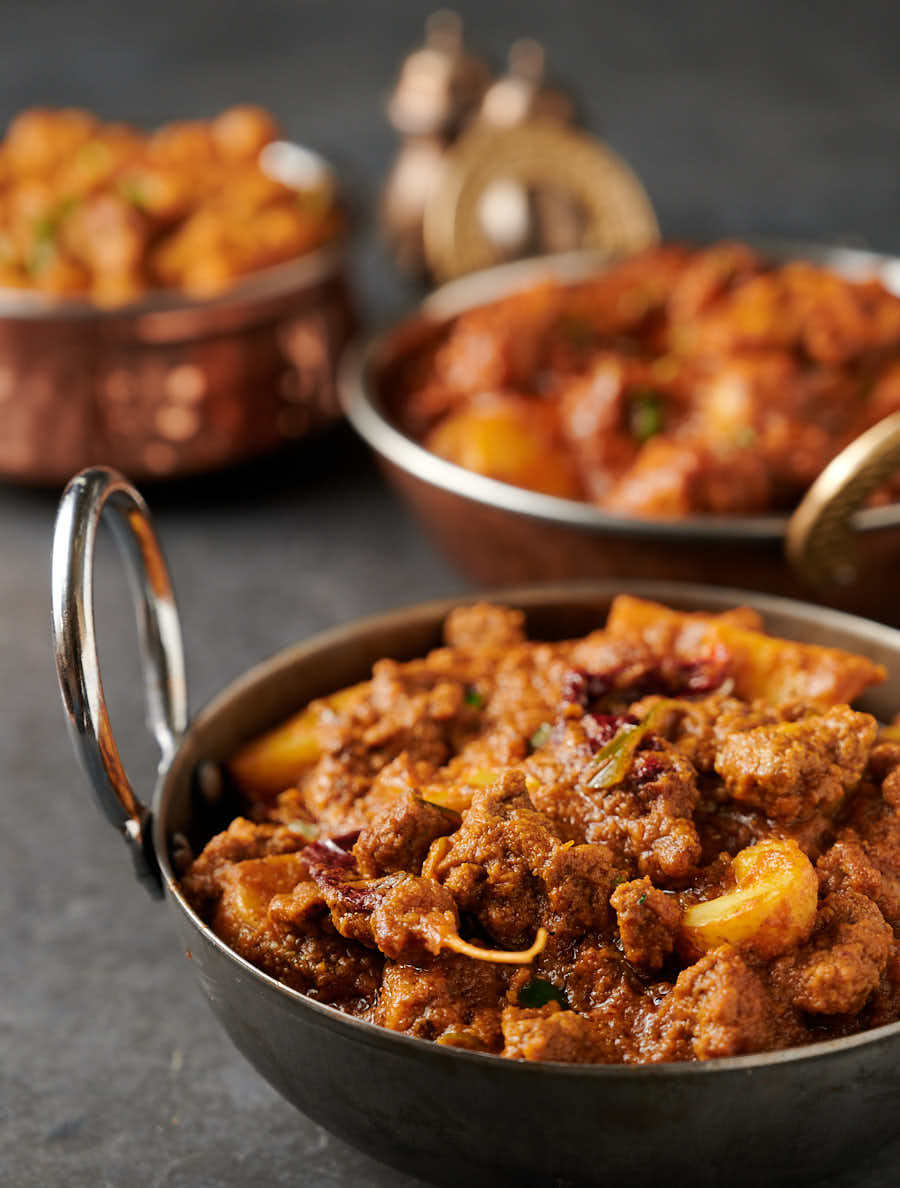 Dare to be different
There's more to Indian than what you see on restaurant menus. There are literally thousands of dishes. It's an incredibly diverse, regional cuisine.
So there's no reason to stick to the same old same old. Those are great dishes. For sure. But there is more. So much more.
If you want to give your tastebuds something new to try, make keema aloo. Just like your local Indian restaurant or takeaway should be making. If only they could just get past the usual.
aloo keema
Aloo keema is a dry potato and minced beef or lamb curry that makes a great change when you want to mix up your curry rotation.
Ingredients
3

Tbsp

vegetable oil

1

Tbsp

garlic ginger paste

1

tsp

kashmiri chili powder

1

tsp

kasoor methi

– fenugreek leaves

2

tsp

Indian restaurant spice mix

1/2

tsp

kosher salt

2

green finger hot chilies

– thinly sliced

1

Tbsp

tomato paste

– diluted with water to the consistency of passata

15

oz

curry base

12

oz

cooked potatoes

– cut in 1/2 inch cubes

12

oz

pre-cooked keema

juice of 1/6 lemon
Instructions
Combine Indian restaurant spice mix, kasoor methi, chili powder and salt in a small bowl.

Dilute the tomato paste with enough water to get to the consistency of passata.

Heat your frying pan (don't use non-stick) briefly over medium heat.

Add 2 Tbsp vegetable oil. Use all the oil specified. It's important.

When the oil starts to shimmer in the garlic ginger paste and the green chilies. Cook it, stirring constantly, until it stops sputtering.

Turn down the heat and add the spice mix. This is the critical step. Stir it constantly for 30 seconds. If it starts to darken lift the pan off the heat. You want the spice mix to cook in the oil but not burn.

Turn the heat up to medium high. Add the diluted tomato paste and stir until bubbles form (the oil will likely separate). This takes around 30 seconds to one minute depending on the heat.

Add 3 oz of curry base. Stir until bubbles form (little craters really), around 30 seconds. Watch the edges of the pan. The curry can stick here.

Now add 6 oz of curry base and stir briefly. Let it cook until the bubbles form again. This takes 1-2 minutes.

Add the rest of the curry base and let cook until the bubbles form. Turn the heat down to low and add the pre-cooked keema.

Let the curry simmer for about 3 minutes. If it gets too thick add a bit more curry base. Don't add water.

Add the cooked potatoes and cook another 2-3 minutes to warm them through.

Stir in the lemon juice, taste and adjust salt and lemon to taste.

Garnish with thinly sliced green onions and green chilies if you like.
Notes
The recipe for curry base is here.
The recipe for indian restaurant spice mix is here. 
The recipe for garlic ginger paste is here.
The recipe for beef or lamb keema is here.
If you haven't read about Indian restaurant technique yet, do that before you start cooking.
Have all your ingredients prepped and ready to go.
If you are making multiple curries, have your curry base warming in a pot on the stove. If you are just making one, microwave it to warm it up right before you start cooking.
Indian restaurants pre-cook their meat so it's ready for service. This recipe assumes the same. To pre-cook chicken, simply simmer it with a bit of curry powder and salt in chicken stock for about 10-15 minutes – until it's barely cooked.
To pre-cook lamb or beef, do the same but plan for 1 to 1/2 hours for lamb and 2 hours or more for beef. You are making stew meat so you are braising until tender. You will need to keep an eye on the level of the stock. For beef use beef stock.
Nutrition
Serving:
2
servings
|
Calories:
760
kcal
|
Carbohydrates:
32
g
|
Protein:
33
g
|
Fat:
54
g
|
Saturated Fat:
28
g
|
Cholesterol:
124
mg
|
Sodium:
1090
mg
|
Potassium:
1322
mg
|
Fiber:
7
g
|
Sugar:
2
g
|
Vitamin A:
120
IU
|
Vitamin C:
26.6
mg
|
Calcium:
88
mg
|
Iron:
9
mg