Spicy Thai beef salad. Beef. Lime. Chili. Mint. Cilantro. It all comes together in one big flavour bomb. Almost too much but it works. And it works well.
This is a great dish when you are craving bold summer tastes. Nice thing is, you can make this year round. If you can't get to a grill, pan fry the steak. It will be just as good.
You can mix up the greens if you want. The only must have is mint. Other than that, use what you like. Spinach, mesclun, shredded napa cabbage. They all work. But no kale. This is a kale free zone.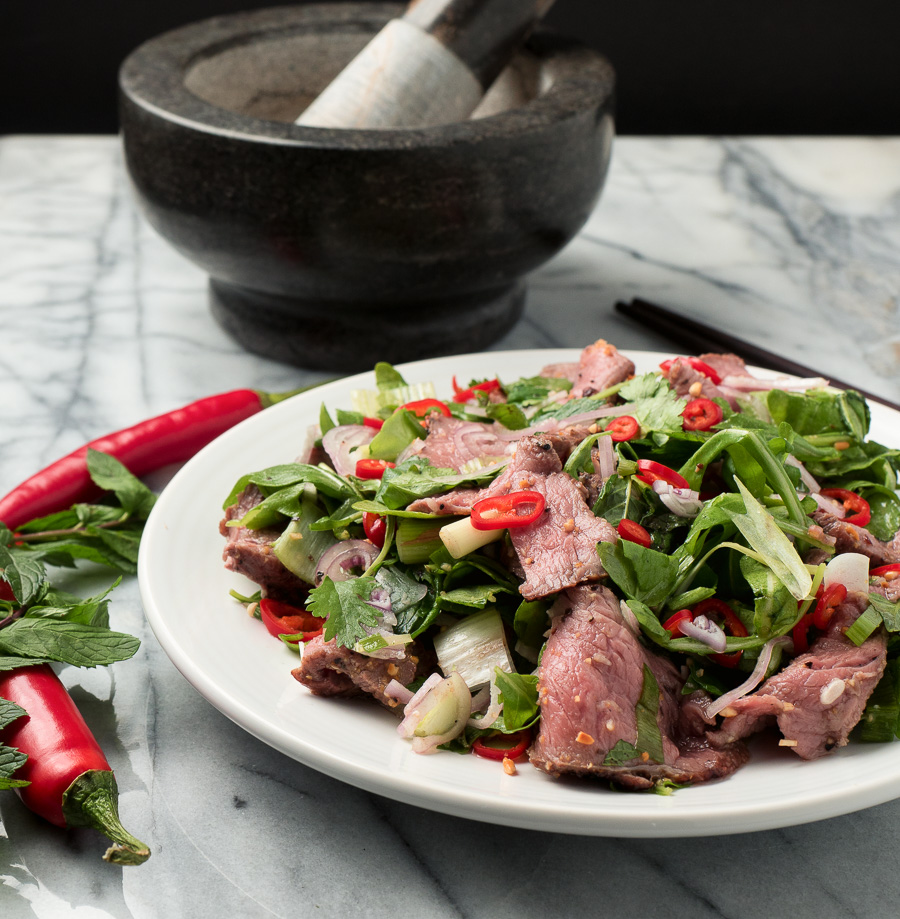 Slice the beef against the grain
One thing to note. And this one makes me crazy. I don't know how many recipes tell you to slice your steak against the grain.
That's impossible. Unless you are some sort of knife wielding ninja master. Even then, very close to impossible.
Laying a steak on a board and cutting it into slices is not cutting it against the grain. The grain runs the short way in a sirloin or strip loin.
Lay a steak on a cutting board. The grains run from the cutting board to the top of the steak. Now flip it up on the thin edge. Think you can slice that? That is against the grain.
The way around this is to buy a small roast. Butcher it so you have the grain running long enough to slice. Like a sideways steak. That's what I do. Then it's easy to slice across the grain.
Flank steak is the exception. Next time you are in a grocery store look at a flank steak. You can see the grain. Then look at a sirloin. You'll get it. If you don't, ask your butcher to explain. It's worth spending the time to understand.
Thai beef salad makes a great weeknight meal
When you need a salad that eats like a meal this works. Beef. Fresh herbs. Salty, sour dressing. A spicy kick from the chilies. Explosive flavours. Really big tastes.
Thai beef salad. Perfect for when your taste buds need a good kick. Any time of year.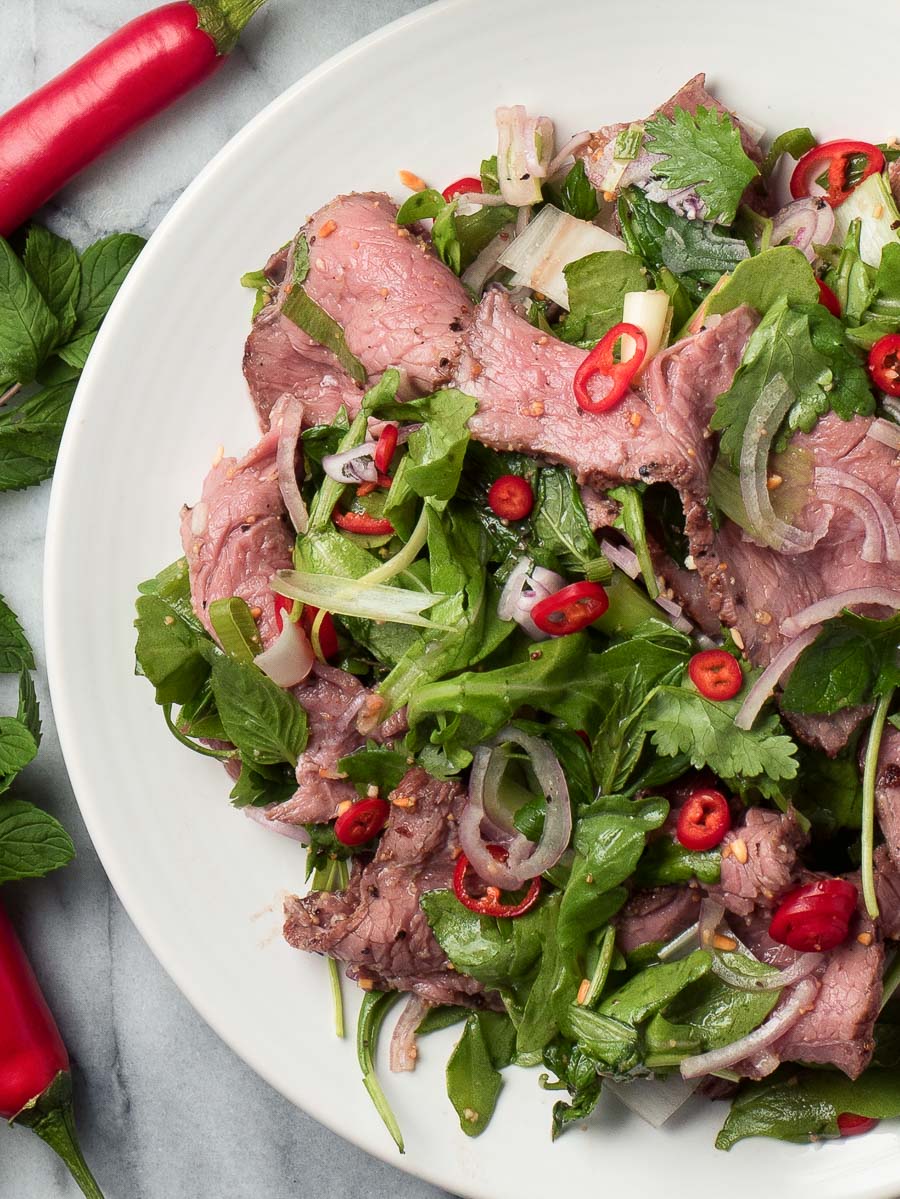 spicy thai beef salad
This spicy Thai beef salad brims with the bright flavours of mint, cilantro and lime. It's an easy way to bring big, bold tastes to your table.
Ingredients
10

oz

beef sirloin

- striploin or flank - try to get a cut you can slice against the grain.

black pepper

2

Tbsp

fresh lime juice

2

Tbsp

fish sauce

1

tsp

sugar

1

tsp

toasted rice powder

- see note, optional

3

cups

total mixed fresh mint

- cilantro, Thai basil and young arugula (roughly even amounts but up to you)

1/2

cup

thinly sliced shallot

2

green onions

- chopped

3-5

red chilies

- thinly sliced. A combination of Thai and finger red chilies works nicely. The more Thai chilies, the spicier...
Instructions
Heat your grill to medium high or Combine the lime juice, fish sauce, sugar and toasted rice powder in a small bowl. Set aside.

Toss the mixed herbs/greens, shallot, green onions and red chilies in a bowl large enough to hold all the ingredients.

Season the beef liberally with black pepper (I like butcher's grind but go with what you like).

Grill the beef to rare (125F) or medium rare (130F).

Let the beef rest for 5 minutes. Slice against the grain.

Toss the beef in a clean bowl with the lime/fish sauce dressing.

Add the beef and any dressing to the bowl containing the salad and toss.

Sprinkle with a bit more red chili if you like.

Serve.
Notes
To make toasted rice powder, toss 1/4 cup of jasmine or sticky rice in a small skillet over medium heat. Keep the rice moving while it toasts. You are done when it is a medium tan colour and smells a bit like popcorn. Let cool 5 minutes and grind in a spice grinder or crush in a mortar and pestle.
Nutrition
Serving:
2
servings
|
Calories:
242
kcal
|
Carbohydrates:
15
g
|
Protein:
33
g
|
Fat:
5
g
|
Saturated Fat:
1
g
|
Cholesterol:
77
mg
|
Sodium:
1519
mg
|
Potassium:
883
mg
|
Fiber:
1
g
|
Sugar:
7
g
|
Vitamin A:
1445
IU
|
Vitamin C:
117.6
mg
|
Calcium:
62
mg
|
Iron:
3.9
mg