Hariyali chicken curry is a green curry with big mint, coriander and green chili flavours. It's not your run of the mill Indian restaurant curry. It's different. For when you want to mix things up.
You don't see hariyali chicken curry on many restaurant menus. That's too bad really. So many Indian restaurants are stuck on the same formula.
15 dishes. Done over and over. Time to grow a bit. Time to step it up. This is a homestyle curry that's adapted to the Indian restaurant technique. I'll be doing more of these going forward. India has so much more to give.
This is Indian restaurant cooking. They don't wear nice clothes when they cook. You shouldn't either. It will splatter. It will stain. Be ready.
As always when cooking restaurant style prep is key. Make your curry base. If you want to push it make your mint coriander chutney from scratch.
Never heard of hariyali chicken curry? Time to get acquainted I think…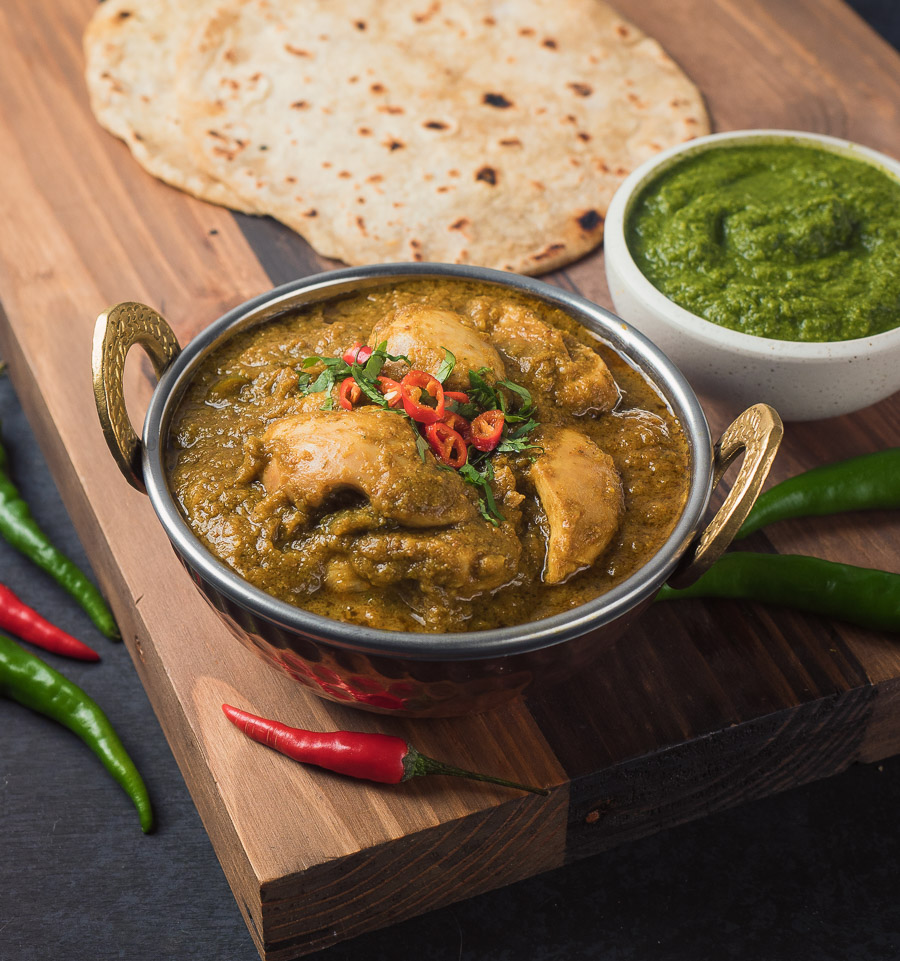 indian restaurant hariyali chicken curry
Hariyali chicken curry is all about big coriander, green chili and mint flavour. Try it when you want to taste something new.
Ingredients
The spice mix
1

tsp

indian restaurant spice mix or curry powder

- recipe link below

½

tsp

kashmiri chili powder

½

tsp

kosher salt
The curry ingredients
3

Tbsp

oil

2

green finger hot chilies

- sliced thinly into rings

1

Tbsp

garlic/ginger paste

- recipe link below

3

Tbsp

mint coriander chutney

- recipe link below

15

oz

curry base

- recipe link below

10-12

oz

pre-cooked chicken
Instructions
Make the spice mix.

Heat your frying pan (don't use non-stick) briefly over medium heat. Add the oil.

When the oil starts to shimmer add garlic ginger paste and the green chili rings and cook, stirring constantly, until it stops sputtering.

Turn down the heat and add the spice mix. This is the critical step. Stir it constantly for 30 seconds. If it starts to darken lift the pan off the heat. You want the spice mix to cook in the oil but not burn.

Turn the heat up to medium high. This is also really important. The heat is what caramelizes the onion in the curry base and gives the curry it's Indian restaurant flavour. As you become more comfortable with this technique try pushing it.

Add 3 oz of curry base. Stir until bubbles form (little craters really), around 30 seconds. Think lively boil. Watch the edges of the pan. The curry can stick here. Sticking is OK. Just scrape it back into the base. Burning is bad.

Mix in the mint coriander chutney.

Now add 6 oz of curry base and stir briefly. Let it cook until the bubbles form again. This takes 1-2 minutes.

Add the rest of the curry base and let cook until the bubbles form.

Turn the heat down to low and add the pre-cooked chicken.

Let the curry simmer for about 5 minutes. If it gets too thick add a bit more curry base. Don't add water.

Garnish with a bit of red or green sliced chili if desired.
Notes
The recipe for curry base is here.
The recipe for indian restaurant spice mix is here. 
The recipe for garlic ginger paste is here.
The recipe for mint coriander chutney is here. 
If you haven't read about Indian restaurant technique yet, do that before you start cooking.
Have all your ingredients prepped and ready to go.
If you are making multiple curries, have your curry base warming in a pot on the stove. If you are just making one, microwave it to warm it up right before you start cooking.
Indian restaurants pre-cook their meat so it's ready for service. This recipe assumes the same. To pre-cook chicken, simply simmer it with a bit of curry powder and salt in chicken stock for about 10-15 minutes - until it's barely cooked.
To pre-cook lamb or beef, do the same but plan for 1 to 1/2 hours for lamb and 2 hours or more for beef. You are making stew meat so you are braising until tender. You will need to keep an eye on the level of the stock. For beef use beef stock.
Nutrition
Serving:
2
servings
|
Calories:
411
kcal
|
Carbohydrates:
9
g
|
Protein:
30
g
|
Fat:
26
g
|
Saturated Fat:
3
g
|
Cholesterol:
99
mg
|
Sodium:
1029
mg
|
Potassium:
454
mg
|
Fiber:
3
g
|
Sugar:
1
g
|
Vitamin A:
275
IU
|
Vitamin C:
8.7
mg
|
Calcium:
17
mg
|
Iron:
1.7
mg