Authentic pho ga takes some time. Takes some attention to detail. But it's worth it. This is one of the world's greatest chicken noodle soups.
I'm a bit of a pho addict. OK – maybe not just a bit. Card carrying member of pho lovers anonymous here. Now you know.
I read the Lucky Peach Pho issue cover to cover. That's 160 pages dedicated to pho. The definitive pho manifesto. As far as I know, anyway.
This recipe is based on the Lucky Peach recipe. It has some glebekitchen embellishments but it's in the ballpark.
I've also read about 100 recipes online. Some are more authentic than others. Some have me wondering if the author has ever eaten pho.
Are you getting that I am a pho addict yet?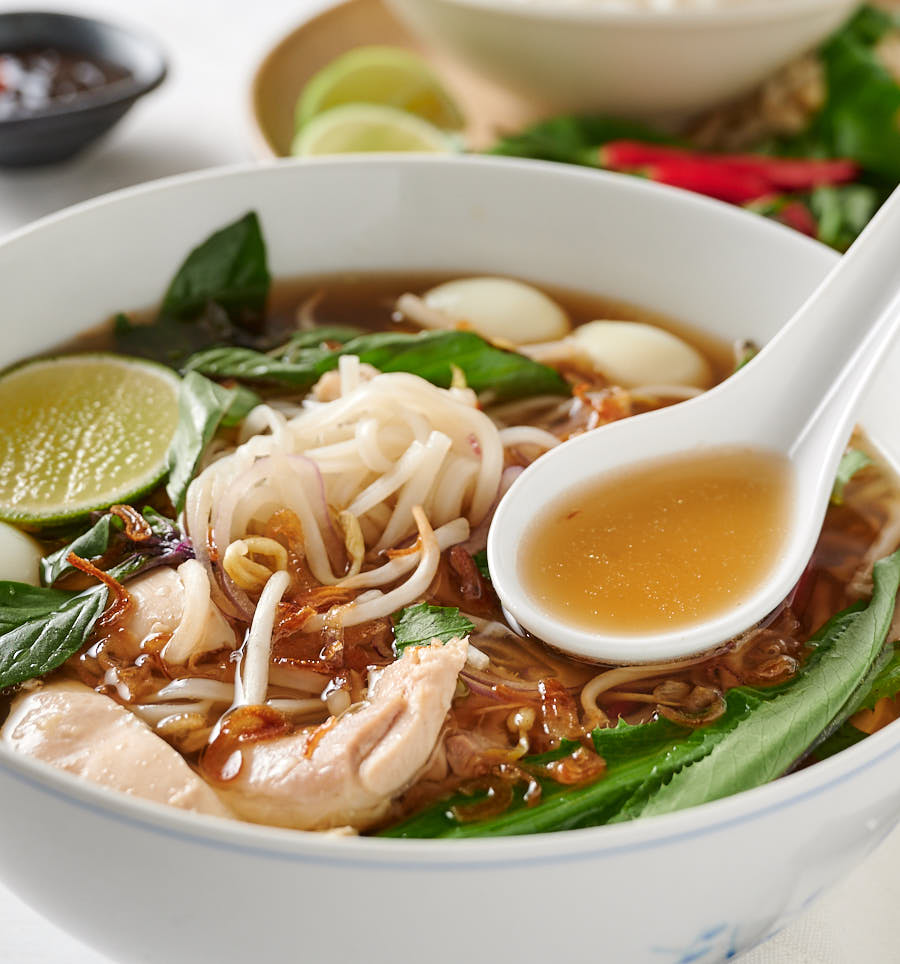 Great pho ga starts with great stock
This is chicken soup. So the broth matters. It matters a lot. This isn't the place to use some stock out of a tetra pack and hope it works. You could start with store bought. But you need to take it to the next level.
Double down. And then double down again. Start with stock. Poach a chicken in it. That's double down. Flavour from the chicken cooking.
Then you remove the meat from that chicken and make stock using the carcass. Double down again. See where I'm going. This is triple stock. That's where the flavour comes from. That's where you need to start when you're making pho ga.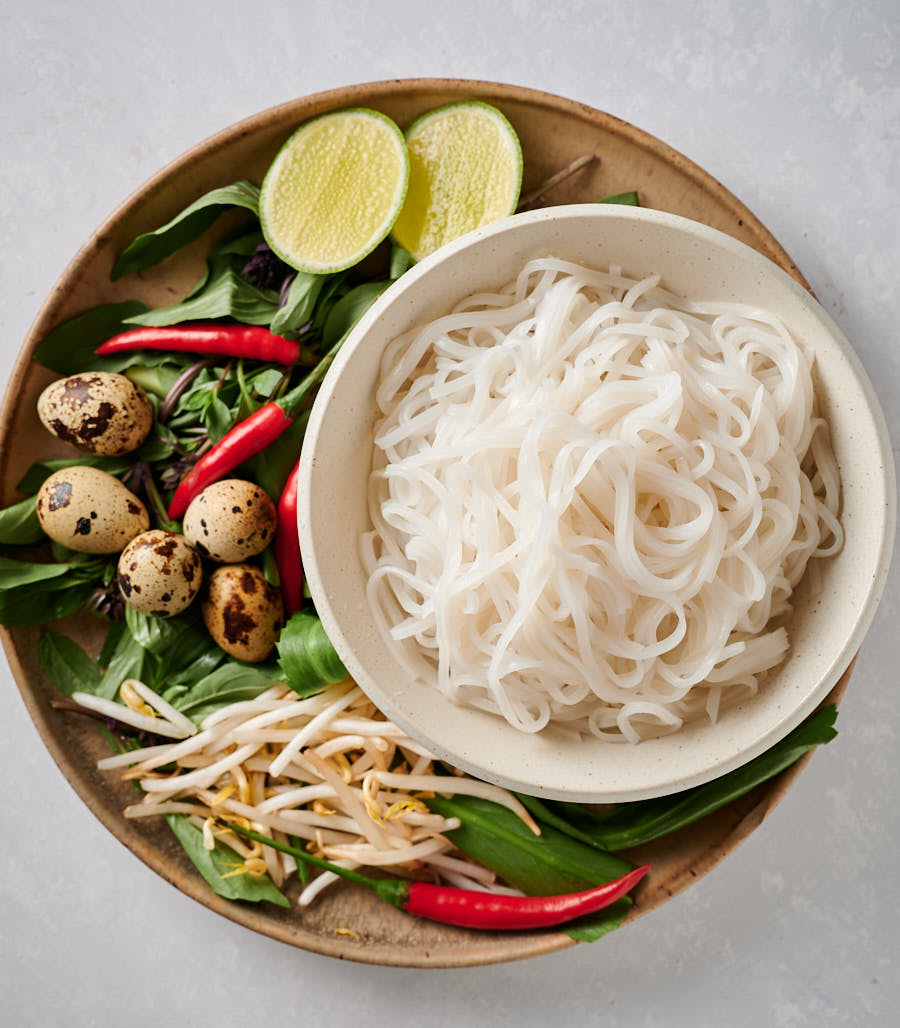 Don't fear the fish sauce
If you like the pho they serve in restaurants you like fish sauce. It's sounds bad. It doesn't smell great. But fish is the backbone of south-east Asian cooking.
And once it's in the dish it makes everything better. Don't understand it myself but it never seems to fail. You couldn't pay me to drink it out of the bottle.
But you couldn't pay me to leave it out of a recipe either. I have been known to say fish sauce makes everything better. It's perplexing. Don't know what else to say about it.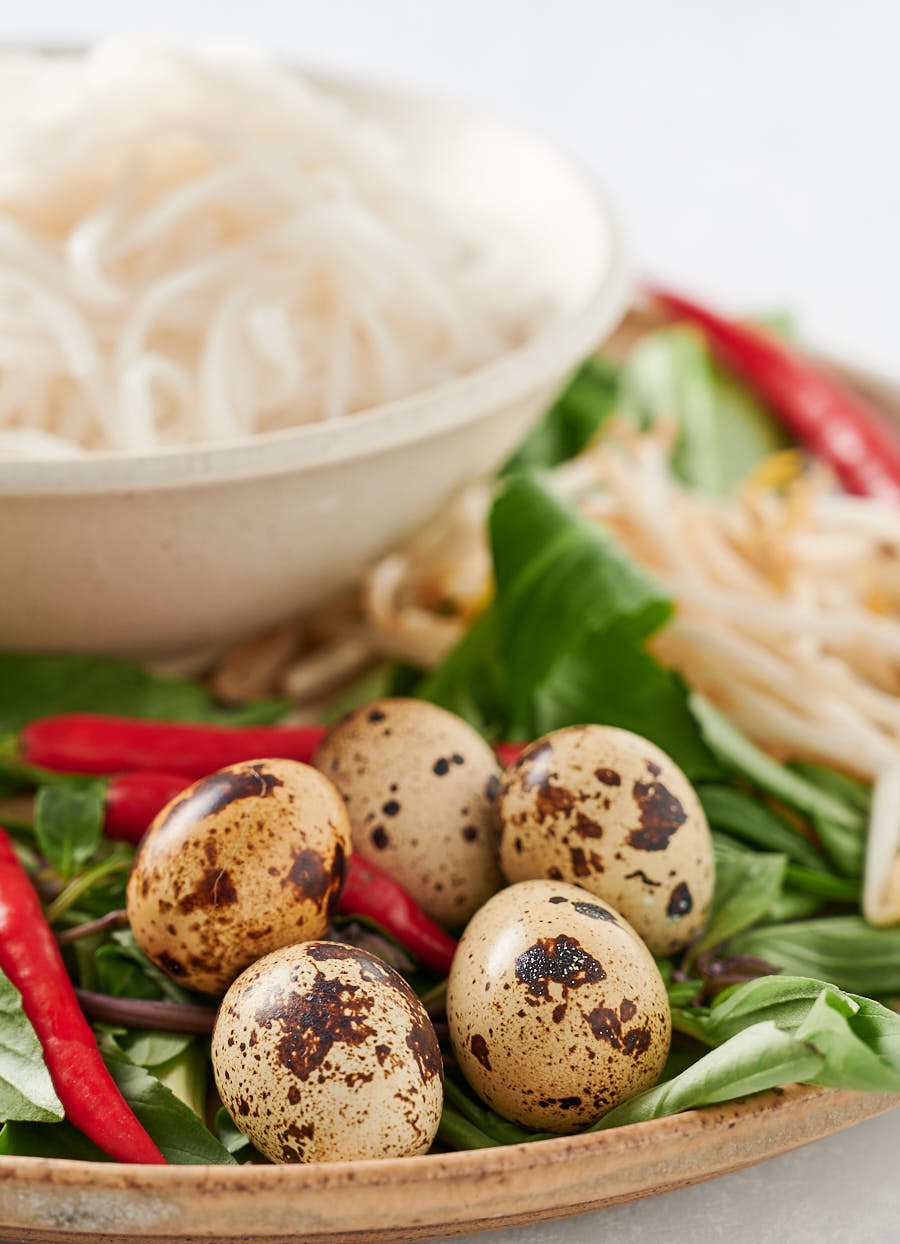 Pho ga with quail eggs
I don't think this is a thing. At least I've never seen it. But I like it. So I do it. Medium soft boiled quail eggs. Like a little surprise bite of delicious mixed in.
You can't do this with chicken eggs. They are too bit. The idea here is to have a complete egg. Not hardboiled. Eat in in one bite. This crazy soft boiled egg thing going on in your mouth. Try it.
Easy to make. Bring water to a boil. Drop your quail eggs in gently. Simmer for exactly two and a half minutes. Drop them into an ice bath to stop them cooking longer. Set aside.
Peel just before you serve. Drop a couple into the bowl of pho ga. The little things make the difference.
The other little trick I like is a sprinkle of fried shallots. I got that idea from a little Vietnamese joint here in town. It adds a little extra flavour. Like there wasn't enough here already…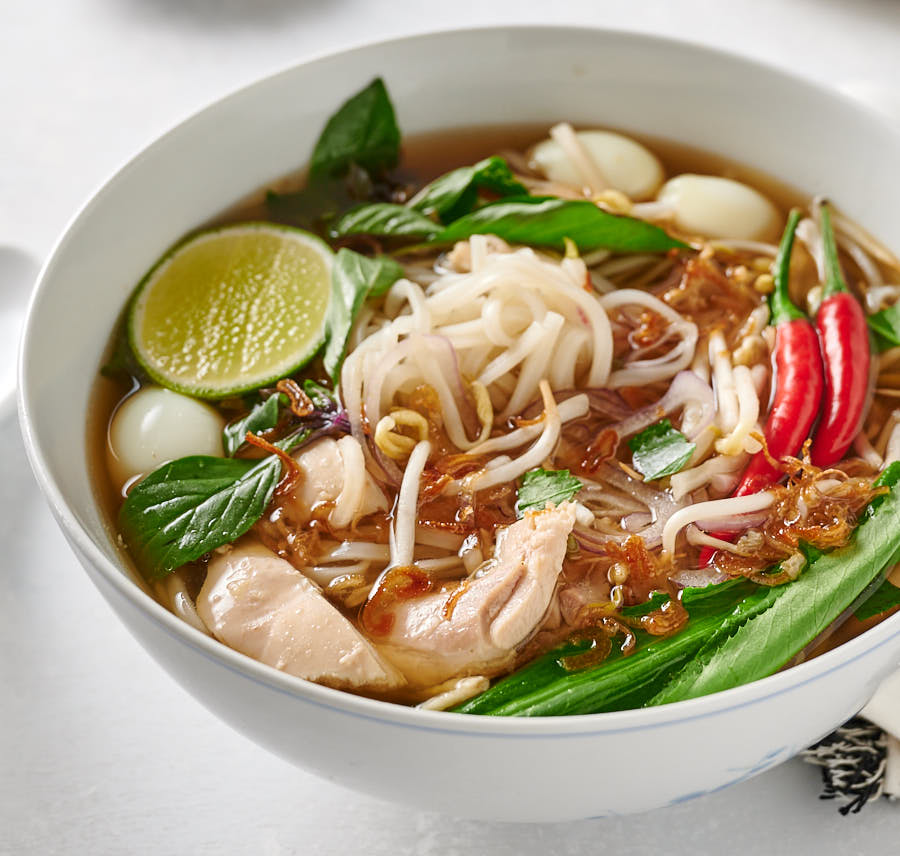 Restaurants have one extra ingredient in their Saigon style pho ga
The one big difference between this recipe and what you get in restaurants is MSG. Saigon style pho is loaded with it. I won't pretend it's better without it. It's not. It's close but MSG just seems to take it over the top.
I don't cook with it so I left it out. If you do, by all means add it in. Just cut back on the salt. Your pho will taste better for it. I won't judge. Or argue. I may be be a bit jealous that your pho is better than mine but I can deal with that.
I should have called this "not quite authentic pho ga because there's no MSG". That doesn't roll off the tongue well though. Bad marketing.
But it would have been just exactly true. Try it how you like it. Either way, it's just Asian comfort in a bowl. Makes me smile every time I make it.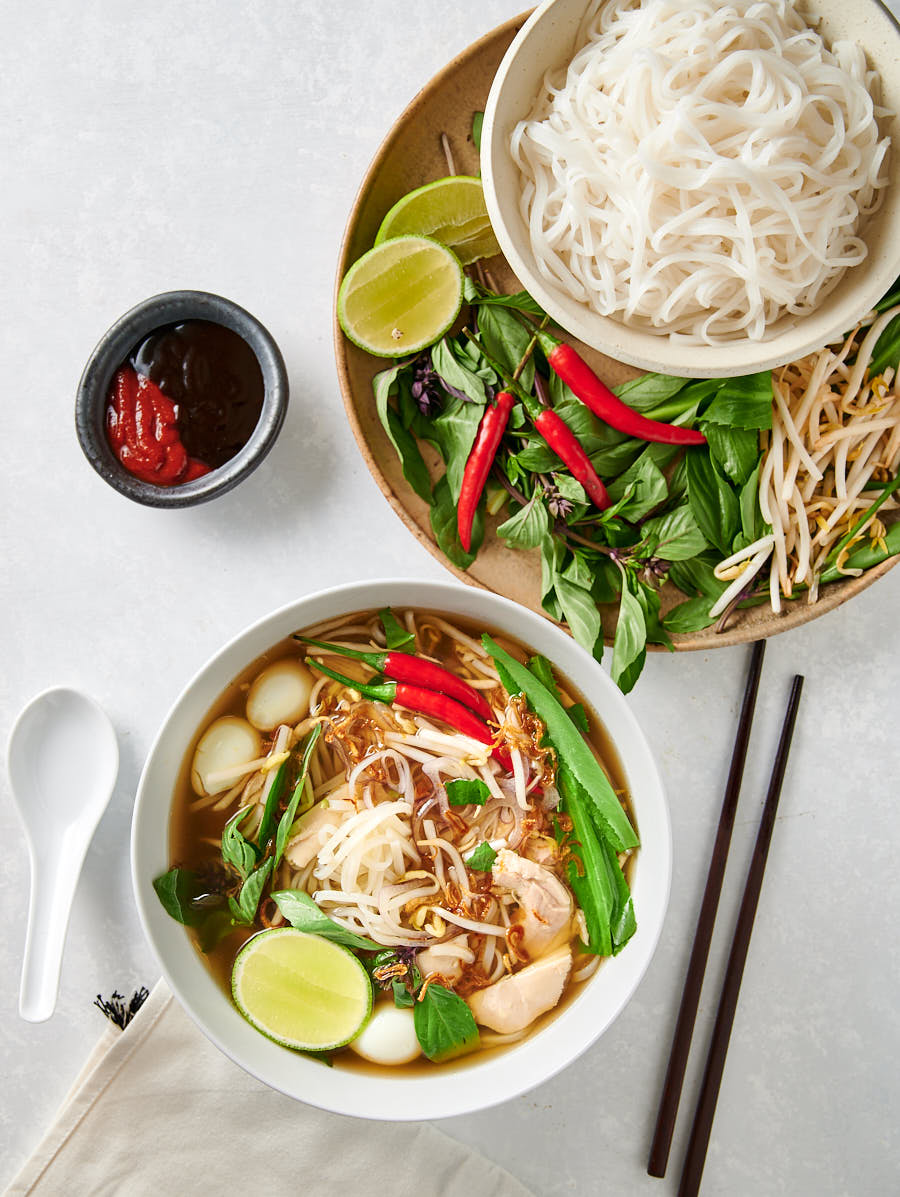 authentic pho ga - vietnamese chicken noodle soup
There are few things in life as satisfying as a good bowl of authentic pho ga. Chicken noodle soup cranked up to 10.
Ingredients
The aromatics
3

inch

piece of ginger

1

large yellow onion
The chicken
1 3-4

lb

whole chicken

grain-fed, air chilled

8

cups

chicken stock

homemade or low sodium

1/2

inch

piece of ginger

not the roasted ginger

4-5

green onions

2

tsp

kosher salt
The broth
2

Tbsp

brown sugar

- more if you like it sweeter

The bones from the poached chicken

The roasted ginger and onion

1/4

cup

fish sauce

- or more - you will need to taste to decide
Pho ga
16

oz

rice noodles

thinly sliced green onions

thinly sliced shallot
Garnishes
You can go in all sorts of directions here. Mint

cilantro, sawtooth herb (culantro), red chili, lime, bean sprouts, hoisin sauce, Sriracha etc. Go with what you like. What you can get. It will work out.
Instructions
The aromatics
Pre-heat your oven to 350F.

Roast the onion and ginger for 1 hour.

Let cool. Slice the onion in half and the ginger into 1/2 inch pieces.
The chicken
In a 5-6 quart dutch oven or pot combine the whole chicken, 4-5 green onions, the 1/2 inch piece of ginger and the salt. Add 8 cups of stock plus enough water to cover the chicken. If you can't quite cover the chicken start it breast side down.

Bring to a simmer and poach for about 20 minutes (breast side down if needed). Flip the bird and continue to poach until the chicken reaches about 155F in the breast and 165F in the thigh - about 10 minutes. Use an instant read thermometer - there's no other safe way to do this. The chicken will continue to cook after you remove it from the broth so give yourself some room. You are going for a final internal temperature of 165F in the breast and 175F in the thigh.

Set the chicken aside to cool enough to handle. Remove chicken from the bones. You don't have to be perfect. You have lots of chicken.
The broth
Remove and discard the 1/2 inch piece of ginger. Keep the stock and green onion in the pot.

Return the chicken bones to the pot along with the roasted ginger and onion.

Add the brown sugar.

Let simmer 3-4 hours, loosely covered.

Strain. You should have about 10 cups of broth. If you have less, add some water to make up for evaporation.

Refrigerate until ready for use. If you refrigerate you can skim the fat and reserve. That way you can add a tsp or so per bowl as they do in Vietnam.

When ready to serve heat the broth to just below a boil and add the fish sauce. This is where the final seasoning happens. Your broth may still under-salted. Decide for yourself. Start adding salt a half a tsp at a time. You want it pretty salty - adding in the chicken and the noodles blunts the saltiness some.
Pho ga
Do your prep. Slice or shred the chicken. Cut up some green onion. Prep your herbs. Slice your shallot as thinly as you possibly can. Slice some red chili. Cut up the lime. Pre-heat your bowls. Make sure your broth is good and hot. Have it all ready to go. Once you start things go fast and cold pho is not good pho.
Cook the noodles
Here's a trick to cook rice noodles for pho that I found buried at the bottom of an Epicurious recipe. Soak your rice noodles in cold water for about 30 minutes.

At the same time, bring a large pot of water to a boil.

Put the soaked noodles in a big strainer and drop it into the boiling water.

Stir the noodles and start checking them for texture after about 30 seconds. They should be done in under a minute. You want them slightly toothy as they will cook a bit more in the broth.

When you have them how you want them, pull the noodles and divide into 4 bowls.

Top the noodles with the chicken and sprinkle with green onions and sliced shallots.

Pour 1/4 of the broth into each bowl.

Serve with the condiments on the table to let people flavour their pho as they like it.
Notes
To make medium soft boiled quail eggs bring a pot of water to a boil. Make sure there's enough water to completely cover the eggs. Gently lower the eggs into the water and simmer for exactly 2 1/2 minutes. Transfer immediately to an ice bath to stop the eggs cooking longer.
You can buy fried shallots but I make them. Thinly slice the shallots. Heat about an inch and a half of vegetable oil in a pot or wok. Fry the shallots in batches. You want to cook them about 3 minutes. Pull them before they get to the colour you want. They will continue to cook after they come out of the oil. Blot them on a paper towel. Sprinkle with a bit of kosher salt.
Nutrition
Serving:
4
servings
|
Calories:
1004
kcal
|
Carbohydrates:
111
g
|
Protein:
55
g
|
Fat:
36
g
|
Saturated Fat:
10
g
|
Cholesterol:
163
mg
|
Sodium:
2807
mg
|
Potassium:
988
mg
|
Fiber:
2
g
|
Sugar:
8
g
|
Vitamin A:
425
IU
|
Vitamin C:
8
mg
|
Calcium:
89
mg
|
Iron:
4.1
mg