Make chicken noodle soup from scratch at least once in your life. There's something almost magical about it. Depth of flavour that brings you back to your childhood. Homemade chicken noodle soup is serious comfort food.
This has absolutely nothing in common with store bought soup. Chicken noodle soup from scratch is to store bought canned soup like perfectly grilled New York striploin steaks are to boiled hamburger.
Maybe I'm overstating it but you get the idea. It's a totally different beast. And it's so worth it.
Soup is good food
I love soup. It's becoming a lost art. Nobody makes it anymore. It's become instant food. Open a can and go. Don't think. Just do. Sad.
It doesn't need to be that way. Soup is not hard to make. And it makes a great starter for a dinner party. Total prepare ahead of time stuff.
It makes great leftovers too. Make a big batch. Have some for dinner. Then have it for lunch the next day. And the day after that. So good.
Homemade chicken noodle soup from scratch isn't the easiest soup, mind you. Especially if you start with homemade stock. It's a labour of love. So make it for people you love.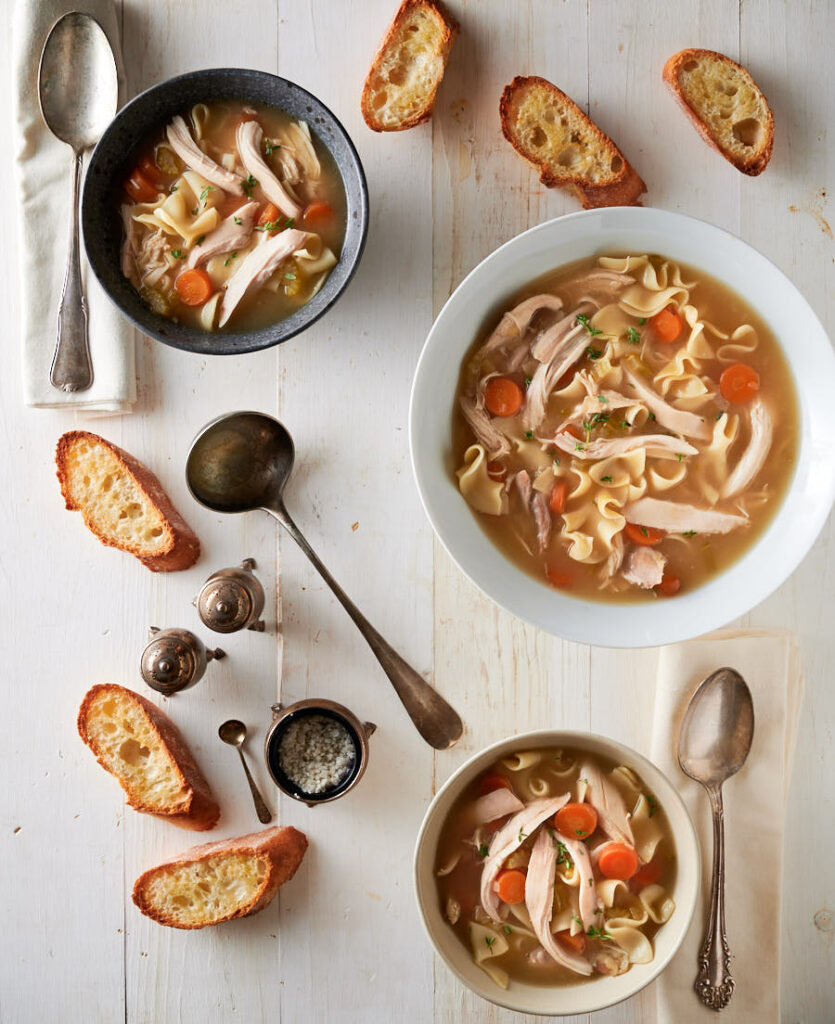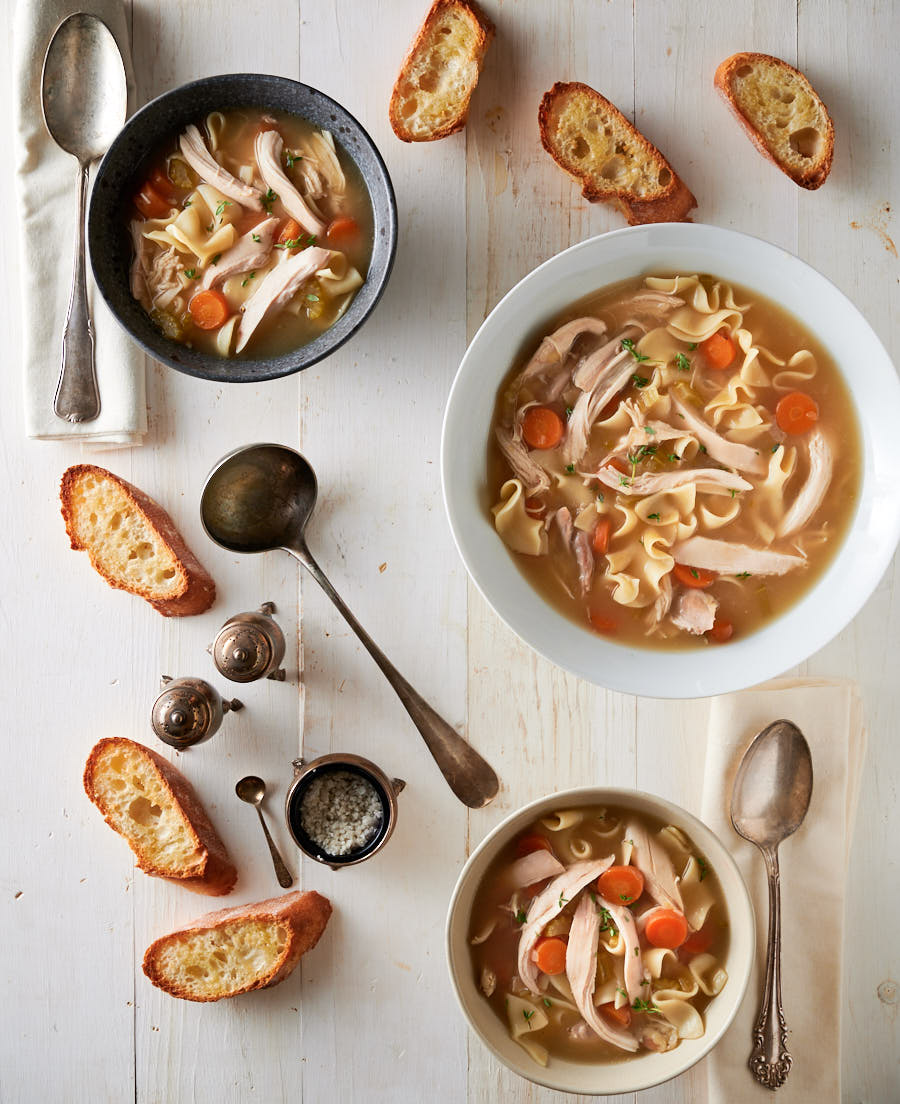 Almost every culture has a chicken noodle soup
Chicken noodle soup is a global phenomenon. Think about it. The Chinese have won ton soup. Japan and Korea are mad for ramen. Indonesia has Soto ayam. Pho and mi bo pho in Vietnam. Tortollini en brodo from Italy. Thai khao soi. The list goes on and on.
Homemade chicken noodle soup is North America's answer. It doesn't seem exotic because it's everywhere in the West. But I bet if you served it in Nepal they would go crazy for it.
If you are game to put the time into any of these more "exotic" soups, you owe it to yourself to make this classic. It is world class. Without a doubt.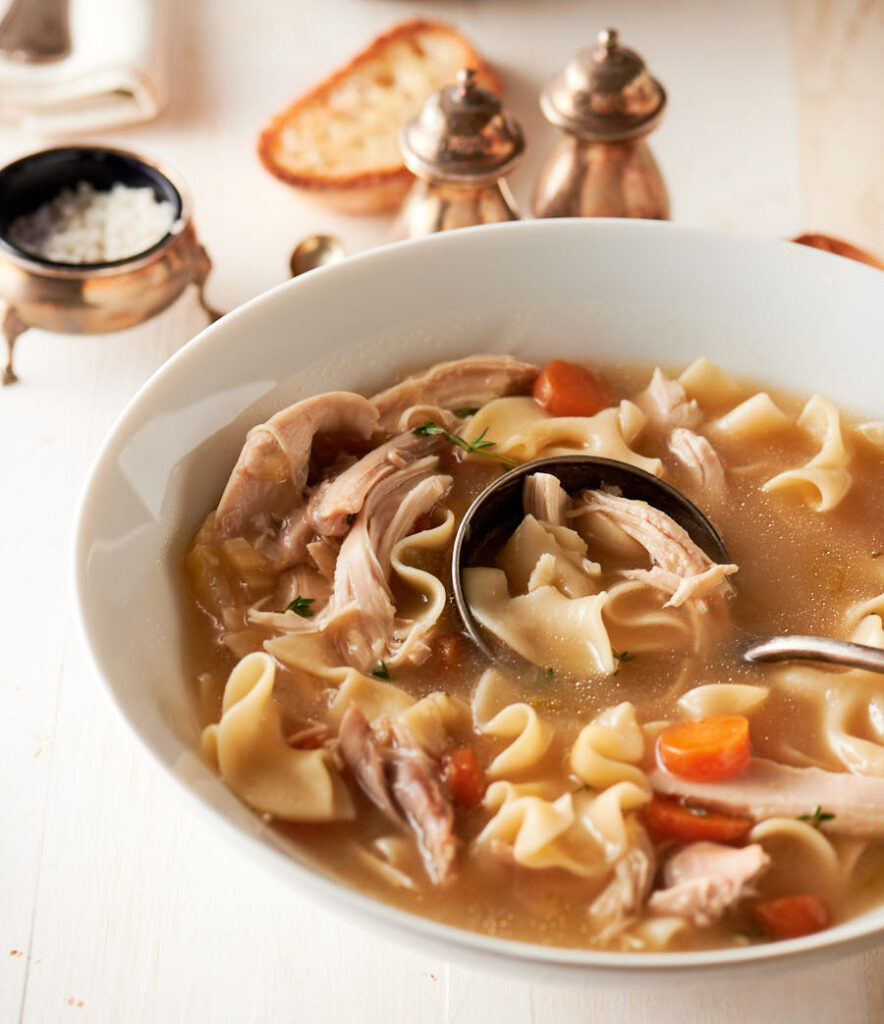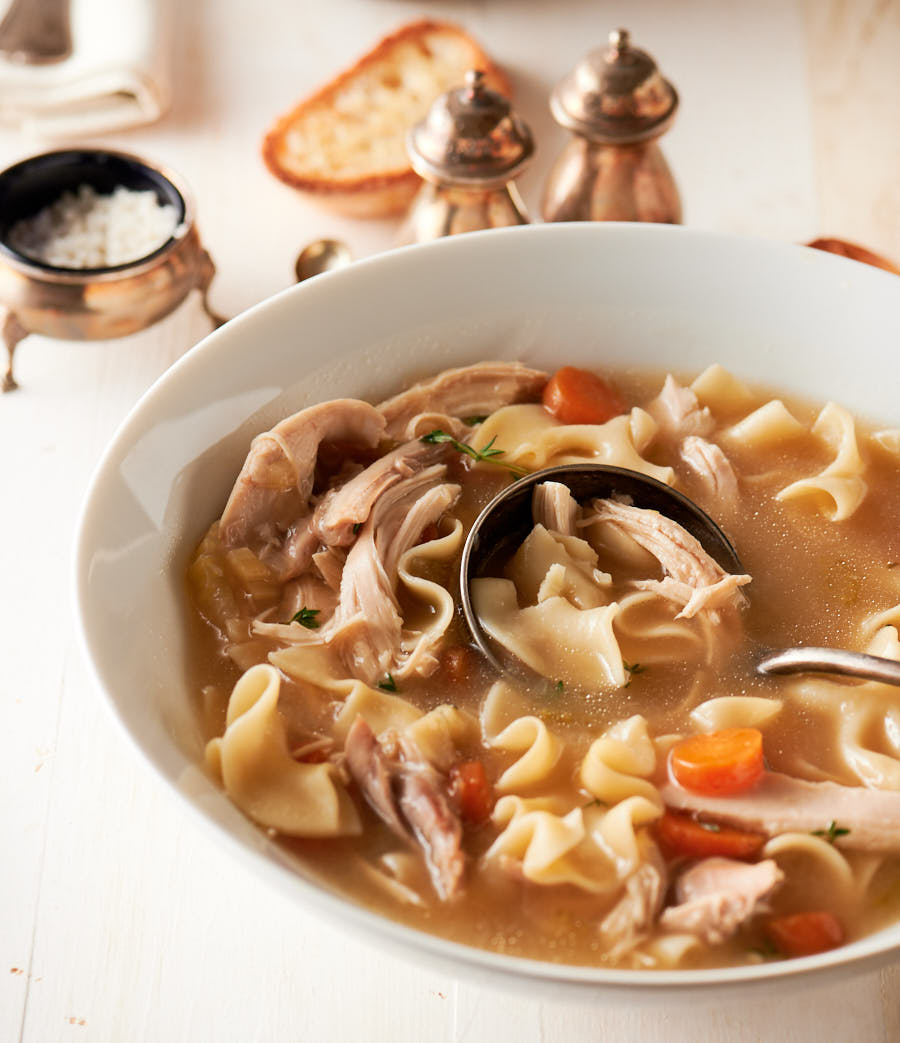 Layer flavours for the best homemade chicken noodle soup
This recipe is all about layering flavours. This is how you make really special homemade chicken noodle soup.
Start with homemade chicken broth – Or use no sodium chicken stock. The kind that comes in a tetra pack. Just don't use water. This is layer one.
Poach the chicken in the broth – Cooking the chicken in the broth gets more chicken flavour into your soup. Layer two. This really makes a difference. Let it cool and strip the chicken from the bones. You'll use them next.
Make even better broth with the bones – Simmer the bones in the stock before you make the soup. Make double strength stock. Layer three.
Cook the onions, carrots and celery first – Sweat your aromatics in before adding the stock. Layer four.
Get the picture? Layer on layer on layer of chicken noodle soup goodness.
This is about chicken. Deeply flavoured chicken broth. Tender poached chicken. There's no garlic. Barely any herbs. Just clean chicken flavour.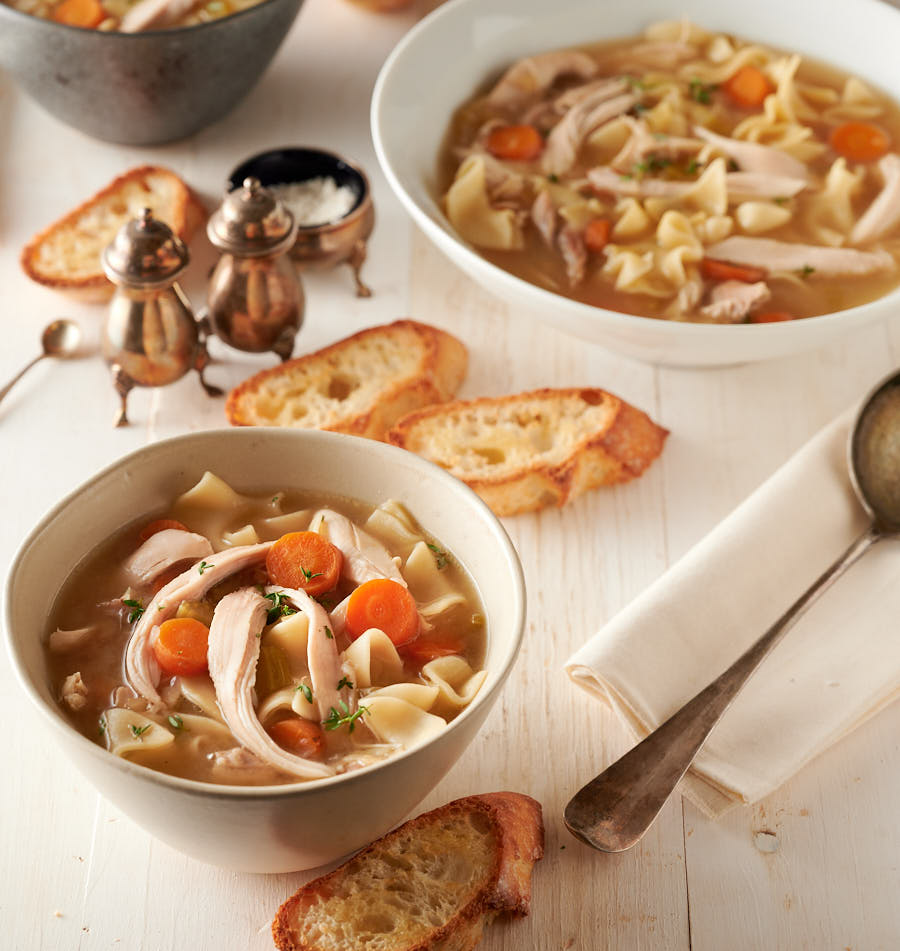 One secret ingredient makes this the best homemade chicken noodle soup
This one took me forever. I chased mouthfeel in my homemade chicken noodle soup for years. Couldn't figure it out. I remembered it vividly from my childhood. Luscious. Ultimately satisfying. Wrap your tongue in magic delicious. Crazy good.
But I couldn't make it. And it made me crazy. I tried all sorts of stuff. Nothing worked. Not close.
Now I know the secret. And it's obvious once you know it.
Cornstarch. Yes. Cornstarch. Probably took me 15 years to figure it out. Not a lot of cornstarch. Just enough to thicken the soup ever so slightly. One easy step for amazing homemade chicken noodle soup.
I don't even like cornstarch. Almost never use it. Makes me think of gloppy bad Chinese takeout. And too much much of it will kill this soup. But a little bit. Magic.
Homemade never goes out of style. This is real comfort food. Reach down inside and give you hug.
When you make homemade chicken noodle soup make a lot. Plan for leftovers. Enough to share. You will understand why when you taste it…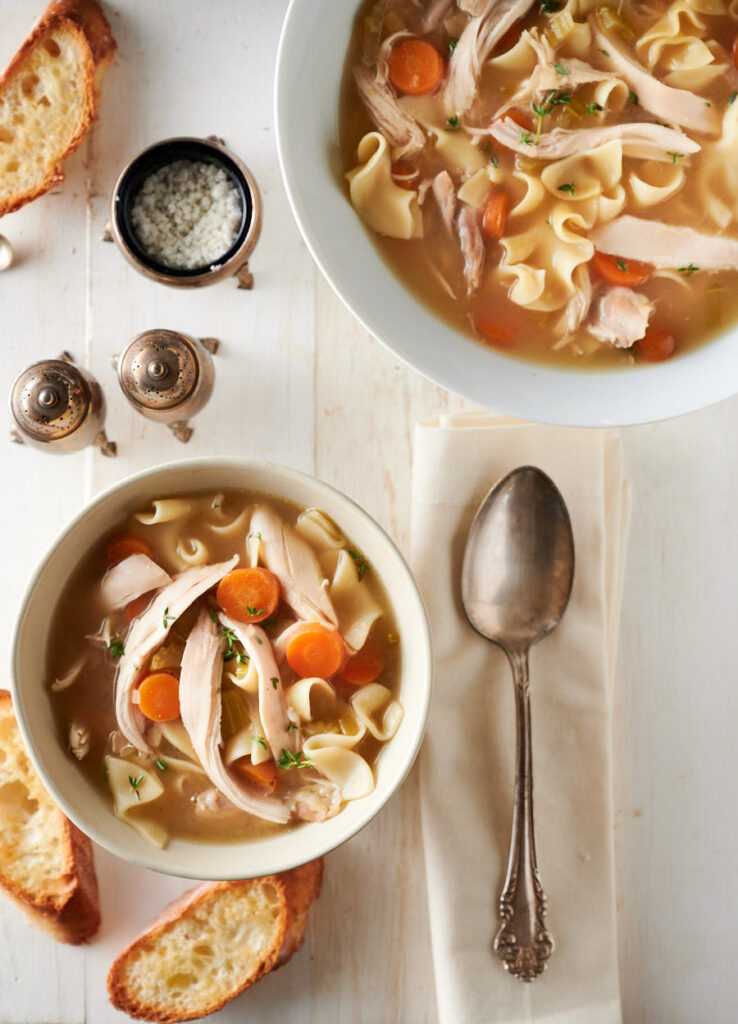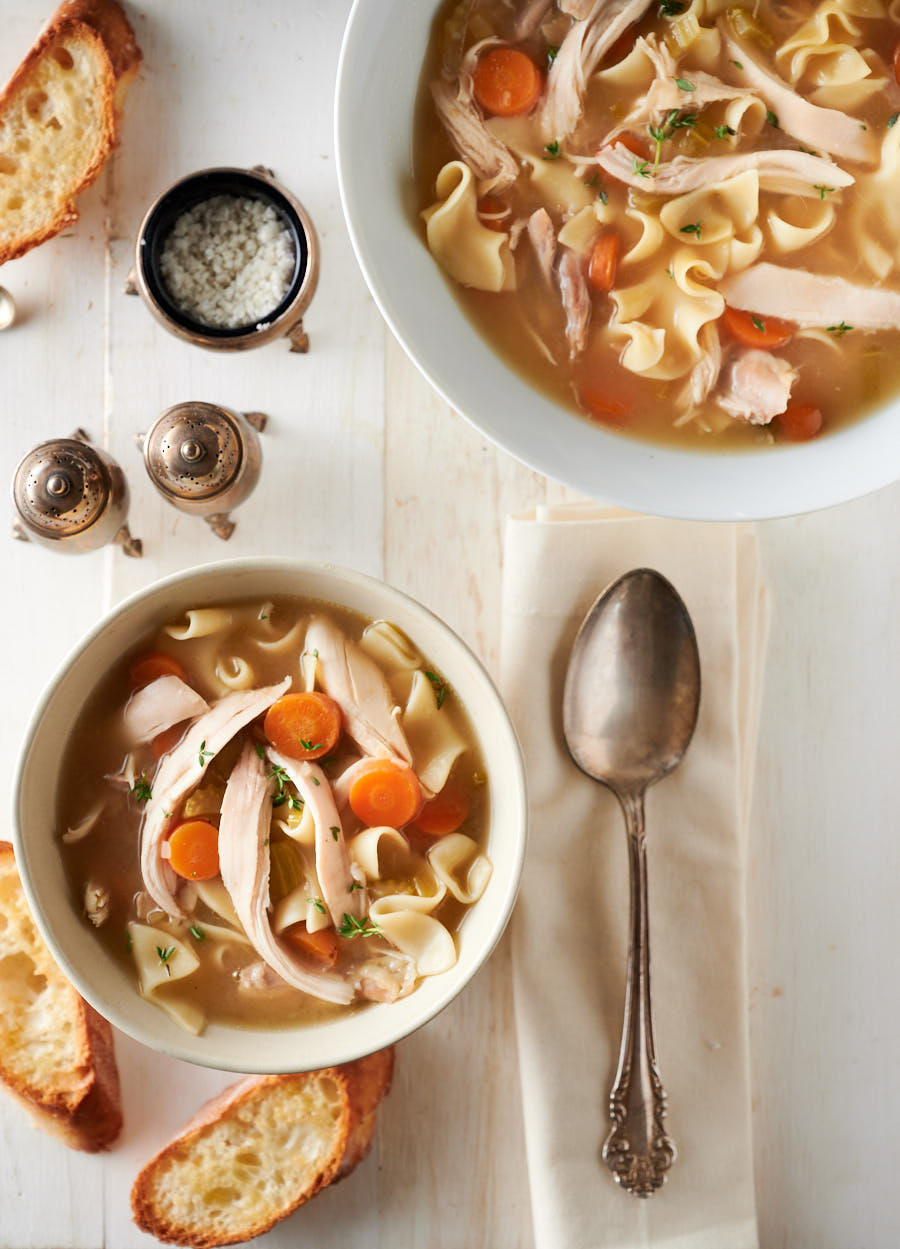 chicken noodle soup from scratch
Making chicken noodle soup from scratch is a labour of love but the results are so worth it.
Ingredients
4

lb

whole chicken

air-chilled

12

cups

chicken stock

– homemade is best but good quality store bought works too

1

tbsp

kosher salt

1 1/2

cups

onion

diced medium fine

1 1/2

cups

carrots

diced or cut into rings

2

stalks

celery

diced medium fine

2-3

sprigs

fresh thyme

2

Tbsp

olive oil

6

oz

broad egg noodles

1

Tbsp

cornstarch

you may want a bit more

2

tsp

kosher salt

to start – you will likely need more.

fresh thyme leaves

to garnish (optional)
Instructions
Poach the chicken
Choose a pot large enough to hold the chicken and 12 cups of stock. Starting with stock is your first layer.

Heat the chicken stock to just simmering. Add one Tbsp kosher salt, then add the chicken, breast side down. Your pot is the right size if the broth almost covers the chicken.

Poach the chicken, covered, for about 25 minutes. Flip the chicken. Be careful. Hot liquid. Use tongs and a wooden spoon to stabilize. Continue poaching another 10-15 minutes or so.

You are going for about 160F in the breast and 170F in the thigh. Use your instant read thermometer. Don't have one? Get one! It's important. You'll wonder how you ever survived without one.

Remove the chicken from the broth. Keep in mind the cavity is full of hot stock. Be careful. Let it drain.

Let the chicken cool until you can handle it. This takes a surprisingly long time. Remove the chicken from the bones. Discard the skin. Store the chicken in the refrigerator.
Make the stock
Return the bones to the stock. Simmer for 3-4 hours, loosely covered. This adds more chicken goodness to the stock. Another layer of flavour. Maximum chicken soup goodness.

After 3-4 hours let cool slightly. Strain into a large container. Wipe out the pot.
Make the soup
Pre-heat your pot over medium low heat. Film the bottom of the pot with olive oil.

Add the onion, carrot and celery. Sweat until the onions are translucent. Don't let the vegetables brown. That's not a flavour you want here.

Add the thyme and return the stock to the pot.

Simmer until the carrots are tender. I can't tell you exactly – depends on how long you sweated them in oil and how big your dice is. Somewhere around 30-40 minutes is my guess.

While the soup simmers dice the chicken.

Once the carrots are tender add the noodles. Simmer until the noodles are cooked – about 8-10 minutes. Add the chicken and cook another 2-3 minutes.

Add salt – a tsp at a time until you have your salt in balance. It can take quite a bit. It depends on how you like your soup.

Add about 2 Tbsp of hot stock to the cornstarch. Mix to make an even paste then add another couple tablespoons of stock to dilute it. Return the cornstarch mixture to the pot. Stir and bring to a simmer. It will thicken just a little bit for that magic mouthfeel.

Taste it at this point. If you want a bit more texture in the broth repeat the cornstarch process with a second tablespoon.

Add a few fresh thyme leaves to add a little extra flavours if you like.

Serve and be ready when people ask for seconds…
Notes
If you are really pressed for time you can skip the bones in broth step. It won't be quite the same but it will still be delicious. Freeze the carcass and use it make stock.
Nutrition
Serving:
8
servings
|
Calories:
430
kcal
|
Carbohydrates:
25
g
|
Protein:
30
g
|
Fat:
23
g
|
Saturated Fat:
6
g
|
Cholesterol:
99
mg
|
Sodium:
794
mg
|
Potassium:
708
mg
|
Fiber:
2
g
|
Sugar:
3
g
|
Vitamin A:
4230
IU
|
Vitamin C:
6.1
mg
|
Calcium:
52
mg
|
Iron:
2.3
mg