Want the comfort of a nice pasta al forno but you don't have time to make anything fancy? Baked pasta with sausage alfredo sauce is a fast way to get a fix.
Simple. Fast. Easy. Sausage and a bit of crushed red chili kick the flavours up a notch. It's an Italian spin on mac and cheese with pulled pork.
I'm a pasta al forno addict. It's by far my favourite way to make pasta. Lasagna. Cannelloni. Even baked ziti. I love it all.
It's all I can do not to fill this blog with 27 different lasagna recipes. Someday I'm going to try the Timpano from The Big Night. Look out Tony Shalhoub.
Baked pasta with sausage alfredo sauce is a lot easier than the Timpano if you're not feeling up for a challenge. You can have this on the table in about 40 minutes. Timpano is around 6 hours.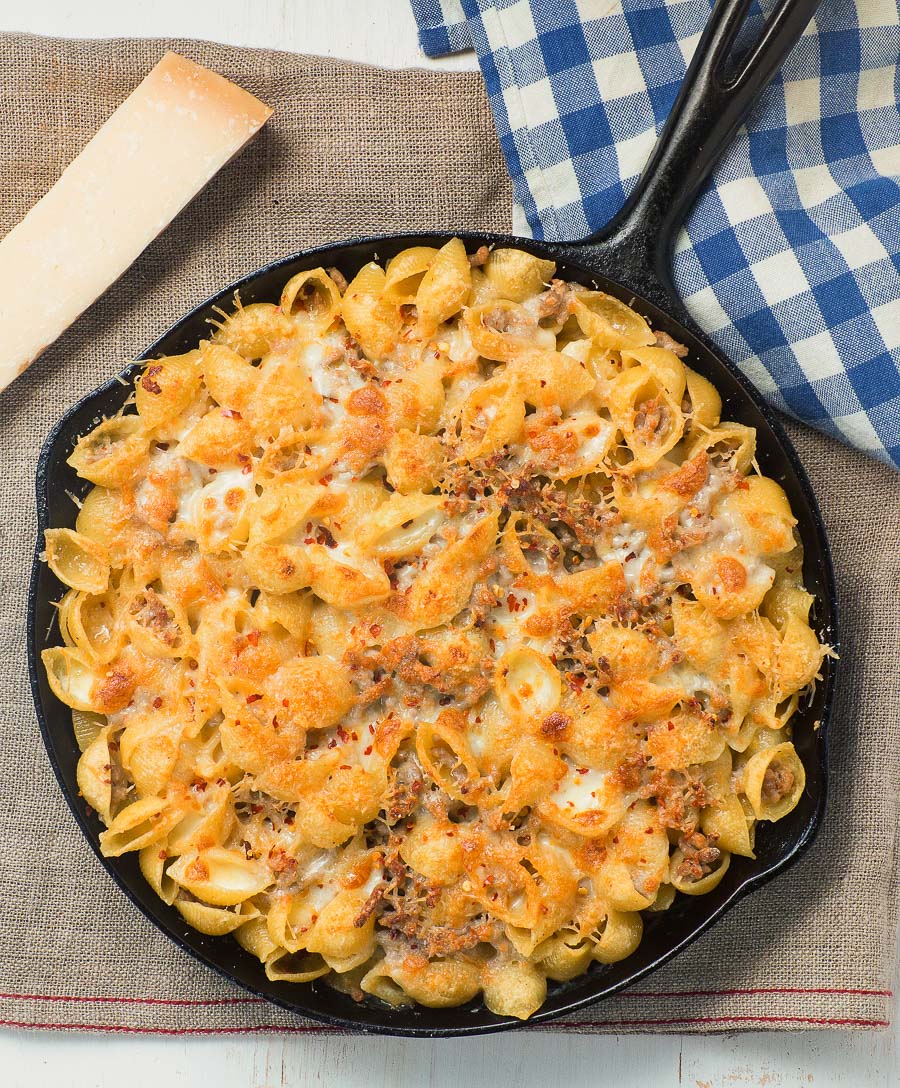 baked pasta with sausage alfredo sauce
Sausage and crushed red chilies add another dimension in this baked pasta with sausage alfredo sauce.
Ingredients
1

lb

mild Italian sausage

- removed from casing and crumbled

1/2

onion

- finely diced

2

Tbsp

butter

2

cloves

garlic

- crushed

1

cup

heavy cream

- 35% or higher fat content

1 1/2

cups

grated parmigiano reggiano

- not the cardboard pre-fab stuff

crushed red chilies to taste - I like about a tsp for just a bit of bite

8

oz

fresh mozzarella in water

- drained and cut into 1/2 inch squares

1

lb

conchiglie or other similar shell pasta
Instructions
Pre-heat your oven to 350F. Position the rack about 8 inches from your broiler.

Put a big pot of well salted on to boil

Melt the butter in an oven-proof frying pan large enough to hold all the pasta. Cook the onions over medium low heat until soft, about 5 minutes.

Add the dried pasta to the boiling water.

Crumble the sausage meat into the pan and cook, stirring constantly, until cooked. This takes about 5-7 minutes.

Add the garlic and cook another minute.

Add the cream and heat through. Stir in 3/4 cup (half) the parmigiano reggiano to melt. Hold over low heat until the pasta is cooked.

When just barely done, drain the pasta. Return the pasta to the pot and mix in the sausage Alfredo sauce thoroughly.

Return the pasta and sauce to the oven-proof frying pan. Sprinkle the remaining 3/4 cup parmesan and the fresh mozzarella overtop and place in the oven on the high rack. Bake for about 10-12 minutes then set your oven to broil. You are going for a nicely browned top. Watch your pasta closely. Seriously. It can all go to hell in a minute.

Let stand about 10 minutes and serve as you would any baked pasta. It's a big, gooey, delicious mess so don't get any ideas that you can plate this nicely.
Notes
You can play with this recipe. A mix of pecorino romano instead of parmigiano adds a nice salty bite. Adding another 6-8 oz of fresh mozzarella cubes mixed right into the pasta before you top it moves it into super cheesy goodness land.
Nutrition
Serving:
8
servings
|
Calories:
929
kcal
|
Carbohydrates:
60
g
|
Protein:
38
g
|
Fat:
58
g
|
Saturated Fat:
29
g
|
Cholesterol:
168
mg
|
Sodium:
1244
mg
|
Potassium:
454
mg
|
Fiber:
2
g
|
Sugar:
3
g
|
Vitamin A:
1150
IU
|
Vitamin C:
2.7
mg
|
Calcium:
546
mg
|
Iron:
2.3
mg