There's nothing like a classic American potato salad. Something about the creamy potatoes, eggs and mayo just make it perfect for a backyard barbecue. Or with fried chicken.
Or just about anything. And this is about the best potato salad I have ever had.
Potato salad is my kind of comfort food. Probably because I love BBQ. And I love fried chicken. And I love potatoes. So not a big surprise.
But I don't like just any potato salad. I'm actually pretty picky. Don't like it pre-fab from the grocery store. Not crazy about it at most casual restaurants.
Usually don't want anything to do with what they serve at fast food joints. But I call this best potato salad for a reason. It's just really, really good.
Best potato salad – that's a very big claim. Too big really. And it's very subjective. I love a good French potato salad. Potato salad with grainy mustard and bacon can be fantastic.
So maybe it's not the best but it's up there. There's just something about it that works. Works very well.
I can't take much credit for it. This is America's Test Kitchen all-American potato salad with a couple small glebekitchen touches. More eggs. Lots more. And leave out the celery seed. That's it. But it makes a difference.
If you want to make the best potato salad, it's going to be a bit more work than tossing potatoes with some mayo and chopped onion. Sorry. It's not hard but there are a few extra steps.
Pickle juice is the secret ingredient. Pickle juice and ball park mustard. It's different. Crazy even. But it's critical. Drizzle warm potatoes with pickle juice and mustard. Let it sit to allow the potatoes to absorb the flavours.
Sour cream is the other twist. Full fat sour cream. Don't wimp out. Cook to impress. Nobody needs to know.
Just serve it up and take the compliments. Nobody is going to die because they had a few extra calories at a party. I'm pretty sure anyway. At least I hope not.
Best potato salad? I think so.
Old school? Maybe.
Tasty? Definitely.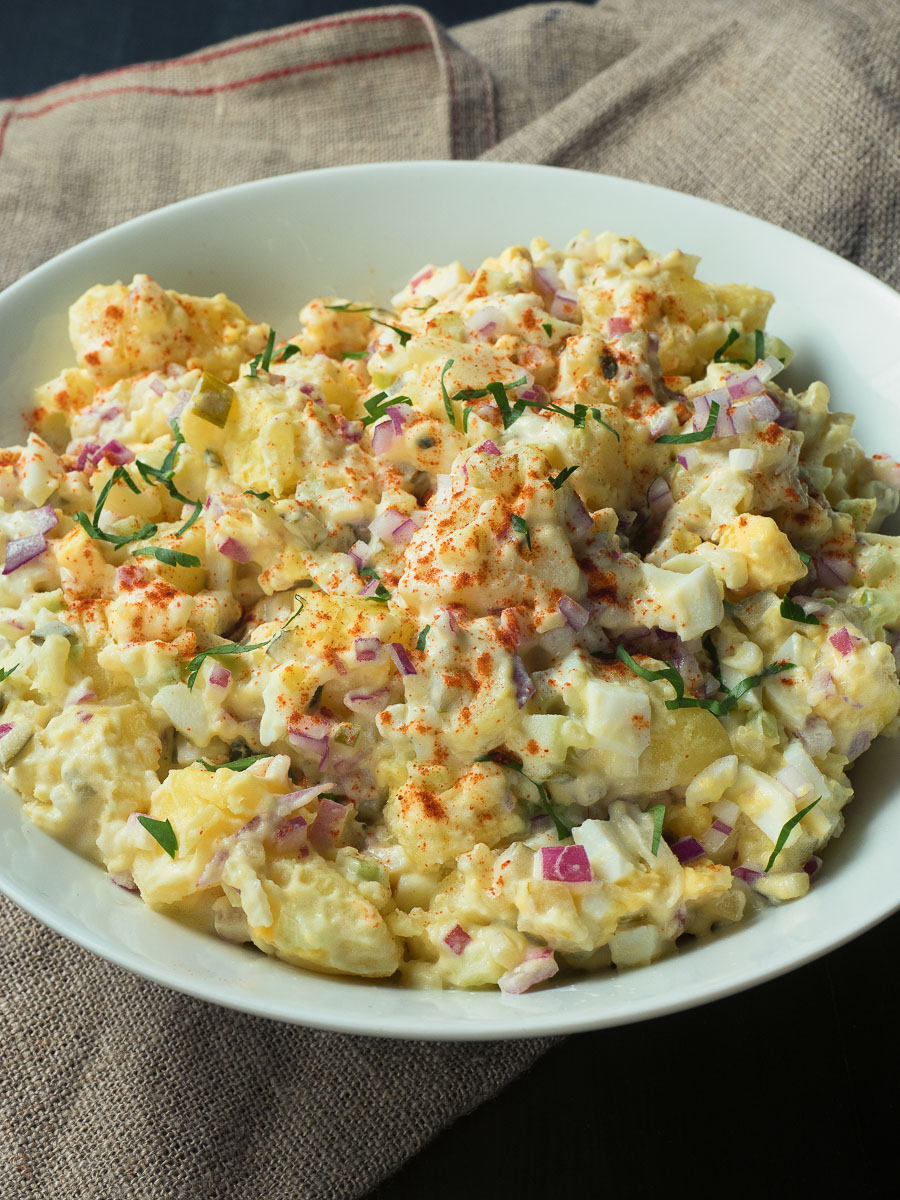 best potato salad
Nothing beats a good potato salad to round out a picnic or a backyard barbecue. Good friends. Good food. Good times. Let me know if you think it's the best potato salad ever.
Total Time
1
hour
20
minutes
Ingredients
2

lbs

yukon gold potatoes

3

Tbsp

pickle juice

total

1

Tbsp

yellow mustard

2

dill pickles finely minced

1/2

red onion finely minced

1

stalk celery finely minced

1/2 - 1

Tsp

kosher salt

3

hard-boiled eggs

chopped

1/2

cup

mayonnaise

- Hellmans and preferably not light

1/4

cup

full fat

14% sour cream

1/4

tsp

black pepper
Instructions
Peel and dice the potatoes into roughly 3/4 inch pieces.

Boil until tender in well salted water. Drain.

Mix 2 Tbsp pickle juice with the yellow mustard. While the potatoes are still warm, spread the potatoes on a cookie sheet and drizzle the pickle juice/mustard mixture overtop. Stir gently to coat all the potatoes.

Refrigerate around 30 minutes.

Combine all other ingredients except the eggs in a bowl large enough to contain the potato salad. Don't forget the third Tbsp of pickle juice.

Fold in the potatoes and then the eggs gently and chill for around one hour. Serve and enjoy.
Notes
The pickles you use are important. This recipe works best with plain old every day Bick's dill pickles.