This is the best Caesar salad I know how to make. Homemade dressing. Homemade croutons. Fresh grated parmesan. Delicious.
It pulls out all the stops. It's serious business. Scratch cooking. This is not your run-of-the-mill toss it on the table Caesar salad.
It's an undertaking. Be sure of that. A commitment. Old school. But the results speak for themselves.
I love a gutsy salad. Lots of big flavours. Assertive dressing. The croutons are crazy good. Think tossed in butter and roasted garlic. And fresh high quality parmigiano reggiano. This is not the salad you get chain restaurants.
Why restaurant Caesar salad dressing tastes better
Egg yolk. And anchovies. That's why. Sorry. That's how they do it.
This dressing is old school. Thin. More oily than creamy. Lemony. Not the mayonnaise based supermarket style. Like what you get at a decent Italian restaurant.
There's anchovy paste in this dressing. It's not the tastiest stuff straight from the tube. But a Caesar salad is just not right without anchovy.
That's my opinion anyway. You can leave it out. It can be a great salad. But it won't have the magic. If you make Caesar salad dressing and it doesn't quite taste right I bet that's why.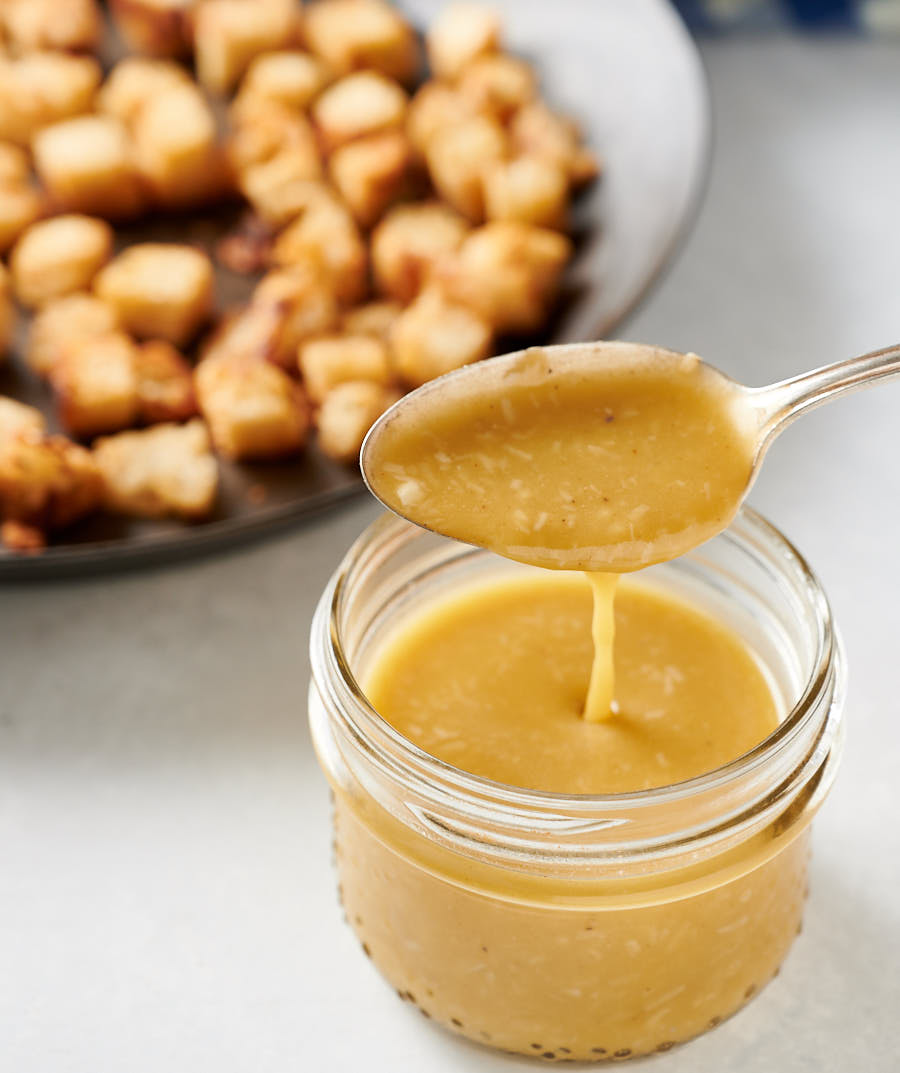 Coddle eggs to make them safe
There's a raw egg yolk in this recipe. Sort of. There's nothing to fear. You can make raw egg yolk safe to eat.
It's called coddling an egg. Not like "oh what a nice egg. Let me take care of you. I'll protect you from the big bad world". Not like that. Coddling like here's a technique that they use in restaurants and you can do it too.
Do it and there's virtually no risk. It's easy. Just drop that egg into boiling water for exactly one minute. Kills everything bad. Leaves the yolk raw. Like makingmayonnaise.
Everybody's doing it. I'm still alive. And you will be too. Google it if you don't believe me.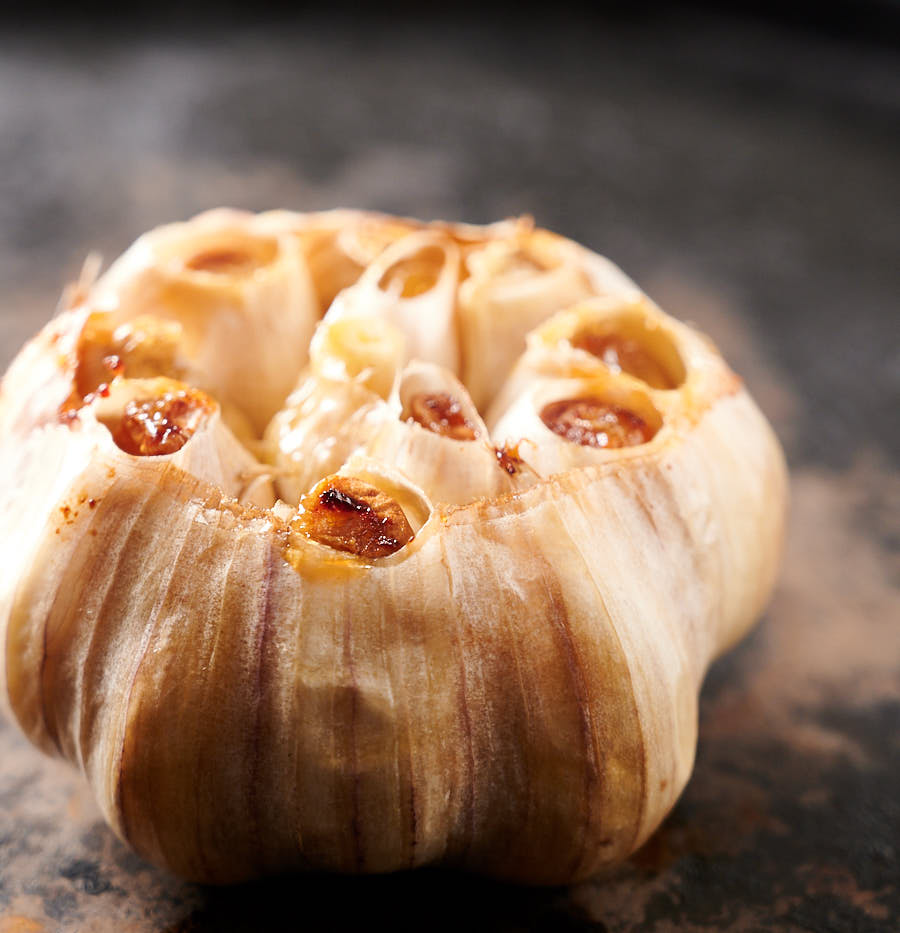 Emulsions make good dressings
In cooking, emulsion is a fancy word to describe getting fat and liquid to come together as one. So you don't know where one starts and the other one finishes.
The most recognizable emulsion is mayonnaise. Egg yolk and oil. Just like this dressing. Hollandaise is another example. Even a simple mustard based vinaigrette is an emulsion.
The key is to add the oil slowly. And not get the mixture too hot when you do it. That's why whisking is safest. Most likely to succeed. Everything stays cool.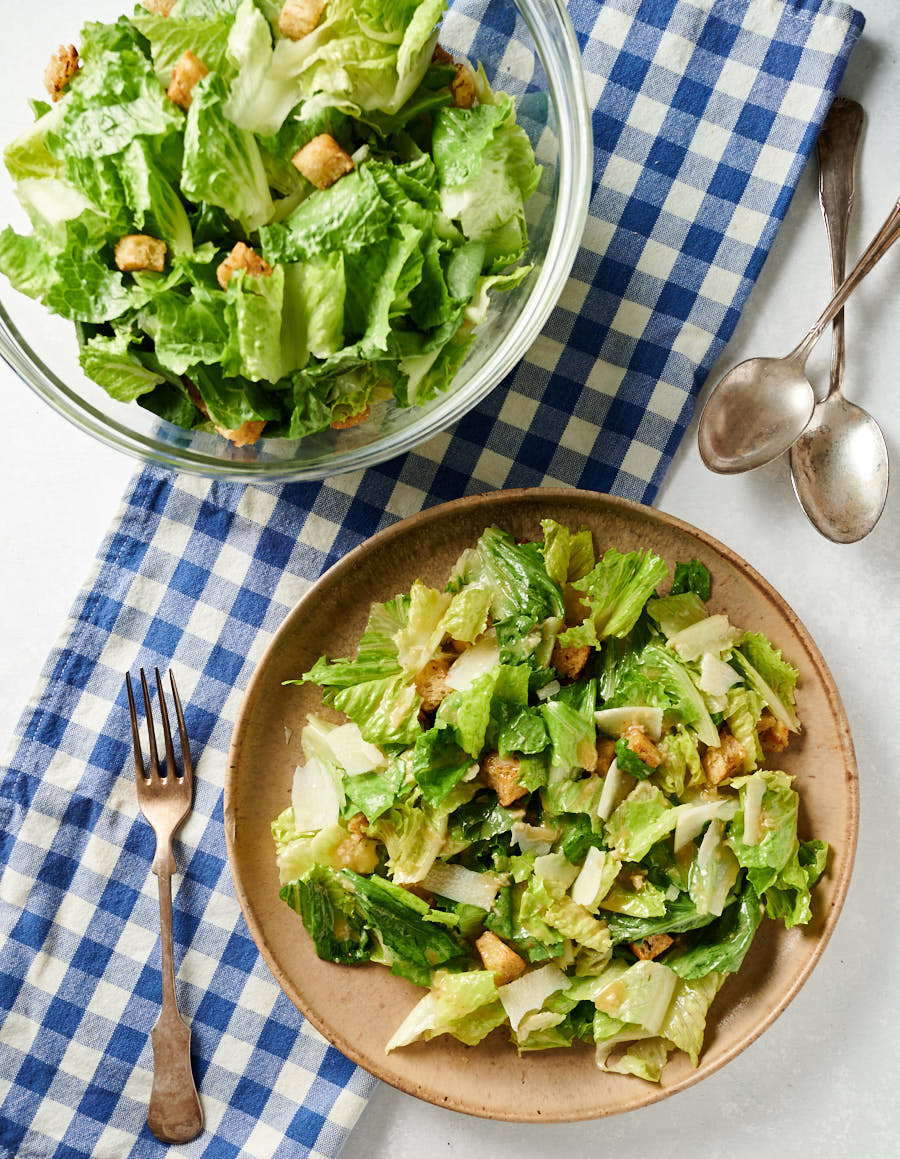 A mix of olive oil and vegetable oil for balance
Olive oil is wonderful stuff. It has great flavour. But when you use it alone in a Caesar salad dressing it overpowers. Just too heavy. You would think it would be better but it's not.
Cut it with some neutral vegetable oil and it all comes into focus. You can taste the olive oil. It's there. But it is in balance with the other ingredients. Simple trick. But it makes a big difference.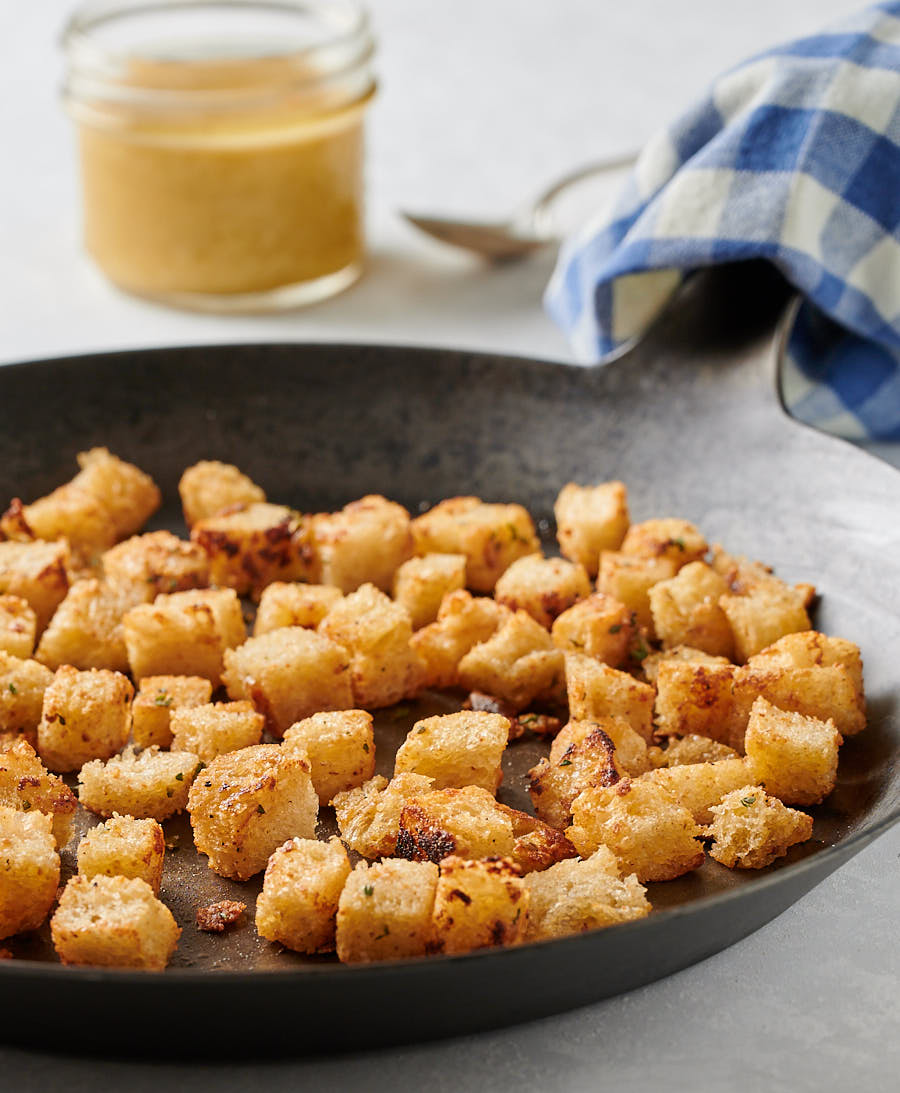 Homemade croutons put any Caesar salad over the top
Homemade dressing is only half the story. The croutons are the real star. Sounds crazy. I know. But it's amazing what a difference they make.
Roasted garlic. Butter. Fresh herbs. And good bread. That's all you need. But wow. You won't believe how good homemade croutons can be.
Crunchy on the outside. A little chewy on the inside. So good. Try it. You will impress yourself. And you won't go back.
Caesar salad with roasted garlic croutons is not your every day Caesar salad. It's more work. But if you really want to show off. Really want to impress. If you want to make the best Caesar salad you can. Then this is the one.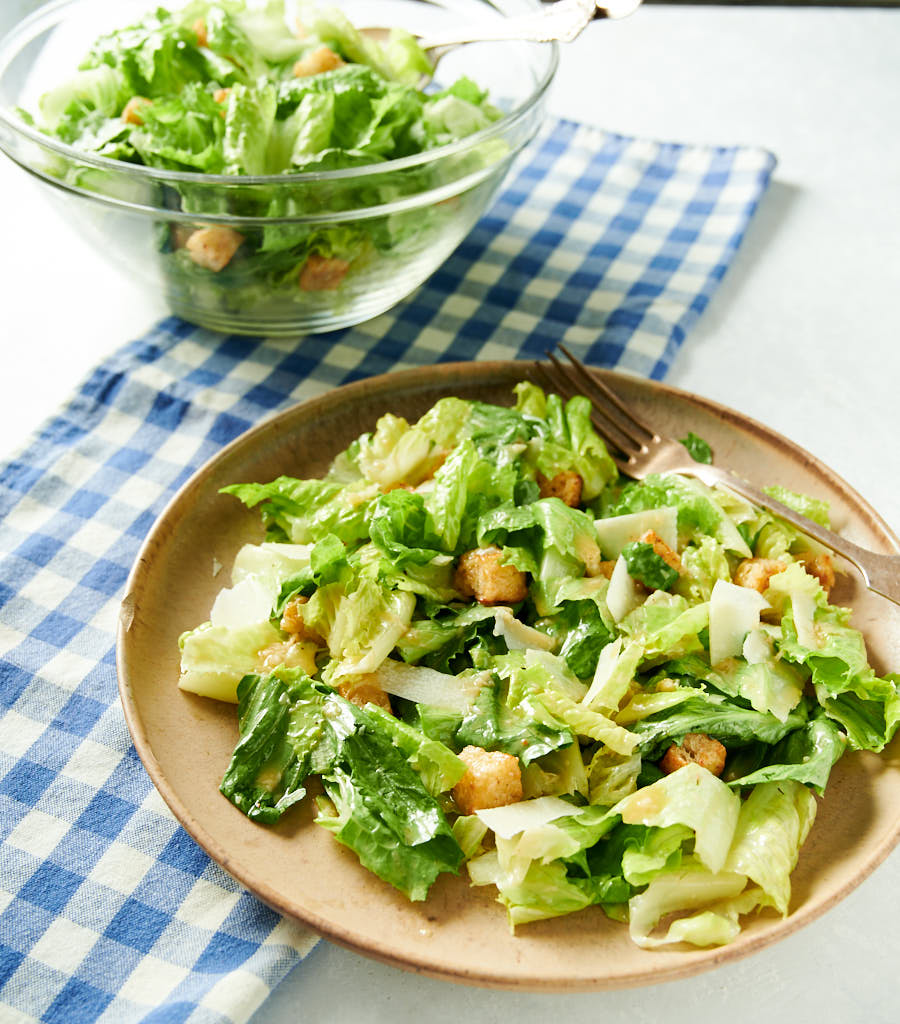 caesar salad with roasted garlic croutons
Caesar salad with roasted garlic croutons a big cut above your average salad. Don't let the long list of ingredients throw you. It's not hard and it's worth it.
Ingredients
Dressing
1

coddled egg yolk

- see instructions

1

tsp

anchovy paste

1

tsp

dijon mustard

2

cloves

garlic

crushed or very finely minced

1

Tbsp

red wine vinegar

Juice of 1/2 lemon

1/4

cup

olive oil

1/4

cup

vegetable oil

a couple dashes Worcestershire sauce

a couple drops of tabasco

2

Tbsp

parmigiano reggiano

grated on a microplane grater

a few grinds of fresh black pepper
Croutons
2

cups

day old sourdough bread

cut in 1/2-3/4 inch cubes

6-7

cloves

roasted garlic

- see notes

4

Tbsp

butter

1

tsp

minced fresh thyme leaves

salt

a sprinkle over the croutons
Salad
2

heads of romaine lettuce

outer leaves discarded

parmigiano reggiano

grated - to taste
Instructions
Dressing
Coddle the egg. Bring a pot of water to boil and cook the egg in its shell for exactly one minute. Separate the yolk, discarding the white.

Combine the coddled egg yolk, mustard, anchovy paste, garlic, red wine vinegar and lemon juice in a small bowl.

Slowly drizzle the oil into the bowl, stirring or whisking constantly. You are making an emulsion. You want the oil and egg mixture to combine.

After adding all the olive and vegetable oil, mix in the worcestershire, tabasco, parmegiano and black pepper. Taste. You may want a pinch more salt. The cheese and anchovy paste are salty. Be careful not to over salt.
Croutons
Pre-heat your oven to 350F. In a small bowl, work the butter and roasted garlic together.

Melt the butter, garlic mixture in a frying pan over medium heat. Add the thyme and then the bread cubes.

Toss the bread cubes in the melted butter and continue to cook until the bread starts to brown slightly. Sprinkle with a bit of salt.

Transfer to an over proof cookie sheet and bake until golden brown, 8-10 minutes. Be careful not to over-brown. Sprinkle with a bit of parmigiano if desired.
Salad
Toss the salad in enough dressing to coat. You will have extra dressing left over.

Mix in 2/3 of the croutons and divide the salad on 4 plates. Distribute the remaining croutons.

Sprinkle with grated parmegiano reggiano to taste and serve.
Notes
To roast garlic, cut the top third off a head of garlic. Drizzle with olive oil (fill it up). Wrap in tin foil Place on an oven proof dish or pan. Bake in a 400F oven until centre clove is soft. Start checking at about 40 minutes. When cool, squeeze the cloves out. This stuff is good on everything. Try leftovers smeared on fresh bread with a bit of olive oil.
Nutrition
Serving:
4
servings
|
Calories:
419
kcal
|
Carbohydrates:
10
g
|
Protein:
4
g
|
Fat:
41
g
|
Saturated Fat:
21
g
|
Cholesterol:
82
mg
|
Sodium:
287
mg
|
Potassium:
70
mg
|
Vitamin A:
1660
IU
|
Vitamin C:
2.7
mg
|
Calcium:
64
mg
|
Iron:
1
mg