Restaurant style pathia curry is the perfect balance of hot, sweet and sour. It may not be a curry that comes to mind immediately but once you try it you will be hooked.
This is a curry you don't see in all Indian restaurants. That's because they all make the same 15 curries. Why is that?
Tell me I am wrong. It's like they all got together and printed the same menu to save money. I know. I rant about that one a lot. But why can't they break the formula?
India has one of the most varied cuisines in the world. How hard can it be to make something that isn't a madras? Or a jalfrezi? Or butter chicken? Seriously. 
Pathia is nowhere to be found where I live. There are lots of Indian restaurants. Lots. But no pathia. Which is a bit ridiculous. It's tasty stuff. It would sell. If you've never tried it you really should.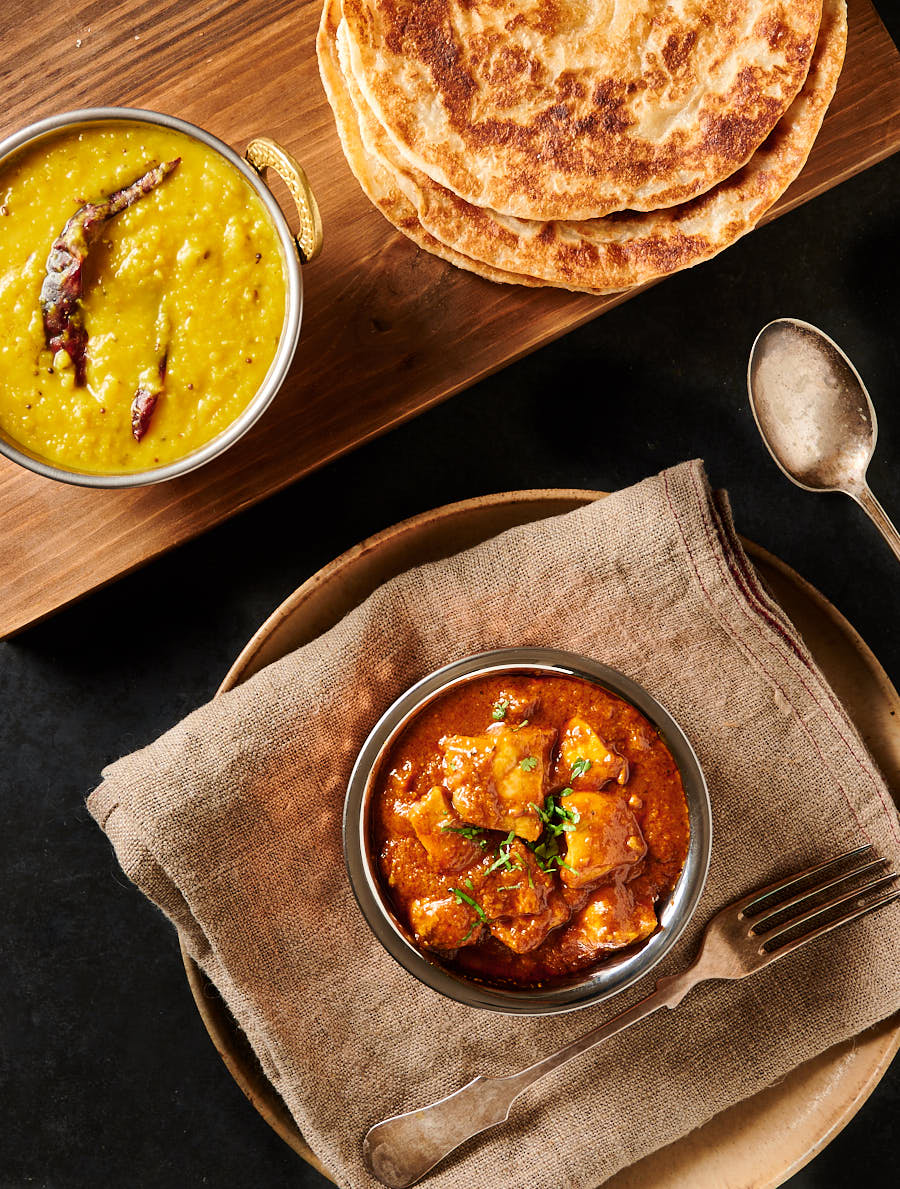 Pathia curry is true evolutionary cooking
This is an old dish. Historic really. Pathia has it's roots in an ancient Persian dish. It's been adapted to Indian cooking and then again to Indian restaurant style cooking. And it made it big in the curry houses in the UK. 
You don't even see it much in Indian cookbooks. Or on the big curry websites from India. It's fallen by the wayside. There are a few recipes out there but not many. The curry that time forgot. 
It is real culinary Darwinism. It started when the Persians emigrated to India. They brought their cooking style and techniques. Like dhansak curry did. 
They settled in Gujarat. And had to make do with the ingredients at hand. No amazon prime back then. So they evolved it to use Gujarati spices. Locavores.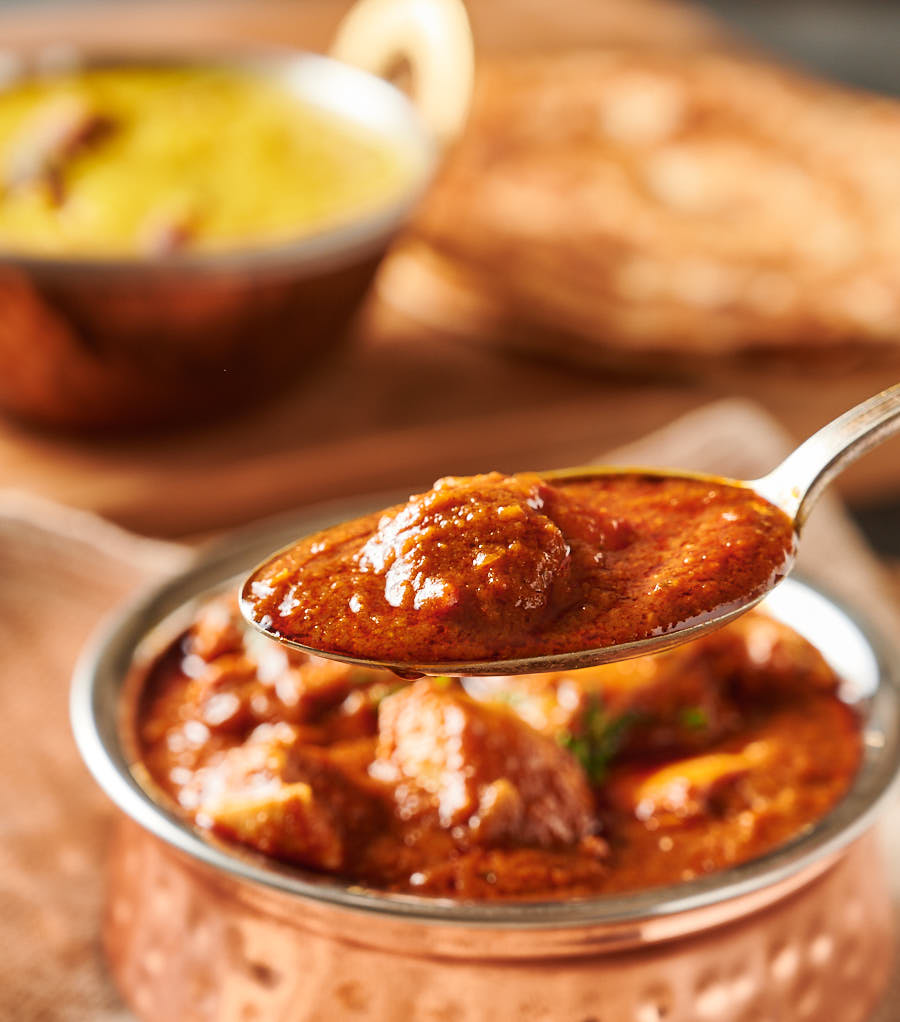 It used to be that pathia was reserved for celebrations. Not every day dinner. When you taste it you will understand why.
And then it seems it fell from favour. From Indian wedding to dinner at a local take-out restaurant. That's quite a fall from grace. No offence to restaurants intended.
But it's worth trying. It's good. Maybe you can be part of the great pathia revival. I am.
I love how food evolves through time. Centuries in this case. From Persia to India to the UK. And now to you.

Pathia has a distinctive flavour profile
It really doesn't taste like any of the other famous curries. It's hot. Medium spicy anyway. And sour. And sweet. Tamarind adds a nice zing.
Restaurant style pathia curry really isn't your run of the mill curry. A bit different. But in a really good way.
Making it restaurant style gives it that characteristic restaurant gravy. All that good sauce to mix with rice. Or to dip your flat bread into. 
It's versatile as well. It works well with chicken, lamb, shellfish, paneer – anything really.
Do your prep before you get started
Make your curry base and have some heated and ready to go. Pre-cook your meat. Measure out your ingredients.
Have everything ready. Indian restaurant style cooking goes fast. Maybe 10 minutes from start to finish.
And please put on some old clothes. It's messy cooking. Turmeric stains are impossible to get out. You will not be happy about it if you don't. But a bit of splatter is part of the fun.
If you haven't read the guide to Indian restaurant technique yet, do it now. It has pictures to help you understand the recipe and cooking method.
There's also a guide to Indian ingredients in that post. That should help take the mystery out of this. Once you get it, you'll be able to make all your favourite restaurant dishes.
Restaurant style pathia curry. It's for when you want to try something new. Something special. Something delicious.
restaurant style pathia curry
Restaurant style pathia curry is a medium spicy, slightly sweet and sour curry that works equally well with chicken, lamb, vegetables or paneer.
Ingredients
The spice mix
2

tsp

indian restaurant spice mix or curry powder

- recipe link below

1

tsp

hot madras curry powder

- or use more Indian restaurant mix powder if you don't have any madras curry powder

2

tsp

kashmiri chili powder

or 1/2 tsp cayenne mixed with 1 1/2 tsp paprika

1/2

tsp

kasoor methi

- dried fenugreek leaves

1/2

tsp

kosher salt
The curry ingredients
3

Tbsp

oil

1

Tbsp

garlic/ginger paste

- recipe link below

1

Tbsp

tomato paste with enough water to dilute to the consistency of pasatta

15

oz

curry base

- recipe link below

10-12

oz

pre-cooked chicken or lamb

1

Tbsp

tamarind sauce

- not tamarind paste or concentrate. I like Maggi brand for this recipe.

1

tsp

brown sugar
Instructions
Make the spice mix.

Dilute the tomato paste with enough water to get to the consistency of passata.

Heat your frying pan (don't use non-stick) briefly over medium heat. Add the oil.

When the oil starts to shimmer add the garlic ginger paste and cook, stirring constantly, until it stops sputtering.

Turn down the heat and add the spice mix. This is the critical step. Stir it constantly for 30 seconds. If it starts to darken lift the pan off the heat. You want the spice mix to cook in the oil but not burn.

Turn the heat up to medium high. This is important. The heat is what caramelizes the onion in the curry base and gives the curry it's Indian restaurant flavour. As you become more comfortable with this technique try pushing it. Add the diluted tomato paste and stir until bubbles form (the oil will likely separate). This takes around 30 seconds to one minute depending on the heat.

Add 3 oz of curry base. Stir until bubbles form (little craters really), around 30 seconds. Think lively boil. Watch the edges of the pan. The curry can stick here. Sticking is OK. Just scrape it back into the base. Burning is bad.

Now add 6 oz of curry base and stir briefly. Let it cook until the bubbles form again. This takes 1-2 minutes.

Add the rest of the curry base and let cook until the bubbles form.

Mix in the tamarind sauce and sugar.

Turn the heat down to low and add the pre-cooked lamb, beef or chicken.

Let the curry simmer for about 5 minutes. If it gets too thick add a bit more curry base. Don't add water.

Garnish with a bit of chopped fresh cilantro and serve.
Notes
The recipe for curry base is here.
The recipe for indian restaurant spice mix is here. 
The recipe for garlic ginger paste is here.
If you haven't read about Indian restaurant technique yet, do that before you start cooking.
Tamarind sauce is not the same as tamarind paste. Tamarind sauce is a sweet/tart sauce that is around the sweet/tart flavour profile of a BBQ sauce. Tamarind paste is 100% tamarind with no added sugar. 
Have all your ingredients prepped and ready to go.
If you are making multiple curries, have your curry base warming in a pot on the stove. If you are just making one, microwave it to warm it up right before you start cooking.
Indian restaurants pre-cook their meat so it's ready for service. This recipe assumes the same. To pre-cook chicken, simply simmer it with a bit of curry powder and salt in chicken stock for about 10-15 minutes - until it's barely cooked.
To pre-cook lamb or beef, do the same but plan for 1 to 1/2 hours for lamb and 2 hours or more for beef. You are making stew meat so you are braising until tender. You will need to keep an eye on the level of the stock. For beef use beef stock.
Nutrition
Serving:
2
servings
|
Calories:
421
kcal
|
Carbohydrates:
13
g
|
Protein:
31
g
|
Fat:
26
g
|
Saturated Fat:
2
g
|
Cholesterol:
90
mg
|
Sodium:
1033
mg
|
Potassium:
819
mg
|
Fiber:
3
g
|
Sugar:
3
g
|
Vitamin A:
965
IU
|
Vitamin C:
4
mg
|
Calcium:
26
mg
|
Iron:
2.1
mg