Chaat masala is the spice mix backbone of Indian street food. It's tangy, salty, tart and a little bit spicy. Just the thing to wake up your tastebuds.
It's great with potatoes. With chickpeas. Chicken bites. I even use it in an aloo chaat chicken curry. Anywhere you need a bit of zing.
You can buy chaat masala. They have it at every Indian supermarket I have ever been to. Costs next to nothing. Some are pretty good. Some I really wonder about. It varies.
But if you want the biggest, fresher flavours then make it yourself. It's easy.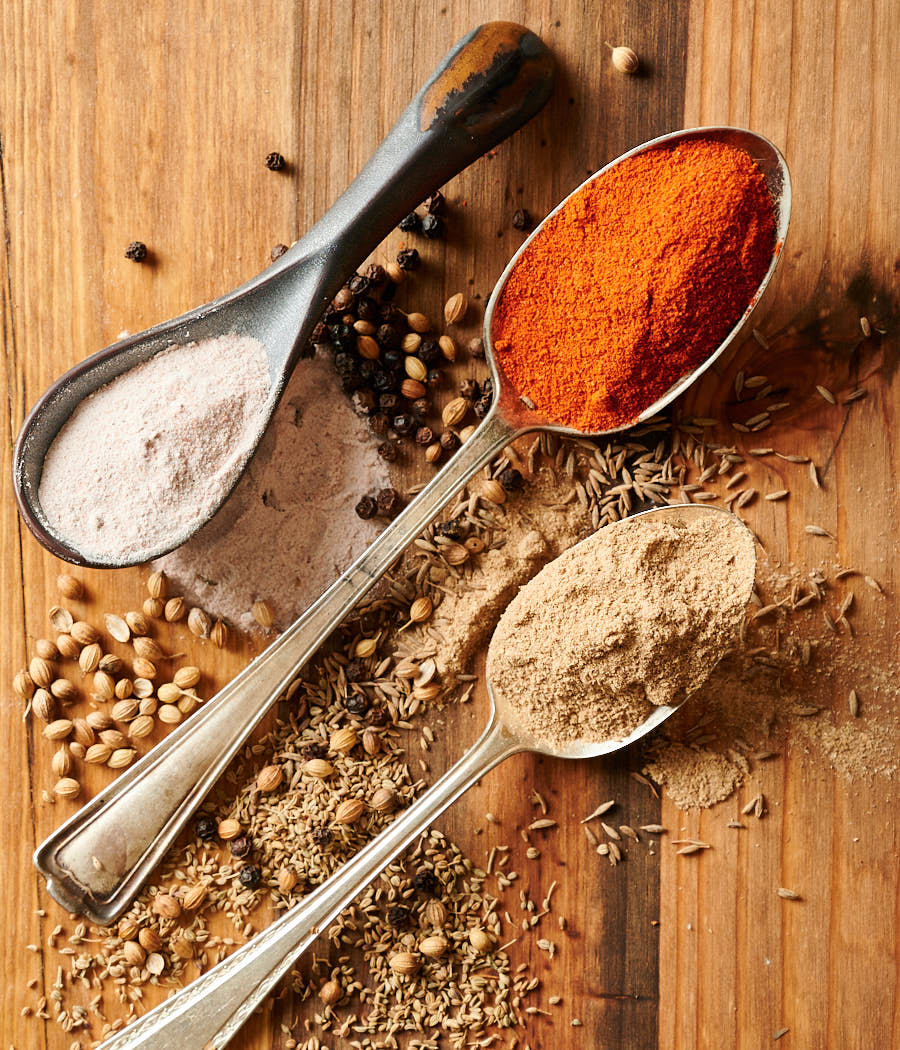 Black salt is critical for chaat masala
The one thing I always look for if I'm buying a pre-fab chaat masala mix is black salt. It has to have black salt. That makes it what it is.
Never heard of black salt? That's not a huge surprise. It's also called kala namak. Or Himalayan black salt.
It's volcanic rock salt. Loaded with impurities. And those impurities are what makes it great. Not great to put on all your food. But great for chaat masala.
It smells a bit like sulphur. Has some other stuff it in. It's one of those things you never knew you needed. But once you try it. Can't live without it. Well, you probably could live without it. By why would you want to?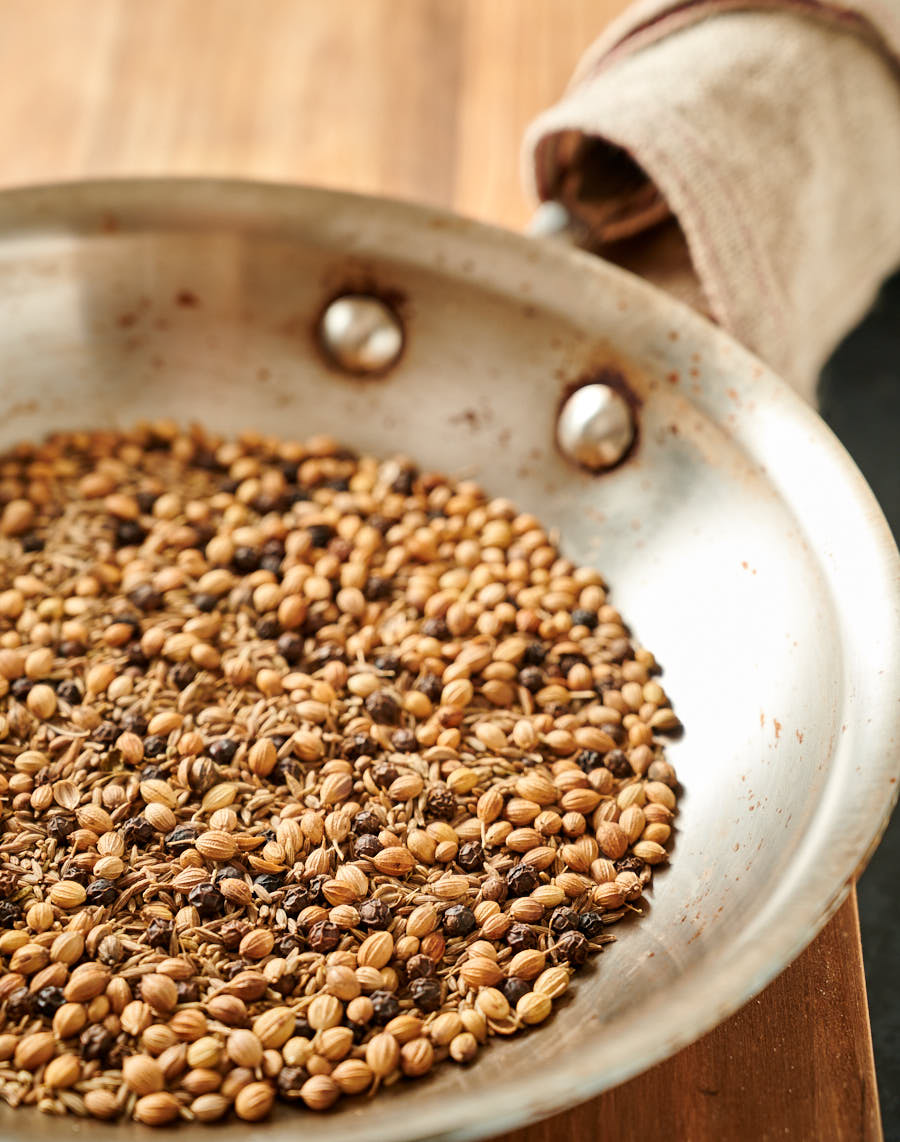 Toast your spices for the best results
You can't beat freshly ground, toasted spices for flavour. You really can't. Every time I do it I amaze myself. It's more work. But it's so good.
Maybe not every time you cook. I don't always do it either. But when you really want maximum flavour it makes a difference. A pretty big difference. Try it. You'll see.
Some people say you should toast each spice separately. To get each one perfect. That makes sense. But it takes time. Do it if you want.
Or think about the spices you are toasting. Black peppercorns and coriander seed. They are the biggest in this spice mix. Same size. So start them.
Cumin is smaller. Add that once the pepper and coriander start to smell good.
Ajwain is tiny. So add it last. And then let them all cool. Grind them up. And mix in the rest of your spices. 10 minutes tops. And it keeps for about a month. The pictures show a double batch. I am using a lot of it these days.
If you want to make Indian street food this is where you start. Chaat masala. I'll be adding chaat dishes soon. Just needed to get the base spice mix published first.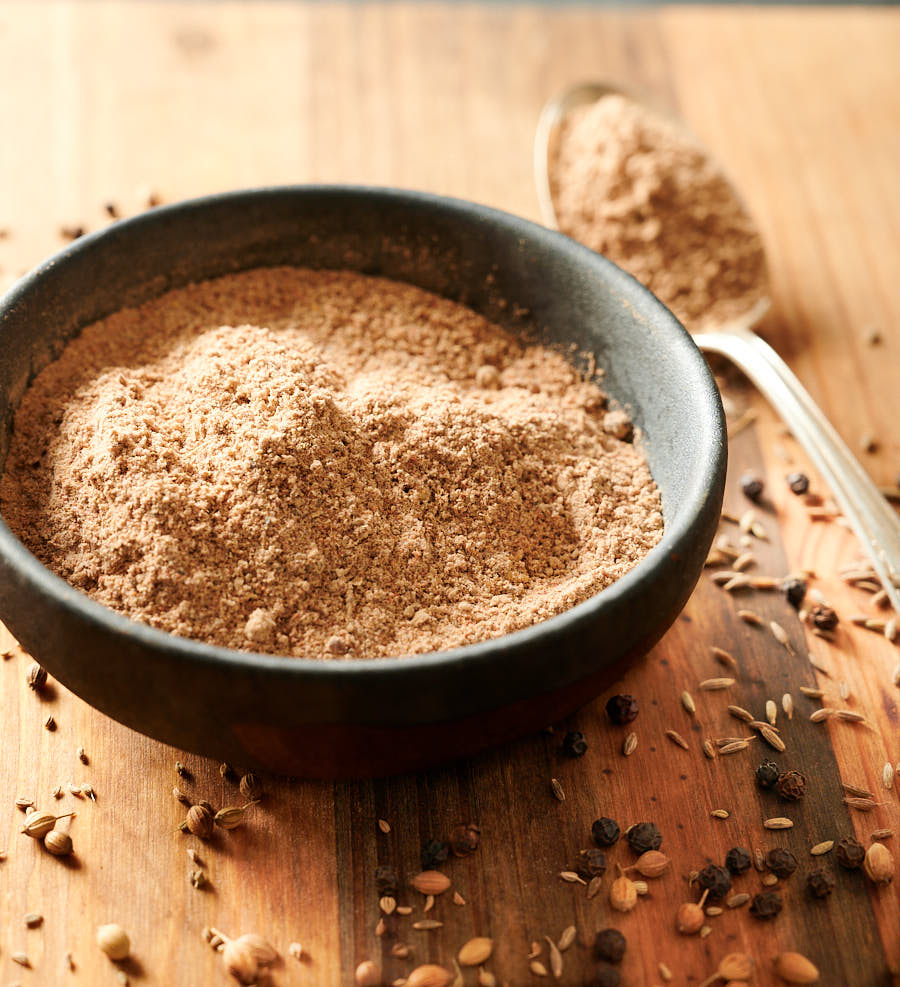 chaat masala
Chaat masala is a salty, tangy and tart spice blend that wakes up all sorts of Indian street food snacks.
Ingredients
1

tbsp

cumin seed

1

tbsp

coriander seed

2

tsp

black salt

1

tsp

ajwain seed

1

tsp

black peppercorns

1/2

tsp

kashmiri chili powder

1

Tbsp

amchoor powder

(dried mango powder)

1/4

tsp

citric acid powder

(optional)
Instructions
Heat a small skillet over medium low heat. Add the coriander seed and black peppercorns. Toast, stirring constantly, until they start to get fragrant. This takes about 90 seconds.

Add the cumin seed. Continue to toast another minute. Stir constantly.

Add ajwain seed. Toast another 30-45 seconds. Don't stop stirring. Remove the pan from heat and let cool.

Transfer the cooled whole spices to a spice grinder. I use an old coffee grinder for this. The type that works like a little blender.

Combine the freshly ground spices with the amchoor powder, black salt, Kashmiri chili powder and citric acid (if using).

Store in a glass container in a cool, dark place. Should stay tasty for at least a month.
Nutrition
Calories:
110
kcal
|
Carbohydrates:
19
g
|
Protein:
3
g
|
Fat:
3
g
|
Sodium:
13988
mg
|
Potassium:
229
mg
|
Fiber:
6
g
|
Sugar:
2
g
|
Vitamin A:
475
IU
|
Vitamin C:
1.1
mg
|
Calcium:
111
mg
|
Iron:
5.5
mg