Chana chaat is this crazy Indian chickpea salad. Green chilies, onions, cilantro, cucumber, and this crazy tangy spice mix.
Not like any chickpea salad you have ever had before.
It's great warm or cold. It's fun that way. The only thing to remember is you will need to adjust the salt up a bit if you are serving cold.
And maybe add a little squeeze of lemon juice. Maybe. Try it both ways.
Spiced oil makes chana chaat work. Every chickpea gets coated. So there's big flavour in every single bite.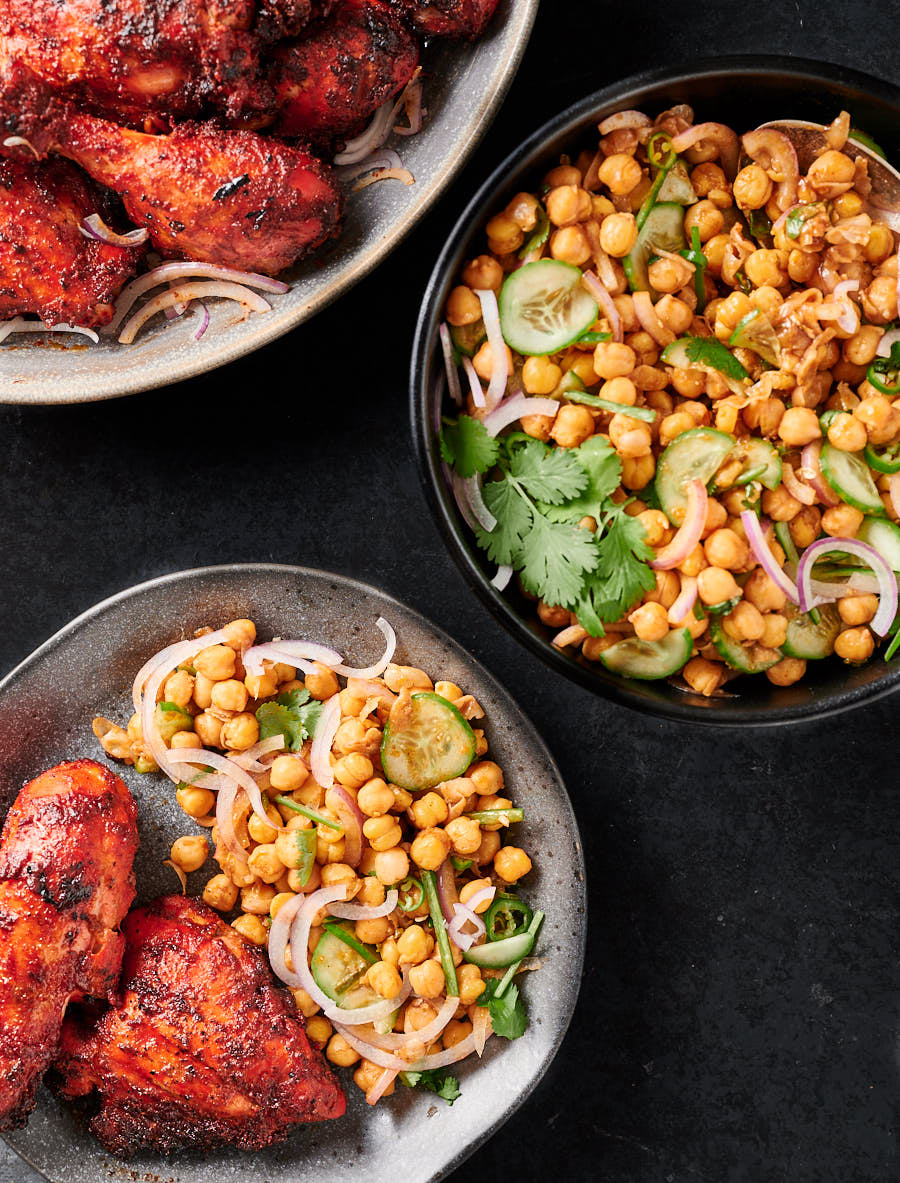 Chana chaat is Indian street food
I'm not brave. I've never eaten street meat in India. So I don't know if this is the real deal.
If you've had it on the street let me know what you think. This version is tasty. But I have no way to know if it's authentic.
Chaat are savoury snacks. Some are fried. Most really. Dough. Potatoes. I don't know what else.
Vegetarian mostly. Almost all are seasoned by chaat masala. The street meat seasoning of choice.
It's a great idea though. Walking through town. Feeling a little hungry. Hot and tasty snacks for sale.
You could make a meal of it. Street tapas. A little bite of this. A nibble of that. A nice cold beer. Good living.
For the record. It kills me that I have never eaten street food in India. Kills me. The smells are amazing. Sometimes playing it safe sucks.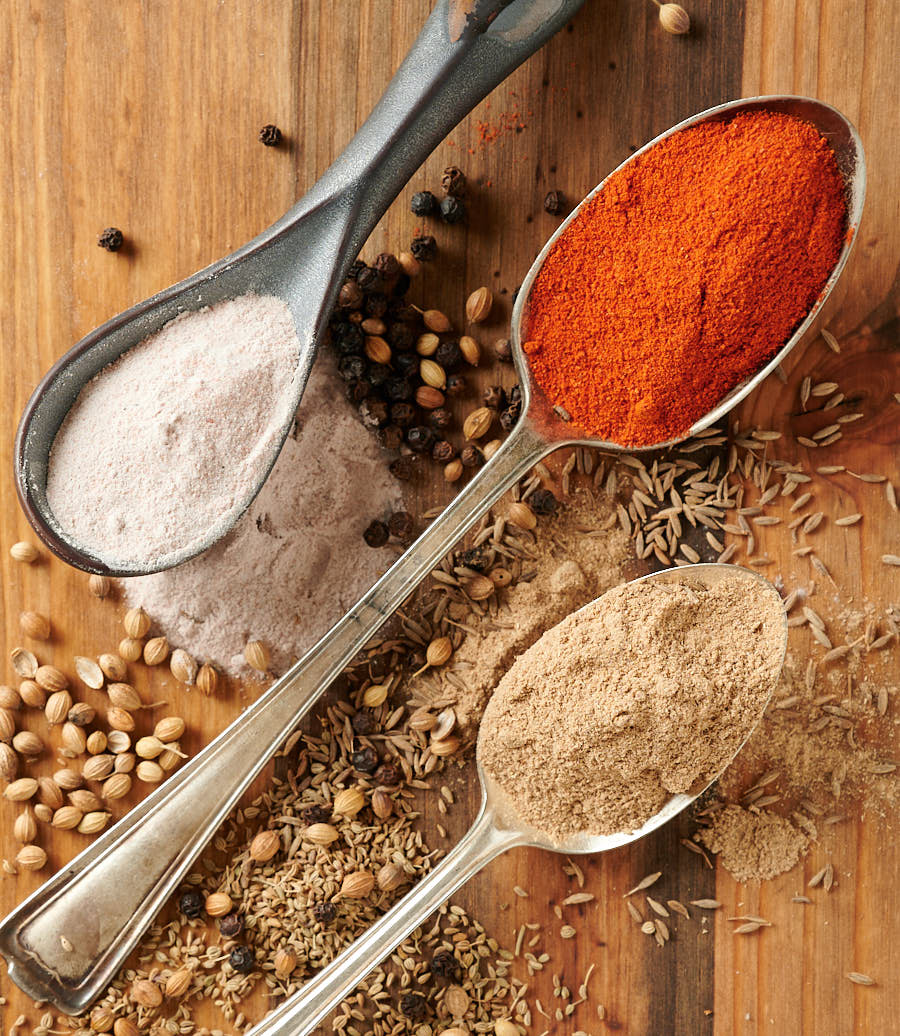 Chaat masala is what makes this work
Chaat masala is the chaat spice mix. The signature flavour. It is not like any other spice mix I've ever tasted. It's salty. And tangy. And funky tasting.
The funky taste comes from black salt. That's a volcanic salt full of trace elements. It has this strange sulphurous smell.
I know I'm not making it sound good. But it is. Different though.
You'll understand when you smell it. And taste it. I still remember the first time I tried it. Had my doubts. Then love at first taste.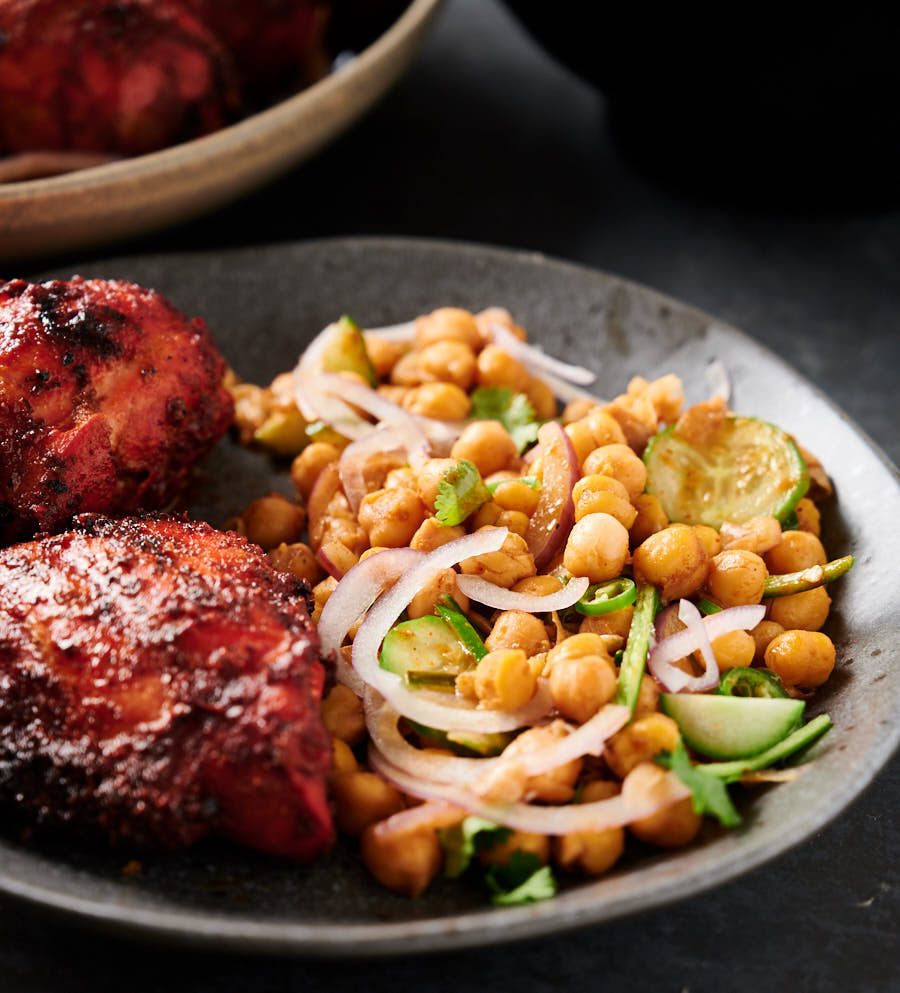 Cooking the spices with the chickpeas brings it all together
I like chickpea salads. But I find when you just toss a can of chickpeas into a cold salad it can sometimes fall a little flat.
The texture is a bit off. Or the dressing just slides off the chickpeas.
That's the beauty of chana chaat. The spices are bloomed in hot oil. Flavours dissolve into the oil.
Then the chickpeas tossed with the spice infused oil. Warmed through. It ties it all together.
It's the difference between chickpeas with spice and spiced chickpeas. Not sure I'm describing it well but the flavours intermingle.
Unified. You can't skip this step. It doesn't taste the same.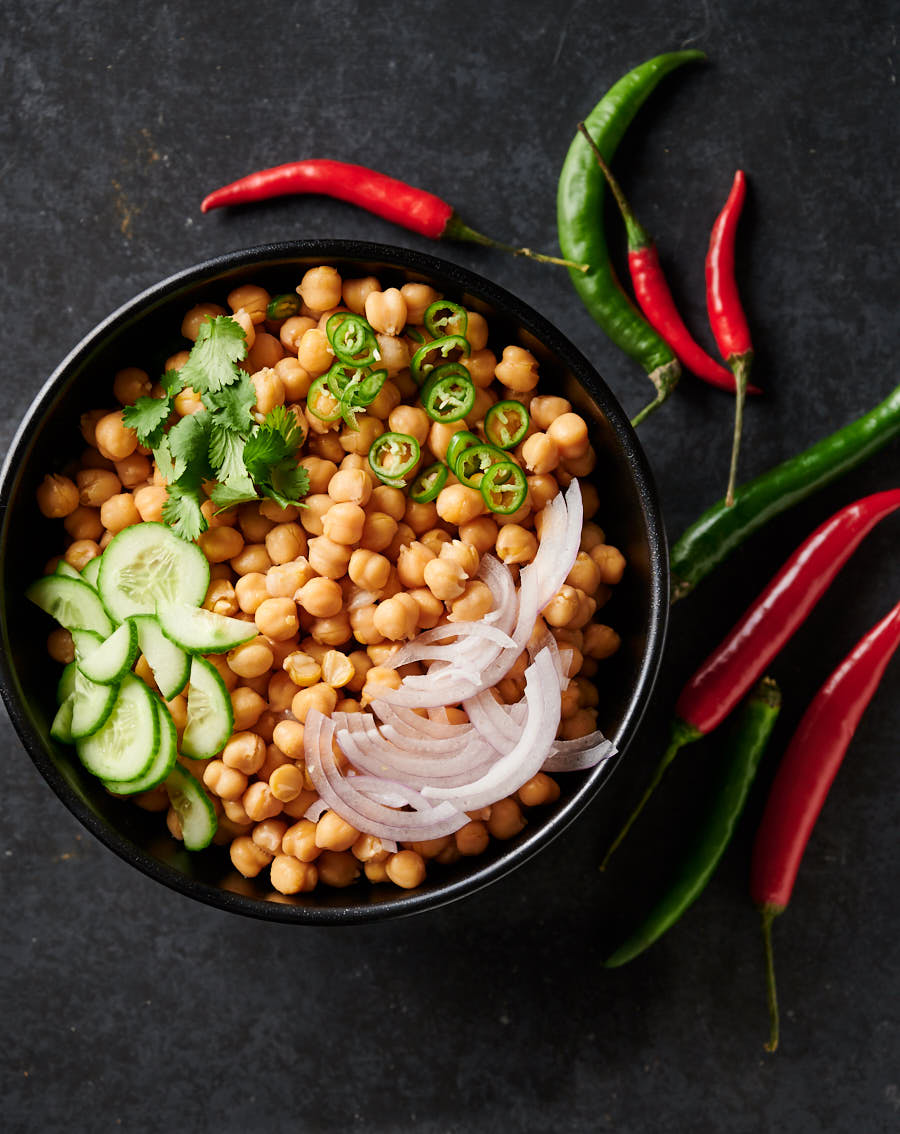 Chana chaat is great with tandoori chicken
I'm pretty sure this isn't a thing. But it should be. Chana chaat makes the perfect side dish for tandoori chicken.
It's like French fries or red beans and rice with fried chicken. Or potato salad with BBQ chicken. It just works. Seriously.
It makes the perfect Indian inspired backyard BBQ. Some good tandoori chicken. Chana chaat. Gunpowder potatoes. A nice green salad. Maybe a kachumber salad. That's a pretty good party menu. For me anyway.
Chaat masala. As a snack. Or a side. Or even a vegetarian main course. Just really tasty stuff.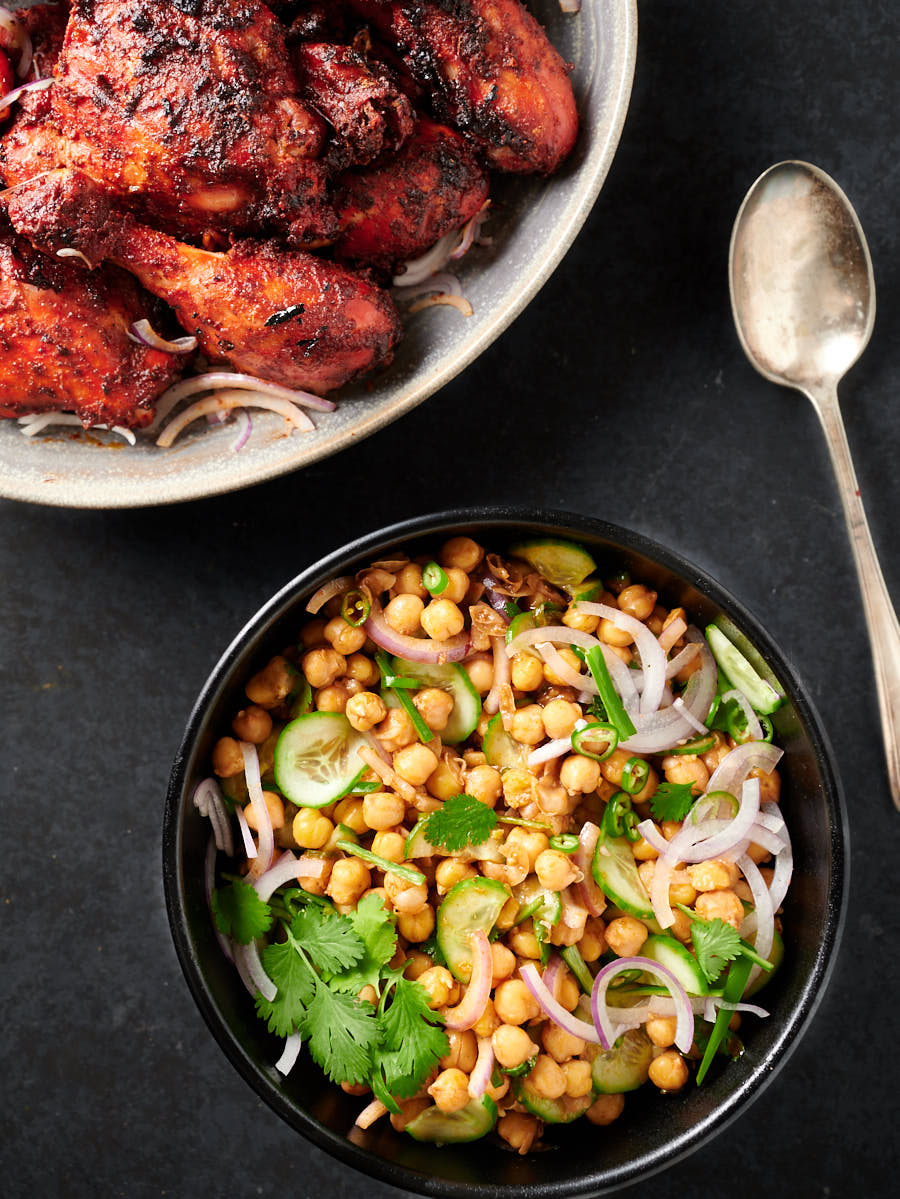 chana chaat
Chana chaat is a delicious Indian chickpea salad that makes a great starter. Or use it as a side for your next tandoori chicken BBQ party.
Ingredients
2

cans

chickpeas

15 ounce cans

1

small

red onion

thinly sliced

1

small

cucumber

thinly sliced

3

tbsp

cilantro

3

green chilies

thinly sliced

2

tbsp

vegetable oil

1

tsp

cumin

1

tsp

chaat masala

1/2

tsp

kashmiri chili powder

2

tbsp

tamarind sauce

e.g. maggi tamarina

1/2

tsp

kosher salt
Instructions
Preheat a skillet large enough to hold the chickpeas over medium low heat.

Add the oil. When it starts to shimmer add 1/2 the green chilies. Fry for about 30 seconds.

Add the cumin, chaat masala, kashmiri chili powder and salt. Cook another 30 seconds.


Add the chickpeas and tamarind sauce. Toss to combine and cook until chickpeas are just warmed through. Not hot. Just warm.

Transfer the chickpeas to a bowl large enough to toss all the ingredients. If you are serving cool, let the chickpea mixture cool to room temperature. Add the remaining green chilies, cucumber, red onion and cilantro. Toss to combine. Taste. Adjust salt to taste. Serve.
Notes
You can use this in all sorts of ways. If you can find Indian sev add that in for crunch. Serve it with lettuce leaves to make little wraps. Or just straight up with drinks. Cool it down and serve as a chickpea salad. It's great warm or cold with grilled chicken.
If you are serving it cold try adding a little squeeze of lemon juice to a bite or two. Decide which way you like it better. And go from there.
You can buy chaat masala at any Indian grocery store. Or you can make it yourself using this recipe.
Nutrition
Serving:
6
servings
|
Calories:
61
kcal
|
Carbohydrates:
5
g
|
Fat:
4
g
|
Saturated Fat:
3
g
|
Sodium:
274
mg
|
Potassium:
68
mg
|
Fiber:
1
g
|
Sugar:
2
g
|
Vitamin A:
100
IU
|
Vitamin C:
5.3
mg
|
Calcium:
11
mg
|
Iron:
0.5
mg