Korean chicken wings are spicy, savoury and just flat out fantastic finger food. Perfect when you feel like grilling something delicious.
These are seriously tasty wings. Big Korean flavours of gochujang and Korean chili powder. With a surprise Vietnamese twist. Something new. Not traditional. But really good.
Koreans know grilling
There's something about Korean spicing that just works on the grill. It makes sense. Koreans have been grilling for a long time. A long time. Like a couple thousand years.
So they've had time to think about it. And they have figured it out. I think so anyway.
They even have a name for it. Korean BBQ. I don't know too many countries that can claim this. Think about it. Korean BBQ. They put their national pride on the line. Korean BBQ.
There's no Canadian BBQ. No American BBQ. Texas isn't a country. Nor is Kansas City.  Memphis? Nope. See what I mean? Serious business.
Take just about anything. Add some gochujang. Maybe some garlic and ginger. A bit of gochugaru for extra flavour. Throw it on a fire. Delicious every time. That's what these Korean chicken wings are all about.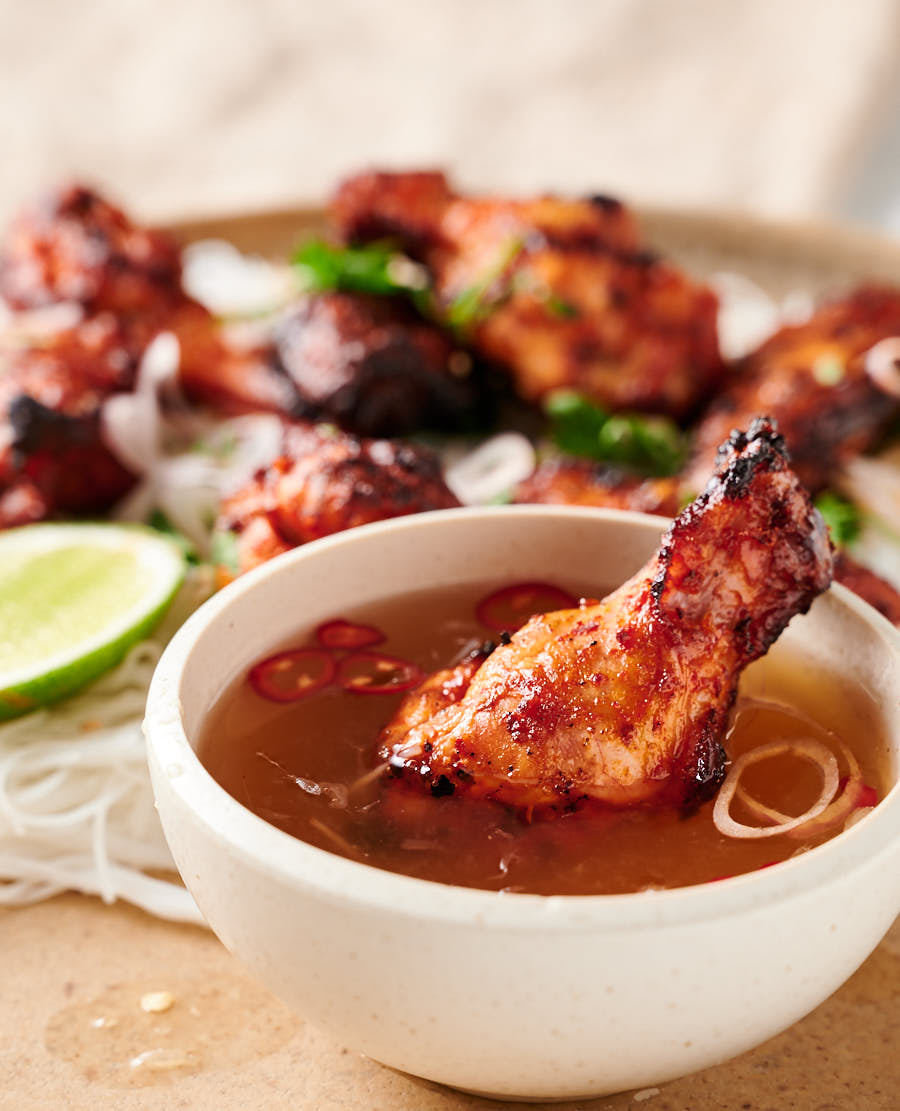 Korean chicken wings – the ultimate party food
I have a thing for chicken wings. My Kryptonite. I get all weak around them. Can't control myself. It's a sickness. A wonderful, wonderful sickness.
So I'm always looking for new ways to get more chicken wings into my life. I have a few recipes posted here already. And they will keep coming.
At some point I will write a little chicken wing cookbook. And Korean chicken wings may well be the cover recipe.
Wings really are great party food. They come with their own built-in handle. Everybody loves them. Think about it. When was the last time you saw leftover wings at a party?
Now put a twist on them. Korean marinade with Vietnamese dipping sauce. Hot. Salty. Sweet. Funky Asian meets chicken wing comfort food. Who can resist that? Not me. No way.
Gochujang and gochugaru
If you are new to Korean cooking there are a few ingredients you need to get your hands on. Gochujang is kind of like miso but with chili mixed in. Not exactly like miso but close. Tasty stuff.
Gochugaru is a red crushed chili. It's not super hot. Nowhere near cayenne. And it adds tons of flavour.
There are two grinds. The fine grind (think cayenne) is mostly used for making kimchi. The coarse grind is more like small flakes. That's the stuff I use. Not just for Korean chicken wings. I use it in all sorts of dishes.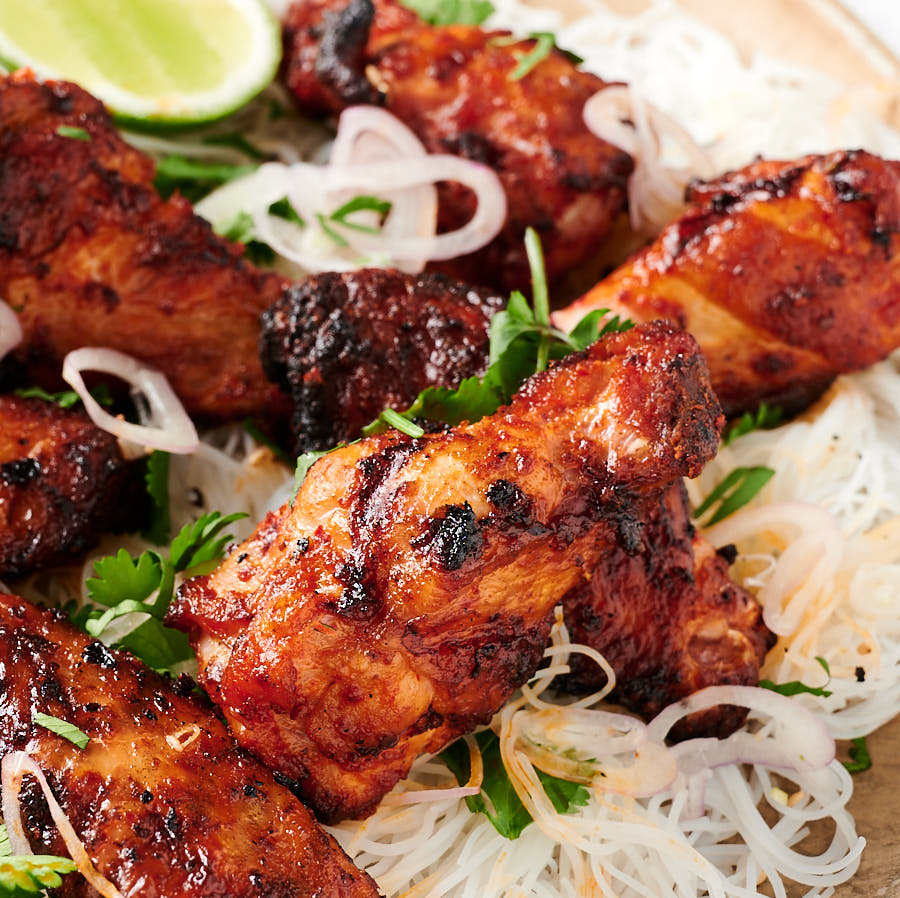 The dipping sauce mixes things up
Nuoc cham is that wonderful sweet, salty, savoury dipping sauce you get in Thai and Vietnamese restaurants. I don't think it ever appears in Korean cooking.
But I love it with these wings. They are good without it. Really good. But they are great with it. Opens up the flavour. A little sweet. It just works. I don't know why. But it does.
Set your grill up for great Korean chicken wings
Indirect heat and a drip pan. Those words should be front of mind when grilling wings. They are mostly chicken skin after all.
Chicken skin and direct heat is a bad combination. Unless you like fighting grease fires I guess. If you're into that then it's perfect.
But I don't much enjoy giant grease fires so I stay away. Golden black is not my idea of tasty. And I like my eyebrows where they are.
For wings I like a good hot indirect charcoal fire. For chicken in general that's my go to setup. You get the smoke without the fire. I know I'm annoying about charcoal. But it makes a big difference. For me anyway.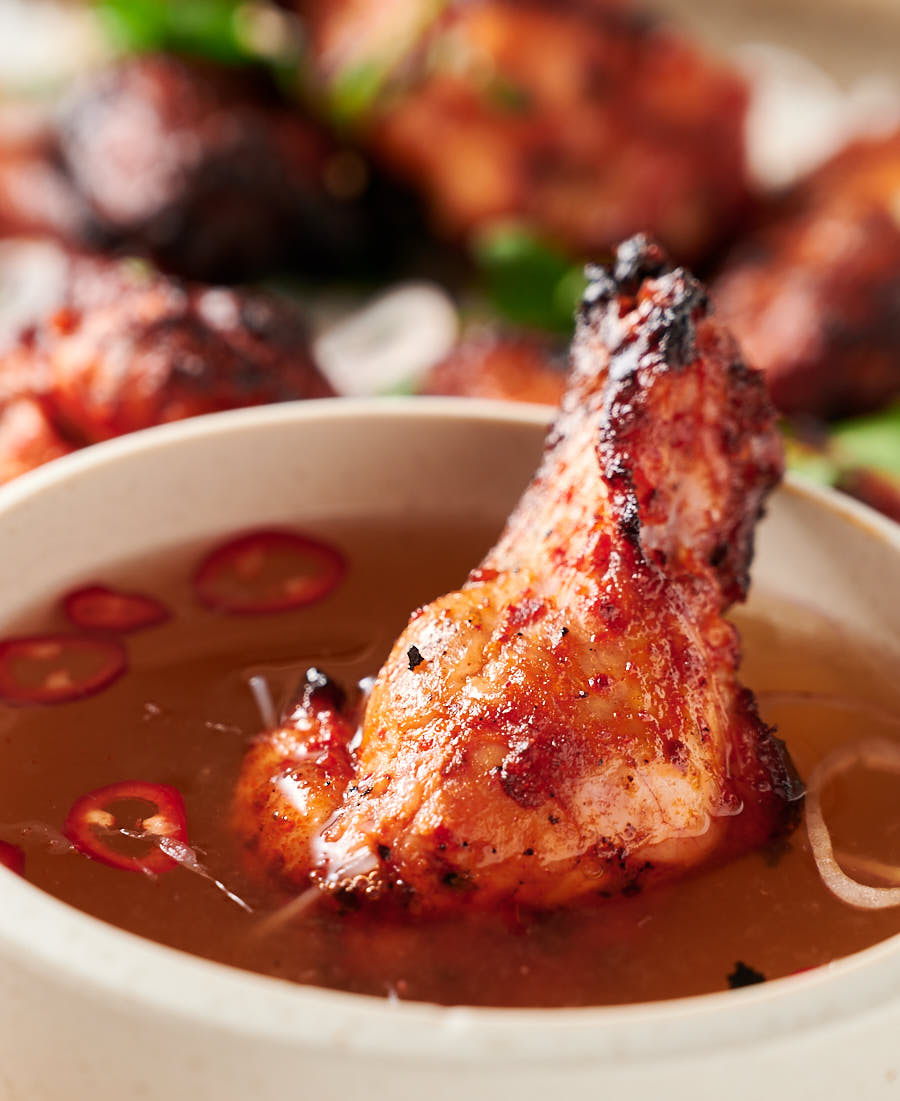 Serve them how you like
Korean chicken wings are great on their own. Just pass them around with some nuoc cham. Maybe a little cilantro and super thinly sliced shallots to garnish.
Or go with a sort of hybrid Korean Vietnamese noodle dish. I like them this way for dinner. Korean chicken wing Vietnamese bun. Not saying that's the best way. Just another way to get more wings into my life.
Korean chicken wings. Comfort food. Party food. Tasty food.
korean chicken wings
Big Korean flavours make these chicken wings special.
Ingredients
2

lbs

chicken wings

2

cloves

garlic crushed

2

tsp

ginger grated

1

tbsp

gochugaru korean chili flakes

1

tsp

sesame oil

2

tbsp

fish sauce

1

tbsp

gochujang korean chili paste

1

tbsp

rice wine vinegar

water to make a smooth paste
Instructions
Combine all the ingredients except the chicken. Stir to make a smooth paste.

Toss the chicken wings with the marinade to coat evenly. Cover and refrigerate for 1-4 hours.

Set your grill up for indirect heat with a drip pan under the cool part of the grill (not over the burner or fire). You want a hot grill. 450-500F hot.

If you are using gas, add a little bit of smoke however you like. Soaked wood chips in a foil packet works well.

Place the wings over the cool part of the grill above the drip pan. Cook, covered, for about 10 minutes. Flip the wings.

Cook another 10 minutes. Depending on the temperature and size of wings they may be done at this point. You are going for 175-180F internal temp. If they aren't done flip them again and cook until you hit the target temp.

Serve with nuoc cham. Garnish with sliced shallots, cilantro, green onions, mint, thin slices of red chili - whatever you like. It's a fun recipe to play with.
Nutrition
Serving:
4
servings
|
Calories:
298
kcal
|
Carbohydrates:
3
g
|
Protein:
23
g
|
Fat:
20
g
|
Saturated Fat:
5
g
|
Cholesterol:
94
mg
|
Sodium:
830
mg
|
Potassium:
271
mg
|
Vitamin A:
775
IU
|
Vitamin C:
2
mg
|
Calcium:
28
mg
|
Iron:
1.6
mg