Fresh Vietnamese spring rolls are loaded with fresh herb flavour. Dip them in a salty, spicy, creamy peanut sauce and you have a match made in heaven.
Once you get the hang of making these you will want to make them again and again. They are seriously addictive.
Vietnamese spring rolls – fresh or fried?
This is a tough one. Fried are good. Really good. Crispy. Salty. Perfect for dipping into that wonderful nuoc cham sauce you see at every Vietnamese or Thai restaurant.
But they are real work. Deep frying is messy. And you can't eat very many of them. They are pretty rich.
Fresh spring rolls are completely different. Clean tastes. Bright. Chewy not crunchy.  Mint. Cilantro. Lettuce. And a crazy delicious peanut dipping sauce. They taste like summer.
Which is why they are actually called summer rolls. Or goi cuon in Vietnamese. Spring rolls are fried. Fresh rolls are summer rolls. There's a bit of useless trivia you can trot out when you serve them.
I like both. It's hard to choose. But if I had to I'd probably pick fresh. I love the texture. And I love peanut sauce.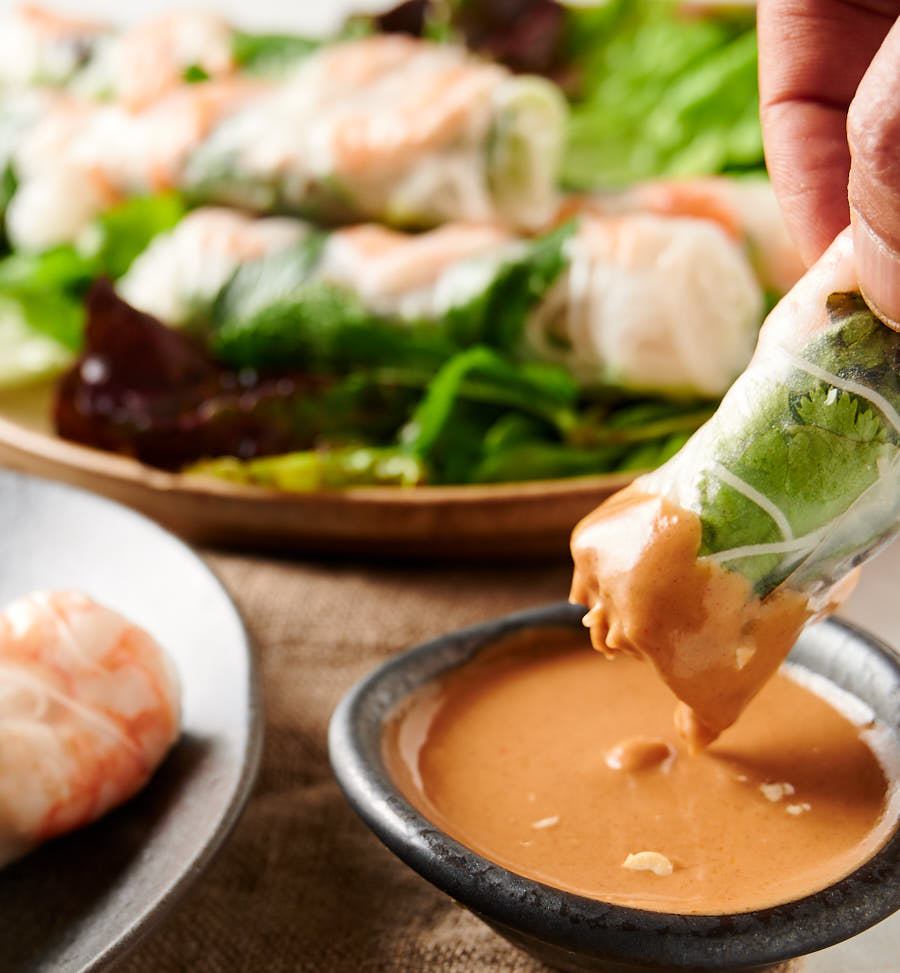 The peanut sauce is the real star here
I love fresh spring rolls. But what I like the best about them is they are a way to stuff more of this peanut sauce in my mouth.
You can put what you want in your Vietnamese spring rolls. Swap the shrimp out for pork. Add bean sprouts. Different herbs. Chilies. It will all work.
But make the peanut sauce. Don't look at the ingredients and think there are easier recipes out there. It's not really much more work.
And it's so good. Like "I just ate these for dinner and I'm thinking I want them again tomorrow" tasty. Just so I can have the peanut sauce again.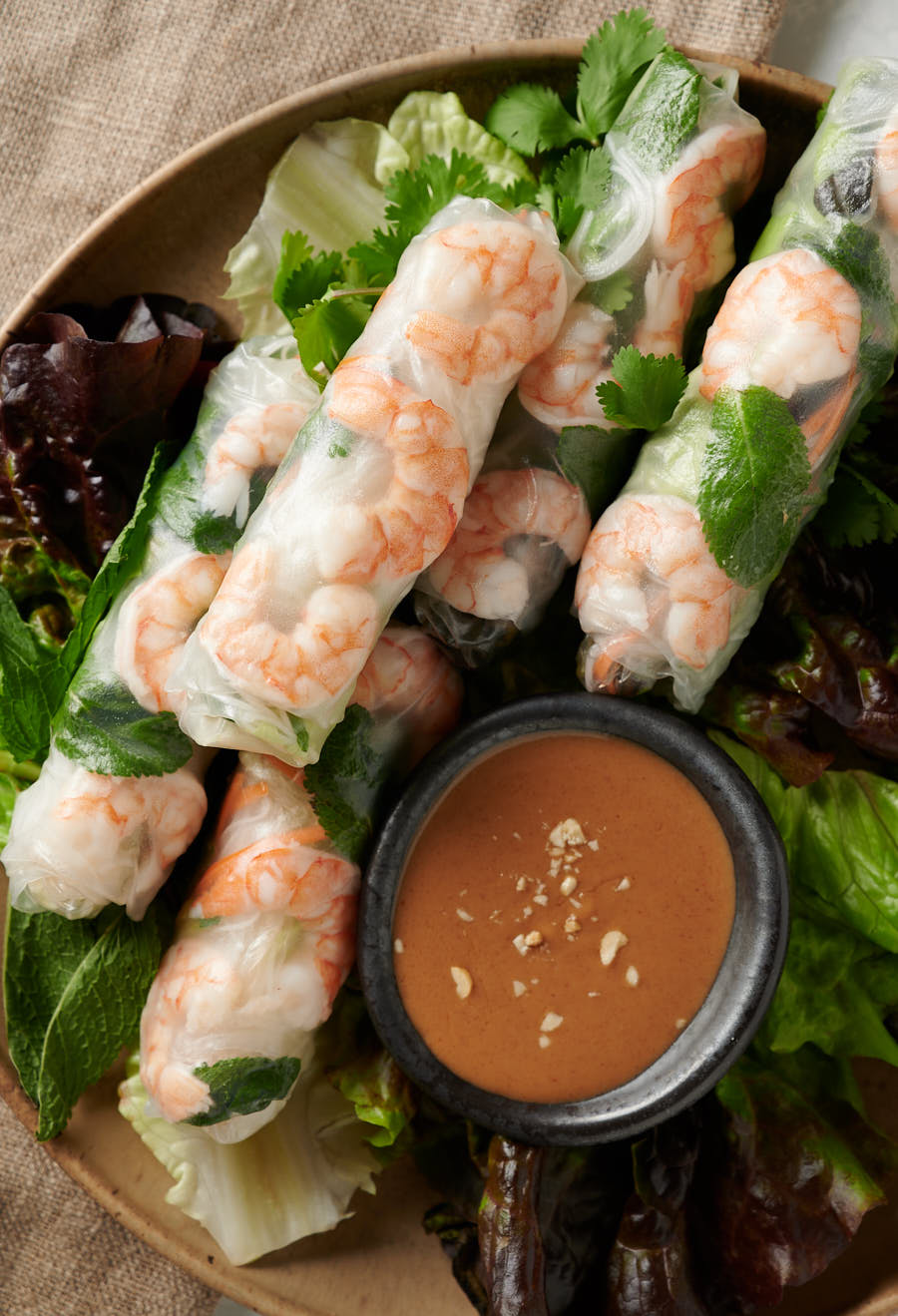 Making Vietnamese spring rolls is all about technique
There aren't a lot of ingredients in these rolls. Vietnamese spring rolls are easy that way. But they are a bit tricky to make. Not impossible though. Once you get the hang of it goi cuon are pretty easy really.
The first few rolls may not work out for you. Unless you are that good. I'm not. I always plan to make a couple throw away rolls to get back in the groove.
Don't over soak your rice paper sheets – This one takes getting used to. If you soak your rice paper sheets until they are soft you will fail. That's pretty much guaranteed.
You want to soak them for a couple seconds in medium hot water. When you remove it from the water it will still be stiff. That's OK. It will soften. You'll see.
Roll the rice vermicelli and herbs in lettuce – You don't have to do this. But it helps. Rolling the filling inside the lettuce makes it a lot easier to assemble. You have to move pretty fast when you are making Vietnamese spring rolls.
Roll away from you – Fold both sides (left and right) of the rice paper sheet over the filling. Then fold the side closest to you overtop.
After that you roll the whole thing up. Be deliberate. Don't try to peel up the fourth side. Just keep rolling away from you and pick up the rice paper as you go.
You'll know when you get this down because you'll have a Vietnamese spring roll in your hands and a big smile on your face.
I could have cherry picked rolls for these pictures. To make me look like I'm better than you. But I didn't. And I'm not.
Reality is they taste the same. Don't let the fact that your spring rolls don't look perfect slow you down. Screw perfect!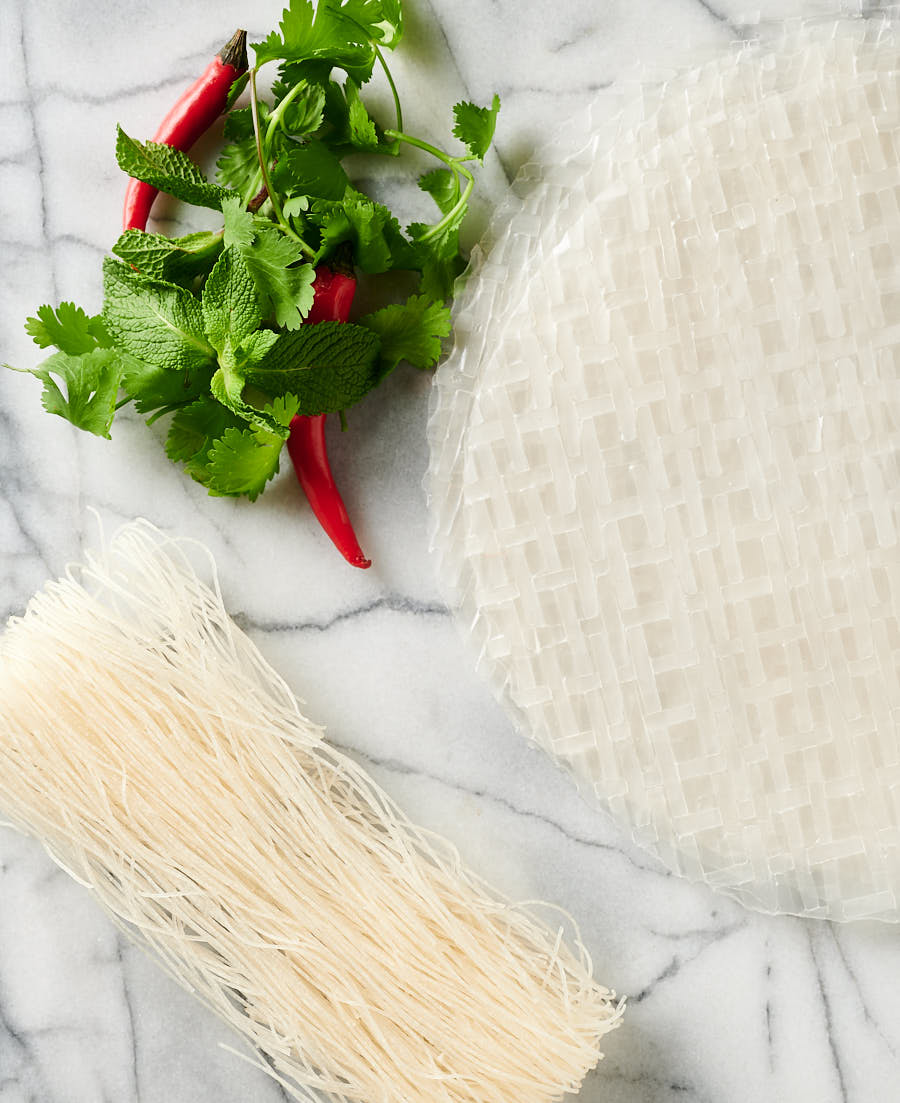 Don't boil the noodles
This one makes me a bit crazy. I see lots of recipes that tell you to boil your rice vermicelli for 3-5 minutes. That's a good way to make rice glue.
There's no need to do this. Pour hot tap water over the rice vermicelli. Let stand about 10 minutes. Drain. Rinse under cold water. Done.
This works. And it works every time. I do not understand why people tell you otherwise. You can do this for rice stick (the thicker stuff in pad Thai) too.
Might need to soak them a little longer. Or use boiling water. But if you are frying rice noodles you want them a bit toothy when they hit the pan. Otherwise you'll get mushy noodles. Mush is bad. Terrible really.
That's it. Vietnamese spring rolls. Simple in a complicated sort of way. But once you get it you'll make them again and again.
Make these Vietnamese spring rolls like I do with shrimp. Or use pork. Call them spring rolls. Summer rolls. Or goi cuon if you want. It's a free world.
But do make the peanut sauce. It really is the star here.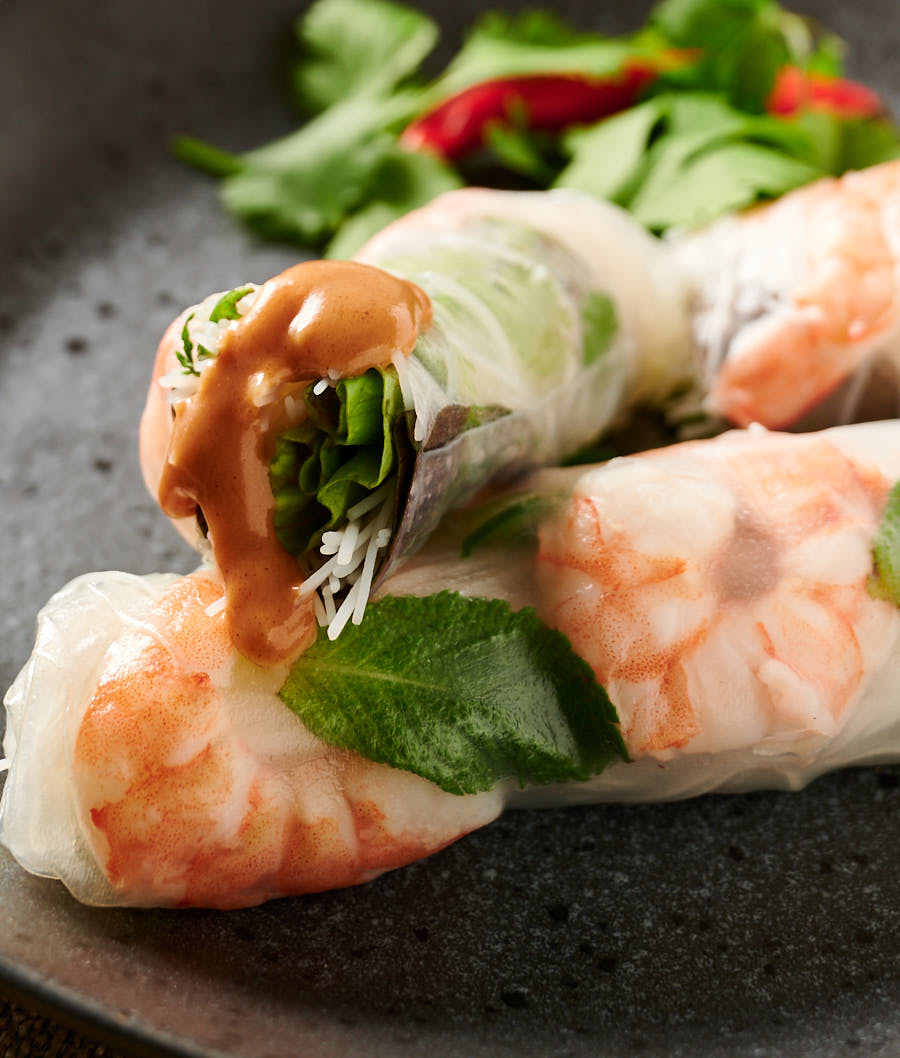 Vietnamese spring rolls with peanut sauce
Fresh spring rolls are great but the peanut sauce is the star of this recipe!
Ingredients
vietnamese spring rolls
12

rice paper sheets (8 1/2 inch diameter)

- plus a few extra for practice

3

oz

rice vermicelli

1/2

lb

shrimp

- 31-40 count - you need 18 shrimp total

leaf or boston lettuce

- 12 small or 6 large leaves torn in half plus a few more for practice

mint

cilantro

julienned carrot and cucumber
peanut dippings sauce
1/2

cup

peanut butter

- smooth

1/2

cup

coconut milk

2

tbsp

hoisin sauce

1

tbsp

fish sauce

1

tsp

sriracha

1

tbsp

rice vinegar

1/4

cup

water
Instructions
Make the peanut sauce
Combine all the ingredients in a small sauce pan. Bring to a gentle simmer and cook for about 2 minutes. Set aside to cool. Yes, it's that easy. Which is good because rolling spring rolls is a little more of a challenge.
Cook your shrimp
Bring 3 cups of water to a boil. Add a 1/2 tsp of salt. Drop your cold, thawed shrimp into the pot. Cover. Remove from heat. Let stand exactly 6 minutes.

While they stand prepare an ice bath. In a large bowl combine ice and water.

After 6 minutes drain the shrimp and plunge into cold water to stop them from continuing to cook.

Cut each shrimp in half lengthwise. Set aside.
Make the spring rolls
Do not overstuff your spring rolls. Just don't do it. It will make you crazy. You don't want them too thin but overstuffed is just a mess waiting to happen.


Place the rice vermicelli in a large bowl. Pour hot tap water overtop to completely submerge.

Let stand around 10 minutes or so. Check. You want them a little chewy but not hard. They are probably good to go at this point. If they aren't let them soak another minute or two. Drain and rinse under cold water.

Prep your ingredients. Stem the mint leaves and cilantro. Have your lettuce and shrimp at hand. If you are using carrots or cucumbers keep them close as well.

Fill a large bowl with warm(almost hot) tap water. Not as hot as it goes but pretty warm.

You are making little rice paper burritos. Think about it like that. You want to be able to fold the ends over and then roll them up. Just like a burrito. You have to move fast. Make a couple practice rolls before you start adding the shrimp.

Put a lettuce leaf flat on a cutting board. Put a little rice vermicelli on top. Now add a few sprigs of cilantro (be generous) and roll it into a little lettuce cigar. You want it about 4-5 inches long. Set it to the side of the cutting board.

Top with julienned carrot and cucumber.

Dip a rice paper sheet in the warm water for about 2-3 seconds. It will still be firm but that's OK. Lay it flat on a cutting board. Place a couple mint leaves about a 1/3 of the way down from the side furthest away from you. Arrange the shrimp around the mint. Make sure the cut side is up.

Place the lettuce cigar in the bottom third . Carefully peel up one side (your left or right) and fold it over the filling. Repeat on the other side.

Peel up the side closest to you. Place it overtop the lettuce wrap. Now roll the whole thing away you. Be careful. The rice paper sheet will be very soft by this point. You want to start fairly tight and then relax as you roll over the shrimp.

Do this without the shrimp a couple times. It will come. Just be patient and deliberate. Once you hit your rhythm start making them with shrimp.

Serve the rice rolls with the peanut sauce to dip or drizzle.
Notes
Prep your lettuce before hand. Remove the leafy part from the stalk. Discard the stalk.
Have everything ready to go. Seriously. Rice paper waits for no one.
Nutrition
Serving:
12
rolls
|
Calories:
376
kcal
|
Carbohydrates:
41
g
|
Protein:
18
g
|
Fat:
16
g
|
Saturated Fat:
6
g
|
Cholesterol:
98
mg
|
Sodium:
981
mg
|
Potassium:
257
mg
|
Fiber:
2
g
|
Sugar:
3
g
|
Vitamin C:
2.3
mg
|
Calcium:
90
mg
|
Iron:
3.3
mg