Saag aloo is a classic vegetarian dish. They serve it at just about every Indian restaurant around. Why not make it at home?
It's not hard at all. If you are used to cooking in the Indian restaurant style that's all over this blog it should be snap for you. If you are new to Indian restaurant style jump in. Once you get the hang of it you can make anything.
Saag aloo doesn't have to be made with spinach
I know it seems that everyone makes it with spinach. I'm no different. I've used spinach in this saag aloo.
But saag refers to a number of leafy greens.  It can mean spinach, or collard greens or mustard greens. Fresh methi leaves count too.
The word for spinach in Hindi is palak. So this dish is technically palak aloo. But I'm calling it saag aloo. And saying you can use whatever leafy green you want. Mustard greens is next for me. Can't wait to try that.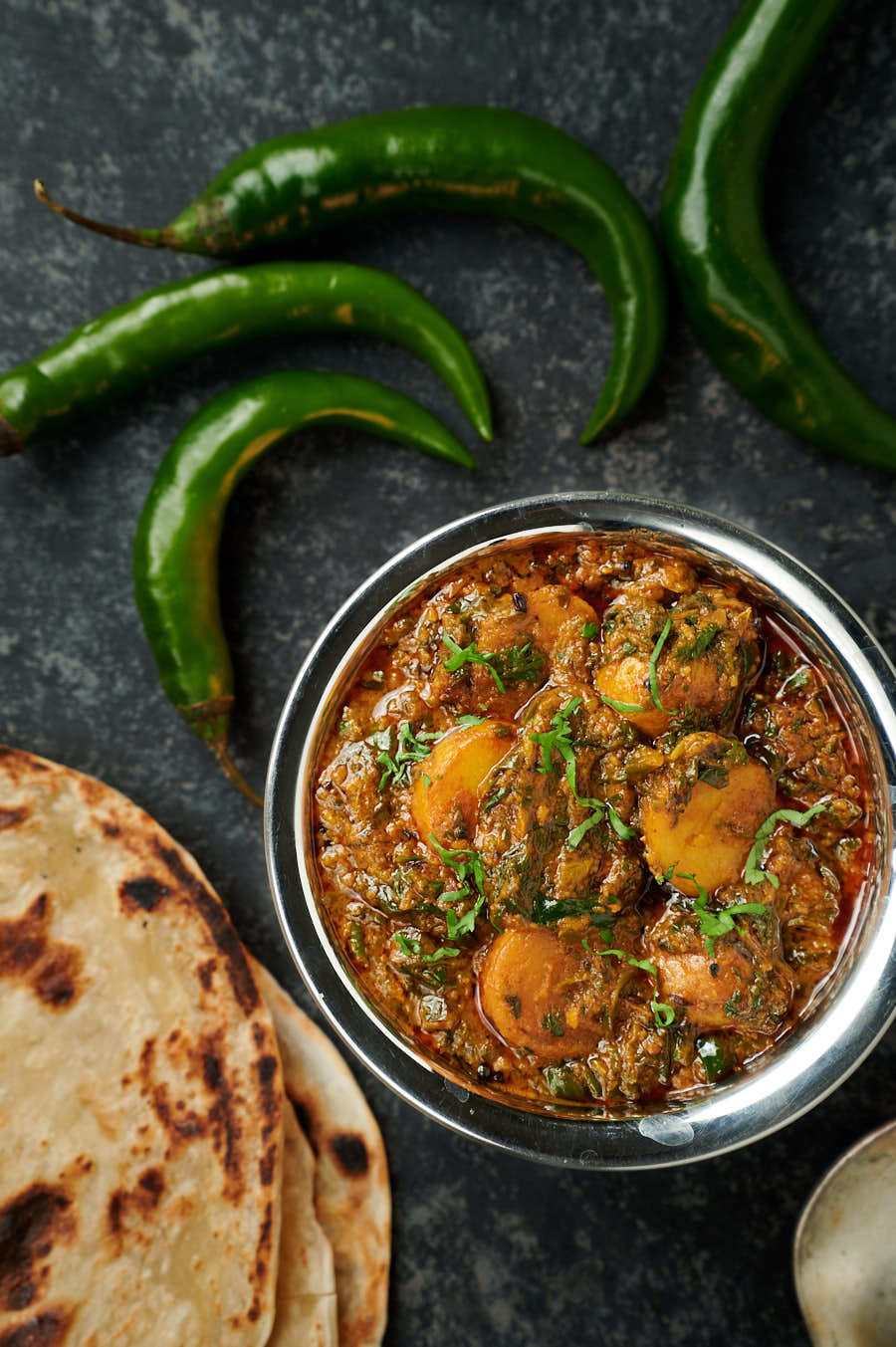 Bengali style saag aloo
There's lots of potatoes in Bengali cooking. This is a potato curry. So Bengali spicing works well. Mustard seed. Panch phoran. Potatoes. That's a perfect match.
Panch phoran is Bengali five spice. It is a mix of cumin, brown mustard seed, fenugreek seed, nigella and fennel seed. It adds a distinct flavour to everything you add it to. I grew up on it. So I love it.
If you can't get it don't worry. Not the end of the world. Leaving it out just moves this saag aloo into North Indian territory. Still great. Just a bit different.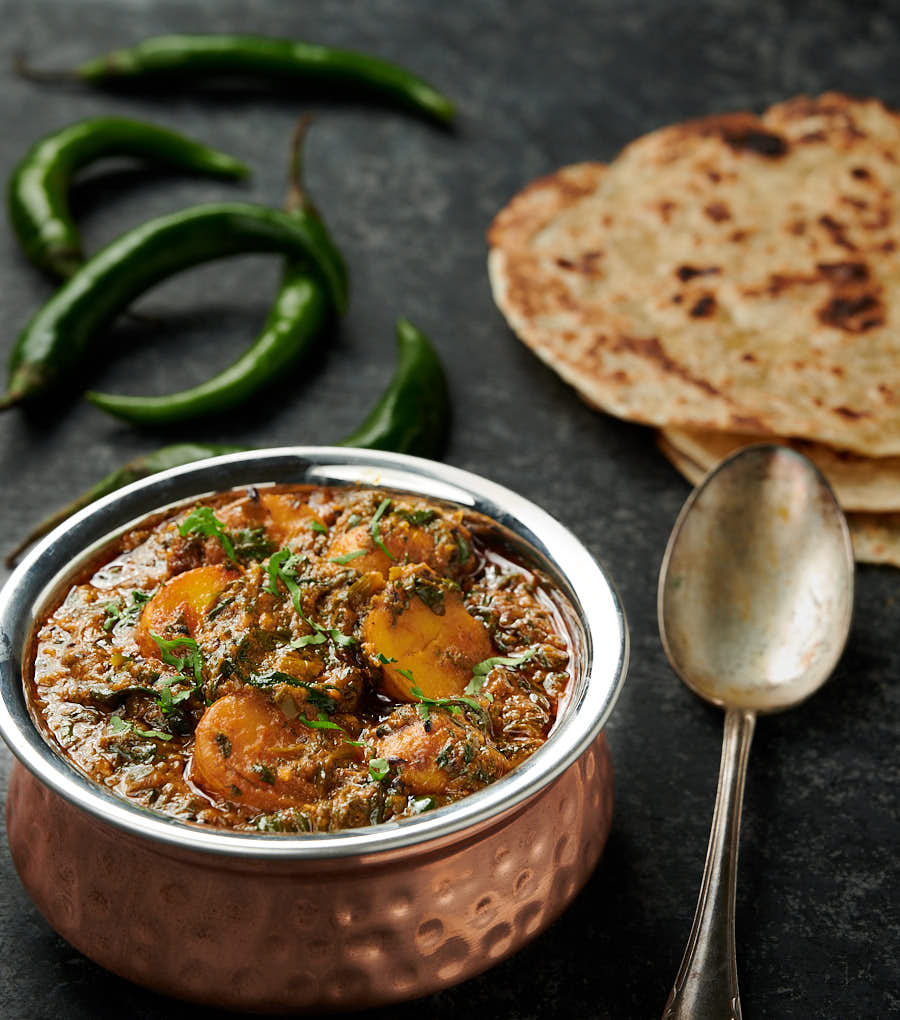 Prep your potatoes
Making curries with potatoes can be tricky. Cook them too much and you get mashed potato curry. Not bad in a strange way. But probably not what you are looking for.
There's a simple trick to help here. You parboil the potatoes with salt and turmeric. That gives them a nice colour and gets them creamy inside.
Then you fry them up in some oil and whole spices. That firms them up. They get a little skin on the outside to help them stay together. Makes them crazy tasty too. Double shot of goodness here.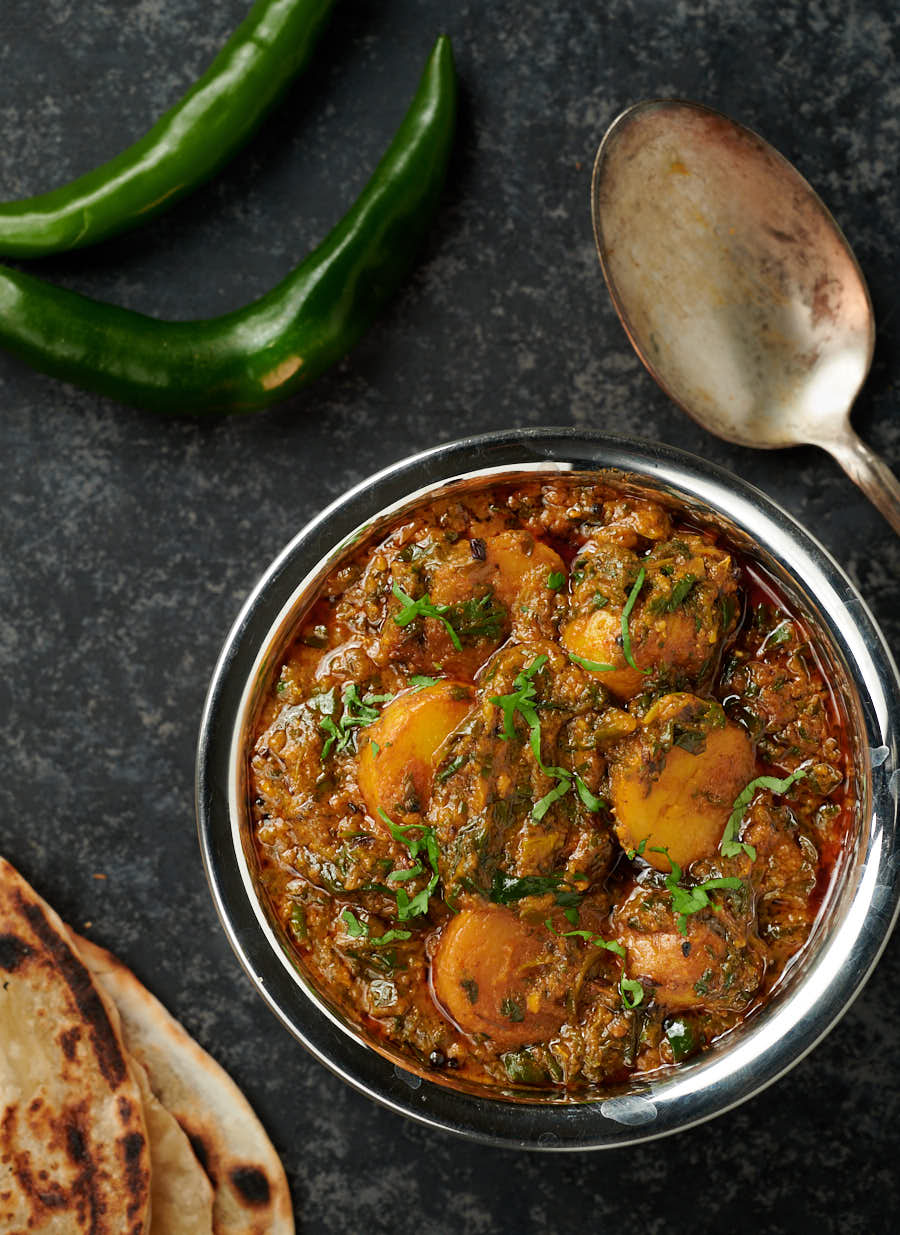 Indian restaurant cooking
This is a little different from homestyle Indian cooking. It goes fast. It's not that dreamy all day braised dish you are probably used to.
So there are tricks and techniques you need to know. Don't worry. Just read this primer on Indian restaurant cooking. Watch the video. You'll be an expert after that.
Do your prep. Be ready with your ingredients. That's how they do it in restaurants. Organized.
This is about as good as it gets. Vegetarian curry so good you won't miss the meat. Saag aloo, a nice dal and rice or flat bread. That's good living.
Or serve it up along side your favourite curry. As a vegetable dish. That works too. If you like potatoes. And spinach. And curry. Then this is a dish for you.
saag aloo
Potatoes, spinach and lots of spice make this saag aloo a truly delicious vegetarian meal.
Ingredients
Cook the potatoes
6

oz

potatoes

small, waxy potatoes are best

1/2

tsp

turmeric

1

tsp

salt

2

tbsp

oil

1/2

tsp

cumin seed

1/2

tsp

mustard seed

1/2

tsp

panch phoran
3

oz

spinach

cooked, chopped and drained weight

1

green chili

diced

2

tsp

garlic ginger paste

2

tsp

tomato paste

diluted to the consistency of passata

1

tsp

Indian restaurant spice mix

1/2

tsp

kasoor methi

1

tsp

kashmiri chili powder

1/2

tsp

kosher salt

1

tsp

lemon juice

about 1/6 of a lemon

12

oz

curry base

chopped cilantro to garnish
Instructions
Prep the potatoes
Cut the potatoes into 3/4 inch pieces. Cover with water. Add the salt and turmeric. Bring to a boil. Cook until the potatoes are just tender. Drain and let cool.

Heat the oil in a skillet over medium heat. Add the cumin seed, mustard seed and panch phoran. When the whole spices start to crackle add the potatoes. Cook until the potatoes start to turn golden. Remove the potatoes from the pan.

Return the pan to the heat. Add enough oil to get to two tablespoons. Stir in the green chili. Cook for about 30 seconds, stirring constantly. Add the garlic ginger paste and cook until it stops spattering. This takes under a minute.

Turn the heat down to medium low. Add the Indian restaurant spice mix, kashmiri chili powder, kasoor methi and salt. Stir to combine. Cook for about 30-45 seconds. You want your spices to lose their raw flavour but don't want them to burn. Watch closely. Lift the pan away from the heat if you have to.

Add the diluted tomato paste and stir. Turn the heat up to medium high.

Add half (6 oz) of the curry base. Cook until it starts to form craters. This takes about 2 minutes. Add the rest of the curry base. Repeat.

Turn the heat down to medium low. Add the potatoes, drained spinach and lemon juice. Simmer for 4-5 minutes. Serve.
Nutrition
Serving:
2
servings
|
Calories:
237
kcal
|
Carbohydrates:
21
g
|
Protein:
4
g
|
Fat:
15
g
|
Saturated Fat:
1
g
|
Sodium:
2052
mg
|
Potassium:
753
mg
|
Fiber:
5
g
|
Sugar:
1
g
|
Vitamin A:
4080
IU
|
Vitamin C:
26.6
mg
|
Calcium:
68
mg
|
Iron:
5.3
mg