This is Thai green curry with home made curry paste. From scratch. Big, fresh Thai flavours. For when delicious really matters.
I'm not saying store bought pastes are a bad thing. I use them sometimes. But if you want deep, vibrant flavours then you have to go the distance. Thai green curry paste from scratch.
It's not that hard. It will take a trip to an Asian grocer. At least where I live. But after that it's a few simple steps and dinner is on the table.
Thai green curry ingredients
There are some ingredients you may not already know about here. Most any Asian grocer will have them. But it helps to know what you are looking for.
Galangal – This is probably the least familiar. It looks like ginger. Sort of. But it doesn't really taste like ginger. It's a key ingredient in getting that Thai flavour.
Kaffir lime leaf – are dark green, waxy leaves. These are what gives Thai curries that intense citrus aroma. When they hit your curry you'll understand. Instant Thai aroma. Magic.
Thai birds eye chilies – come in red or green. The little ones. The stupid hot ones. Not quite habanero hot but hot. Use with care.
Thai eggplants – don't look anything like the eggplants you know. Green. Not purple. Small. Eggplant golfballs Variegated green and white. 
Thai basil – is not the same as the stuff you put in your pesto. Smaller leaves. Purple stalks. It will be in a cooler with the other herbs.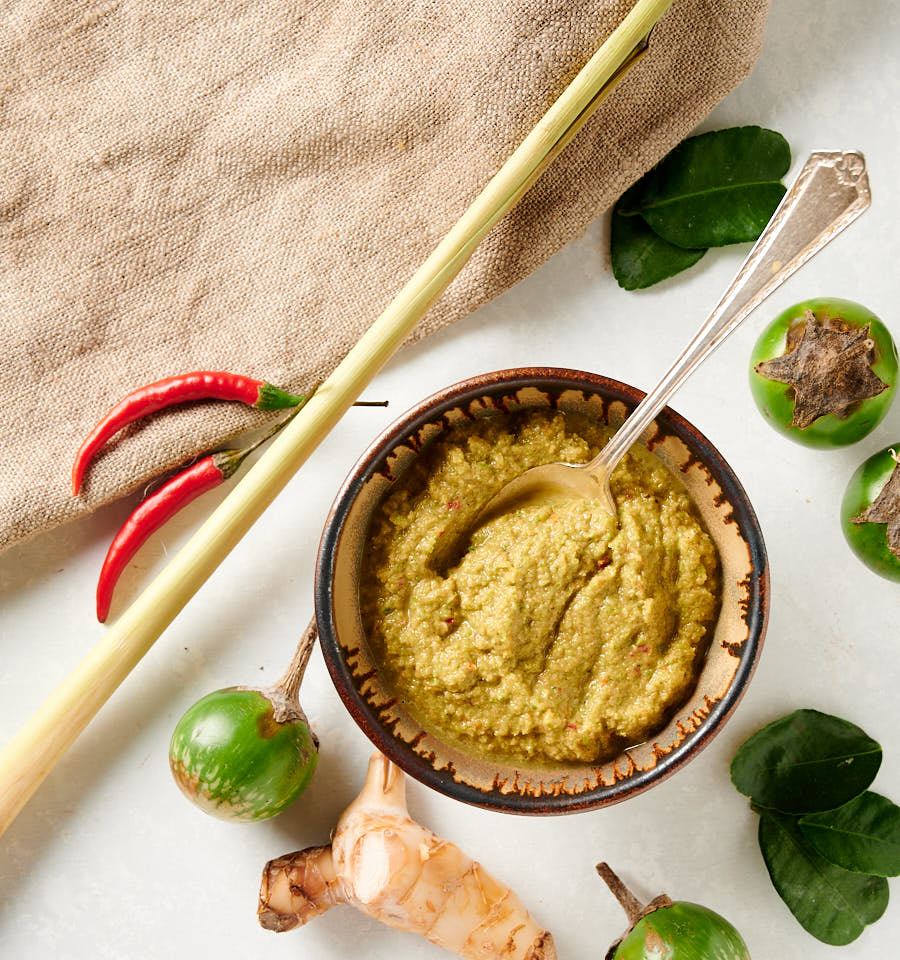 Sugar or not
I am not a sugar junkie. Not into dessert. Look around this blog. There are zero desserts here. Zero. So I'm always light on sugar in my recipes.
My instinct is always to leave it out. Or just add a little bit. Something in the background. And this Thai green curry is no different. 
But that doesn't mean a little sweet isn't right for you. It's a mixed bag out there. Some credible sources add sugar. Others don't. This is truly a matter of taste.
For this recipe I like 1 Tbsp of a palm or jaggery sugar. No more. But that's me. You should taste it without sugar. Then maybe with a bit of sugar. And then go from there.
I would cap it around 2 Tbsp though. This isn't Thai coconut green chili ice cream. Although I bet that would be seriously good if you did it right. I'm calling Ben. Or Jerry. It's going to be huge. You heard it here first…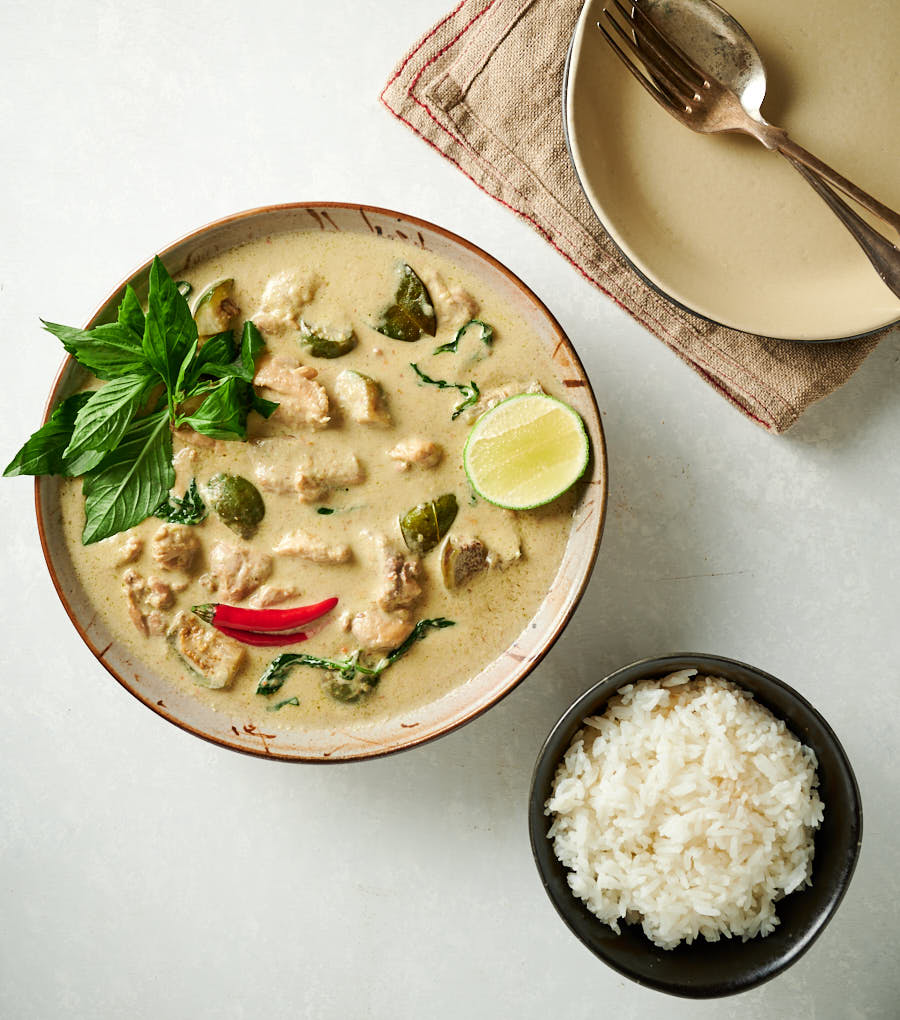 How hot do you like your Thai green curry?
This is a tricky one. Coconut milk tames fire. A lot. If you make this dish with just the jalapeños it's pretty mild. Like almost baby food mild. The jalapeños are there for chili flavour. Not fire. 
The Thai bird's eye chilies. That's where the fire comes from. One is still pretty mild. Two is getting to a good tingle. Four or five and you are into seriously hot territory. More than 5 and you are getting to incendiary.
Here's what I do. I make the paste with the jalapeños. Taste it. If it doesn't blow a hole in the back of my head I add a bird's eye chili. Taste again. I keep adding chilies until I get to the point where I can barely take the heat.
That usually works out perfectly. The coconut milk brings it down a couple notches and everything works out. Try it. If you are OK with spice that is.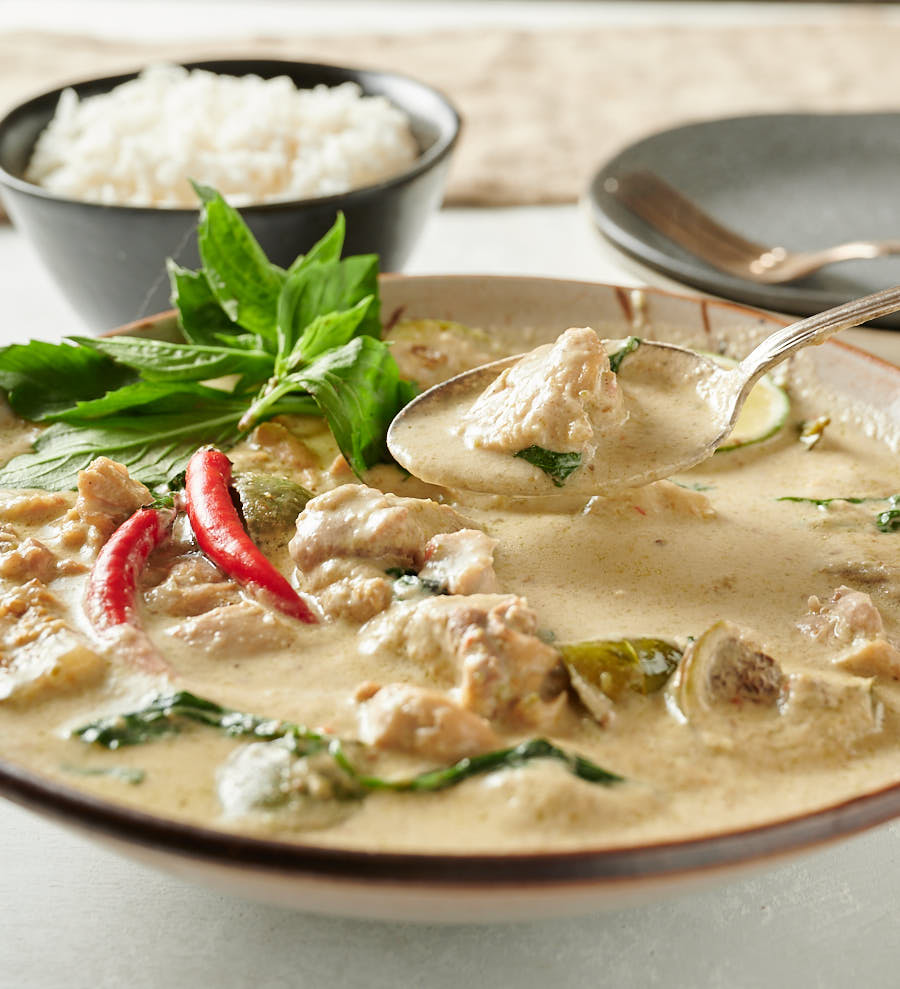 Make Thai curry paste then make curry
The biggest challenge here is making the paste. And it's not that big a deal. It's more work than opening a can. That's true. But really all you are doing is chopping up some stuff and pureeing it.
The pureeing takes some time. It isn't easy. Easier than doing it in a mortar and pestle though. Count on that.
That's the hardest part though. Once you have your paste this is pretty much the same as any "easy" Thai green chili recipe. Except it's got all the big fresh tastes you would expect. Like they serve you in restaurants. 
Delicious. Because you did it yourself. Because you went the distance.
Thai green curry
Great Thai green curry starts with great green curry paste. Once you've made that the rest is easy.
Ingredients
Thai green curry paste
1 1/2

tsp

coriander seed

1

tsp

cumin seed

1/2

tsp

black peppercorn

1/4

cup

lemongrass

- tender inside bits only

4

cloves

garlic

1/4

cup

shallots

- coarsely chopped (about 1 large shallot)

1

tbsp

galangal

- sliced

1

tsp

lime zest

2

tbsp

cilantro roots

3

jalapenos

- seeded and chopped

1

tsp

shrimp paste

2

thai birds eye chilies

- more or less depending on how hot you like your curry

3

tbsp

vegetable oil

- to help it puree

1

tsp

salt

- you will salt your final curry
thai green curry
2

14 oz cans

coconut milk

- extra thick milk separated

8

thai eggplants

- quartered

2

tbsp

fish sauce

6

kaffir lime leaves

2

sprigs

thai basil

1 1/2

lbs

chicken thighs

- cut into bite size pieces

1

tbsp

brown sugar

- or more to taste
Instructions
Make the green curry paste
Warm a small skillet over medium low heat. Add the coriander seed and peppercorns. Toast, stirring constantly until they just start to get aromatic. This takes about a minute.

Add the cumin seed and toast until everything smells great. This takes another 30 seconds or so.

Let cool. Transfer to a spice grinder and grind to a powder.

Combine the remaining ingredients (except the bird's eye chilies) in a small blender or food processor. This isn't a lot of stuff so either double the recipe and reserve half or use a small blender. You will need to add some or all the vegetable oil to get it to puree.

Note that this is best done in a small food processor. And it is real work. You will need to scrape down the bowl a few times to get it. Takes a few minutes. But it's way easier than using a mortar and pestle.

Taste the paste. If you can take the heat add a chopped bird's eye chili. Puree. Taste again. If you don't think it's crazy hot add another one. Keep going until you think it's crazy hot. Don't worry. The coconut milk tames everything. Crazy hot at this point should be just right for your tastes in the final curry.
Make the Thai green curry
Grab a wok or a large skillet. Add the thick coconut milk (the stuff floating on the top of the can) and bring to a lively simmer. Let it go until the cream starts to break. You will see oil separating. This oil is what you will fry the curry paste in.

This doesn't always work. At least it doesn't always work for me. I think it has to do with how thick the coconut cream is. Sometimes it's almost solid. Other times its more like whipping cream. It's not a big deal in this recipe because there is already some oil in the paste. I usually give up after 6 or 7 minutes. If it hasn't split by that point give up.

Once you see the oil or give up add the curry paste and stir to combine. Cook, stirring, until the paste loses it's pungent raw smell. It will smell mostly of the shallots at first. You are done when that smell is gone. This takes about 5 minutes.

Mix in the chicken and cook until the chicken is coloured. Add the remaining coconut milk. Simmer 5 minutes.

Add the quartered Thai eggplant, kaffir lime leaf, sugar and fish sauce. Cook until the chicken is done, another 15 minutes or so.

Add the basil and cook one minute more. Taste for salt. You may need a little more. You may not. Up to you.

Serve garnished as you like. Fried shallots, more chilies, basil garnish and lime all work.
Notes
Tender lemongrass means the inside. Peel back a layer. Try cutting it with a sharp knife. If the knife goes through easily you are OK. Work your way down the stalk from the large end. At some point you will feel more resistance. The sound will change. Stop there. 
It's important to stick with the tender part only. If you add the tough fibrous stuff you will be spitting out little bits of lemongrass. Nobody wants that...
Nutrition
Serving:
4
servings
|
Calories:
758
kcal
|
Carbohydrates:
41
g
|
Protein:
30
g
|
Fat:
57
g
|
Saturated Fat:
47
g
|
Cholesterol:
111
mg
|
Sodium:
1463
mg
|
Potassium:
1885
mg
|
Fiber:
14
g
|
Sugar:
20
g
|
Vitamin A:
450
IU
|
Vitamin C:
47.2
mg
|
Calcium:
115
mg
|
Iron:
9.7
mg