Thai chicken salad. Think deconstructed fresh spring roll. Grilled chicken. Rice noodles. Fresh herbs. And the zing of lime. Perfect summer food.
It's not just for summer though. It's great any time you want a refreshing noodle salad. Light. Bright. Vibrant. Make it any time you can get to your grill.
I have a thing for rice noodles. Use them a lot. But one of my favourites is cool noodles with warm chicken. Or pork. Mix in a little basil and some mint and I'm happy.
So I'm always looking for new ways to enjoy them. Mix it up a bit. Thai chicken salad fits the bill. Easy and so tasty.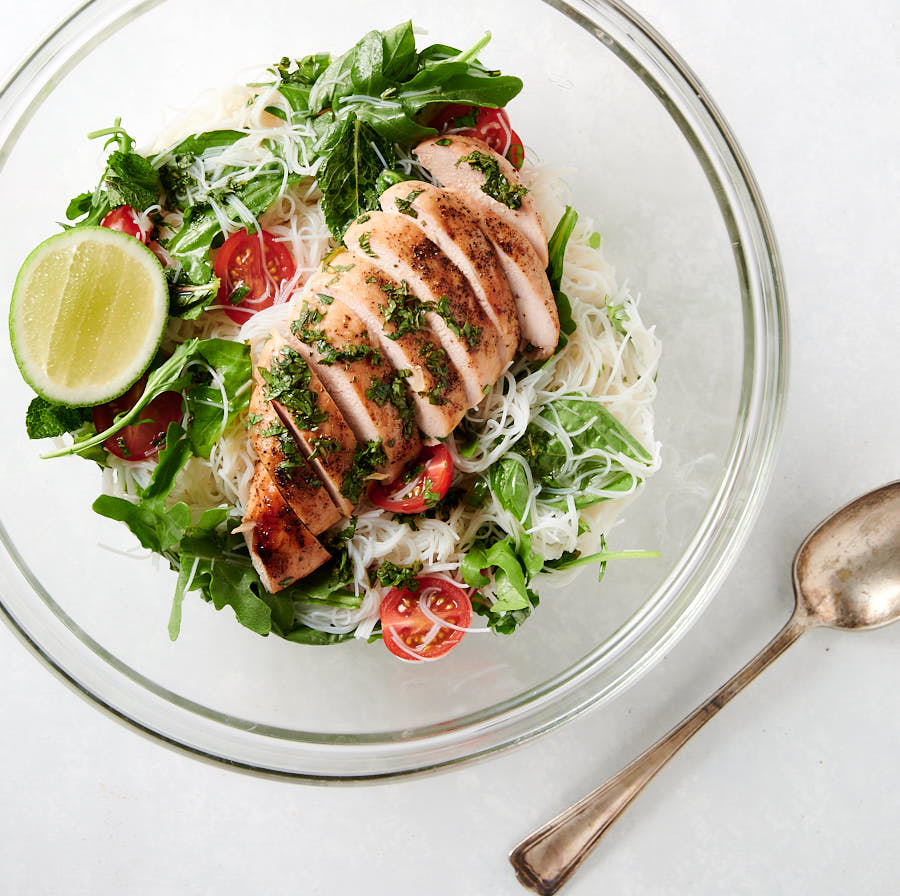 Thai lime dressing makes this different
This recipe is a little different from the more traditional Vietnamese bun. It's not that far off. But instead of salty sweet nuoc cham this noodle salad gets a big blast of flavour from herbs. And lime. Lots of lime. 
Fish sauce is the perfect counterpoint. Balances things out. Salty against sour. Super savoury. It's great with chicken even if you aren't in the mood for Thai chicken salad.
Just grill up some chicken and toss it in the dressing. Or use it with wings.
Mmm…
Wings.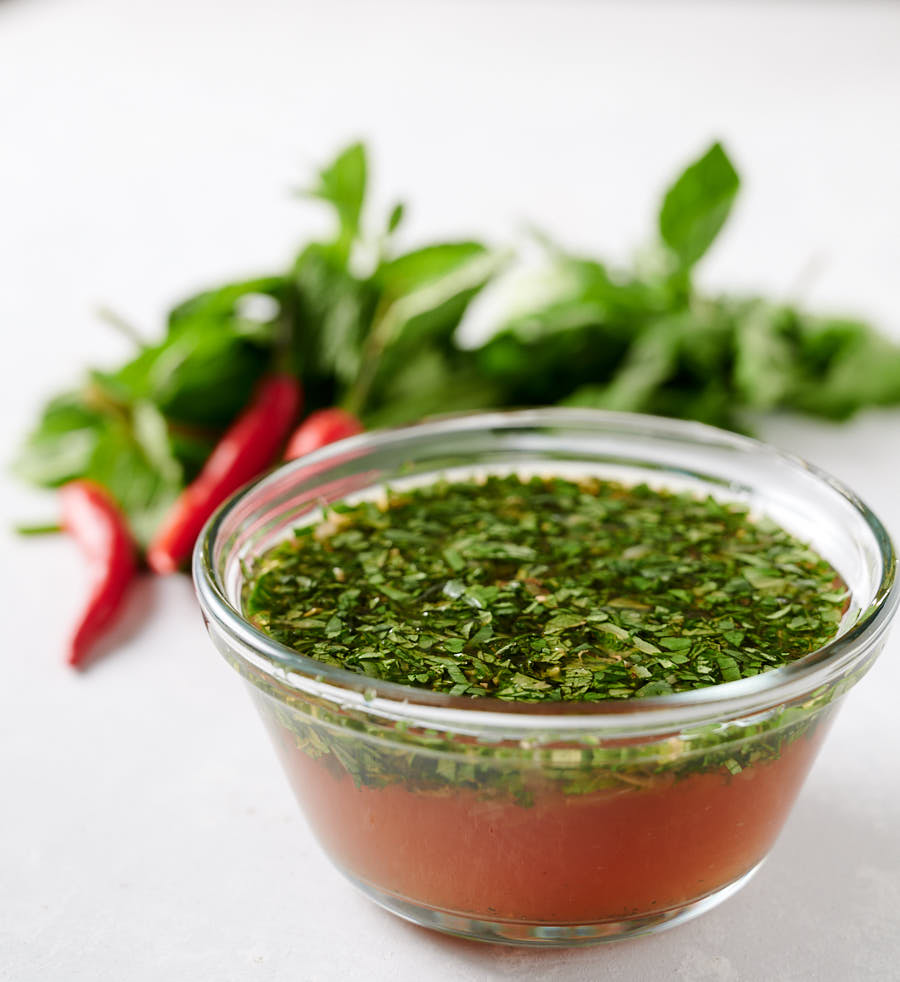 Thai chicken salad is great food fast
This is a dish for when you are short on time but want to eat well. Not much to it really. Prep your noodles. Grill some chicken. Make the dressing. Toss it all together. Eat. 
Maybe a little harder than picking up the phone. Sure. But sometimes that little extra bit of effort is worth it. For me anyway. And it makes a great lunch. So make extra.
Just make sure you don't overcook your chicken. White meat dries out in a hurry. This is one of those times you should pull out your instant read thermometer.
Grill it over medium high heat. And check the temperature. When it hits around 160F pull it from the grill. Let it rest for a few minutes. Then slice it and toss it in the dressing.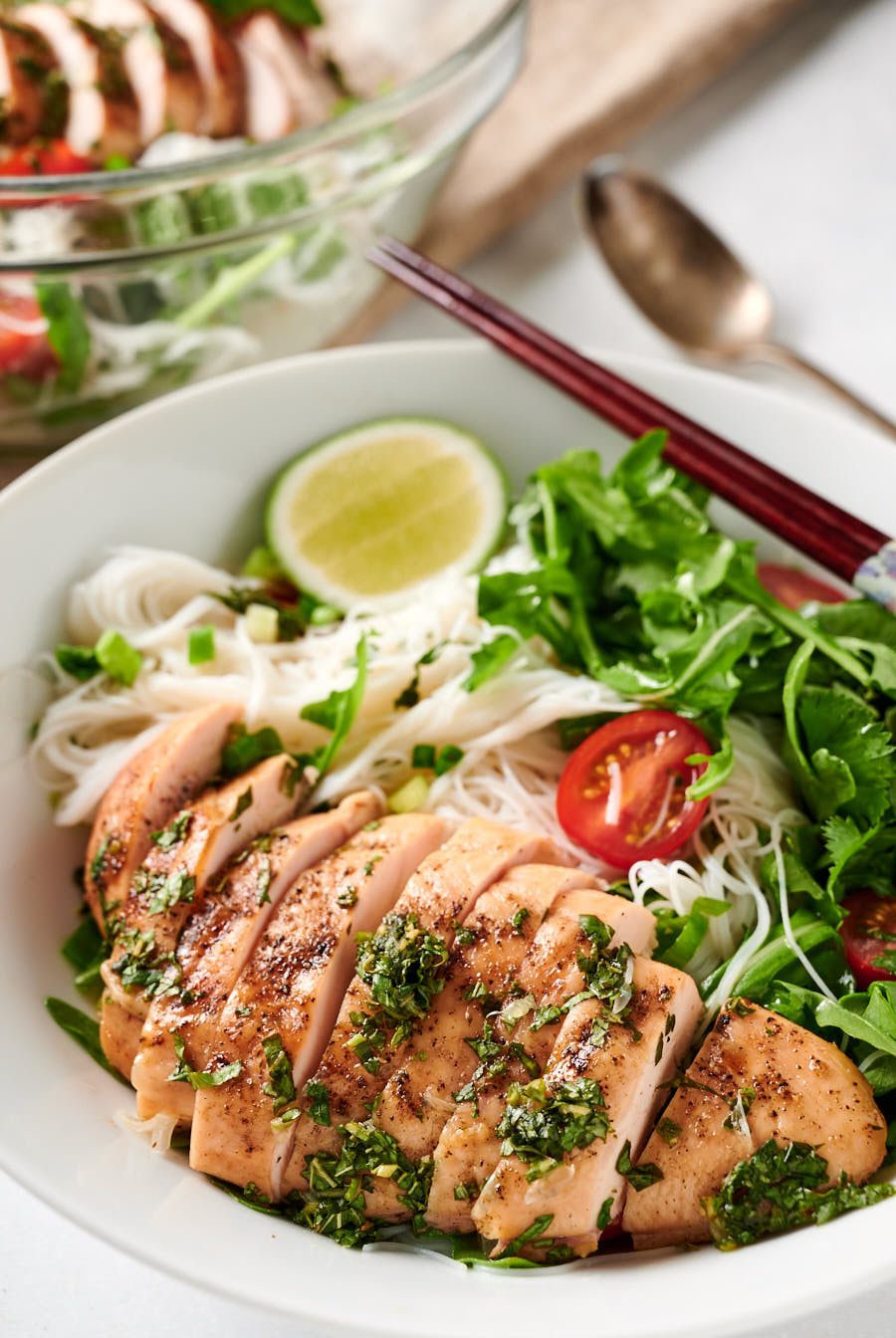 Don't boil your rice noodles for any Thai noodle salad
Seriously. Never boil rice vermicelli. That's the thin stuff. It's a bad idea. The flat rice stick. OK. Sometimes. It depends what you're making. But not rice vermicelli. Unless you like mush.
All you need to do is pour lots of boiling water over it. Let it sit for 10 minutes or so. Done. Do that a your grill heats up. While you cook the chicken.
After 10 minutes just strain and rinse in cold water. Perfect every time. This just works. Not just for Thai chicken salad. For Vietnamese bun. For any dish really.
Great food doesn't have to be hard to make. Doesn't have to take hours. Sometimes it can be easy. This is one of those times. 
Make Thai chicken salad. Just do it. You won't be sorry.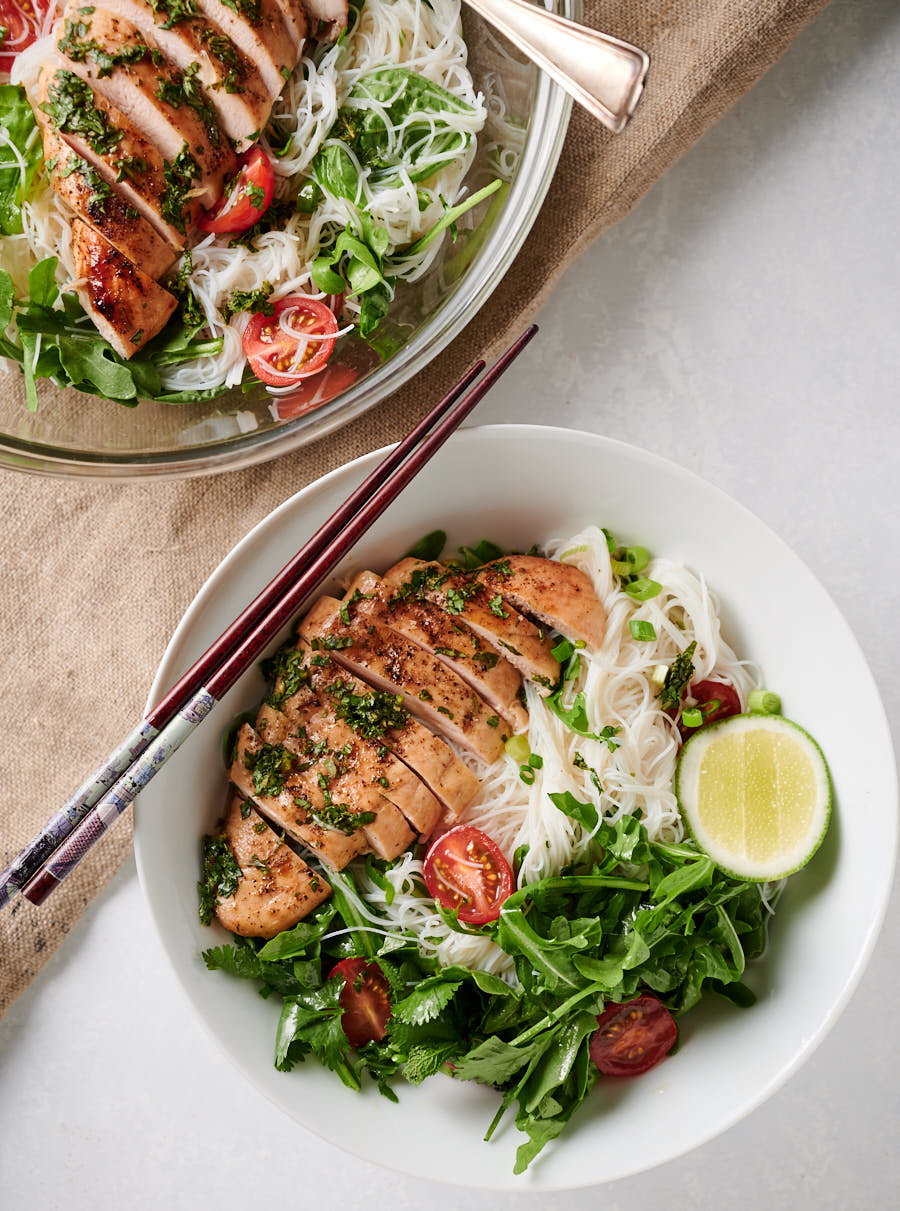 thai chicken salad with rice noodles
Thai chicken salad is a vibrant mix of fresh herbs, lime dressing, chicken and rice noodles. Perfect when you need good food fast.
Ingredients
Thai lime dressing
1/3

cup

fresh herbs

mix of finely chopped cilantro, mint and Thai basil

1/3

cup

fish sauce

1/2

cup

lime juice

fresh squeezed

1/2

tsp

sugar

1/4

tsp

grated ginger

use a microplane
Thai chicken salad with rice noodles
4

chicken breasts

or 8 thighs

6

oz

rice vermicelli

1

cup

fresh herbs

cilantro, mint and Thai basil

1

cup

arugula

1

cup

cherry tomatoes

2

green onions

1/3

cup

vegetable oil

salt

to taste
Instructions
Put a kettle on to boil. Light your grill. You want medium high heat. Prep your salad fixings. Stem the herbs. Cut the tomatoes in half. Thinly slice the green onion.

Pour boiling water over the rice vermicelli. Let stand 10 minutes while you prep the sauce.

Finely chop a mix of cilantro, mint and Thai basil. You want a total of 1/3 of a cup combined.

Mix the chopped herbs, fish sauce, lime juice, sugar and ginger. Set aside.

Rub the chicken with oil. Season with salt and pepper.

It's probably been about 10 minutes. The noodles are ready. Drain. Rinse with cold water. Drain again.

Grill the chicken. This is a good time to use an instant read thermometer. You want nice colour on the chicken but you don't want to go above 165F internal temp for chicken breasts. 175F is your target for thighs.

Remove the chicken from the grill and set aside to rest for 5 minutes. Slice the chicken into 1/2 inch wide strips. Add half the dressing and toss. If there are drippings on your cutting board add them in too. That's flavour. Let sit 10 minutes.

While the chicken soaks up the dressing prep your salad. Toss the remaining herbs, arugula, green onion and and tomatoes with the rice noodles. This isn't as easy as it sounds. It's a fight getting it all evenly distributed. Don't worry too much if it doesn't go your way. It will taste fine.

Combine the remaining dressing with the vegetable oil. Taste. It will probably need a bit of salt.

Toss the salad with the dressing/oil mixture. Divide onto 4 plates. Top each plate with 1/4 of the chicken.
Notes
If you like a little spice a bit of thinly sliced fresh red chili goes very nicely here.