Palak paneer is a North Indian spinach and cheese curry that is sure to satisfy vegetarians and omnivores alike. Delicate paneer in a rich and flavourful sauce.
This is not the creamy bright green version. This is palak paneer done restaurant style. Big, bold Indian curry. Hit you over the head flavours. Not subtle. Not at all. If you are looking for the bright green version this is not it.
Restaurant style. That's what this palak paneer is about. Made like they do in Indian restaurants. Using the tricks and techniques they use.
It may seem a little different to you. But it's how they crank out your dinner in 10 minutes. And once you get this style down you can make anything they can. Seriously.
Frozen spinach for restaurant style palak paneer
I'm not a fan of frozen vegetables. Corn and peas I can put up with. I really can't stand anything else. Except frozen spinach in restaurant style curries. It works. I don't know why. But it works.
I'm all about fresh. Fresh scratch cooking. So telling you to use frozen spinach is not something I do lightly. But restaurants do it. And it is tasty. I use fresh spinach in a lot of recipes. But here frozen is best.
But you have to drain the thawed spinach. Get rid of the water. Or it's overpowering. Just give it a squeeze and it's good to go.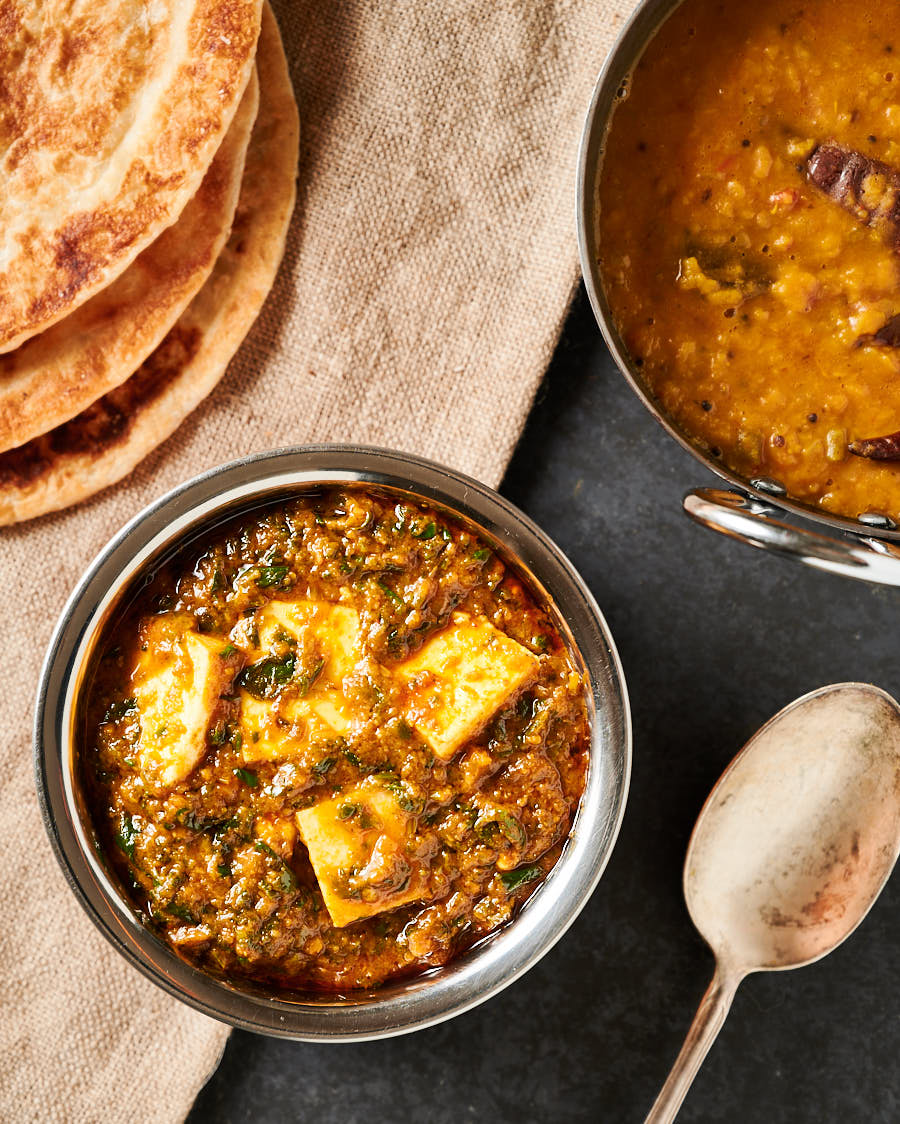 Paneer is the perfect cheese for curry
Cheese curry. That just sounds odd. I know. Who in their right mind would want that? Turns out I do. And probably so do you.
Think about India. They are something like 30 percent vegetarian. And the other 70 percent have some vegetarian tendencies. So they know vegetarian. Probably better than any other country in the world.
And they came up with paneer. It works. It doesn't really melt. It's not like mozzarella. It holds together kind of like tofu.
And it's bland like tofu. It slides in. Not assertive. A supporting character that takes on the flavours of the curry. Like chicken breast. It's there. You like it. But it's more about texture than flavour.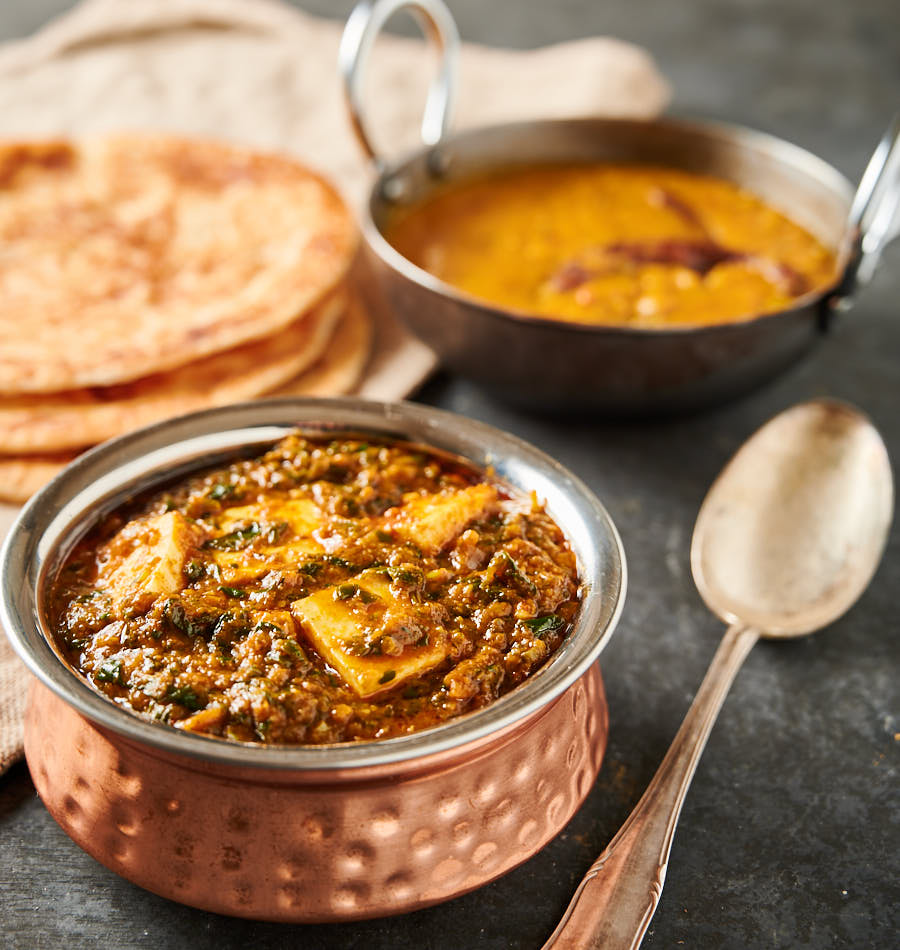 Enjoy palak paneer like you would any other curry
If you are vegetarian this is obvious. But if you aren't maybe not so much. This is a curry. Like any other curry. Except there's paneer instead of a different protein. So enjoy it like you would any other curry.
I like it best with parathas. But I love parathas so that's no surprise. A big spoonful of palak paneer on a bit of Indian flat bread. So good.
You can serve it with rice as well. Along with a nice lentil dish. That's good living too.
However you serve it palak paneer is sure to please.
palak paneer
Palak paneer is a delicious Indian spinach and cheese curry
Ingredients
The spice mix
2

tsp

Indian restaurant spice mix

– recipe link below

1

tsp

kashmiri chili powder

1

tsp

kasoor methi

– dried fenugreek leaves

1/2

tsp

garam masala

1/2

tsp

kosher salt
palak paneer
3

tbsp

vegetable oil

2

tbsp

onion

– finely diced

2

tbsp

green chili

– seeded and finely diced

3

tbsp

cilantro leaves and stems

– finely diced

4

oz

frozen spinach

– the finely diced stuff

1

tbsp

garlic ginger paste

– recipe link below

15

oz

curry base

– recipe link below

1/2

tbsp

tomato paste

– plus enough water to get to the consistency of passata

1/6

lemon

– juiced

all of the spice mix

10

oz

paneer

– cut into bite size pieces
Instructions
The spice mix
Combine all the spice mix ingredients. Set aside.
Palak paneer
Be ready. Have your curry base simmering on the stove. Make your spice mix. Chop all the ingredients and have them at the ready. This is going to go very fast. You don't have time to mess around.

Thaw the spinach. Drain it well.

Heat a skillet over medium heat.

Add the oil. When it shimmers add the onion and green chilies. Cook, stirring constantly, until the onions just start to brown on the edges. This takes 2-3 minutes.

Add the garlic ginger paste and cook until it stops sputtering, about 1 minute.

Lower the heat to medium low. Add the spice mix. Cook, stirring constantly, for about 30-45 seconds. You want to bloom the spices in the oil. You don't want to burn it. If you burn the spices, start again. There's no fixing it.

Add the diluted tomato paste and cilantro. Stir to combine and cook for about a minute.

Turn the heat up to medium high. Add 3 oz of the curry base. Stir to combine and cook until it it starts to crater. Little holes will appear. See the guide to Indian curries to understand what this means if you aren't sure.

Add another 6 oz of curry base. Stir to combine and cook until it craters.

Now add the remaining curry base. Cook until it craters and reduce the heat to low. Add the spinach and stir to mix. Simmer for about 5 minutes. Add the paneer and warm through. If the curry seems dry add a bit more curry base.

Add the fresh lemon juice. Stir to combine. Serve. Enjoy!
Notes
Paneer is available at any Indian grocer. Some supermarkets carry it as well. It will be in the refrigerated section.
The recipe for indian restaurant spice mix is here. 
The recipe for garlic ginger paste is here.
The recipe for curry base is here.
If you haven't read about Indian restaurant technique yet, do that before you start cooking.
Have all your ingredients prepped and ready to go.
If you are making multiple curries, have your curry base warming in a pot on the stove. If you are just making one, microwave it to warm it up right before you start cooking.
Nutrition
Calories:
667
kcal
|
Carbohydrates:
11
g
|
Protein:
23
g
|
Fat:
57
g
|
Saturated Fat:
38
g
|
Cholesterol:
94
mg
|
Sodium:
947
mg
|
Potassium:
424
mg
|
Fiber:
4
g
|
Sugar:
2
g
|
Vitamin A:
7150
IU
|
Vitamin C:
11.3
mg
|
Calcium:
763
mg
|
Iron:
2
mg