Big flavours of citrus, soy and sesame come together to make a great Asian inspired beef carpaccio.
Carpaccio isn't for everyone. But if you like it then this is a version you need to try. It's a nice twist on  the classic Italian preparation.
Carpaccio is a relatively recent invention
History lesson. This is not an ancient dish. Hasn't been around for all that long really. It was invented in Harry's bar in Venice in the 1950s.
Story goes that a countess came to the bar and said her doctor said she couldn't eat cooked meat. So they came up with a dish of thinly sliced beef served with a mayonnaise like sauce.
The colours were vibrant red and white. The owner of the bar named it carpaccio after an artist Vitorre Carpaccio who's style was heavy on red and white.

An Asian twist makes this carpaccio a little different
Other than the thinly sliced beef, this version doesn't have a lot in common with the one served at Harry's bar. It's more like beef tataki if anything. Not seared though. Raw like the original.
It's really about soy and citrus and sesame. No creamy sauce at all. Peanuts and sesame seeds and green chilies add a nice counterpoint.
And truffle oil. That pushes this carpaccio right over the top. These are big tastes. Bold. Not delicate. Or subtle.
It's a crazy combination. The idea comes from District One in Las Vegas. It's this funky Vietnamese eatery in China town. I try to get there any time I'm in Vegas. There's so much good food off-strip. Go looking for it if you are there.
Their version is a little different. The beef is super thin. See through thin. That makes a difference. The ponzu/soy mixture is heated up. The super thin beef starts to cook by the time it gets to the table.
This version uses thinly sliced rib-eye but it's not as thin. And it gets served straight out of the fridge. Safety first here. So it doesn't really cook as much. I like it both ways.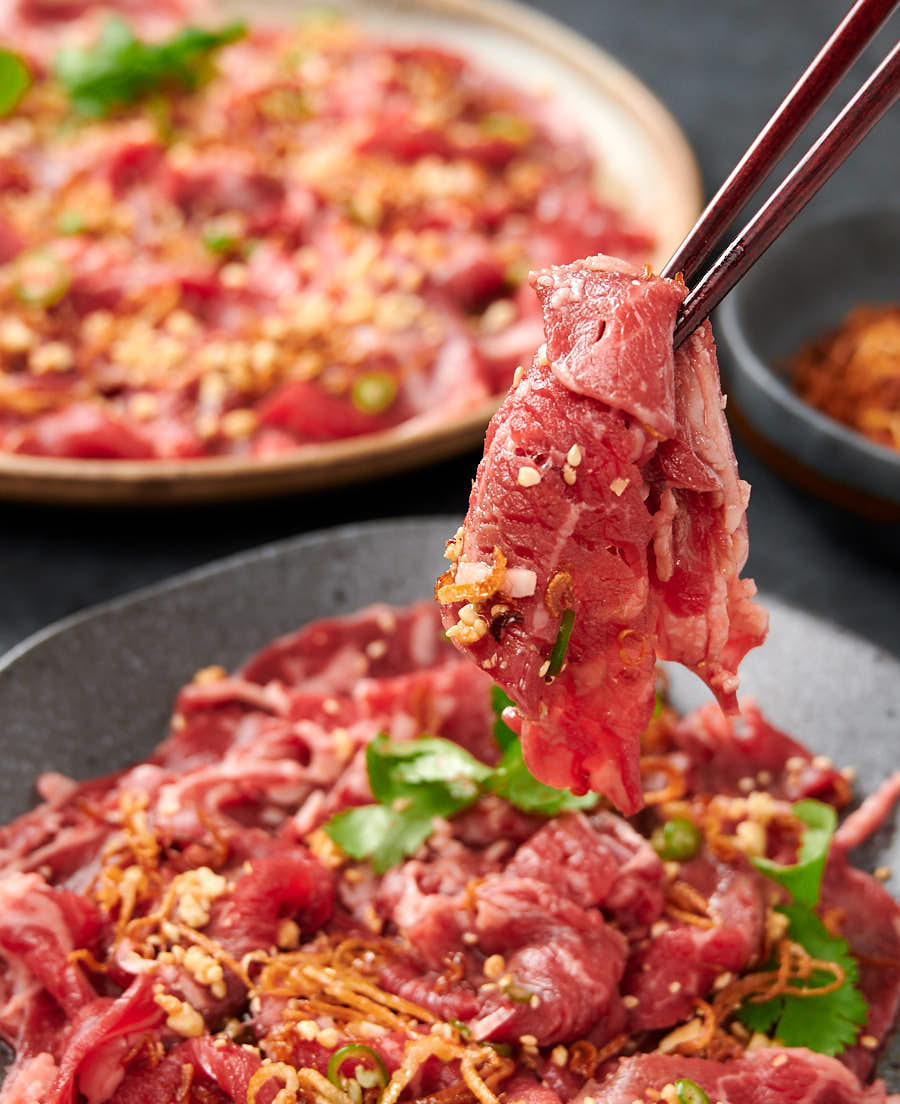 Fried shallots add crunch
Frying shallots is a bit of a pain but it's worth it. There's not much to it though. Slice some shallots super thin. Heat up a couple cups of oil. Fry the shallots in batches.
Pull them out when you think they are still a little light. They will keep cooking. Drop them onto a paper towel and sprinkle with a little salt.
Be careful though. Shallots have water in them. Add water to hot oil and you get bubbles. Lots of bubbles. Add too much at once and it can boil over. Big, dangerous mess.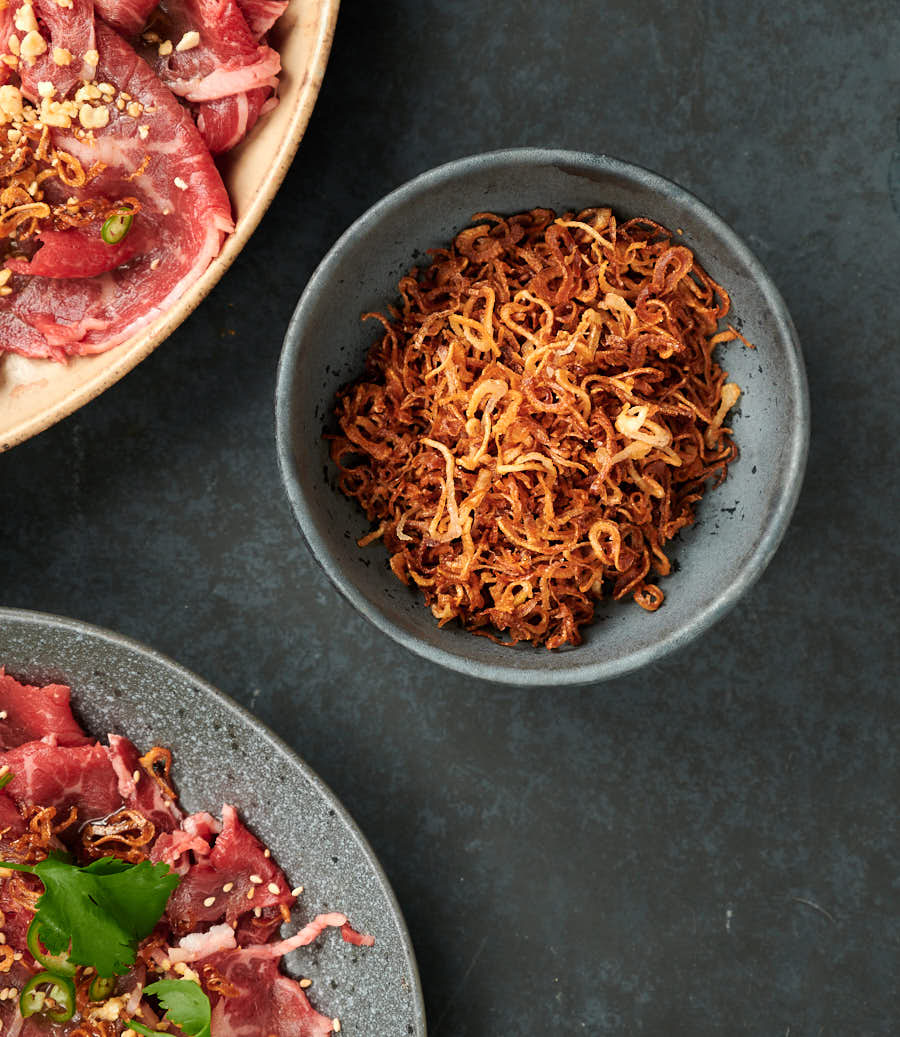 Asian carpaccio comes together fast
Once you have all your ingredients this dish takes no time to make. Layer the beef on the plate. Heat up the ponzu and soy. Pour it over the beef. Sprinkle with a bit of black pepper.
Then it's just garnishes. Peanuts. Sesame seeds. A little sesame oil. Fried shallots. Maybe some green chilies and cilantro. And the truffle oil. Magic.
That's it. Carpaccio Asian style. Serve it as an appetizer to adventurous friends. And watch it disappear. Fast.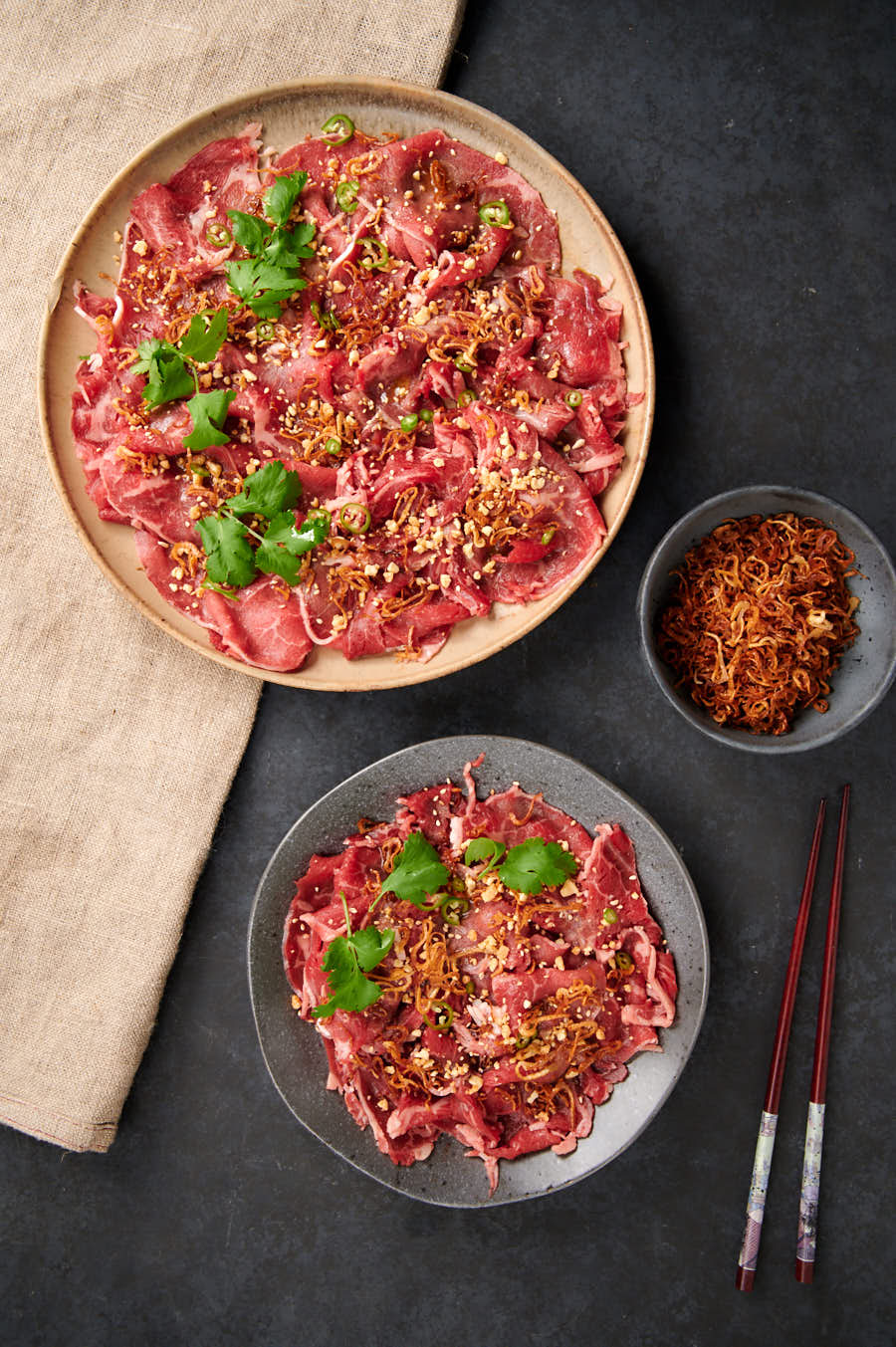 carpaccio asian style
Big Asian tastes flavour this twist on the classic Italian carpaccio.
Ingredients
10

oz

rib eye or top sirloin

sliced thinly against the grain (see note)

4

tbsp

ponzu sauce

store bought is fine

1 1/2

tbsp

soy sauce

1/2

tsp

black pepper

coarsely ground
garnishes
1/4

cup

fried shallots

see note below

1

tsp

sesame seeds

2

tbsp

chopped peanuts

1

green chili

thinly sliced

1

tsp

sesame oil

drizzle

truffle oil

cilantro or basil
Instructions
Place the soy and ponzu in a small sauce pan. Heat to just below a simmer.

Place beef on a serving dish. Lay it flat in a single layer.

Pour hot ponzu/soy overtop.

Drizzle the beef with sesame oil and truffle oil.

Garnish with peanuts, sesame seeds, crispy fried shallots, chilies and herbs.
Notes
Get your butcher to prepare your beef. Ask them for carpaccio. They will know what to do. You can try slicing your own. If you do freeze the meat partially and slice against the grain. It's not easy but it's not impossible either. 
Fried shallots -  Grab 2 or 3 large shallots. Peel them. Slice them thinly to make rings. Super thin.
Heat up two cups of oil to 325F. Use a slotted spoon to carefully lower the shallots into the hot oil. Do this in batches. Hot oil plus shallots equals bubbles. And bubbles equals danger.
Look at the picture to get an idea of the colour you want. Shallots keep cooking when they come out of the oil so pull them when they are a couple shades lighter. You'll see and soon get the hang of it.
To remove them from the oil use the same slotted spoon or chase them with a small (like 2 inch diameter) strainer. Place them on a paper towel to drain. 
Repeat until all the shallots are cooked.
Nutrition
Serving:
4
servings
|
Calories:
163
kcal
|
Carbohydrates:
4
g
|
Protein:
17
g
|
Fat:
8
g
|
Saturated Fat:
2
g
|
Cholesterol:
41
mg
|
Sodium:
613
mg
|
Potassium:
299
mg
|
Vitamin C:
1.3
mg
|
Calcium:
26
mg
|
Iron:
1.5
mg