Nuoc cham is that wonderful dipping sauce you get at Vietnamese restaurants. Salty, sweet, sour and spicy. It's the perfect sauce for so many Vietnamese dishes.
This is about the easiest sauce around. Which is amazing really. I think it's truly magical. It great with spring rolls. Drizzle it over cool noodle salads. Dip chicken wings in it. It just works.
You need nuoc cham in your arsenal
I never planned to post a standalone recipe. But I've written it many times. With every recipe it goes with. And I'm not going to stop posting recipes that use it.
So here it is. Once and for all. Well not really for ever. Because I'm always tinkering with it. This is my current thinking. Not all that different from other versions. Just a few minor tweaks.
Salty, sweet, sour, spicy
That's pretty much the definition of Southeast Asian food. The playbook. Look at just about any recipe. It's almost always about the interplay of these four flavours. Foundational.
And nuoc cham is just exactly that. Salty from fish sauce. Sweet from sugar. Sour from lime juice. And spicy from red chilies. The Vietnamese know what they are doing. Nuoc cham is proof.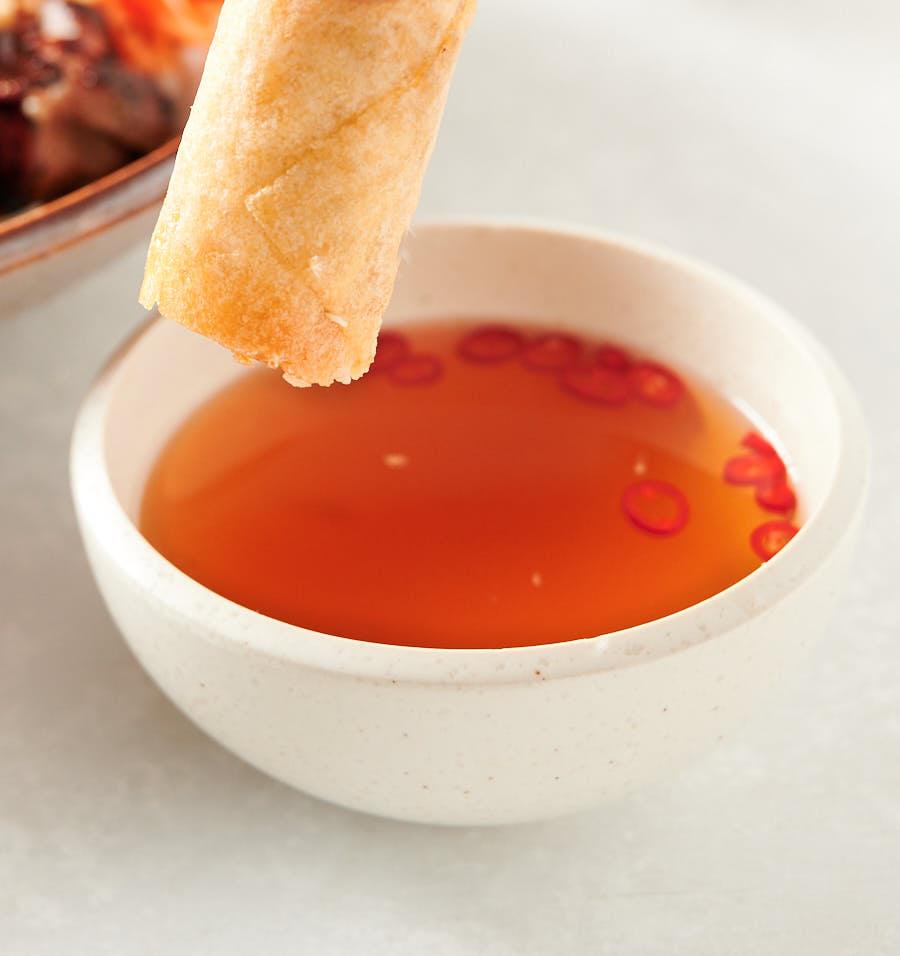 Vietnamese is not the same as Thai dipping sauce
Nuoc cham is Vietnamese. Nam jim is Thai. They are pretty similar. But not exactly.
Nam jim is clear. Sweeter. Like simple syrup with vinegar and chili. Both have the same overall flavour profile. Nam jim is brighter tasting.
Nuoc cham is earthier. The fish sauce adds colour. Lime juice adds little bits of pulp. It's more complex. And it's the one I prefer. You may not agree. That's OK. This really is preference.
Simple syrup as the base
That's the tweak. I used to just mix things up with warm water. That's good. But I'm taking a page out of the Thai dipping sauce playbook.
Bring the sugar and water to a simmer. Get the sugar fully dissolved. That's simple syrup.
Let it cool. Then add in the fish sauce. The lime. And the chili. It's comes out just a little bit better. I think anyway. It doesn't come for free though. Costs you a dirty pot. And some time. Decide for yourself.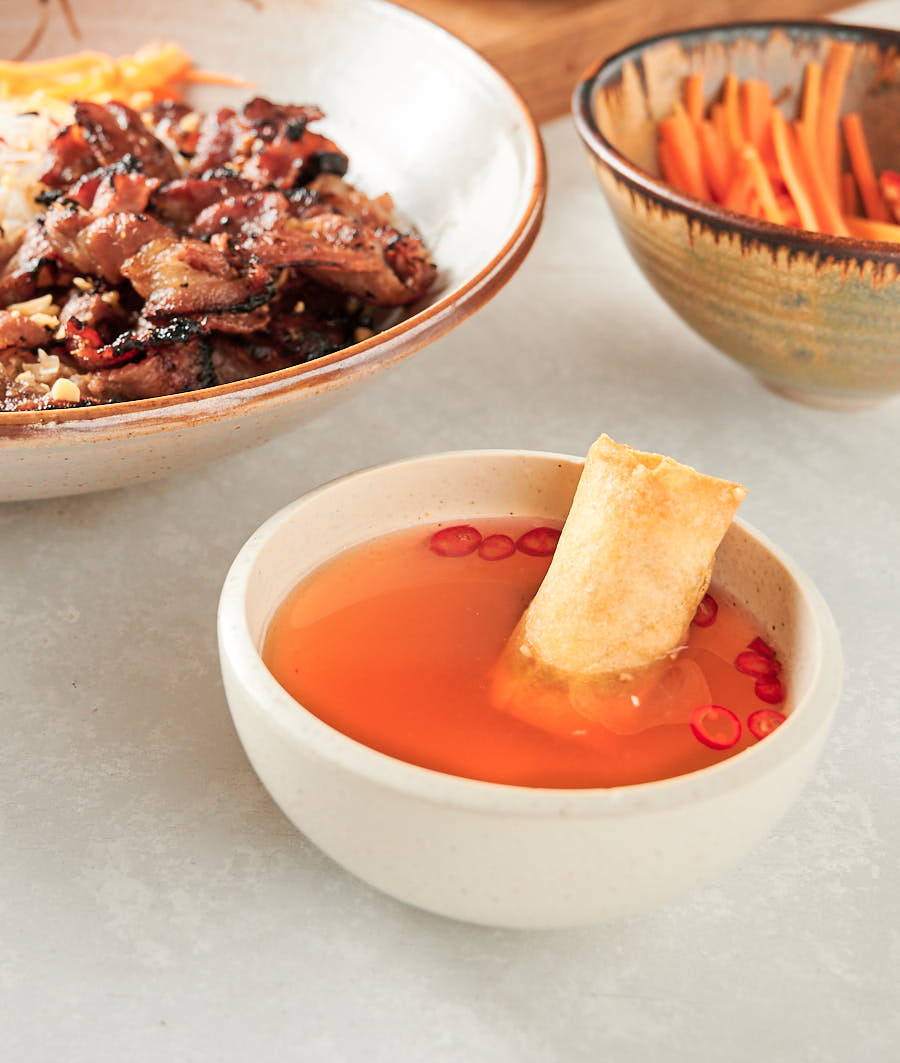 Learn to make nuoc cham and you will use it everywhere
This sauce goes with so many dishes. And not just Vietnamese. I use with Thai. And Korean. It's that good. Try it with Korean chicken wings. Or lemongrass chicken. Or Vietnamese bun cha.
Make it. Make it often. If you like Southeast Asian food you need this sauce.
.
nuoc cham
Nuoc cham is the sauce that unlocks so much Vietnamese cooking. Super easy and crazy delicious.
Ingredients
1/4

cup

sugar

2/3

cup

water

1/4

cup

fish sauce

2

tbsp

lime juice

- the juice of one good size lime

thai red chilies

to taste
Instructions
Combine the sugar and water in a small saucepan. Bring to a simmer. Stir to fully dissolve the sugar. Let cool to room temperature.

Add the fish sauce and lime juice to the cooled sugar water syrup. Stir to combine. Add Thai chili slices

Yes. That's it. Told you there's nothing to it...
Nutrition
Serving:
1
cup
|
Calories:
221
kcal
|
Carbohydrates:
55
g
|
Protein:
3
g
|
Fat:
1
g
|
Sodium:
4563
mg
|
Potassium:
167
mg
|
Sugar:
53
g
|
Vitamin C:
9
mg
|
Calcium:
25
mg
|
Iron:
0.5
mg