Bun thit nuong is one of the great Vietnamese noodle salads. Lemongrass marinated pork. Fresh herbs. Cool rice noodles. And a big drizzle of hot, sour, sweet and salty nuoc cham dipping sauce.
Contrasting flavours that come together together in a big bowl of delicious. The smoky, super flavourful pork. Red chili adds bite. Mint and cilantro brighten everything.
The crunch of a good spring roll for contrasting texture. And a great sauce to tie it all together. Perfect. Bún Thịt Nướng.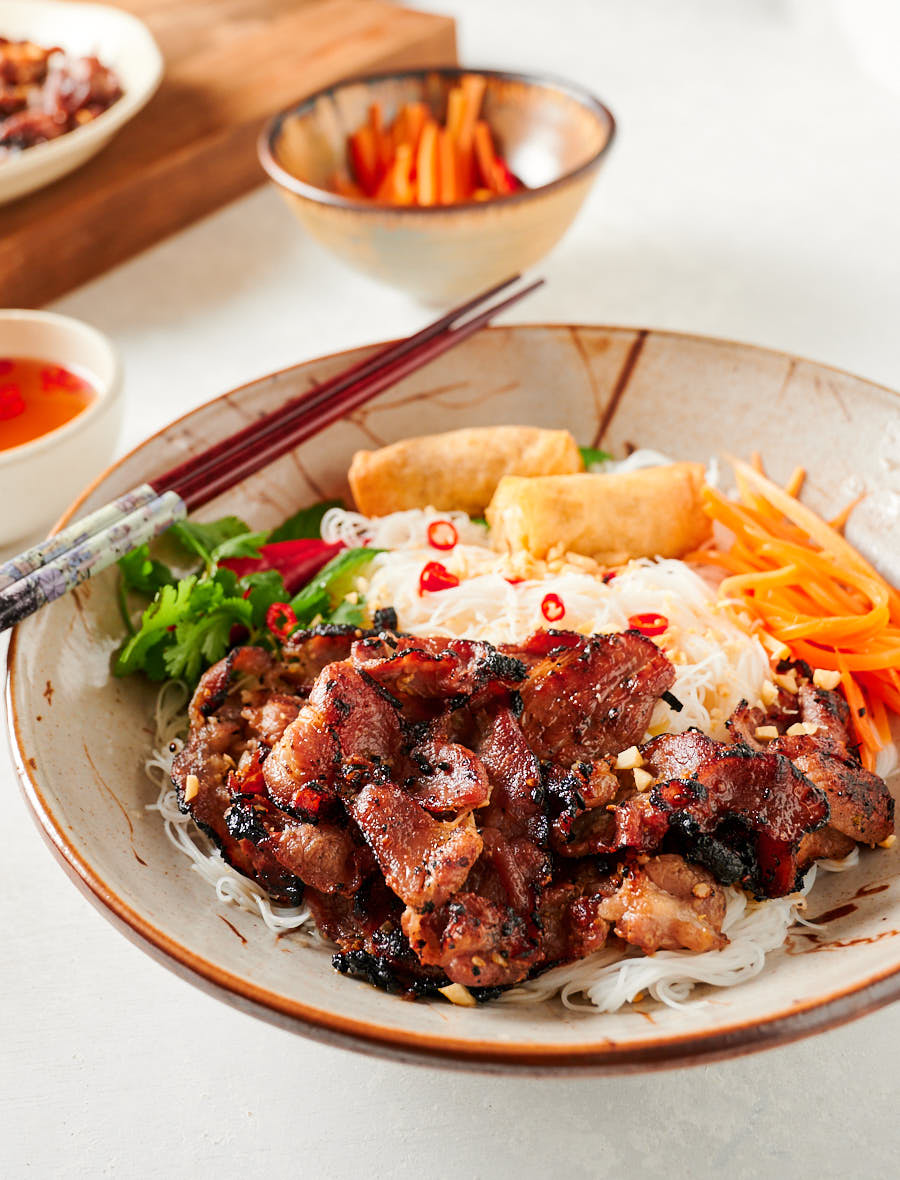 A great marinade makes a great bun thit nuong
There are a lot of Vietnamese where I live. And a lot of Vietnamese restaurants. A lot. There are probably more pho joints here than McDonalds. Seriously.
I'm pretty happy about that. Vietnamese is always my go to for lunch. I eat a lot of it. So I want to be able to cook it at home.
It always takes some tinkering before I'm happy but this time it took real research. Everything I tried was too bland. Or too sweet. Or wrong somehow. But I am nothing if not determined.
So I started using google translate and reading Vietnamese web sites for hints on how to make bun thit nuong. Poking around Vietnamese food groups on facebook. That helped a lot.
What I learned. Lose the soy sauce. Roll way back on the sugar. Sesame seeds. Sesame oil. But not too much. Black pepper. And fish sauce. Always fish sauce.
This marinade just works with pork. Not just pork in bun thit nuong. Pork chops. Or pork roast. Pork belly. It's all good. Try it and see.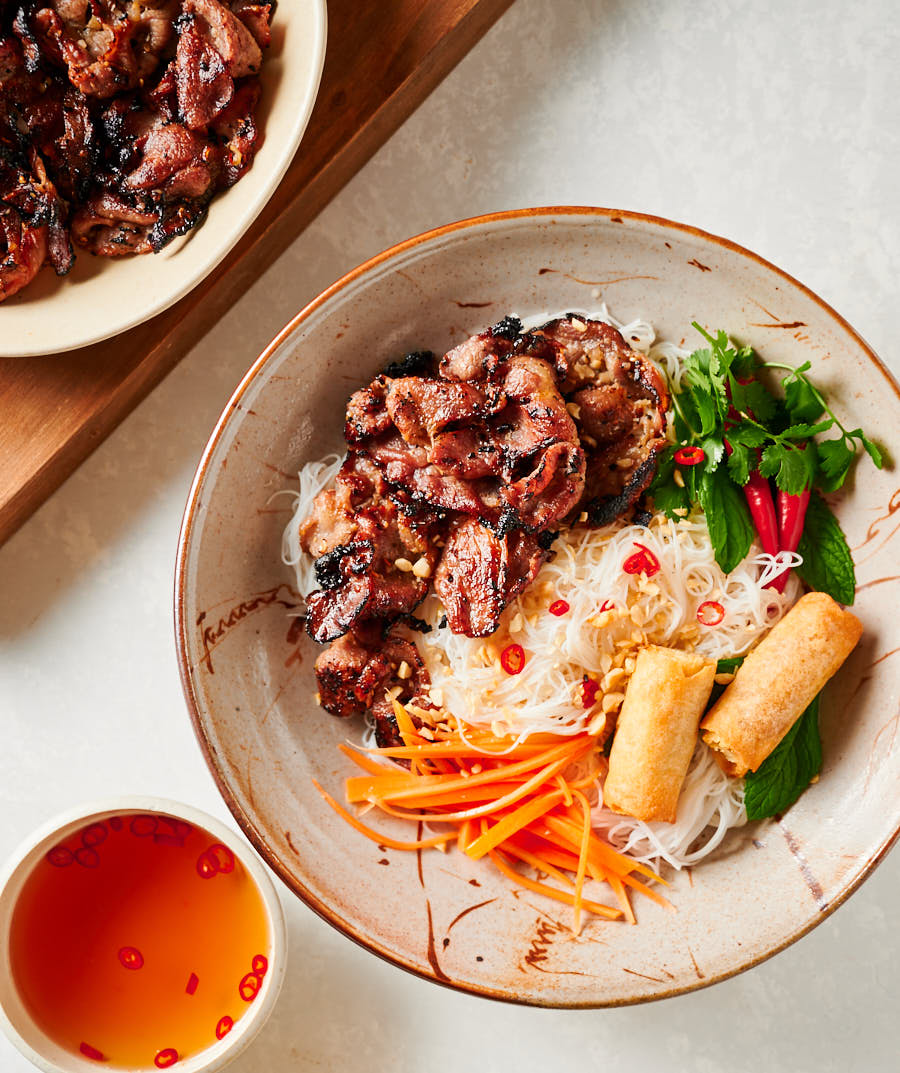 Grilling technique matters
Grilling thin slices of pork shoulder is no easy task. It's actually quite challenging. You can use thicker pieces. But that costs surface area. And surface area equals more flavour. That's what makes good bun thit nuong.
You cannot just toss it on your regular grill. There's no way. That's a recipe for disaster. A mess. You will be picking up bits of pork from the fire. A bit of char is good. Black is not.
So you need to approach things a little differently. They sell these baskets at Asian shops. It's like two wire mesh panels with a handle. That's probably the safest route.
I have a little Japanese charcoal grill. It has an open mesh grate. Works really well. I've seen the actual grate at Asian shops as well. You could just toss that on your regular grill.
Or you could use a vegetable grilling basket. That isn't going to work as well but it beats picking your dinner out of the coals.
Grill uncovered. Pork shoulder is fatty. It will flare up. You need to be on it. And you don't want that burnt fat flavour you get with a covered grill.
Charcoal makes a difference here as well. Adds a nice flavour. But I say that about everything.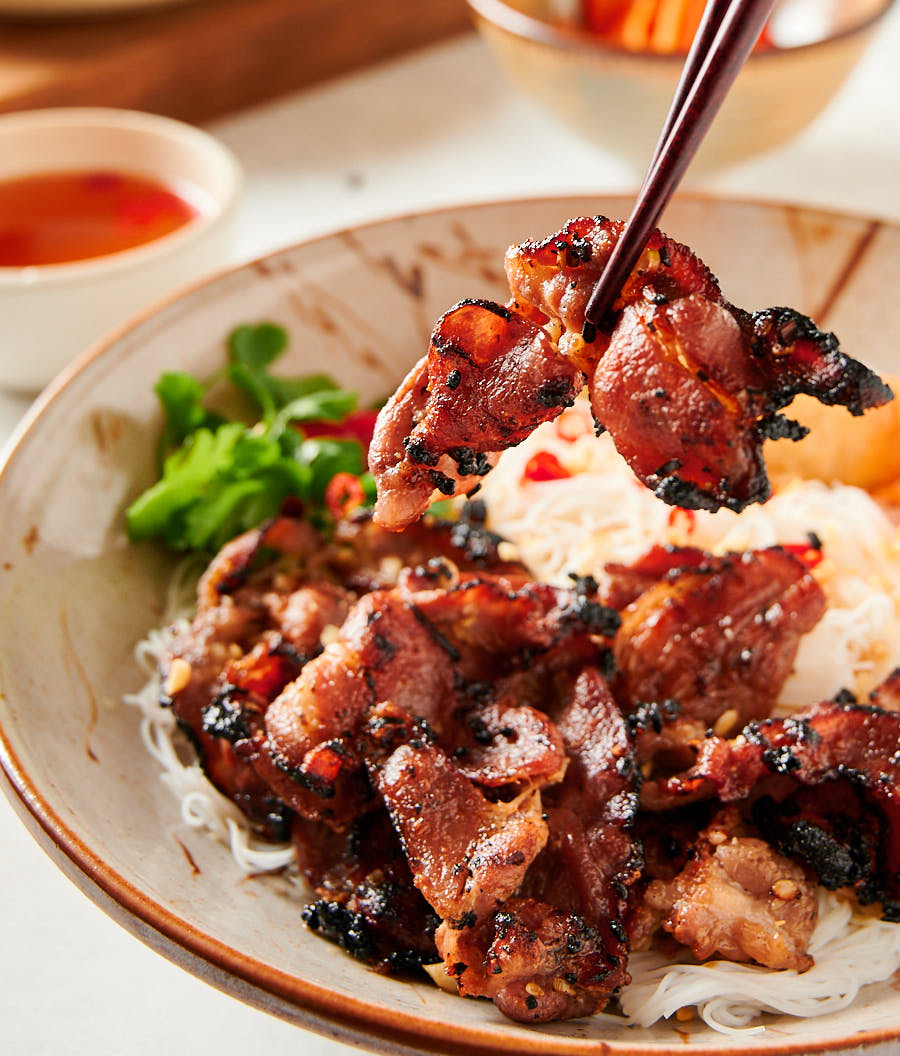 Make bun thit nuong your own
This recipe is really about two things. The pork. And the marinade. The nuoc cham is pretty important too if you stick with rice noodles.
But everything else is up to you. It doesn't have to be rice noodles. This pork is great with rice. The drippings from the pork mix beautifully with rice.
I like mint and cilantro for herbs. But there are others. Thai basil. Culantro. Perilla leaves. All good.
You can add fried spring rolls. Or not. That adds a lot of work so be ready for that if you try. Thinly sliced shallots. Green onions. Fried shallots. Lime.
Have fun with it. Bun thit nuong is great as long as you nail the pork. Make it as written. Or make it your own. But make it. And then you'll be hooked like I am.
bun thit nuong
Bun thit nuong is a refreshing Vietnamese grilled pork and rice noodle dish that contrasts warm pork with cool rice vermicelli. Perfect hot weather food.
Ingredients
The pork and marinade (thit nuong)
1.5

lbs

pork shoulder

sliced thinly

2

shallots

finely diced

2

stalks

lemongrass

tender inside part only, diced

1

tbsp

sesame seeds

2

cloves

garlic

crushed

1

tbsp

brown sugar

or honey

1

tsp

sesame oil

3

tbsp

fish sauce

2

tbsp

vegetable oil

1/2

tsp

black pepper
Noodle bowls
8

oz

rice vermicelli

nuoc cham

– see notes for recipe link

carrots

quick pickled- see notes for recipe link

mint, coriander, thai basil, culantro, perilla leaves

whatever you can get your hands on

chopped peanuts

spring rolls

make them or grab some takeout and warm them up for dinner
Instructions
Make the marinade
Cut up the lemongrass. Remove the tough outer pieces. You want the tender inside bits. If it's hard to push a sharp knife through it, it is not tender.

Combine all the marinade ingredients. That is everything except the pork in the pork and marinade section of the ingredients. Use a bowl that's big enough to hold all the pork. And give you enough room to mix it all up.

Stir to combine the marinade ingredients. Add the pork. Use your hands to mix it all up. You want the pork coated.

Cover with plastic wrap, refrigerate and marinate 1 to 12 hours. I usually go 3 or 4 hours. I've cut it back to one hour even. It works fine.
Do your prep
Make your nuoc cham. Prep your herbs. If you are making any quick pickled carrots do it now.

Soften your rice vermicelli. Bring a kettle to boil. Pick a large bowl. Pour boiling water over the noodles. Let it sit for around 5 minutes and start checking it for tenderness. Different brands take different times but I've never seen it go over 10 minutes. Probably not even 8 minutes.

When the noodles are tender drain. Rinse under cold water until cool. Set aside.
Prep your noodle bowls
You want this done before you start grilling. Or somebody else can do it while you grill.

Place 1/4 of the noodles in 4 bowls. Add your choice of garnishes. Cut up some lime. Put out the nuoc cham. All that should be left to add is the pork.
Grill the pork
This is the hard part. Grilling thinly sliced pork shoulder is not trivial.

Set up your grill for medium hot direct fire. Find something that will keep the pork from falling through the grill. A fine grill like they sell at Asian shops works. A vegetable grill (the non-stick ones with the holes in them) will work but not as well. Find something though. Do not try to grill this on your regular grate. You will wind up angry. And hungry.

Health safety tip here. You are going to need two sets of tongs. One for cooking and one to remove the pork from the grill. Be careful. Don't mix them up.

Work in batches. Don't try to grill it all at once. Try to lay it as flat as you can using the tongs. As the pork starts going opaque flip it. It will bunch up. It will fight you. Don't worry. Pork shoulder is pretty forgiving. Make sure the bunched up areas are cooked. When the first batch is finished repeat until all the pork is cooked.
Finish the bun thit nuong
Divide the pork among the 4 bowls. Serve with nuoc cham and extra red chilies for your more adventurous guests.
Notes
There's a recipe for quick pickled carrots as part of the pork belly bahn mi recipe.
Nuoc cham is just about the easiest sauce in the world to make. Get the recipe here.
Nutrition
Serving:
4
servings
|
Calories:
476
kcal
|
Carbohydrates:
56
g
|
Protein:
24
g
|
Fat:
17
g
|
Saturated Fat:
8
g
|
Cholesterol:
70
mg
|
Sodium:
1245
mg
|
Potassium:
516
mg
|
Fiber:
2
g
|
Sugar:
4
g
|
Vitamin C:
2.3
mg
|
Calcium:
65
mg
|
Iron:
2.9
mg