Everyone's heard of garam masala. It is used in countless Indian dishes. And it's easy to make. There's no reason at all to buy pre-fab versions. None at all.
Toss a few spices in a dry skillet. Toast briefly. Cool. Grind. That's it. Seriously. It's almost absurd that they can get away with selling it.
And the beauty of making it yourself is you know it's fresh. Maximum flavour. None of this stuff that's been sitting on a shelf for a year. Or more. Until it tastes like dust.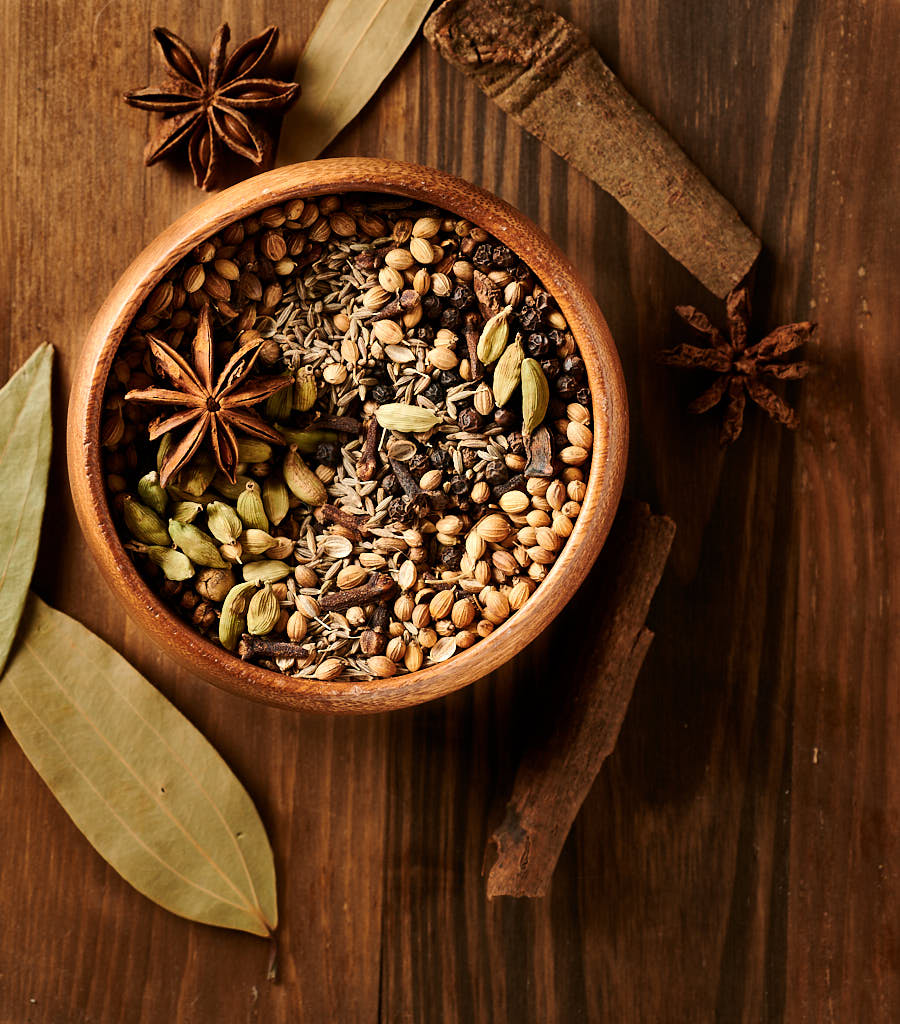 Garam masala is a warming spice mix
Garam means "warm" or "hot" and masala means spice blend in Hindi. So garam masala translates to warming spices. Spices like cardamom, cinnamon and black pepper. And cumin and cloves and chilies.
I had to look into what "warming" spices mean. I'm not sure about the science behind it but warming spices do just that. They warm you. Heat you up from the inside out.
The fancy word word is thermogenic. The idea is that warming spices boost your metabolism. Gets you burning more calories. And that burn warms you. Thermogenesis. Could be true. I sweat when I eat spicy food.
If you're really interested look into Ayurvedic medicine. It's traditional Hindu medicine that deals with balance in the body. Interesting stuff.
What I do know that garam masala is loaded with warming spices. So it lives up to its name.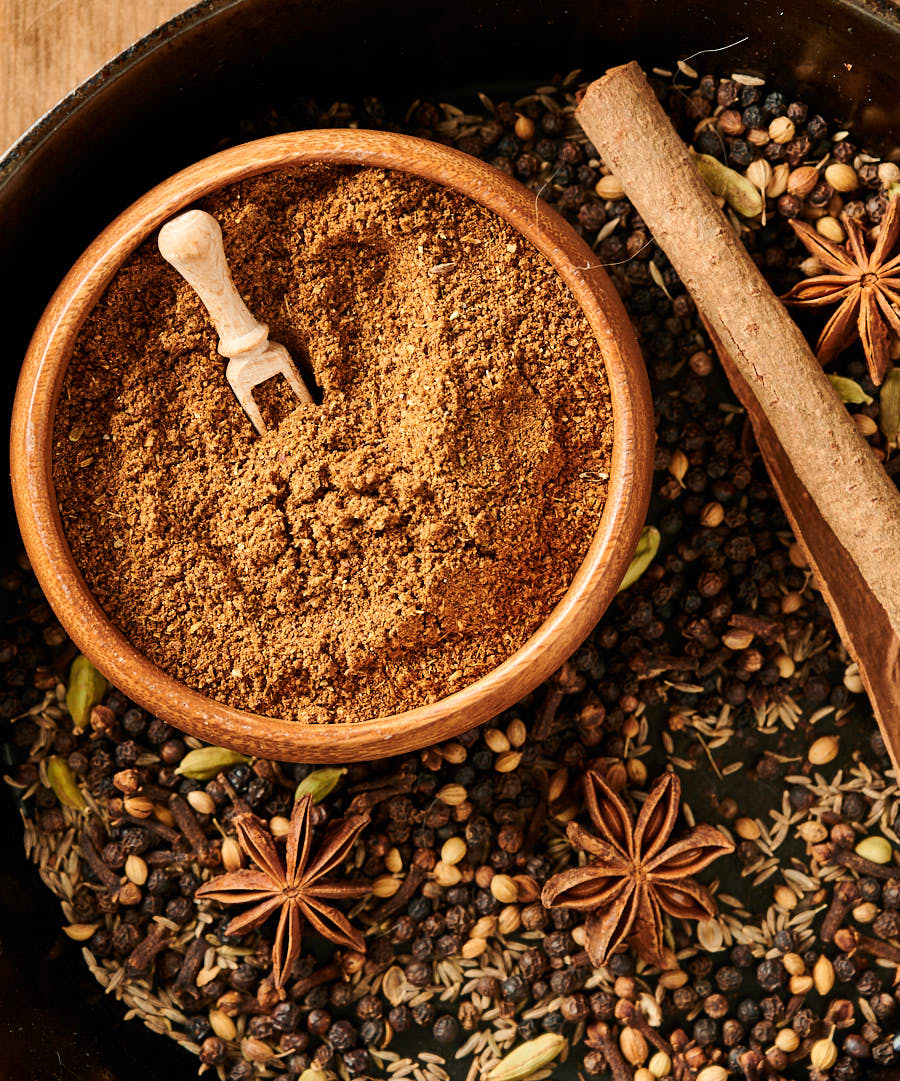 Garam masala does not mean curry powder
This is not a recipe for generic curry powder. So don't think of it that way. For starters there is no turmeric. Regular store-bought curry powder is loaded with it. That's why it's yellow.
Garam masala is more of a finishing spice mix. It isn't meant to be the main spice mix. So don't use it that way. I'm not saying you can't make a garam masala chicken dish. I'm just saying it's distinctive. Specialized.
Roast once – grind many times
This is the thing I don't get about almost every garam masala recipe I've ever seen. They all tell you to grind everything up once it's cooled.
How does that make sense? The second you grind the flavour starts breaking down. Max flavour at first. But then it starts to fade. Not crazy fast mind you. But it does happen.
So I use the mom method. My friend's mom taught me this. You roast enough spices for a couple months. But you grind as you go. So it's fresh every time.
It's so obvious. Makes perfect sense. But I had to be told. And now you know too. Roast your spices once but grind as required. Genius really.
And the fun part is, it will be a little different every time. Some variety. Not a huge difference. But it's not the same as grinding it all up at once. That would be consistent. Repeatable. Your spice mix would be exactly the same each and every time.
You can do that I guess. If you want. Nothing stopping you. But I like fresh. I can live with a little variety. I'll take that over stale any day.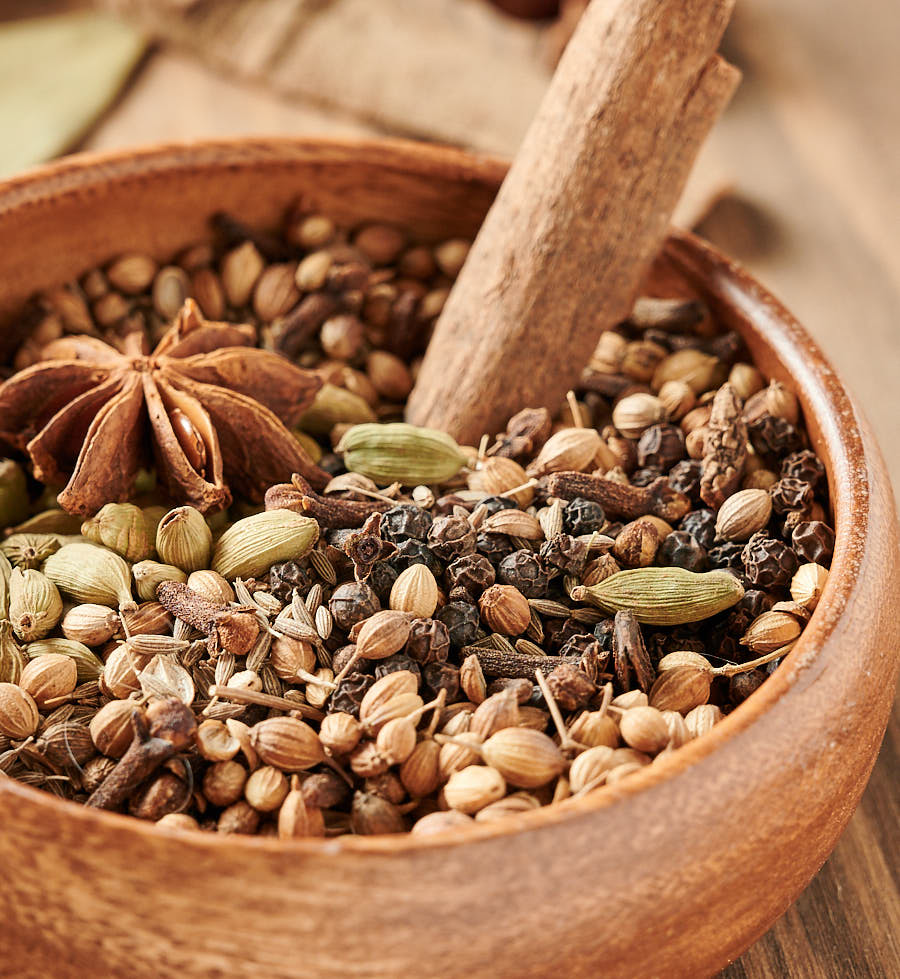 Everybody's garam masala recipe is different
There's no right or wrong way to make garam masala. It's a spice mix. Stick to warming spices that you like. Every family probably has their own mix.
I like cumin, coriander, cinnamon, clove, bay, cardamom and black pepper. You might like something different. A bit of mace maybe. Or some whole Kashmiri chilies. I'm not the masala police. Make what you like.
Just remember to toast once and grind often. That's what I'm trying to get across here. Pick your spices. Make that your own if you want. But grind on demand.
Go for fresh. Every time. Your taste buds will thank you.
garam masala
Garam masala is a mix of warming spices. Grind it fresh and you will never buy it pre-mixed again.
Ingredients
2

tbsp

coriander seed

2

sticks

cinnamon bark

3 inches each

3

tbsp

cumin seed

1

tbsp

black peppercorns

2

tsp

cloves

2

tsp

green cardamom

1

star anise

broken into small pieces

2

bay leaves
Instructions
Combine the coriander, cinnamon, cumin, pepper, cloves, cardamom and star anise in a small skillet.

Toast over medium low heat until fragrant. This takes 2 minutes or so. Don't over-toast.


Let cool. Store in a sealed container in a dark cupboard. It should keep for a few months.

Add the remaining spices.

Grind it in a spice grinder as needed. I use one of those blender style coffee grinders. Grind about 1/4 at a time as needed. The ground garam masala should keep about a week or two at maximum flavour.
Nutrition
Calories:
161
kcal
|
Carbohydrates:
30
g
|
Protein:
6
g
|
Fat:
6
g
|
Sodium:
42
mg
|
Potassium:
626
mg
|
Fiber:
14
g
|
Vitamin A:
285
IU
|
Vitamin C:
4.4
mg
|
Calcium:
381
mg
|
Iron:
16.3
mg