Grilled spicy Korean chicken lettuce wraps. Big, bold Korean spiced chicken against cool rice noodles. Wrapped up in a crispy lettuce leaf. Drizzled with a sweet, sour and salty sauce. Just crazy tasty stuff.
Fun food. Eat with your hands food. Food to eat with friends. To share. To eat family style. Perfect for casual entertaining.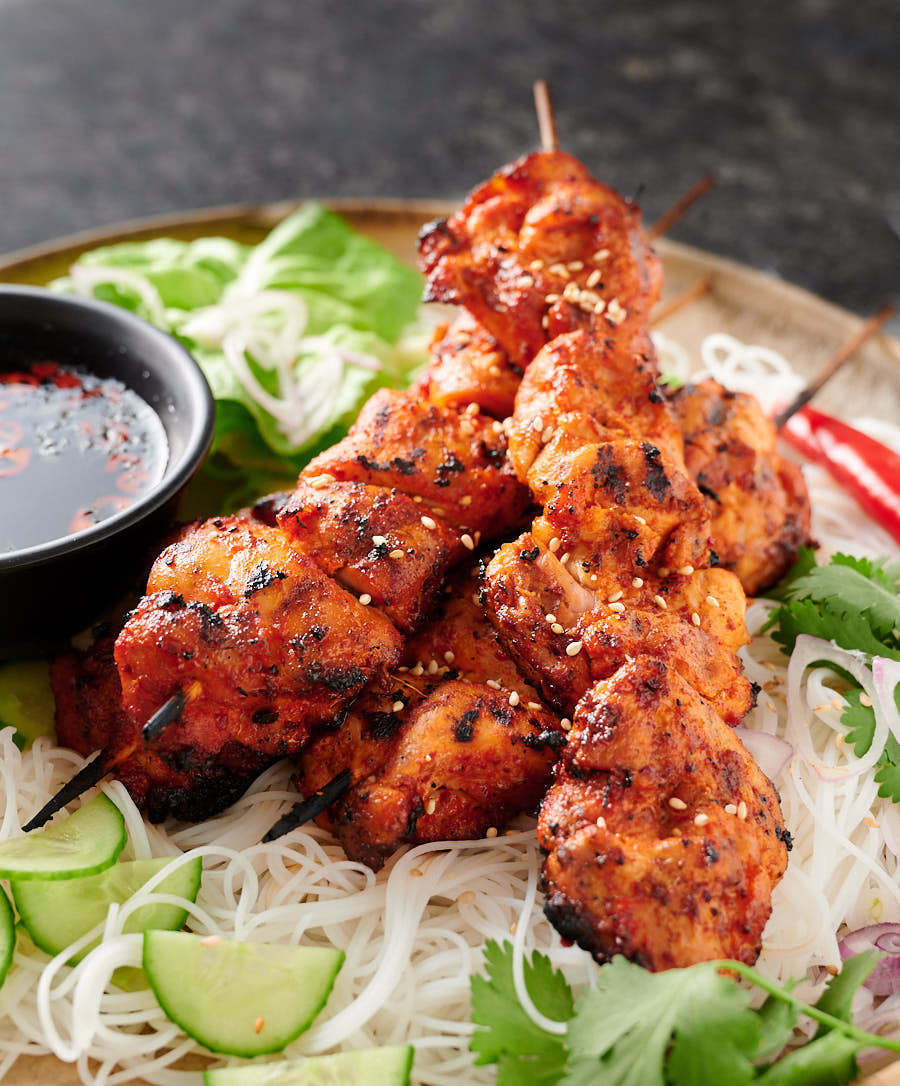 Spicy Korean chicken meets Vietnamese spring rolls
This isn't authentic Korean. And it isn't Vietnamese. It's fusion. I guess. I started with grilled spicy Korean chicken. Tinkered with that for a while. 
Then I started thinking how I could use it as an ingredient. It's good served with rice but I wanted something more.  Party food. A little bit flashy.
Lettuce wraps are Korean. Add some rice noodles and it moves into Vietnamese territory. Nuoc cham pushes it further towards Vietnam. Put it all together and you get seriously tasty lettuce wraps.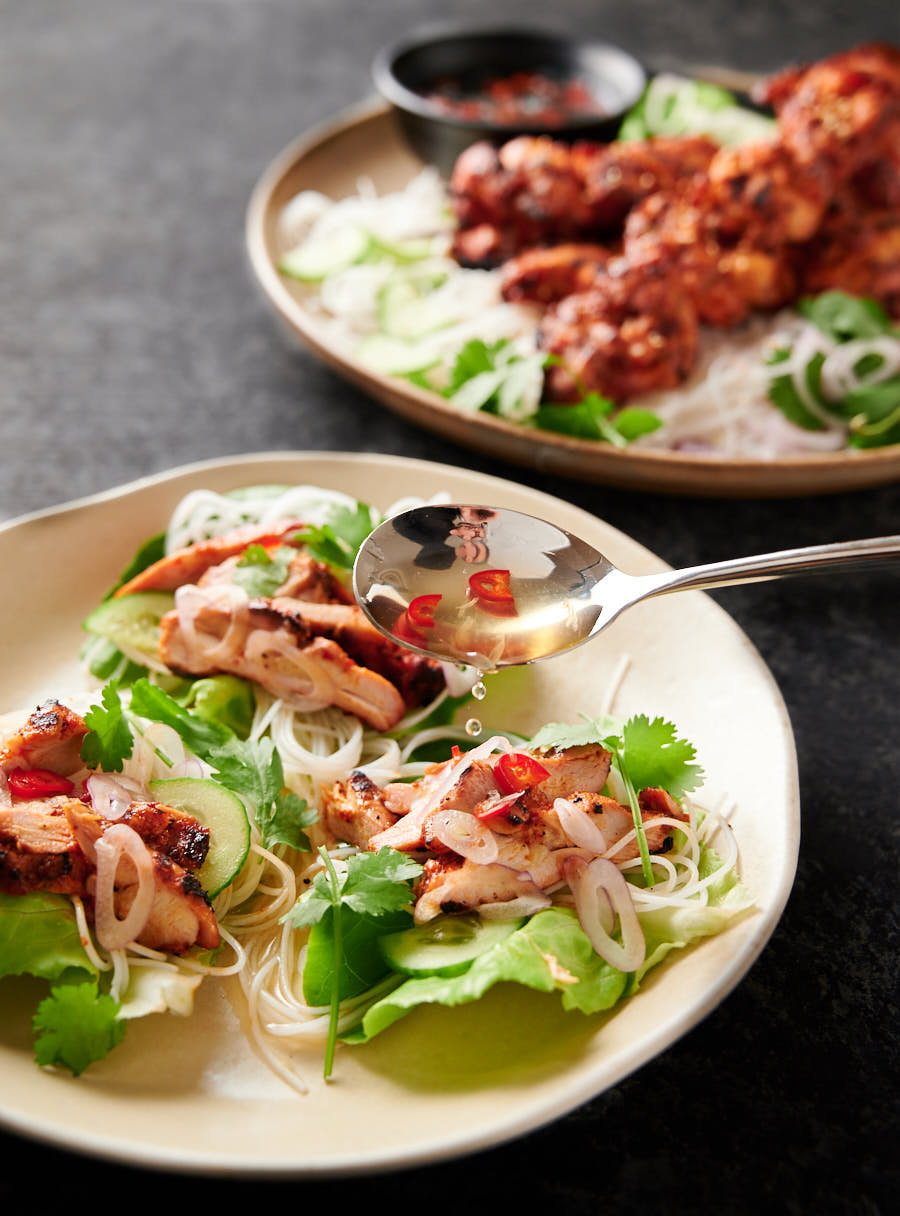 Nuoc cham pushes it over the top
Nuoc cham isn't a Korean thing. As far as I know anyway. I haven't been to Korea in a few years though. Maybe it's all the rage now. 
It is big in south east Asian cooking though. It's the stuff you get with spring rolls. Or to drizzle onto noodle dishes. Wonderful stuff. If you haven't tried it before you need to. Now.
It's a little bit hot. Salty. Sweet. Sour. It's everywhere in Vietnamese food for a reason. It's just really good.
And it works perfectly here. Really makes the dish. I surprised myself when I tried it. Snapped everything into focus.
Warm spicy Korean chicken kissed by smoke. Cool noodles. Crunch from the lettuce. Fresh herbs. A little bite from the shallot. Nuoc cham to bring it all together. If I had a restaurant these spicy Korean lettuce wraps would be a signature appetizer. For sure.
Grilling technique matters
This is Korean BBQ. Sort of. In my head anyway. So it really should be grilled. I've made spicy Korean chicken in the oven. Not bad at all. But not as good as grilled. Especially if it's grilled over charcoal. 
I am a charcoal believer. I don't own a gas grill. And I don't think I ever will. The flavour is better. Try it sometime. 
Either way you are going to need to set up for indirect heat. Start the chicken over indirect. And sear it over hot direct heat to get that little bit of char. 
I pretty much always cook chicken this way. Easy. Foolproof. No grease fires. No sooty tasting chicken. Just make sure to put a drip pan under your indirect zone to catch the drippings. Or you will have a big fire next time you fire up your grill. I learned that the hard way.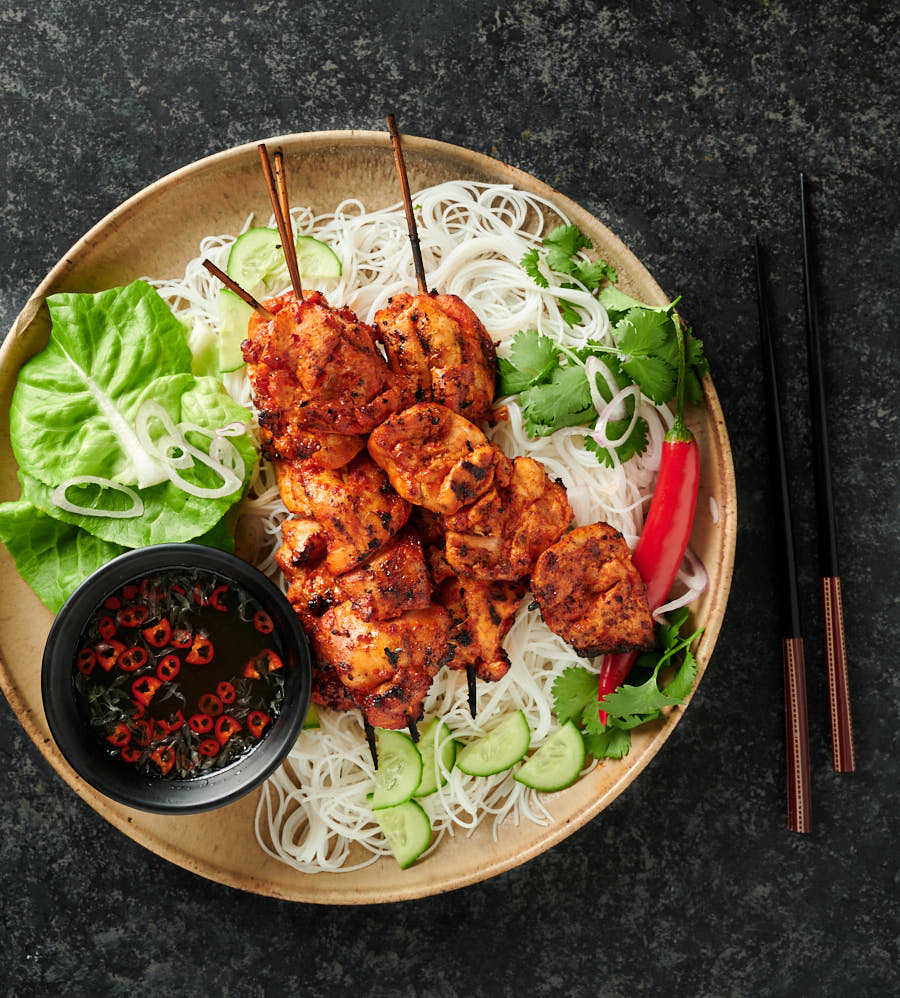 Spicy Korean chicken lettuce wraps – Vietnamese style
You could do this Korean style. Serve the chicken up with some sticky rice and ssamjang. Wrap it up in a lettuce leaf. It will be good. And might even be authentic. 
Or you could try it Vietnamese style. Rice noodles. Nuoc cham. Shallots. Herbs. Lettuce. I know what I like better…
spicy korean chicken
Spicy Korean chicken is great in lettuce wraps. But you can serve it with rice or even use the marinade on chicken wings.
Ingredients
spicy korean chicken
2

lbs

chicken thighs

boneless skinless

2

cloves

garlic

crushed

2

tsp

ginger

grated

1

tbsp

gochugaru

korean chili flakes

1

tsp

sesame oil

2

tbsp

fish sauce

1

tbsp

gochujang

korean chili paste

1

tbsp

rice wine vinegar

water

to make a smooth paste
lettuce wraps
lettuce

boston (bibb) or leaf works well

8

oz

rice vermicelli

see note below

nuoc cham to serve

get the recipe for nuoc cham

cilantro, mint, thinly sliced shallots, sesame seeds etc

to garnish
Instructions
Soak 6-8 wooden skewers if you feel like doing skewers. Just grilling the chicken works too.

Combine the garlic, ginger, gochugaru, sesame oil, fish sauce, gochujang and rice vinegar. Stir to combine. Add enough water to make a smooth, fairly thin marinade. 2 tablespoons or so should do it. You are looking for the texture of heavy (whipping) cream. It's not super critical so don't worry too much about getting the "perfect" texture.

If using skewers, cut each chicken into 2-3 pieces. Otherwise leave the thighs whole.

Combine the chicken with marinade. Refrigerate for 1-4 hours.

Light your grill. You want a direct and indirect zone with medium hot heat.

If using skewers thread your chicken onto the skewers.

Place the chicken (or skewers) over indirect heat. Grill, with the lid down until the chicken is almost done. This should take around 12-15 minutes depending on the temperature of your grill.

Move the chicken over direct heat a couple skewers (or pieces) at a time. You are looking for a little char. You don't want to let it burn so pay attention. Once all the chicken is nicely coloured remove it. Check internal temperature. Thighs should read 175F.

To serve as lettuce wraps place a leaf of lettuce on your plate. Top with a bit of rice vermicelli. Place a few small pieces of chicken overtop. Garnish with your choice of toppings. Drizzle a little nuoc cham over the whole thing. Pick it up and enjoy. Might be a little messy but that's part of the fun.
Notes
Don't boil your rice vermicelli. Just soak them in boiling water for around 5 minutes. Once they soften drain and rinse under cold water. That's it. 
Nuoc cham is super easy to make. It's just a matter of mixing a few ingredients together and it's ready. Don't leave it out.
Nutrition
Serving:
4
g
|
Calories:
395
kcal
|
Carbohydrates:
50
g
|
Protein:
29
g
|
Fat:
7
g
|
Saturated Fat:
1
g
|
Cholesterol:
129
mg
|
Sodium:
965
mg
|
Potassium:
431
mg
|
Fiber:
1
g
|
Vitamin A:
625
IU
|
Vitamin C:
1.2
mg
|
Calcium:
36
mg
|
Iron:
1.9
mg