Masala chilli chicken is loaded with big chilli flavours. Green chillies, chilli powder and masala chilli sauce make this chicken curry one you will not forget.
This is not the same thing as the Indo-Chinese version of chilli chicken. It is pure Indian. If that sounds good to you read on.
Restaurant style chilli chicken
This isn't on any Indian restaurant menus that I know about. But it should be. It's really tasty. A little different than the run of the mill classics. But every bit as good. 
Chilli chicken curry has all the goodness you expect from your favourite Indian restaurant.
Bites of boneless chicken. And that luscious sauce. The one that makes you want to mop it up with naan or chapatis. Nothing not to love.
It's made the same way as restaurant curries. Uses all the techniques. In fact, I wouldn't be surprised if someone puts this on their menu. Why not?
The world needs variety. Someday you'll go to an Indian restaurant and be able to order something besides a tikka masala or a jalfrezi.
And that will be OK with me. I will raise a glass. Hope it's OK with you too.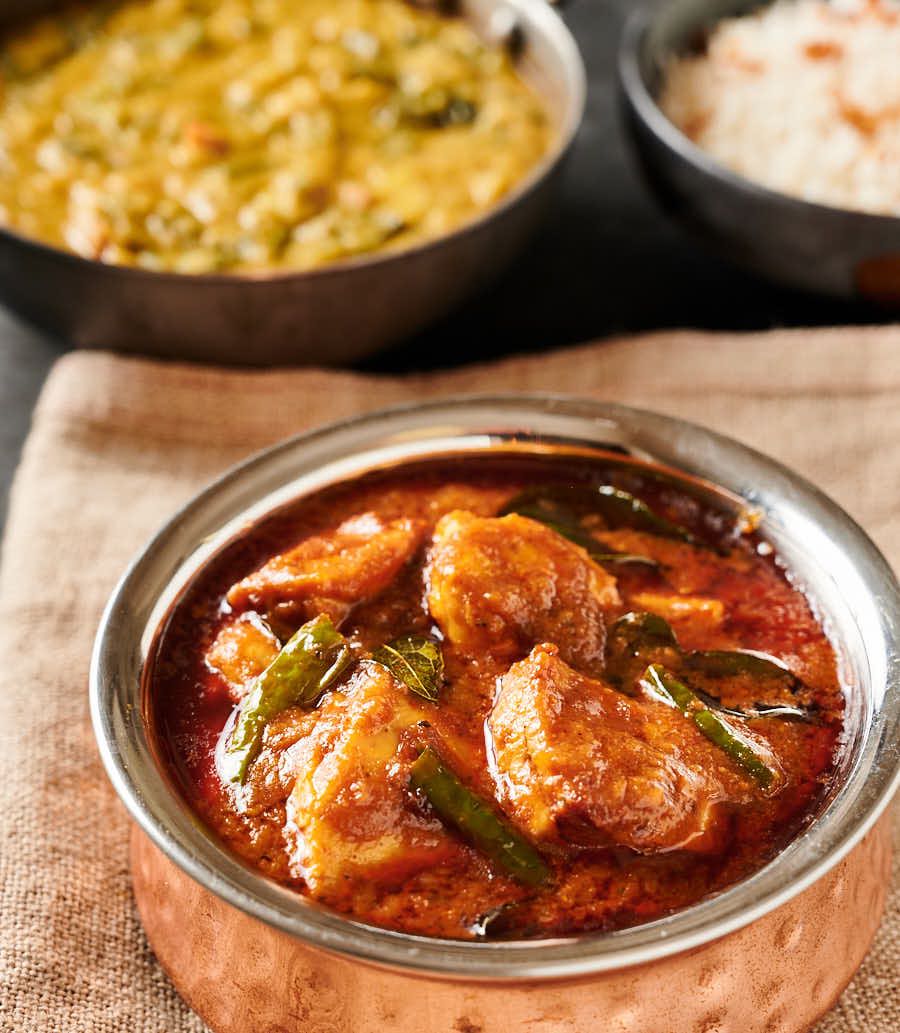 Masala chilli chicken uses Indian chilli sauce
I'm not a fan of pre-fab ingredients. I'm just not. It actually kind of goes against the whole point of this blog.
Scratch cooking. I do use a few pre-fab ingredients. Everybody does. I'm not preaching here. 
Sometimes something comes along that inspires a whole new recipe though. And that's what happened here.
I bought this masala chilli sauce when I was poking around my local Indian grocer. Just to see what it was about.
I tasted it when I got home. Just straight from the bottle. I'm bad that way. And I loved it. Loved the flavour profile.
Decided on the spot I needed to use it in a curry. So I came up with masala chilli chicken.
Truth be told I'd put this stuff on a burger. On eggs. French fries. It's like ketchup only better. I think it could even fix a hot dog. I am a fan. 
This is not a sponsored post. Nobody is paying me to say nice things about their product. I will never do that. Not ever. I just like the taste…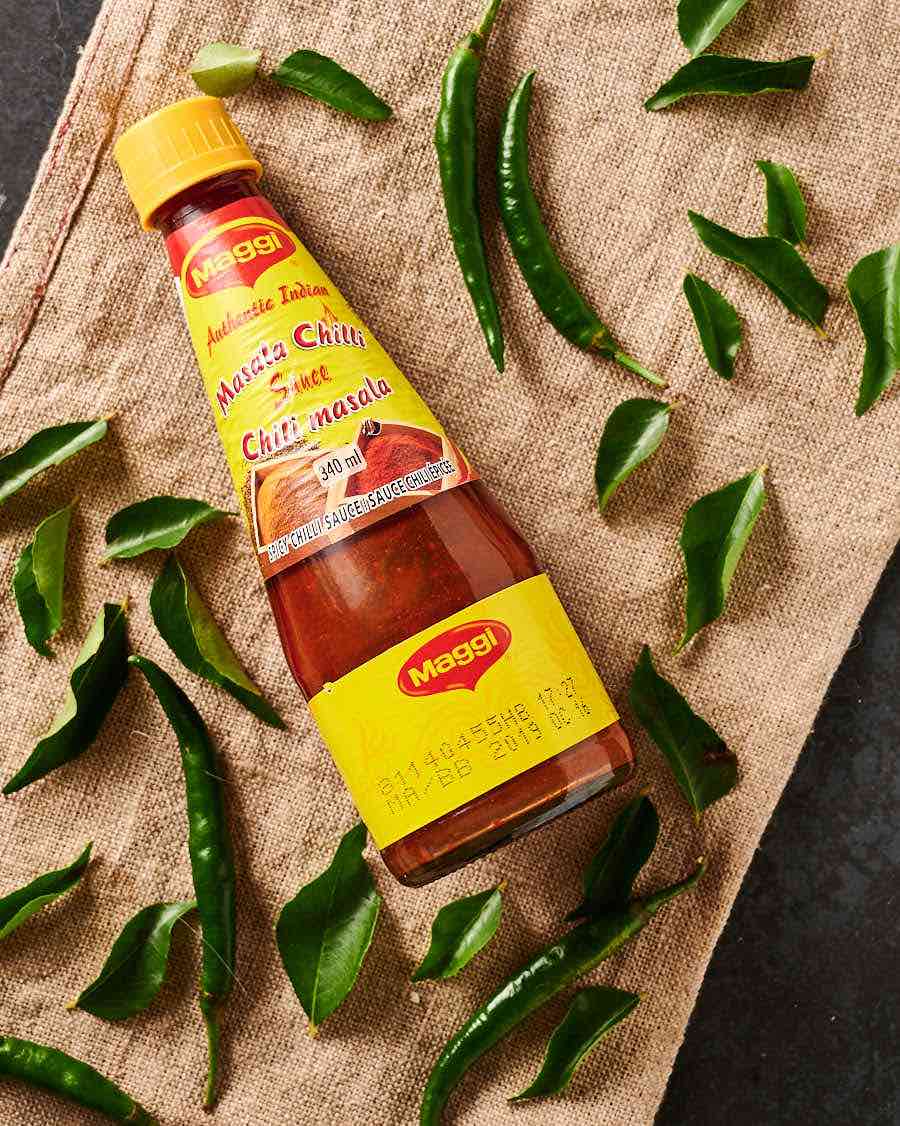 Finger hot or jwala chillies
This is chilli chicken. So it needs chilies. In my world anyway. And so there are lots. 2 or 3 whole chillies in two servings. This curry is a little spicier than some of the others on glebe kitchen.
I get asked a lot about what chillies I use. I keep saying finger hot green but it doesn't always seem to register.
Finger hot green chilies are usually about as long as your finger. Look kind of like big Thai chillies. But not as hot.
They are fairly thin skinned. Not like a jalapeno or serrano. An Asian chilli. I use them all over the place. Google them.
They are called green jwala chillies or Indian finger hot. Any Indian grocer should have them. Some green grocers will too.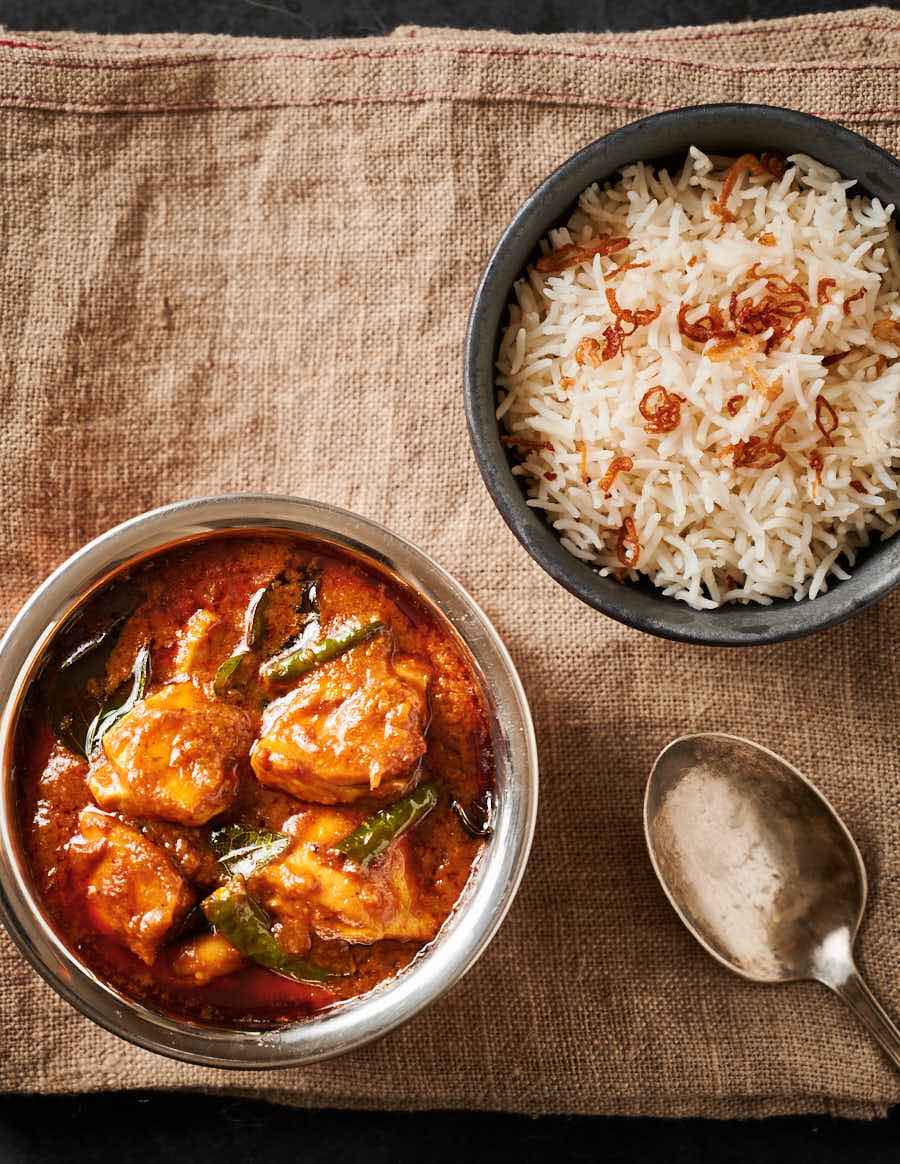 Restaurant style curry means restaurant technique
The recipes labelled restaurant style on glebekitchen are not sort of like restaurant style. Not fakeaway.  
They are restaurant style. Like they make them in restaurants. So it's a little different from what you might be used to.
This is cooking curries to order. In 10 minutes or less. So you need to do your prep. Once you get started on masala chilli chicken there's no time to futz around. It's not hard. You just need to think it through before you start.
It's a different concept though. So if it's new to you start with this guide to Indian restaurant curry making. There's even a video.
It will all make sense. Trust me. Just do it. And impress the hell out of all your friends.
Maybe try one curry before you invite 10 people over though. A little bit of practice is not a bad idea. Get into your groove first.
Masala chilli chicken. A curry that doesn't really exist. But one that should should. If you like a madras or a jalfrezi or a pathia curry you're going to love this.
Dare to be different. Try something out of the ordinary. You won't regret it. Or don't. And wonder what you're missing…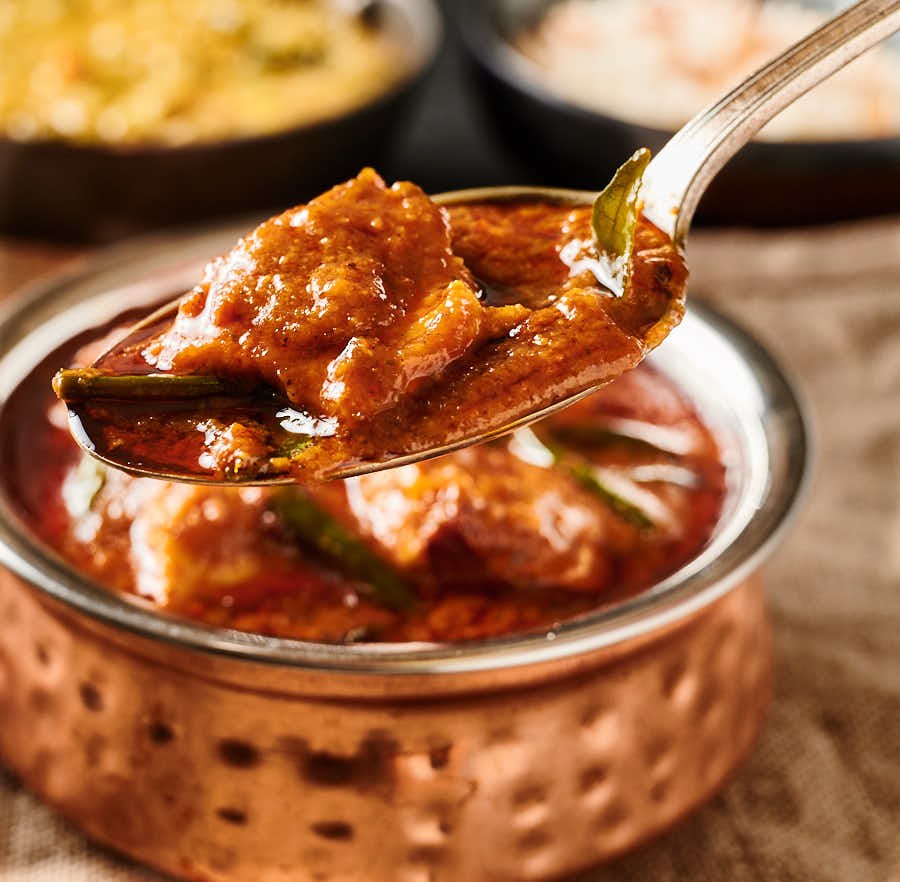 masala chilli chicken - restaurant style
Indian restaurant masala chilli chicken may not be a classic dish on the menu of every Indian restaurant out there but it should be.
Ingredients
The spice mix
1

tsp

indian restaurant spice mix or curry powder

- recipe link below

1 1/2

tsp

hot madras curry powder

or use more indian restaurant mix powder if you don't have any madras curry powder

1/2

tsp

kashmiri chili powder

optional - there's a fair bit of fire in the masala chilli sauce

1/2

tsp

kasoor methi

- dried fenugreek leaves

1/2

tsp

kosher salt
The curry ingredients
4

Tbsp

oil

1

Tbsp

garlic/ginger paste

- recipe link below

1/4

cup

chilli sauce

There are a few varieties available where I shop. The one I use is Maggi masala chilli sauce but there are others. The ones from Sri Lanka are good too.

15

oz

curry base

- recipe link below

10-12

oz

pre-cooked chicken

2-3

green chilies

finger hot or jwala green chillies

10

fresh curry leaves

optional
Instructions
Make the spice mix.

Measure out your masala chilli sauce.

Heat your frying pan (don't use non-stick) briefly over medium heat. Add the oil.

Now add the garlic ginger paste. Add it into the pan and cook it, stirring constantly, until it stops sputtering.

Turn down the heat. Add the chillies and curry leaves if using. Cook for 30 seconds or so.

Now add the spice mix. This is the critical step. Stir it constantly for 30 seconds. If it starts to darken lift the pan off the heat. You want the spice mix to cook in the oil but not burn.

Turn the heat up to medium high. This is important. The heat is what gives the curry its Indian restaurant flavour. As you become more comfortable with this technique push harder. I run my stove near flat out. Add the masala chilli sauce and stir until bubbles form (the oil will likely separate). This takes around 30 seconds to one minute depending on the heat.

Add 3 oz of curry base. Stir until bubbles form (little craters really), around 30 seconds. Think lively boil. Watch the edges of the pan. The curry can stick here. Sticking is OK. Just scrape it back into the base. Burning is bad.

Now add 6 oz of curry base and stir briefly. Let it cook until the bubbles form again. This takes 1-2 minutes.

Add the rest of the curry base and let cook until the bubbles form. Turn the heat down to low and add the pre-cooked chicken.

Let the curry simmer for about 5 minutes. If it gets too thick add a bit more curry base. Don't add water.

Garnish with a bit of chopped fresh cilantro and serve.
Notes
The recipe for curry base is here.
The recipe for indian restaurant spice mix is here. 
The recipe for garlic ginger paste is here.
If you haven't read about Indian restaurant technique yet, do that before you start cooking.
Have all your ingredients prepped and ready to go.
If you are making multiple curries, have your curry base warming in a pot on the stove. If you are just making one, microwave it to warm it up right before you start cooking.
Indian restaurants pre-cook their meat so it's ready for service. This recipe assumes the same. To pre-cook chicken, simply simmer it with a bit of curry powder and salt in chicken stock for about 10-15 minutes - until it's barely cooked.
To pre-cook lamb or beef, do the same but plan for 1 to 1 1/2 hours for lamb and 2 hours or more for beef. You are making stew meat so you are braising until tender. You will need to keep an eye on the level of the stock. For beef use beef stock.
Nutrition
Serving:
2
servings
|
Calories:
547
kcal
|
Carbohydrates:
21
g
|
Protein:
31
g
|
Fat:
33
g
|
Saturated Fat:
3
g
|
Cholesterol:
99
mg
|
Sodium:
1354
mg
|
Potassium:
478
mg
|
Fiber:
3
g
|
Sugar:
17
g
|
Vitamin A:
465
IU
|
Vitamin C:
108.7
mg
|
Calcium:
45
mg
|
Iron:
2.1
mg