Nam prik pao is that wonderful, earthy chili sauce that you see on the table of just about every Thai restaurant.
It is not crazy hot. Just has that magical blend of onion, garlic, chili and fish sauce. Perfect for adding a little zing to so many dishes.
Use it with rice. With rice noodle dishes. In soups. Thai chili paste brings a little something to whatever you use it with.
Finding the right chilies for nam prik pao
Lots of Thai recipes call for dried red chilies. Go to your local Asian market and look for the bag that says "dried Thai chilies". I bet you look for a long time. I did the first time I went looking for them.
That's the thing about Asian grocery stores. They really don't cater to people who don't know what they are looking for. It's a learning curve. I'm still learning. But I'm getting better. It comes with practice.
Here's a tip. Google what you are looking for on your phone. Show that to the guy at the store. Or search the shelves yourself. Look for a match. I do it. I see people doing it all the time.
Flavour over fire for me
I like depth of flavour more than absolute fire. So I don't always use Thai chilies. Maybe that makes me less authentic. But I don't live in Thailand. And I don't always want the top of my head blown off.
So I make nam prik pao with chau tian chilies. They're about the size of Thai birds eye chilies. Nowhere near as hot though. Nice chili flavour. Not stupidly hot.
If you can find Thai dried red chilies, use them if you like a bit more heat. They are the real deal for nam prik pao. Both ways are good. Or mix them until you get the heat you want.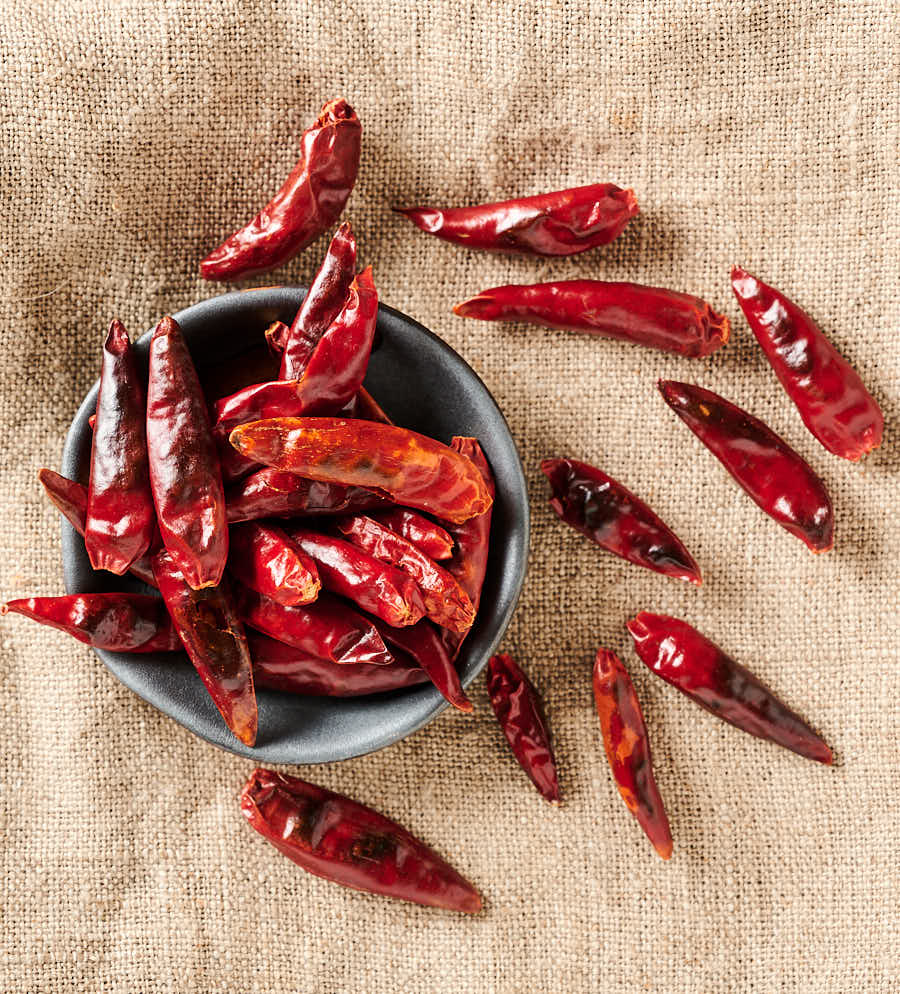 Roast your garlic and shallots first
You want a bit of smoky flavour in your nam prik pao. You could try grilling your shallots and garlic over charcoal. I'm told that's what they do in Thailand. On one of those funky tao clay grills.
Or you can dry roast them in a small cast iron pan. That's easier. And it works pretty well. Just toss the shallots and garlic in a pan over medium heat. Flip them now and then. They get all soft and a bit charred. Perfect for Thai chili paste.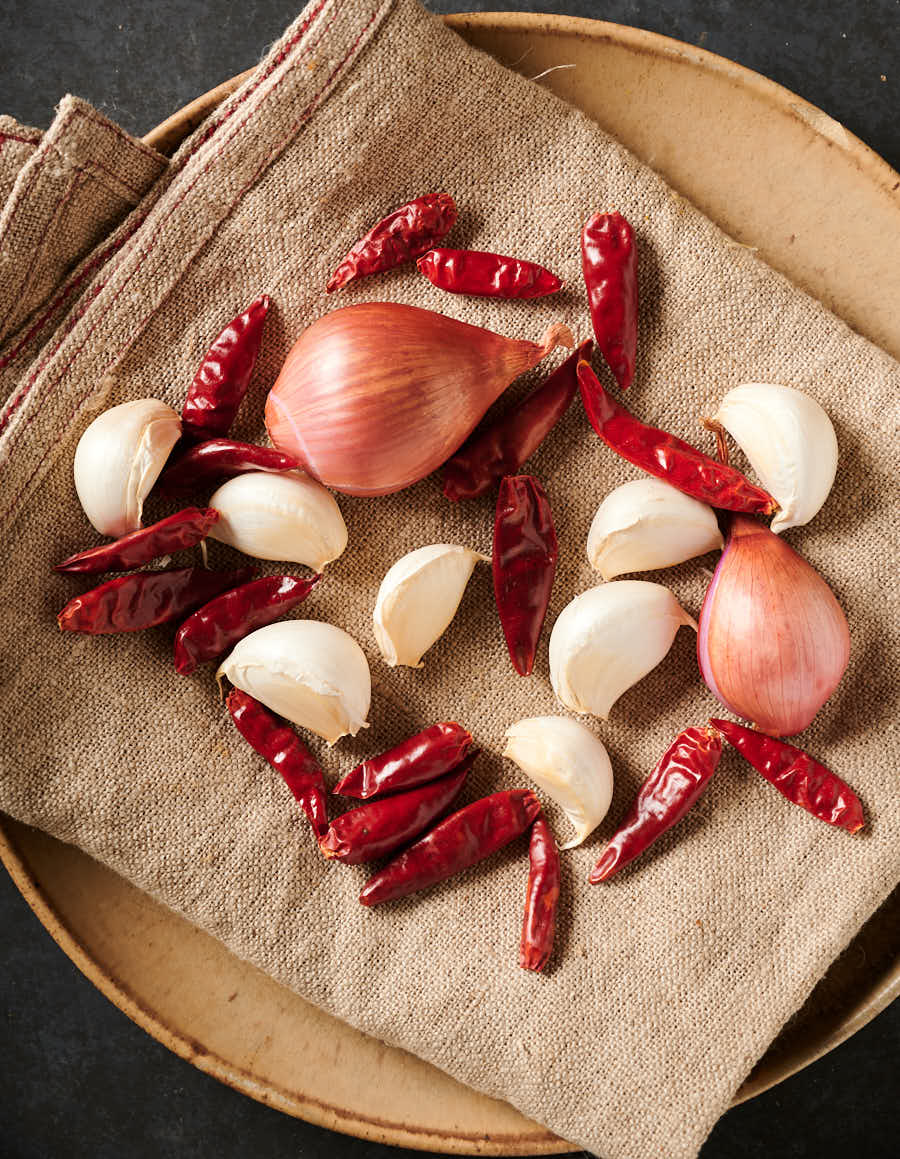 This is a simpler nam prik pao
This is pretty straightforward as far as Thai chili pastes go. Simple list of ingredients. Toasted chilies. Shallots. Garlic. Oil. Fish sauce. Maybe a little sesame oil. That's it.
Be warned though. Grinding nap prik pao is a bit of a pain. You can use a mortar and pestle. That's authentic. Or you can fight with your food processor. That's still a pain. But it's way easier than mortar and pestle.
You get a better grind with a mortar and pestle though. Like a real paste. Very hard to do that with a food processor. Up to you. I use a food processor.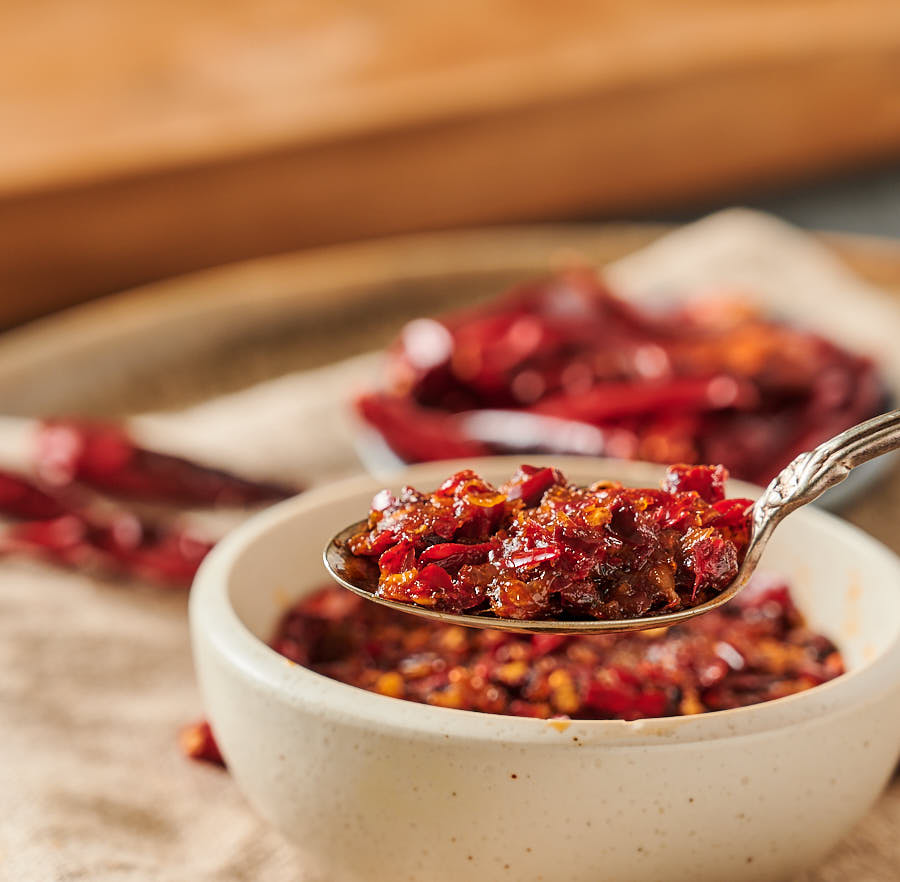 Thai chili paste keeps well in the refrigerator
This recipe makes around half a cup. That's not a lot. Takes up no room in the fridge. So make it. And keep it in the fridge. It keeps really well.
And next time you are making khao soi. Or khao pad. Or your pad Thai needs a little something extra. Pull it out. You will be glad you have it.
nam prik pao
Nam prik pao is that Thai chili paste you see everywhere. It adds a ton of flavour to anything you use it with.
Ingredients
3/4

cup

thai dried chilies

or similar

8

cloves

garlic

unpeeled

2

large

shallots

unpeeled

1/4

cup

vegetable oil

1

tsp

fish sauce

small drizzle

sesame oil

(optional)
Instructions
Turn on your vent hood. This is going to get intense. Toss the chilies into a skillet and toast them over low heat. You don't want them to burn so keep your heat fairly low. They should be done after about 4 or 5 minutes. Let them cool.

Slice your shallots in half. Put them in a cast iron pan, cut side down, over medium heat. Add the garlic. Dry roast until the shallots start to char. While that's happening flip the garlic every minute or so.

When the shallots are charred (check them - there's no other way) flip them over. Keep flipping your garlic. When it's all soft remove from heat and let cool. Remove the peels on both the garlic and shallot.

Combine all the ingredients except the oil.

Now the fight starts. It is not easy to puree this stuff. You can use a small food processor. That works. Kind of. Or you can grind manually in a mortar and pestle. That works better.

Sometimes, when I'm using a food processor I give up and add the oil into the mix. Technically you are supposed to fry the paste in oil. But I find when you start cooking it off some of the oil comes out. And your goal is to get the oil into the paste anyway.

Once you have pureed it pour the oil (if you haven't already added it to the paste) into a small frying pan and heat over medium low heat.

When the oil starts to shimmer add the paste and fry, stirring regularly, for about 4-5 minutes. It will darken a bit and start to give off quite a rich aroma. When you get the aroma it's done. You will get it when you get there.

Alternately, If you added the oil to get the paste to puree transfer it to a dry pan and cook over medium low heat as above.

Nam prik pao stores well in a small jar for weeks in the fridge.
Nutrition
Calories:
570
kcal
|
Carbohydrates:
17
g
|
Protein:
3
g
|
Fat:
56
g
|
Saturated Fat:
4
g
|
Sodium:
481
mg
|
Potassium:
263
mg
|
Fiber:
2
g
|
Sugar:
5
g
|
Vitamin A:
99
IU
|
Vitamin C:
11
mg
|
Calcium:
62
mg
|
Iron:
1
mg