South Indian style egg curry is one of those dishes you didn't know you liked. Eggs, green chilies, spices and curry leaves in a rich, delicious coconut sauce.
If you've never had egg curry you owe it to yourself to try it. Unless you don't like eggs. Can't help you there. But if you like Indian. And you like eggs. Then this one will surprise you.
You never see this on Indian menus. And that's a shame. Because there's more to Indian cooking than the same 10 dishes on every menu.
I like a good jalfrezi. And who doesn't love tandoori chicken. But there's more. Much more. Like this south Indian egg curry.
I really don't get why Indian restaurants stick to the same old same old when they have a wonderland of food to draw on. Crazy.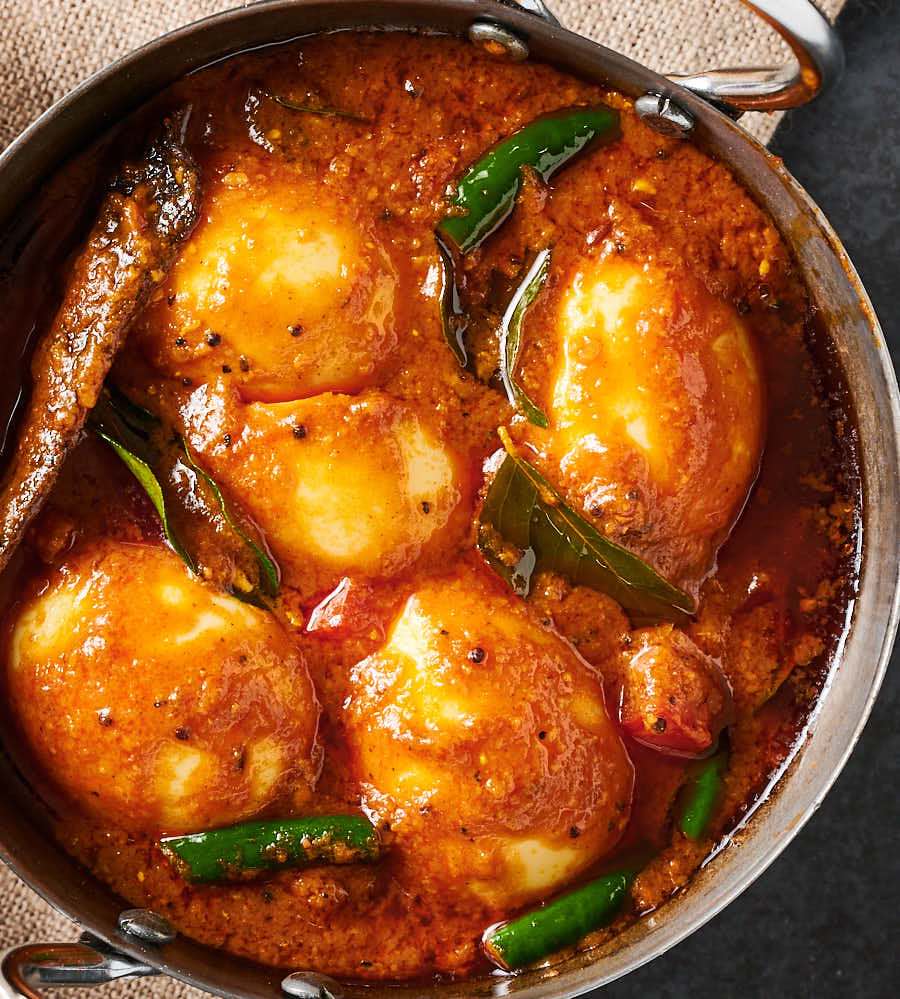 This egg curry has big south Indian flavours
This is firmly in the south Indian camp. It has all the hallmarks. Coconut. Green chilies. Curry leaves. Black pepper. Tomatoes.
Any time you want to whip something up that has a south Indian feel just throw those ingredients into the mix. It just works.
In fact that's how I came up with this. Felt like south Indian. Did not feel like going to the store. Always have eggs in the fridge. Egg curry for dinner. I tinkered with it a bit but it pretty much just worked.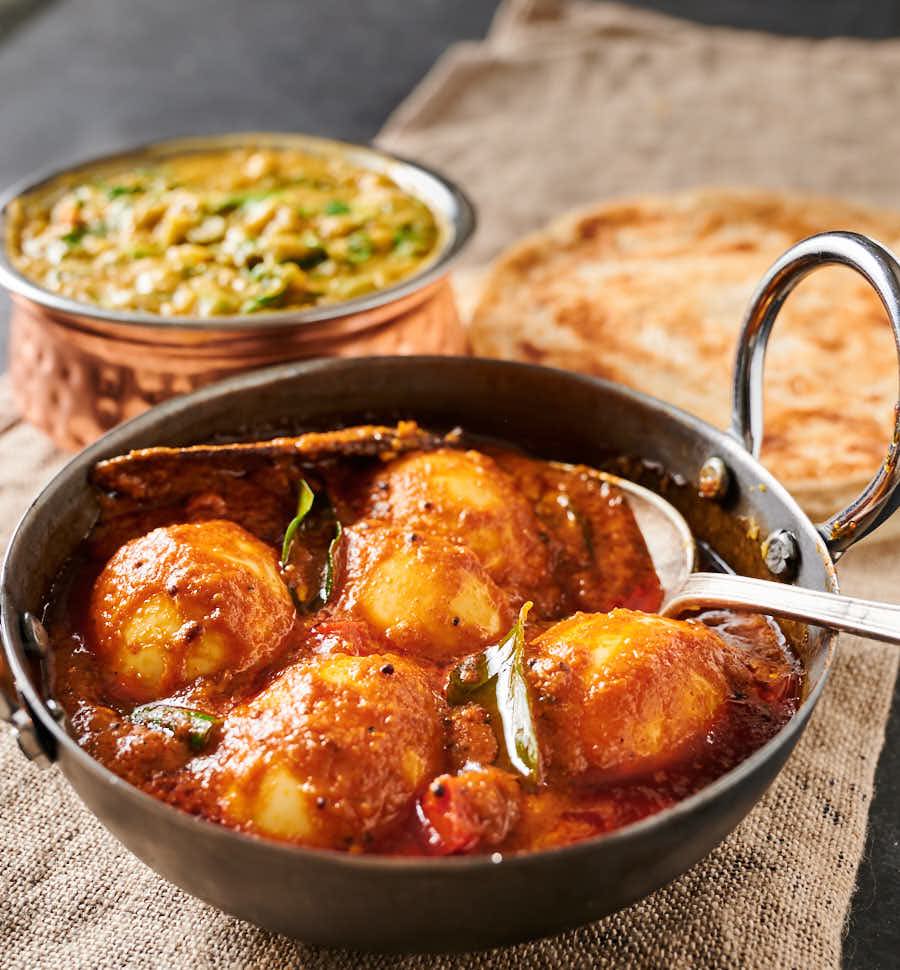 Good egg curry starts with perfect hard-boiled eggs
Perfect hard boiled eggs are easy to make. This always works. I didn't come up with it. I learned it from Cooks Illustrated. And it has been my go to ever since.
If you have one of those egg hole punch things use it. The ones that put that pin-hole into the shell. Place the eggs in a pot and cover with water. About an inch over the eggs is what you are looking for.
Bring the water to a boil over medium high heat. Turn off the heat and cover with a lid. Set a timer for 10 minutes. While the timer is counting down prepare an ice bath. Ice and water in a big bowl.
When the timer goes off drain the eggs and submerge them in the cold water. Leave them there until they are cold. 10 minutes should do it. Peel. Perfect hardboiled eggs every time.
Except for egg curry you want to set your timer for 9 minutes. So they are just slightly under perfectly done. They will cook a bit when you warm them up in the curry.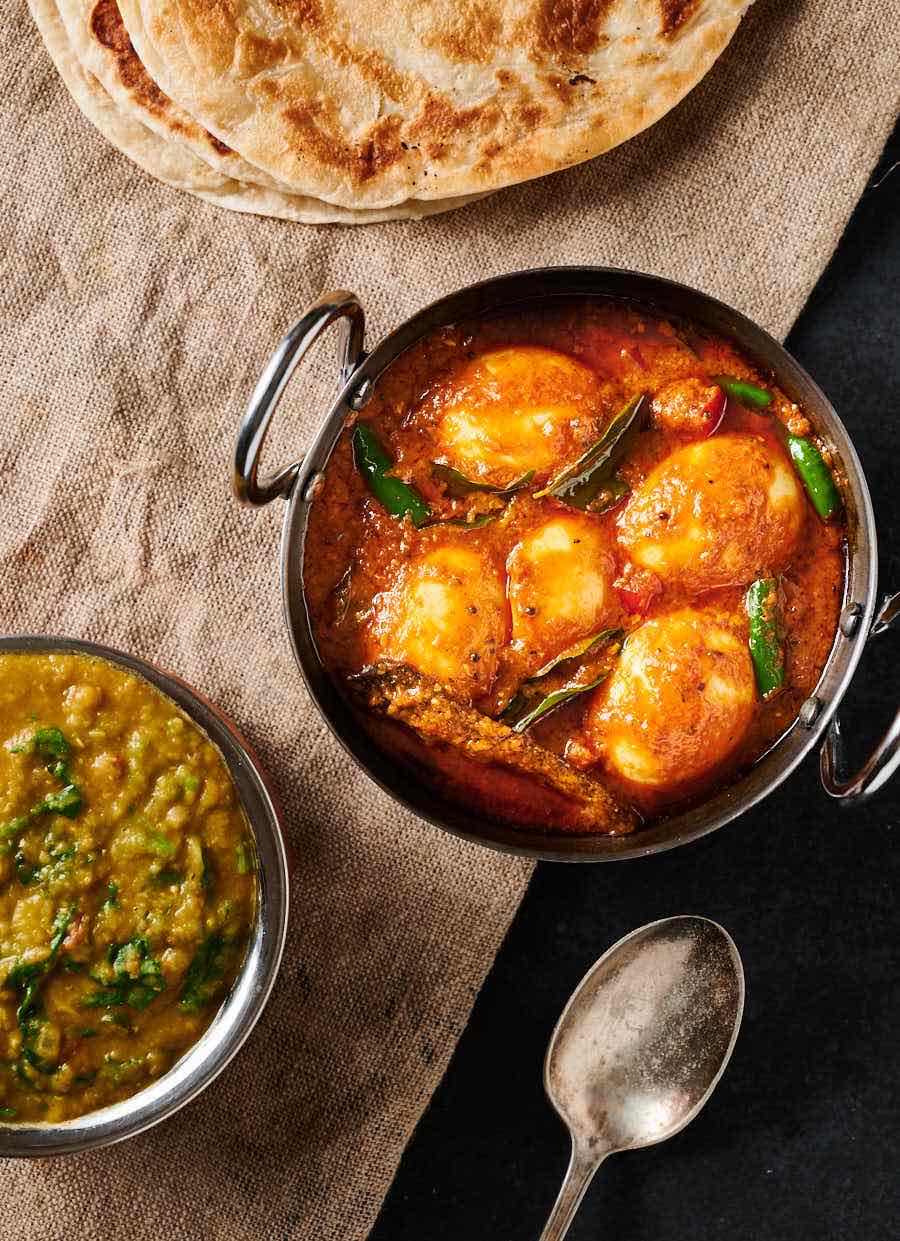 Indian restaurant style cooking
This is a restaurant style curry. Cooked exactly like they do in restaurants. To order. 10 minutes from the time the oil hits the pan to dinner on the table.
That means you need to be set up to go. Go fast. Have all your prep done. Curry base at the ready. Spices measured. Eggs cooked and sliced in half. Everything in easy reach.
Because that's what they do in restaurants. That's how they crank out curries in no time flat.
This is learning a whole new way to cook. If this is your first time read this primer on Indian restaurant cooking. It has the techniques. A video even to help you understand. It's not hard. You just need to get your head around it.
But the good thing is once you do you can make anything they can. More even. There are lots of Indian restaurant recipes on this blog. And more coming all the time.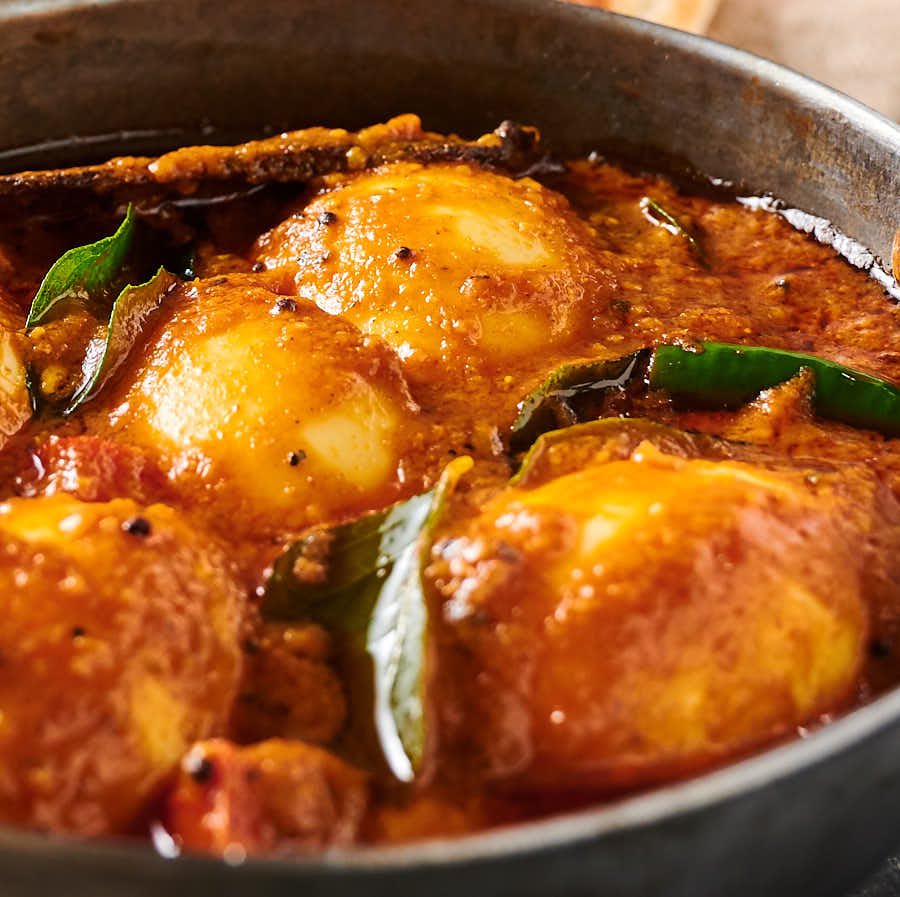 A great vegetarian dinner
Egg curry is great with rice. With parathas. With a dal palak. Or any dal really. Maybe a vegetable curry as well. Fabulous.
This is the type of vegetarian cooking that I like. Where I don't actually notice it's vegetarian. It's just good food. Egg curry. Make it. Once you taste it you'll be glad you did.
South Indian egg curry
Indian restaurant egg curry is loaded with big south Indian flavours.
Ingredients
The spice mix
2

tsp

indian restaurant spice mix or curry powder

- recipe link below

1/2

tsp

kashmiri chili powder

or 1/4 tsp cayenne mixed with 3/4 tsp paprika

1/4

tsp

black pepper

1/2

tsp

kosher salt
The curry ingredients
3

Tbsp

oil

3

cardamom

pods (green)

2"

cinnamon stick

cassia bark

1/2

tsp

mustard seed

1/4

tsp

cumin seed

1

Tbsp

garlic/ginger paste

- recipe link below

2

green chilies

- cut in half lengthwise and then into 3/4 inch pieces. Seed the chilies to tame the fire a bit.

1

Tbsp

tomato paste

with enough water to dilute to the consistency of pasatta

15

oz

curry base

1/2

cup

coconut milk

12-15

curry leaves

fresh, not dried. If you can't get them fresh leave them out.

2

tbsp

tomato

diced

1

green chili

diced

4

eggs

hard-boiled
Instructions
Prepare the eggs
Place the eggs in a saucepan. Add enough water to cover the eggs by one inch (so the highest point on the eggs is one one inch under water).

Place the saucepan over medium high heat and bring to a boil. As soon as it comes to a boil move it off heat and cover the pan. Set a timer for 9 minutes.

While the timer counts down prepare an ice bath. Add a bunch of ice and water to a large bowl. It will need to hold the eggs fully submerged so pick the right bowl.

When the timer goes off, drain the eggs and place them in the ice bath. Leave them there until they are cold. This takes around 10 minutes.

Peel the eggs. Slice them in half right before you start making the curry.
South Indian egg curry
Make the spice mix.

Dilute the tomato paste with enough water to get to the consistency of passata.

Heat your frying pan (don't use non-stick) briefly over medium heat. Add the oil. Use all the oil specified. It's important.

When the oil starts to shimmer add the cardamom and cinnamon stick. Cook until little bubbles form. This takes 20-30 seconds.

Now add the mustard and cumin seed. Stir and cook until the seeds start to crackle. This takes another 20 seconds or so.

Add the garlic ginger paste and green chilies to the pan and cook, stirring constantly, until the paste stops sputtering.

Turn down the heat and add the spice mix. This is the critical step. Stir it constantly for 30 seconds. If it starts to darken lift the pan off the heat. You want the spice mix to cook in the oil but not burn.

Turn the heat up to medium high. Add the diluted tomato paste and stir until bubbles form (the oil will likely separate). This takes around 30 seconds to one minute depending on the heat.

Add 3 oz of curry base. Stir until bubbles form (little craters really), around 30 seconds. Watch the edges of the pan. The curry can stick here.

Now add 6 oz of curry base and stir briefly. Let it cook until the bubbles form again. This takes 1-2 minutes.

Add the rest of the curry base and let cook until the bubbles form. Turn the heat down to low. Add the coconut milk and stir.

Mix in the curry leaves and remaining diced green chili. Simmer for about 3-4 minutes.

Add the diced tomatoes. Stir to combine. Add the eggs and cook until the eggs are just warmed through.

Serve with rice or parathas or chapatis or naan.
Notes
The recipe for curry base is here.
The recipe for indian restaurant spice mix is here. 
The recipe for garlic ginger paste is here.
If you haven't read about Indian restaurant technique yet, do that before you start cooking.
Have all your ingredients prepped and ready to go.
If you are making multiple curries, have your curry base warming in a pot on the stove. If you are just making one, microwave it to warm it up right before you start cooking.
Nutrition
Serving:
2
servings
|
Calories:
524
kcal
|
Carbohydrates:
22
g
|
Protein:
14
g
|
Fat:
43
g
|
Saturated Fat:
16
g
|
Cholesterol:
327
mg
|
Sodium:
1193
mg
|
Potassium:
556
mg
|
Fiber:
8
g
|
Sugar:
4
g
|
Vitamin A:
1145
IU
|
Vitamin C:
133.1
mg
|
Calcium:
140
mg
|
Iron:
5.2
mg