Seekh kebab are delicious, spicy lamb skewers loaded with big Indian flavours and grilled over open flame. Serve them up with a bit of mint coriander yogurt dipping sauce and you have an appetizer that can eat like a meal.
If that sounds good to you, you need to make these. Soon.
Who doesn't like meat on a stick? It's everywhere. Japan has yakitori. The Turks have shish kebab. South east Asia has satay. And India has seekh kebab.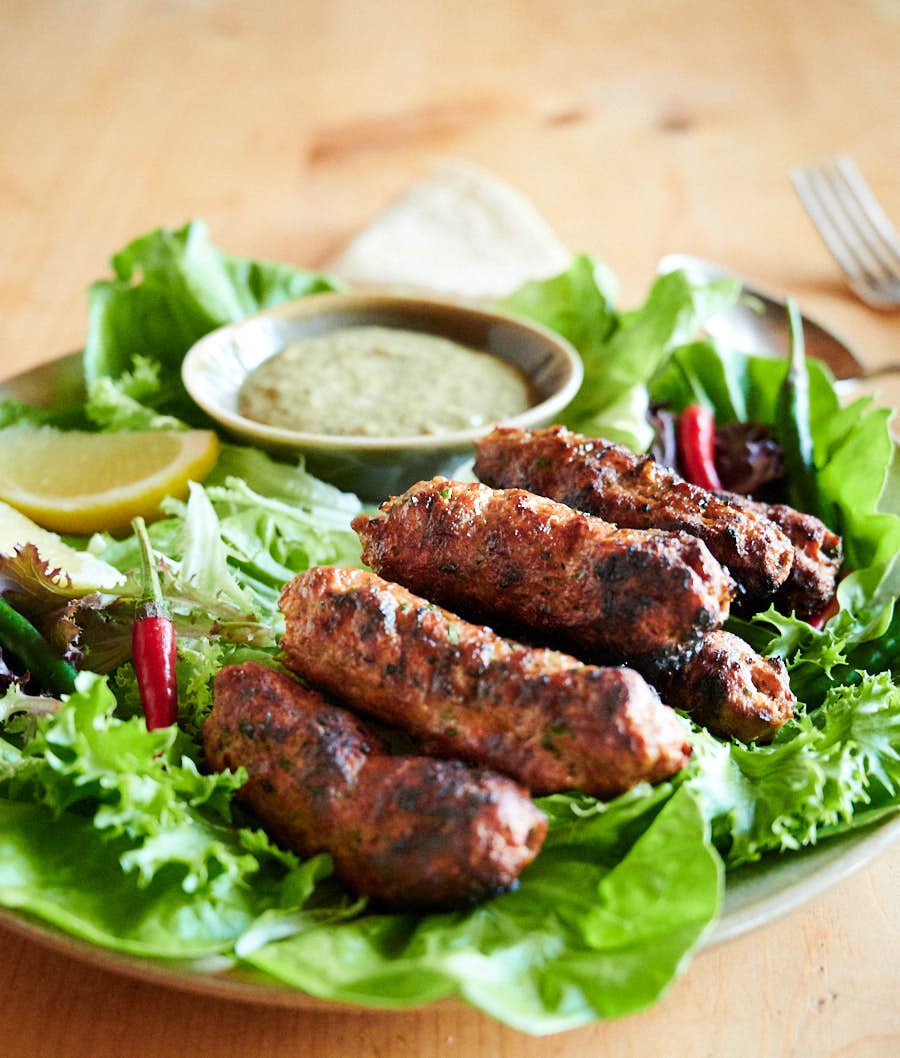 I don't know the origin of seekh kebab. But I would guess it's that Persian influence you see in so much Northern Indian cooking. From Turkey to the rest of the Middle East. Through Pakistan and then India. Makes sense. To me anyway.
I do know I like it though. A lot. But I am a big fan of meat on a stick. On a small scale like this. And on a big scale.  Like spit roasted chickens. Something about meat basting itself over fire just does it for me.
Seekh kebab are like a twist on middle eastern kofta
I think seekh kebab are an Indian variant on kofta. At least how I was taught to make kofta. Lots of chopped parsley, onion, garlic and lamb. Some salt and pepper.
Rolled around a skewer and grilled. Served with a bit of lemon and a yoghurt based dipping sauce. A simpler version maybe. But very similar. I love how cooking evolves across borders. And through time.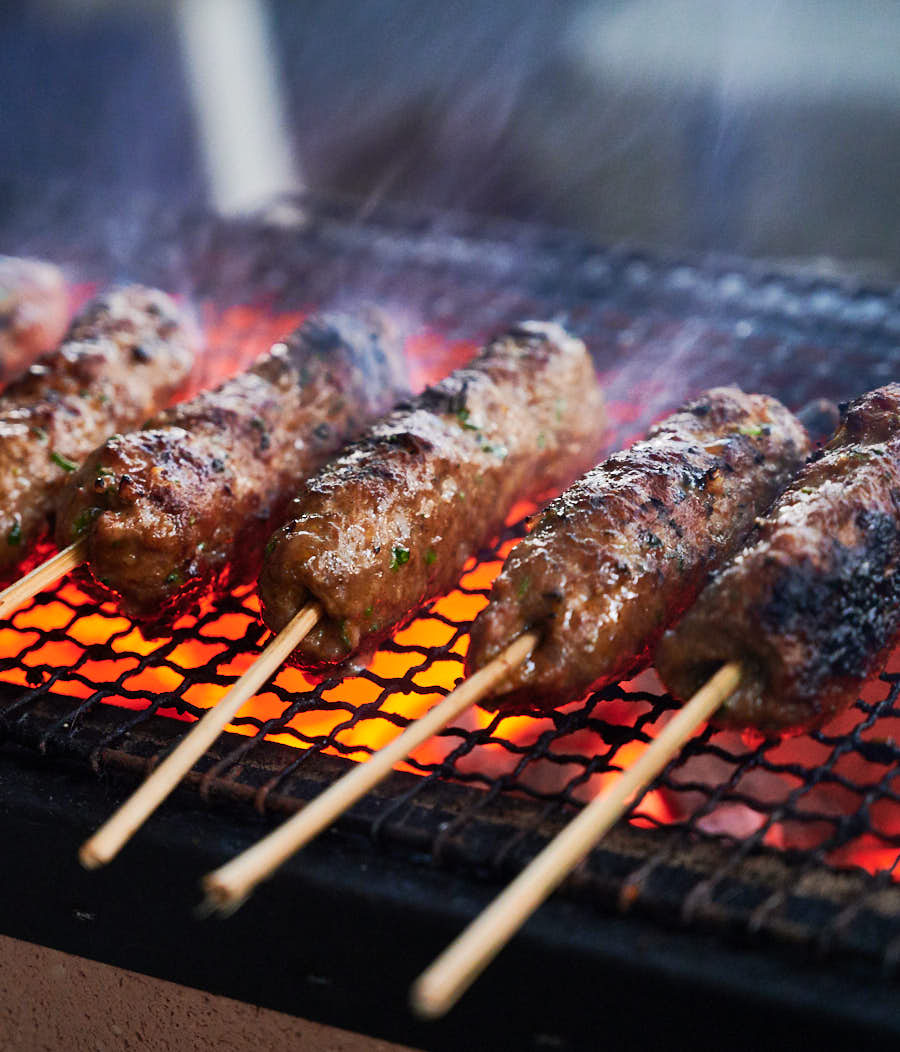 Don't skimp on the seasonings
There are a lot of flavours going on in these seekh kebab. The backbones are garlic, ginger and shallot. Garlic ginger paste and finely chopped shallots to be specific. Really finely chopped shallot. You want it to disappear into the meat when it's cooked.
Spices make up the next layer of flavour. There's a full tablespoon of spice in a pound of lamb. And you could probably push that up a bit if you really wanted to.
Simple spices here. No trip to the Indian grocer required. Cumin, coriander and chili powder. Not so hard to find. Except maybe the Kashmiri chili powder. But you need to own some of that anyway. It's big flavour without tons of heat. So you can add lots.
Bright flavours next. Green chili and cilantro. A burst of fresh and a little bit hot. It's a nice touch. And it's in balance. So don't leave it out.
It may seem like a lot of ingredients. But in Indian cooking layering flavours is everything. And it's not that much work really. Toss some stuff in a bowl. Mush it up with your hands. Good to go.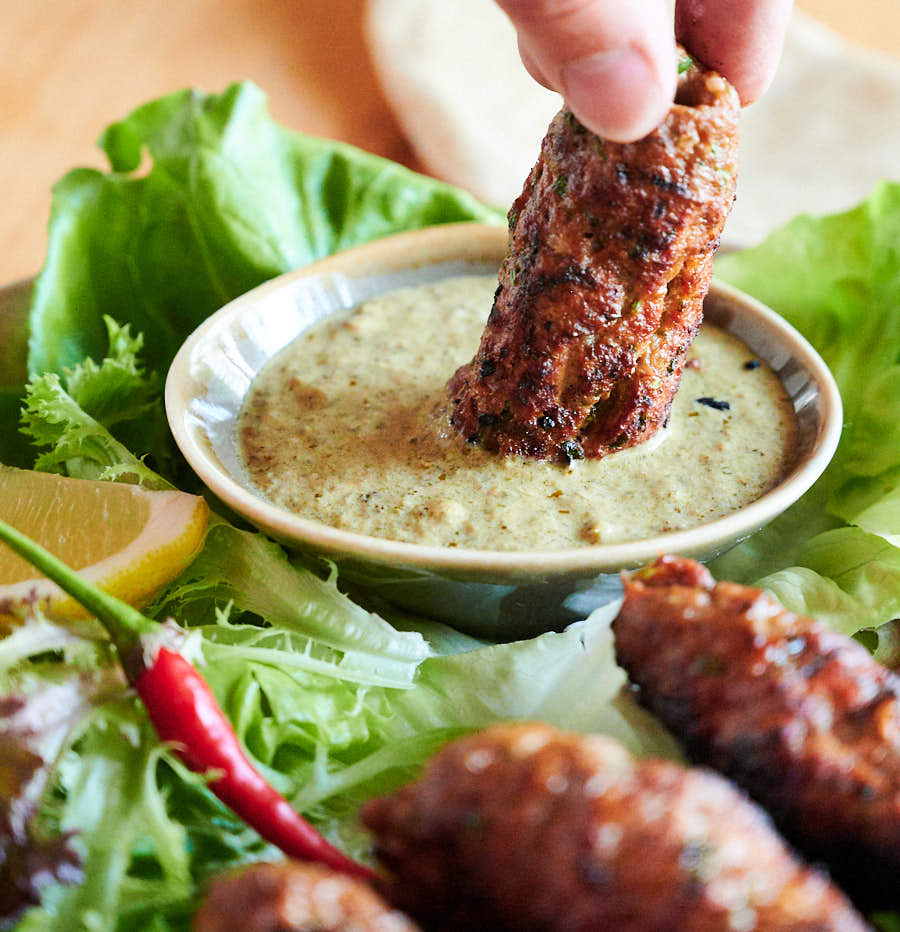 Grilling technique really matters with seekh kebab
I say grilling technique is important a lot. And I truly believe it. With seekh kebab it is really important. These are little bits of ground lamb wrapped around a stick. Disaster waiting to happen. Pretty much guaranteed.
Slap these on the grill and hope. That will not work. Don't even try. These things are delicate. So they need to be babied a bit.
Medium fire. That's important. If they do stick a bit you don't want them burning before they release. They cook fast anyway. No need to sear them.
A fine grate helps. Look at the picture. See the grate I'm using? That helps a lot. You can get them for next to nothing at Asian groceries and kitchen supply stores. And they are super handy to have. For all kinds of delicate grilling.
Oil your grate. No matter what grate you use do yourself a favour and coat it with a bit of oil before you start. That will make a big difference.
Use tongs and a spatula. You don't have time to go running back to the kitchen to get tools. It goes fast. So have them both on hand. Tongs work if the meat releases. Spatulas help if it doesn't.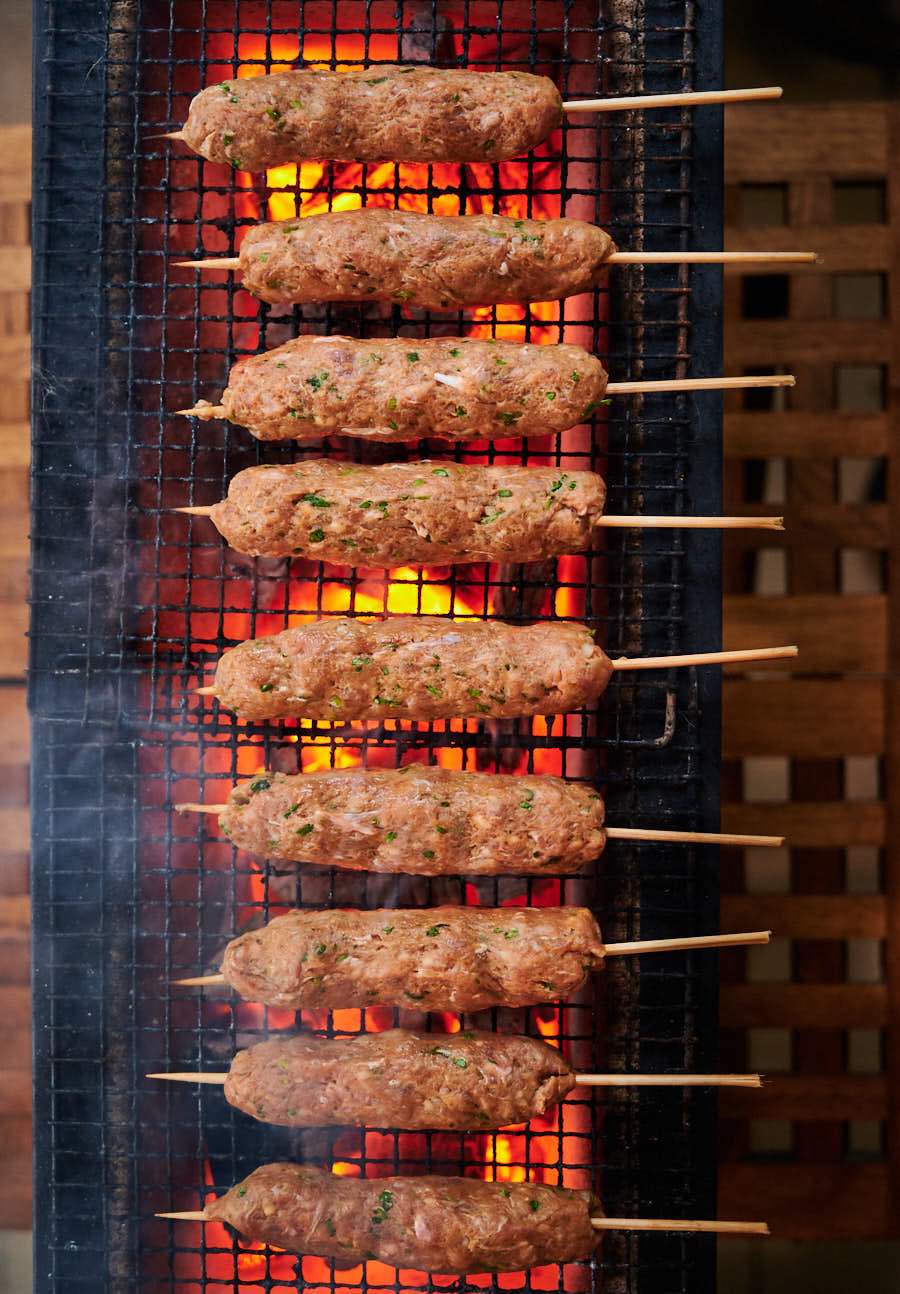 Once the seekh kebab are semi-cooked the skewers work. Until then best to have as much helpful gear on hand as possible.
Have an instant read thermometer handy as well. You don't want to serve undercooked ground lamb. But you don't want to over cook it either. A thermometer makes nailing it easy. No guessing. Better cooking through science.
Mint coriander chutney dip
If there was ever a dish that goes well with a blend of mint coriander chutney and yoghurt seekh kebab is it. It just works. As a dip. Or as a sauce if you want to make seekh kebab wraps.
You can buy mint coriander chutney and just mix it with yoghurt. That works. Just mix it up roughly two parts chutney to one part plain yoghurt.
Or you can go the distance and make it yourself. Maybe not every time. But you should really try to make mint coriander chutney at least once in your life. It is so much better than the stuff you can buy. Unbelievable really.
Lamb seekh kebab Indian style. Really tasty stuff. Try it sometime when you are hosting an Indian dinner party. Makes the kind of appetizer that just gets devoured.
Or mix it up a bit and make a wrap. I love seekh kebab wraps. A fresh chapati. Some lettuce. Maybe a bit of green onion. Lamb kebab. And a good drizzle of mint coriander dipping sauce. Just good living.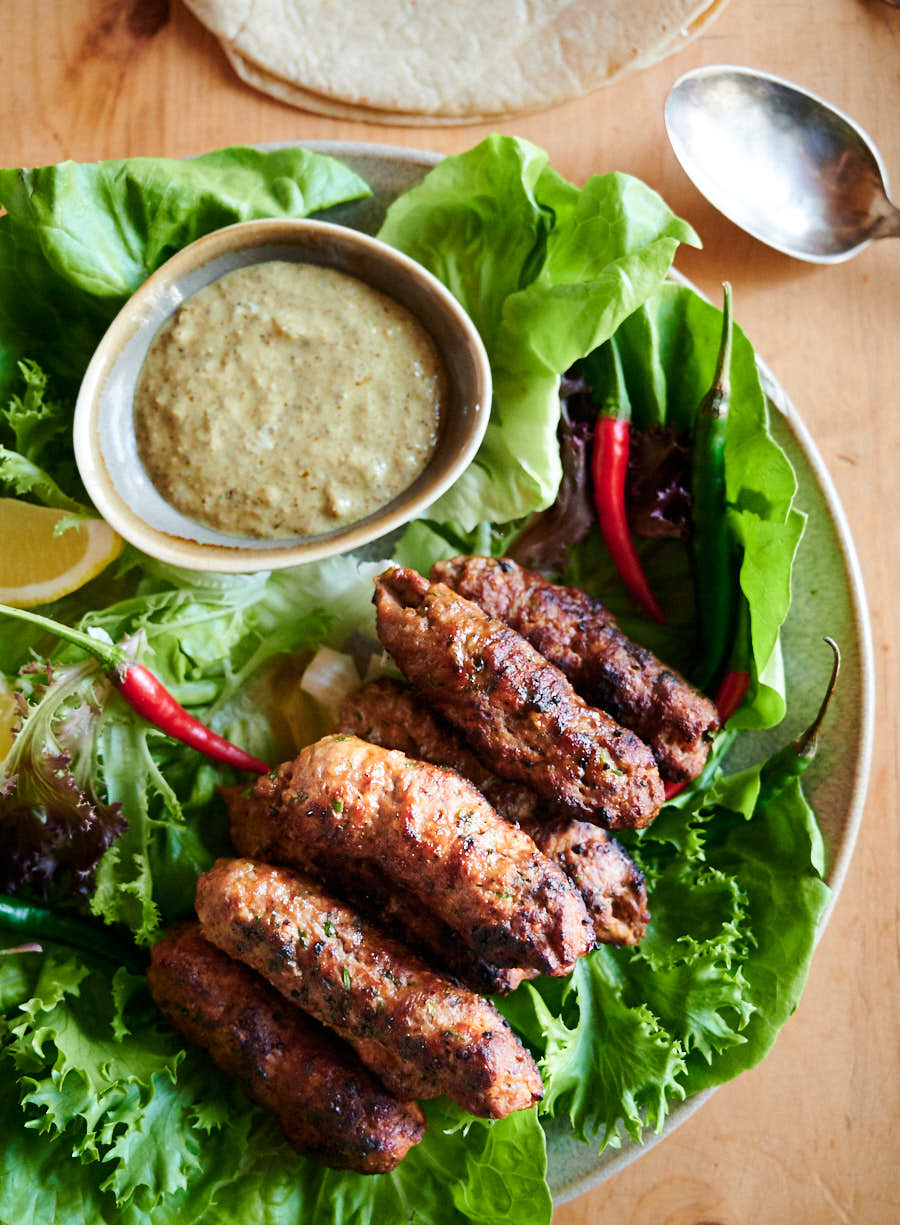 seekh kebab
Seekh kebabs are a fun and delicious way to mix up your grilling. Try an Indian twist on kebabs.
Ingredients
Seekh kebab mixture
1

lb

ground lamb

2

green chilies

- I use finger hot green chilies

1/2

cup

shallot

- as finely chopped as you can get it

1/2

cup

cilantro

stems and leaves, finely chopped

2

tbsp

yoghurt

plain (unflavoured)

2

tsp

garlic ginger paste

1

tsp

cumin powder

1

tsp

coriander powder

1/2-1

tsp

kashmiri chili powder

1 1/2

tsp

kosher salt
Seekh kebabs
12

wooden skewers

soaked in water

the seekh kebab mixture

4

tbsp

mint coriander chutney

store bought or home made

2

tbsp

plain yoghurt

lemon to garnish
Instructions
Prepare the seekh kebab mixture
Combine all the ingredients listed in the seekh kebab mixture ingredient list. Work the mixture with your hands to thoroughly combine. You don't need to be gentle here. Really work it all together.

Refrigerate for 20 minutes or so while you get your grill ready. Start soaking your skewers now.
Make the seekh kebabs
Light your grill. You want to grill over medium high direct heat. But you also want to leave yourself a cooler zone. For charcoal bank your fire on one side. For gas simply leave an element on low with the rest on medium high.

Prep your dipping sauce. Combine the mint coriander chutney with the yoghurt and stir to combine. Set aside.

Wet your hands. Grab a large golf ball worth of seekh kebab mixture. Roll it into a ball. Pass the skewer through the center of the ball. Now spread it out along the skewer. You are making little lamb tubes here. If the first couple don't quite work out just pull the lamb off and start again. You will get the hang of it.

Once you have skewered all the meat, transfer the kebabs to the grill. It's never a bad idea to give yourself a little insulation over the exposed wood portion of the skewers. A little strip of tin foil can make the difference between burned skewer stumps and useful skewers.

Grill, turning every couple minutes until the lamb is cooked through. You want an internal temperature of 160F. I know that is high but in the case of ground meat you need to be careful. Sucks. I know. Safety first.
Notes
This is a recipe that lends itself well to tinkering. You can vary the amount of shallot and cilantro to your taste. Mix up the spices a bit. Just keep the total ground spice to around 1 Tbsp   in all. Have fun with it. It's a pretty forgiving recipe.
If you don't want to make mint coriander chutney yourself they sell it jarred in Indian groceries. Just mix the mint coriander chutney and yoghurt 2:1. The recipe makes just over 1/4 cup of dipping sauce but you can make as much as you like. 2 parts chutney to 1 part yoghurt.
Nutrition
Calories:
345
kcal
|
Carbohydrates:
3
g
|
Protein:
20
g
|
Fat:
27
g
|
Saturated Fat:
12
g
|
Cholesterol:
85
mg
|
Sodium:
1032
mg
|
Potassium:
302
mg
|
Fiber:
1
g
|
Sugar:
2
g
|
Vitamin A:
235
IU
|
Vitamin C:
3
mg
|
Calcium:
50
mg
|
Iron:
2
mg