Chettinad chicken curry is a South Indian curry rich that hits all the right notes. Coconut milk, spices, chili and curry leaves come together to make a complex, satisfying meal.
Like your mom used to make. Well, like my mom used to make anyway. Everyone is different.
A good homestyle Indian curry is hard to beat. A wonderful thing. And this Chettinad chicken curry is no exception. It's different from what you get in restaurants. But I think it's better.
Chettinad chicken curry is from south India
India has an incredibly diverse cuisine. There are nearly a billion people. Do you think they all eat the same 20 things you see on an Indian restaurant menu?
Most restaurants focus on North Indian cuisine. I'm not sure why. There are a few South Indian restaurants popping up. But not enough.
So take this into your own hands. It's not hard. Just some different ingredients. Fresh curry leaves are probably the only really tricky ingredient to find.
All the India groceries stock them. I've even seen it in a couple funkier grocery stores. So it's not impossible to find.
Other than that, you should be able to find everything easily. If you don't have all the spices visit a bulk food store. It will cost you a fortune if you buy those little jars. Pennies at the bulk food store.
Onions are key Chettinad chicken
The technique is very different from restaurant style curries. Thinly sliced onions replace the curry base. The key in this style curry is to take your time cooking the onions. Really take your time.
Think French onion soup. Twenty minutes or more. The onions give the curry it's body. It may seem like a lot of onions but they melt down to nothing.
After that it comes together quickly. Cook the spices. Add the coconut milk and tomatoes. Slide in the chicken. You don't even need to brown the chicken. Easy. Really easy. Cover and let simmer until the chicken is done.
Serve Chettinad chicken curry with rice and a nice tarka dhal or chana masala. This could become your new favourite curry. It's one of mine…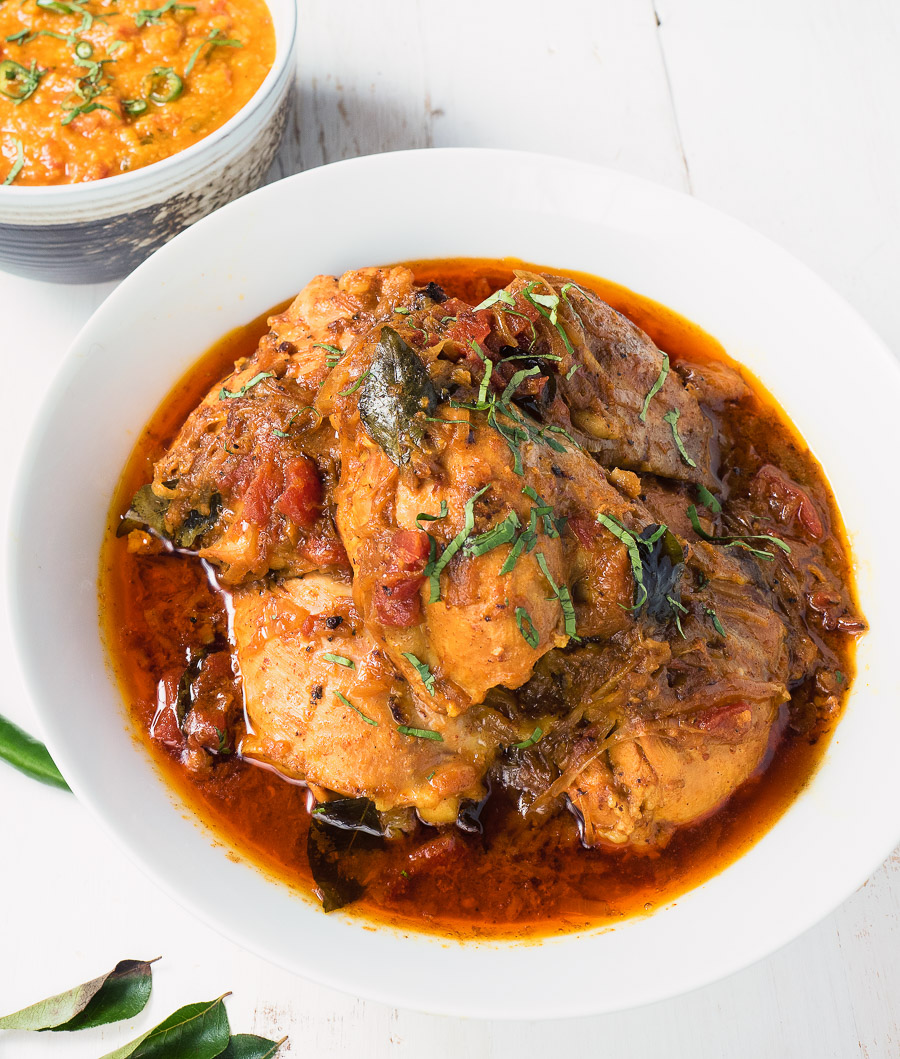 chettinad chicken curry
Chettinad chicken curry is a delicious South Indian coconut based chicken curry that anyone can make.
Ingredients
2

onions

thinly sliced

3

Tbsp

coconut or vegetable oil

3

Tbsp

garlic ginger paste

– recipe link below

20

fresh curry leaves

– optional but very nice

8

skinless chicken thighs

1 15

oz

can coconut milk

1/2

cup

diced tomatoes
Spice Mix
4

tsp

restaurant curry powder

– recipe link below or replace it with the chettinad masala – see notes.

1-2

tsp

kashmiri chili powder

1/2

tsp

turmeric

1

tsp

coarsely ground black pepper

– more if you like

1/8

tsp

cinnamon

1 1/2

tsp

salt
Instructions
Heat a large pot or dutch oven over medium heat.

Add the coconut or vegetable oil and cook the onions, stirring occasionally, until they are a soft, light brown mess. Think French onion soup. You want these onions melting. This step takes a long time. 20 minutes or more.

Add the curry leaves if using. Now add the garlic ginger paste and cook, stirring constantly until the spluttering stops (you will understand when you do it).

Add the spice mix and cook, stirring constantly, for about 30 seconds.

Stir in the coconut milk and tomatoes and bring to a simmer.

Add the chicken and simmer until the chicken reaches an internal temperature of 160-170F, about 20-25 minutes. Use your instant read thermometer!

Spoon off any excess fat (or don't if you are OK with a few calories – the fat is loaded with fat-soluble spices and flavour) and serve with rice.
Notes
Indian restaurant spice mix recipe can be found here.
Garlic ginger paste recipe can be found here.
If you want to really up the flavours consider making the Chettinad masala from the hotel style Chettinad chicken curry. Replace the 4 tsp of restaurant spice mix with 4 tsp of Chettinad masala and reduce the black pepper to 2/3 tsp and leave out the cinnamon in this recipe. If you don't have quite enough Chettinad masala add restaurant spice mix powder to make up the difference.
Nutrition
Serving:
4
servings
|
Calories:
670
kcal
|
Carbohydrates:
15
g
|
Protein:
47
g
|
Fat:
47
g
|
Saturated Fat:
27
g
|
Cholesterol:
214
mg
|
Sodium:
1151
mg
|
Potassium:
1032
mg
|
Fiber:
4
g
|
Sugar:
6
g
|
Vitamin A:
500
IU
|
Vitamin C:
110.3
mg
|
Calcium:
91
mg
|
Iron:
5
mg