Chettinad chicken curry. Coconut milk. Chili. Curry leaves. And a chettinad masala spice blend. This one hits all the right notes.
This is traditional Indian cooking. Homestyle. A staff curry if you live in the UK. Doesn't matter what you call it though. What matters is that it is seriously delicious.
This one is easy. And a crowd pleaser. Scales really well. A little bit exotic. This is not your every day chicken curry.
Chettinad chicken curry is south Indian
India has an incredibly diverse cuisine. Regionalized. Chettinad chicken curry is from the south. Way south. Tamil Nadu.
They cook to a whole different flavour profile down south. Coconut. Black pepper. Curry leaves.
Those ingredients come together to make some incredible dishes. Flavours you don't see in restaurants around the world. Which is just a shame. Makes me a little crazy.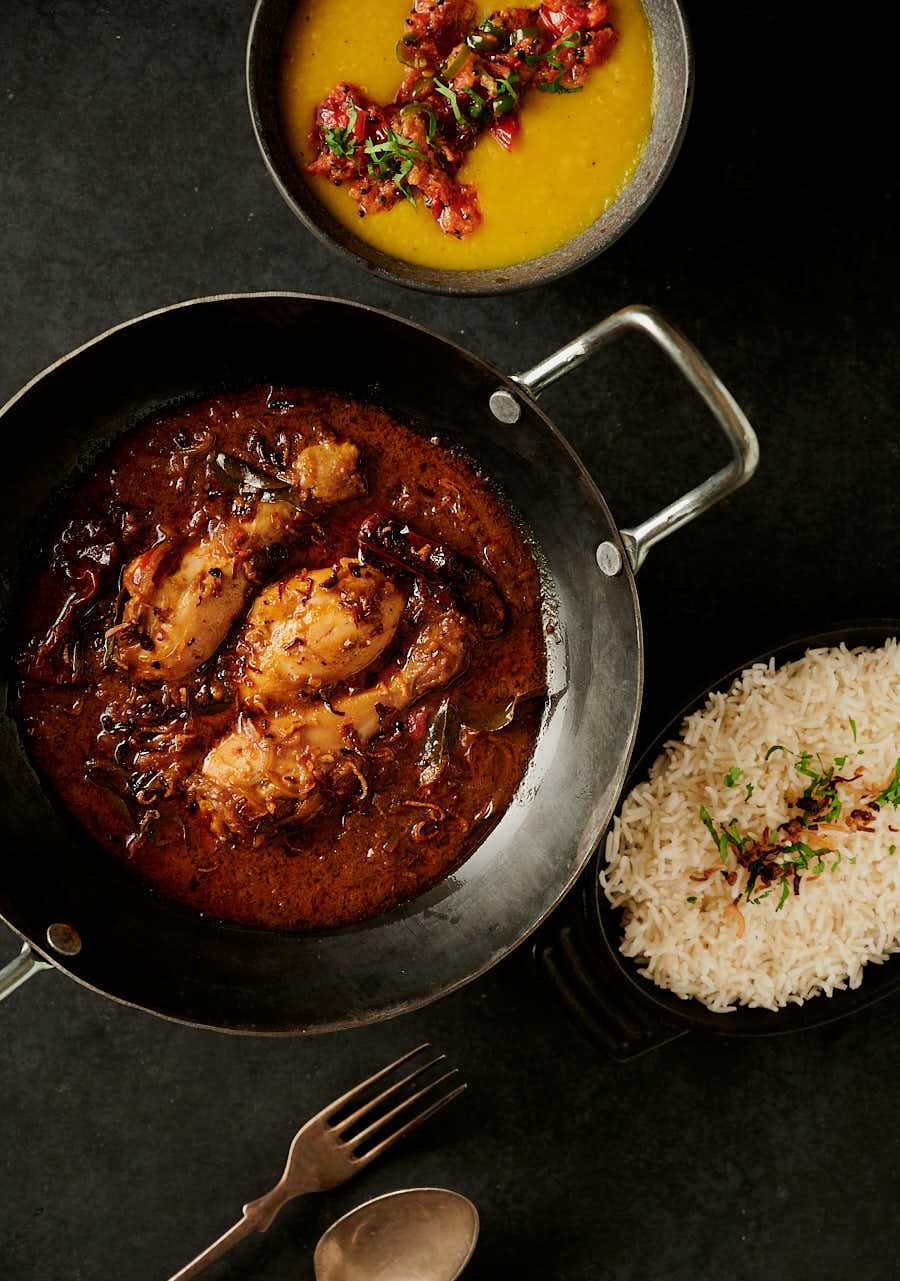 Don't settle for the same old same old
There are nearly a billion people in India. With millennia of culinary history. Do you think they all eat the same 20 things you see on an Indian restaurant menu?
They don't settle. Why should you? It's a formula. And I don't understand why. One of the most diverse regional cuisines in the world.
And somehow it all comes down to the same 20 dishes. Over. And over. And over. The fault doesn't just lie with the restaurants. People eat it up.
It's self-fulfilling. But I think it can be fixed. There are some south Indian restaurants popping up. And some funky Indianish places as well. So it's changing. But so slowly.
So maybe make chettinad chicken curry? It's not hard. And then decide for yourself.
If you love it go to your local Indian restaurant. Ask them why they don't have it on the menu. Maybe together we can help the industry understand the world is ready.
I can dream anyway. And wait. Someday Indian restaurants are going to rock the world…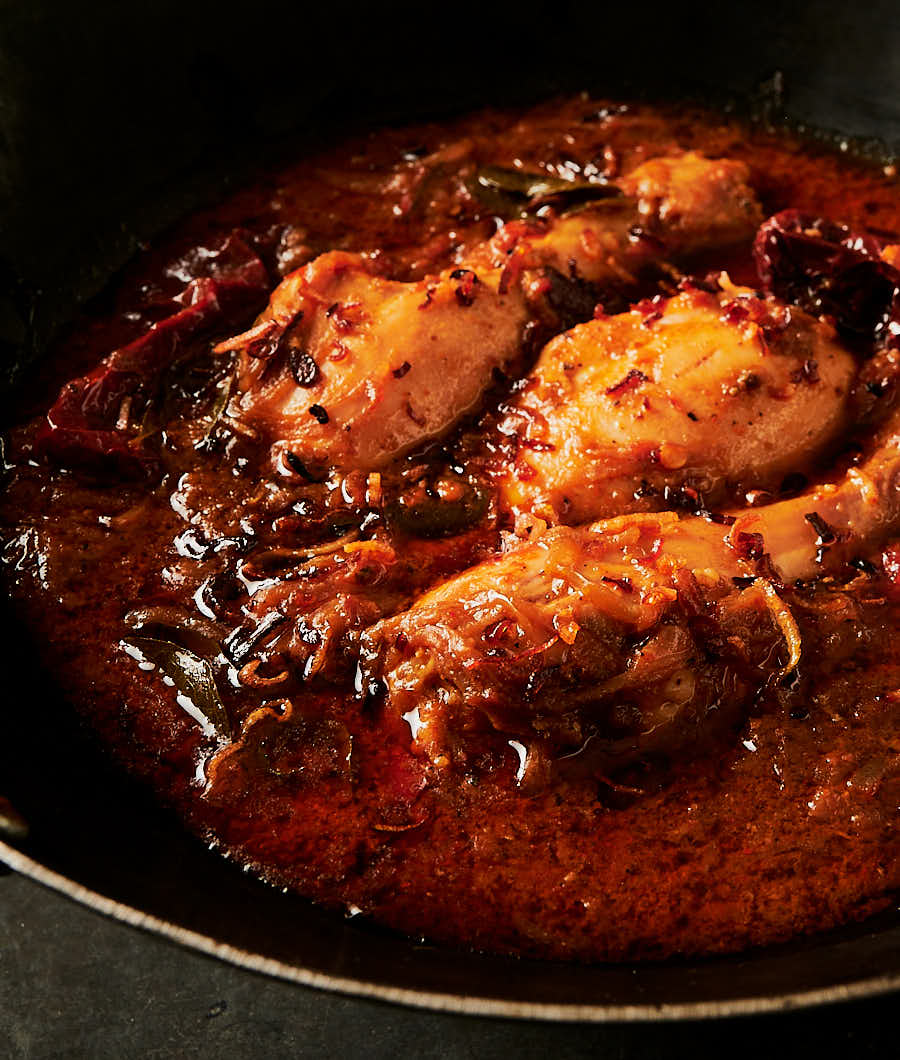 No compromises for this chettinad chicken curry
This is an old recipe. Updated. From the early days of glebekitchen. I've had a while to tinker with this one.
For reasons that escape me completely I tried to keep things a little simpler in the early days. As easy as I could anyway.
I made the chettinad masala optional. Gave people an easier substitute. I said you could leave out the curry leaves even. In my defence I did say it would not be the same.
That changes today. Chettinad masala is not optional. I've deleted any mention of substitutes. Curry leaves are mandatory. I am now guilty of revisionist history.
I'll live with the guilt. My cross to bear. But this is glebekitchen. It's never about easy. Flavour first. Always.
Chettinad masala is a flavour sledgehammer
Chettinad masala is my kind of spice mix. Don't read too much into the name though. Masala just means spice mix. Like garam masala or tandoori masala.
There are 17.3 million masalas. Don't believe me? Visit an Indian grocer. You'll see. That wall of little boxes of spice mixes. That's the shrine of masala.
You can use a pre-made masala. But it won't be the same. This one has the power of freshly ground. And that really is major mojo.
Toasted and freshly ground. I can't explain how much of a difference that makes. You'll know when you taste it.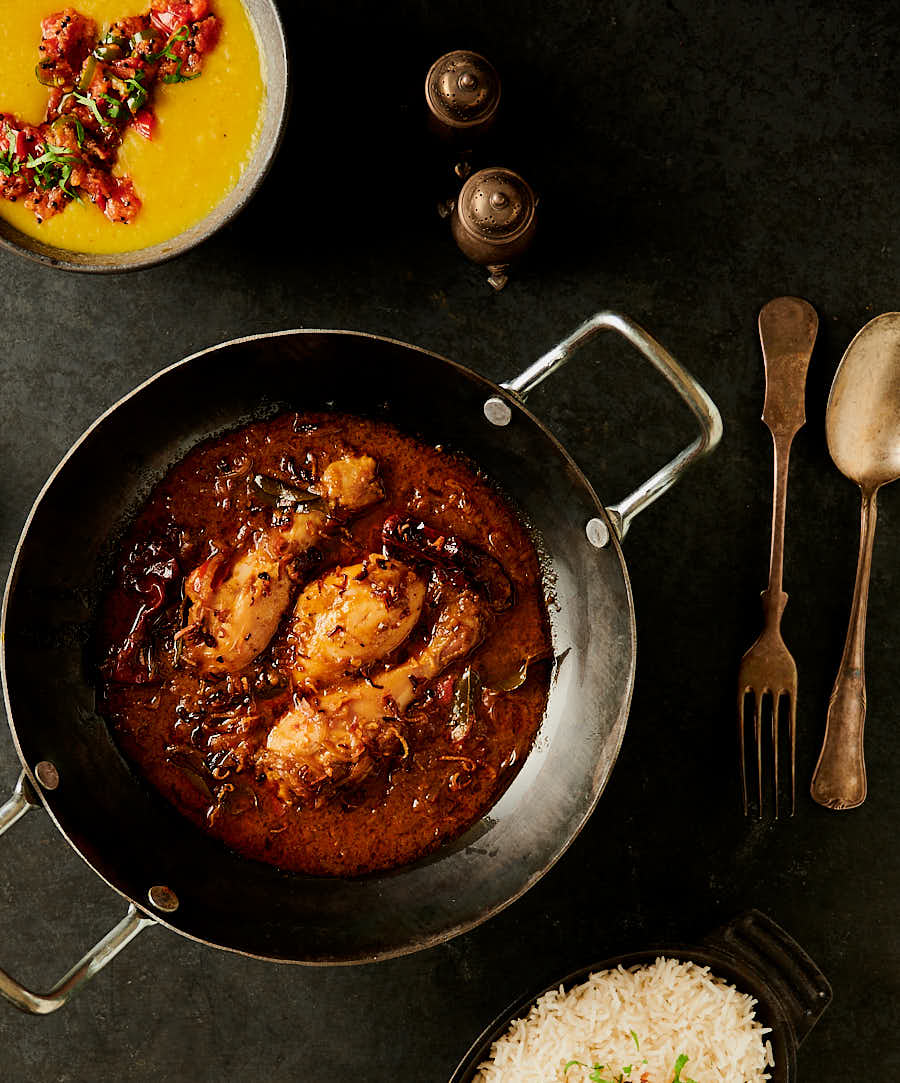 Curry leaves are important too
Curry leaves are an herb. They grow on a tree with a name that's too hard to pronounce. So I'm just going to call it the magic tree. The magic flavour tree.
They aren't like anything else. Not that I've ever tasted. They are the defining ingredient in this recipe. So not optional.
Fresh is best. By far. Frozen is a distant second. I've made this with frozen curry leaves. Was not happy.
Before you ask. Dried isn't even worth mentioning. Might as well add dust. Seriously. Think dried cilantro. See where I'm going?
Mind your onions
Onions are the backbone of chettinad chicken curry. Not a shocker. Onions are key to almost all styles of Indian cooking. It's the approach that changes.
Traditional Indian cooking relies on deeply browned onions. And that defines the flavour.
There's a lot of real restaurant style Indian recipes on glebekitchen. I really do like it. But it's not the same beast. Not at all. There is no substitute for taking the time.
Except maybe hotel style. But then you are just browning the onions in a way that allows you to make multiple curries. So really traditional adapted.
When you cook the onions for this recipe think French onion soup. Golden browned. Takes time. Twenty minutes. Probably more. Until they melt into this wonderful mess of goodness. That mess gives the curry its body. And serious flavour.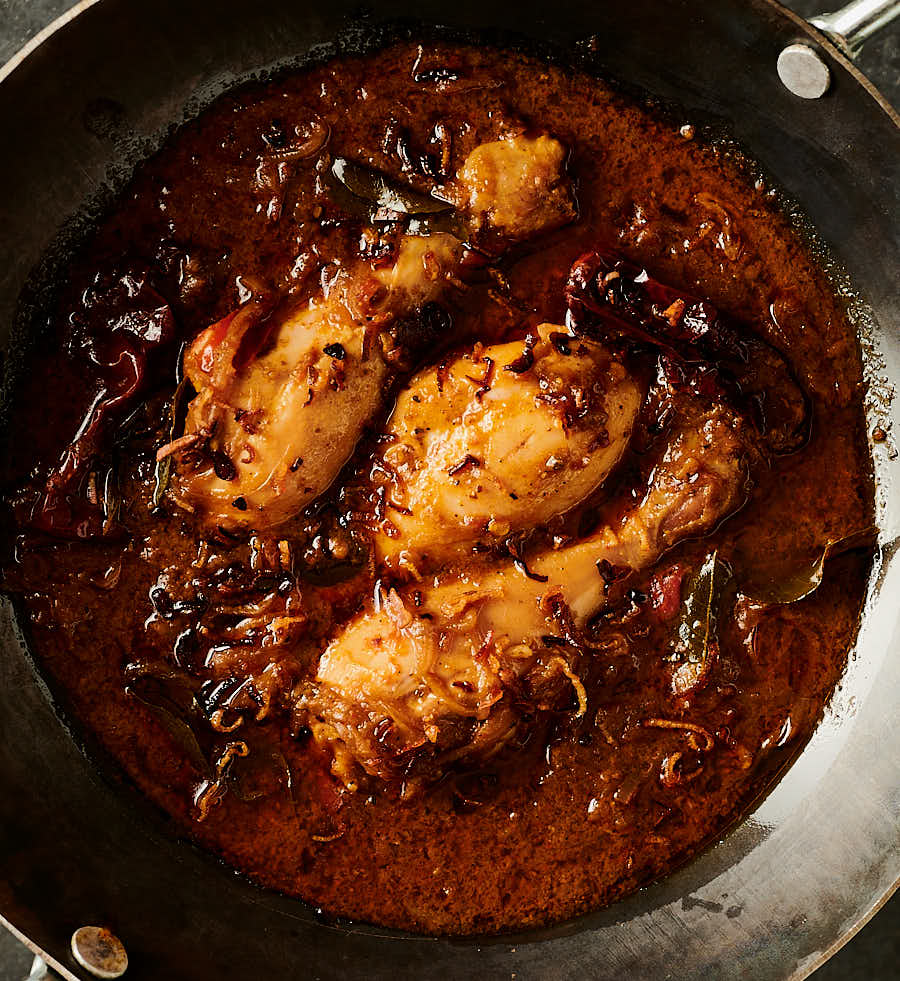 Sometimes traditional is best
This is one of those times. There's something about chettinad chicken curry. The spicing. Slammed up against the flavour of curry leaves.
The bite of black pepper. Balanced by the creaminess of the coconut milk. It just works. In a way I love. In a way I hope you will too.
And if you do, go to your local formula Indian restaurant and demand better. Demand chettinad chicken curry.
chettinad chicken curry
Chettinad chicken curry is a delicious South Indian coconut based chicken curry that anyone can make.
Ingredients
Chettinad masala
1

tbsp

coriander seed

3

whole dried red chilies

– I like kashmiri

1/2

tsp

cumin seed

1/2

tsp

poppy seed

1/4

tsp

black peppercorns

1

inch

cinnamon bark

2

arms

from one star anise

– just break a couple arms off

1

clove

clove

whole

2

green cardamom

whole

pinch

ajwain
Spice Mix
5

tsp

chettinad masala

– from above (you will have some left over)

2

tsp

kashmiri chili powder

1/2

tsp

turmeric

2/3

tsp

coarse black pepper

1 1/2

tsp

kosher salt
The chettinad chicken curry
1

lb

onions

thinly sliced (about 2 large onions)

4

Tbsp

coconut or vegetable oil

3

Tbsp

garlic ginger paste

– recipe link below

20

fresh curry leaves

Dried is not a substitute. Frozen isn't really either.

2-3

kashmiri chilies

mostly because they look good but I like little bites too.

the spice mix

8

skinless chicken thighs

– or a mix of thighs and drumsticks

1 15

oz

can coconut milk

2/3

cup

diced tomatoes
Instructions
Make the chettinad masala
Into one small bowl measure out the coriander seed, cinnamon bark, peppercorns, star anise arms, clove and green cardamom. These are your "big" spices.

Into a second small bowl measure out the cumin seed, poppy seed and ajwain. These are your "small spices".

Pre-heat a small skillet over medium-low heat.

Add the big spices. Toast, constantly shaking the pan until the wonderful smell starts hitting your nose. This should take under 2 minutes.

Add the little spices and toast around 30 seconds. Add the kashmiri chilies and toast another 30 seconds or so. Flip the chilies about half way through the final 30 seconds.

Remove from heat. Let cool.

Transfer the cooled spices to a spice grinder. I have a little dedicated spinning blade style coffee grinder for this. Makes terrible coffee. But it grinds spices well. Set aside.
Do your prep
Slice the onions. A food processor works for this. If you are good with a knife that's more fun.

Dice your tomatoes. Measure out your spice mix. Put on some good music.
Make your chettinad chicken curry
Heat a large pot or dutch oven over medium heat.

Add the coconut or vegetable oil and cook the onions, stirring occasionally, until they are a soft, light brown mess. Think French onion soup. You want these onions melting. This step takes a long time. 20 minutes or more.

Add the curry leaves if using. Now add the garlic ginger paste and cook, stirring constantly until the spluttering stops (you will understand when you do it).

Add the spice mix and cook, stirring constantly, for about a minute. Toss the kashmiri chilies in and toast lightly.

Stir in the coconut milk and tomatoes and bring to a simmer.

Add the chicken and simmer until the chicken reaches an internal temperature of 160-170F, about 20-25 minutes. Use your instant read thermometer!

Taste. You are likely going to need a bit more salt if you used kosher salt. If you used regular table salt you should be about right.

Spoon off any excess fat (or don't if you are OK with a few calories – the fat is loaded with fat-soluble spices and flavour) and serve with rice or parathas or chapatis. Or all of them!
Nutrition
Serving:
4
servings
|
Calories:
670
kcal
|
Carbohydrates:
15
g
|
Protein:
47
g
|
Fat:
47
g
|
Saturated Fat:
27
g
|
Cholesterol:
214
mg
|
Sodium:
1151
mg
|
Potassium:
1032
mg
|
Fiber:
4
g
|
Sugar:
6
g
|
Vitamin A:
500
IU
|
Vitamin C:
110.3
mg
|
Calcium:
91
mg
|
Iron:
5
mg