Chicken karaage is this wonderful Japanese take on fried chicken. It gets a big flavour kick from a quick marinade. And the potato starch makes it super crispy. Tasty stuff. Like the best chicken nugget you ever had.
You see on every Japanese menu. Well, maybe every menu outside of Japan. Chicken karaage is an appetizer up there next to gyoza and edamame. Great with drinks. Party food.
Technically this recipe is tatsuta-age, not karaage. It's a subtle difference. And one largely ignored on the internet. As far as I can tell chicken karaage is not marinated before dredging in potato starch. Tatsuta-age is.
I'm going to call it chicken karaage here. I'm not the internet police. So I'm going with the flow. Doesn't matter what you call it though. It's good either way.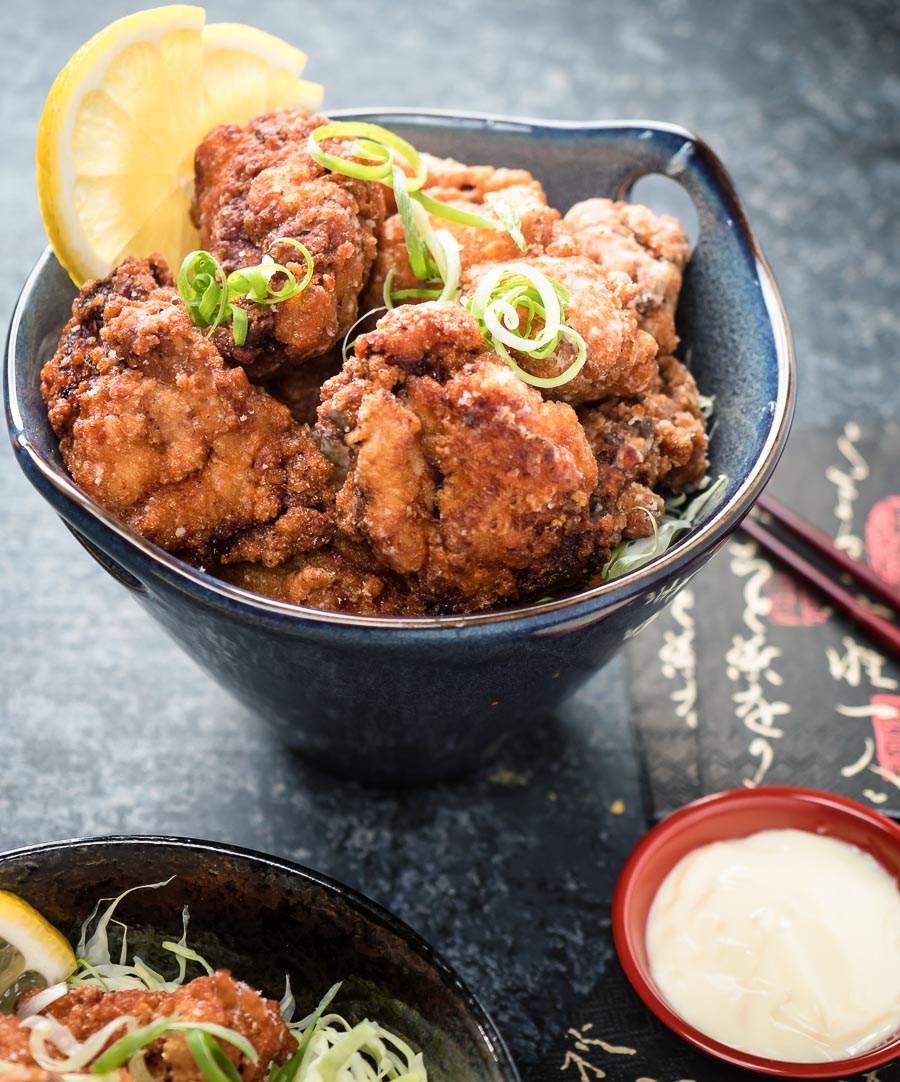 Use dark meat and leave the skin on
What really makes chicken karaage is the skin. No skinless chicken here. I love that. Deep fried chicken skin. What's better than that?
Use chicken thighs for this recipe. Please use thighs. It tastes better. Richer. Plus deep fried white meat isn't so tasty once you let it cool a bit. Dark meat doesn't have that problem.
Think of it as insurance. It's harder to screw up when you use dark meat.
Chicken karaage needs a really light hand on the coating
Classic chicken karaage calls for potato starch. It's called katakuriko in Japan. If you can't find it, cornstarch isn't that far off.
What is far off is potato flour. Potato flour is not potato starch. And it makes a big difference.
I screwed this up once trying to recreate a southern fried chicken recipe from a restaurant here in town. Didn't work until I realized potato flour was not the same as potato starch. Ruined the dish. Epic fail even. I was not happy.
Don't make the same mistake. It's potato starch. Not potato flour. Not the same at all. You'll do a bunch of work to make lousy chicken karaage. And then blame me.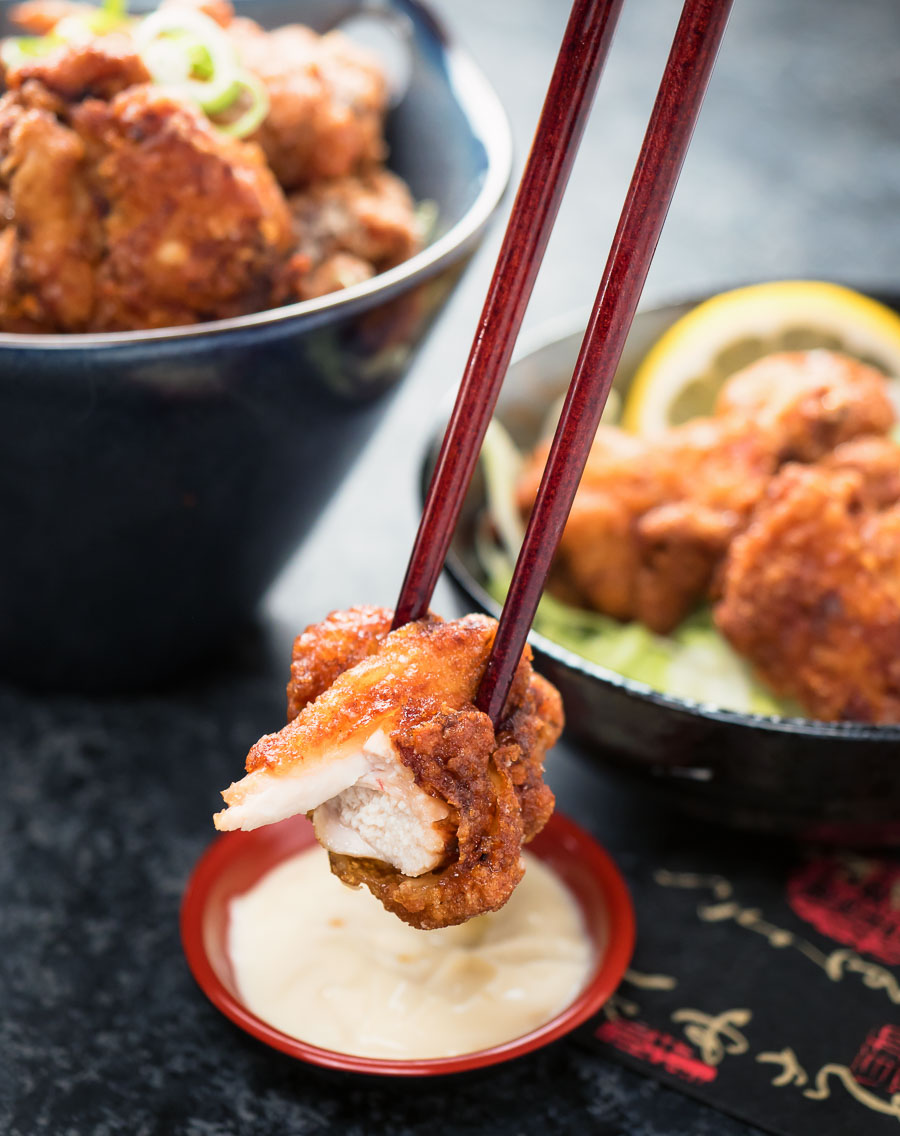 A big thing to note. Too much potato starch on the chicken is bad. You want a light hand. A really light hand. This isn't southern fried. You don't want craggy chicken.
Think dusting. Lightly dredged. Really lightly dredged. Too much and it gets tough. Or you get blotchy white chicken. Not good. This is really important.
Don't be put off by the amount of salt in this recipe. Between the soy and added salt it sounds like a lot. But keep in mind this is a marinade. It's almost all going to be left behind.
Serve chicken karaage with your choice of garnishes
You can serve chicken karaage up a few different ways. It's kind of fun that way. You can really mix it up.
The classic way is with lemon and kewpie mayonnaise. It's good that way. Seems over the top. Fried chicken with mayonnaise. But think chicken burger. Make sense?
Kewpie mayo is not the same as regular mayo. Maybe not as dramatic as potato starch vs. potato flour but different. It has more tang. I've become a fan.
A soy based dipping sauce works here as well. A bit of soy. A little yuzo.  A sort of ponzu sauce.
Shichimi togarashi is another nice touch. That's Japanese dried citrus chili powder. Sounds strange I suppose. But it works.
If you want to really mix it up I like it with gochujang mayonnaise. That moves it towards Korea. It's in your face this way. It's a nice twist though. For all your jaded foodie friends.
Chicken karaage. The ultimate chicken nugget.  Just don't serve it with honey mustard sauce.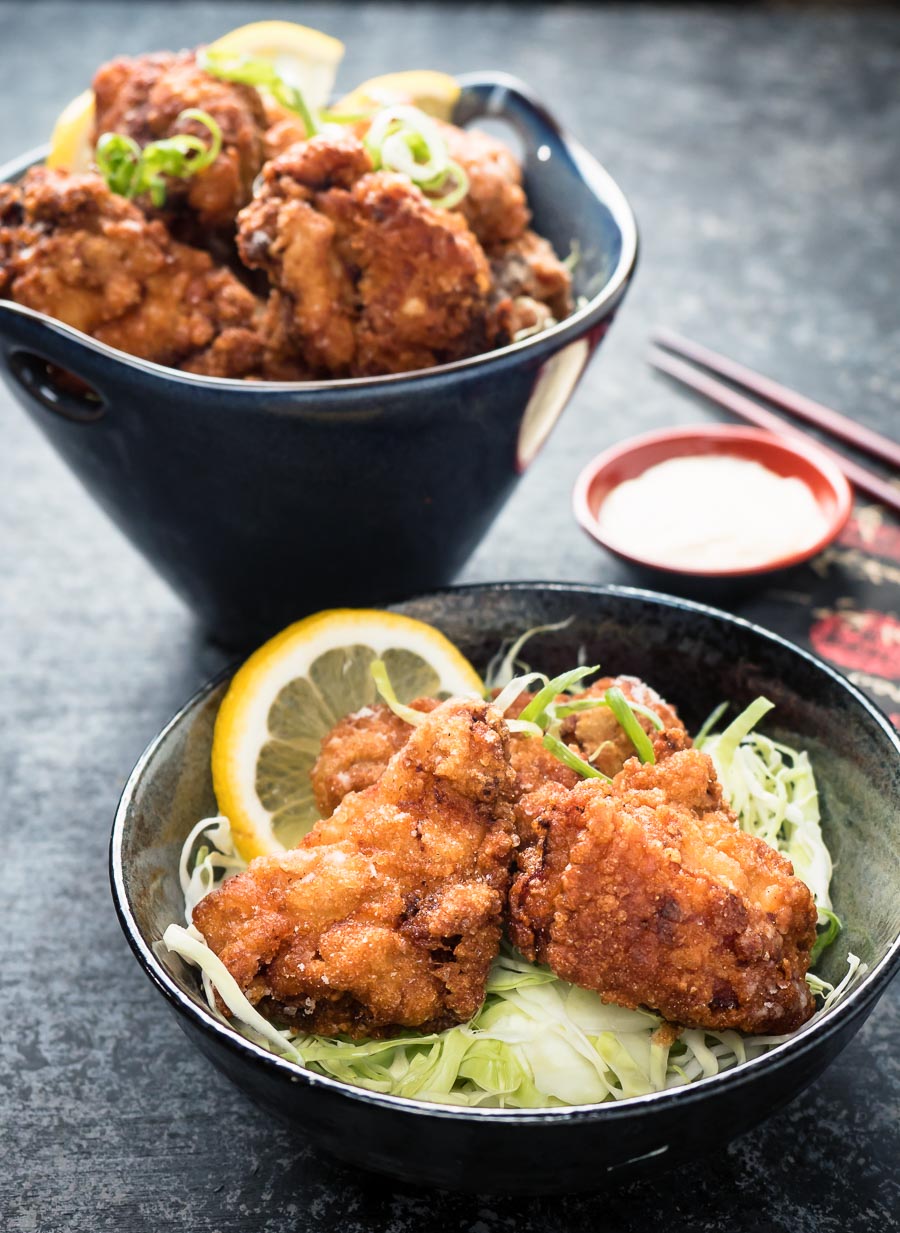 chicken karaage
Chicken karaage is Japan's answer to fried chicken. Lightly marinated and deep fried, it's absolutely delicious.
Ingredients
8

boneless chicken thighs with the skin on

- Seriously. Use dark meat with skin

2

cloves

garlic

crushed

2-3

tsp

ginger

grated (a microplane works well)

4

tbsp

sake

4

tbsp

soy sauce

2

tbsp

mirin

1/2

tsp

kosher salt

1/2

cup

potato starch

- enough to coat the chicken

oil

to deep fry

lemon and Japanese mayo to serve
Instructions
Cut each chicken thigh into 3-4 pieces. You are going for large bite sized pieces.

Mix the sake, soy, mirin, salt, ginger and garlic in with the chicken. Let sit 15-20 minutes minimum. Up to an hour is OK.

Individually dust the chicken pieces with the potato starch. Don't go overboard. Don't double dredge. It will be tough. You really want a light hand here. Set chicken on a rack on a cookie sheet until you are ready to fry.

Pre-heat the oil in a heavy frying pan. A nice large cast iron pan works well here. Go for about 1 inch of oil in the pan.

Use a candy thermometer. You want your oil at 340-350F when the chicken goes in. Regulate your heat to try to keep it in the range while the chicken cooks if you can.

A word of caution here. Don't add a bunch of chicken at the same time. You run the risk of the oil bubbling up over the edge of your pan. That's really bad. Dangerous. Be careful. Cook smart.

Working in batches, deep fry the chicken until it reaches an internal temperature of 170F. Get an instant read thermometer if you don't have one. Instant read thermometers are how you get consistent results.

Once the first batch of chicken is done, set it on paper towels on a plate. Repeat until all the chicken is cooked.

Serve with fresh lemon and optionally Japanese (kewpie) mayonnaise. Kewpie mayo is not the same as regular mayo.

You can also sprinkle a bit of shichimi togarashi on it if you want a bit more zing. Green onions make a nice garnish.
Notes
If you want to mix it up a bit try serving it with gochujang mayonnaise. That moves things firmly in a Korean direction. Even if you don't, keep gochu mayo in the back of your mind. It's tasty stuff on sandwiches...
Nutrition
Serving:
4
servings
|
Calories:
612
kcal
|
Carbohydrates:
23
g
|
Protein:
40
g
|
Fat:
37
g
|
Saturated Fat:
10
g
|
Cholesterol:
221
mg
|
Sodium:
1546
mg
|
Potassium:
701
mg
|
Fiber:
1
g
|
Sugar:
3
g
|
Vitamin A:
175
IU
|
Vitamin C:
1.2
mg
|
Calcium:
37
mg
|
Iron:
2.2
mg