I don't care what you call them. Call them Bombay potatoes. Or Bombay aloo. No matter what you call them this is one thick, glorious potato curry. Restaurant style. At home.
I love potatoes. And I love Indian cooking. So Bombay potatoes are a dream dish for me. 
If you like potatoes, this could be your new favourite way to cook them. For an Indian dinner anyway.
This is a thick curry. A dry curry almost. Like a crazy seasoning paste on potatoes. Not like the usual saucy curries you get at restaurants.
That's what makes it special. Intensely flavoured. Perfect against the mild taste of potato.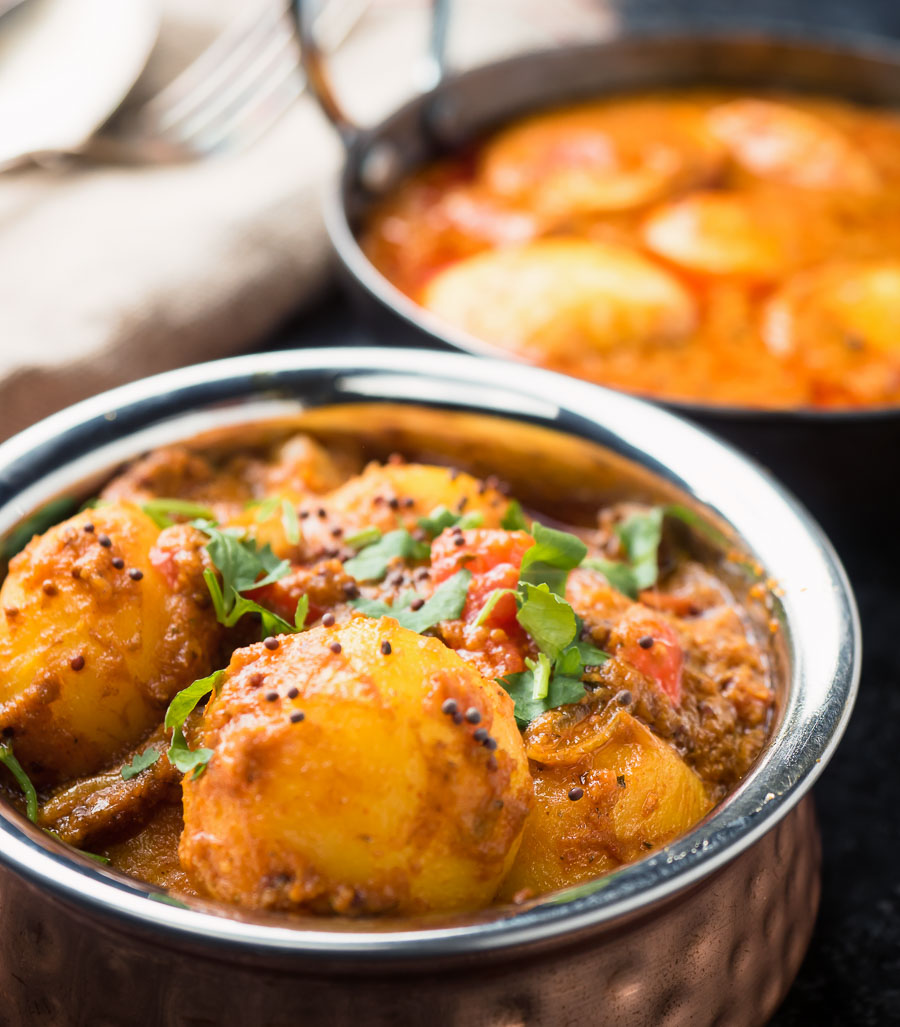 In your face delicious Bombay potatoes
It's not like a lot of the recipes out there for Bombay potatoes. This is in your face restaurant cooking. No subtlety here. None. Not your mom's Bombay aloo.
Tomato. Onion. Garlic. Ginger. Mustard seed. Spice. And a bit of tart zing from amchoor powder. 
Not super spicy though. Unless you want to go there. Well seasoned. Big bold tastes. Good eating.
Amchoor is dried mango. You can get it at any Indian grocer. It's one of those ingredients you didn't know you needed until you try it. Then you have to have it.
But lemon works as well if you don't feel like going to the store.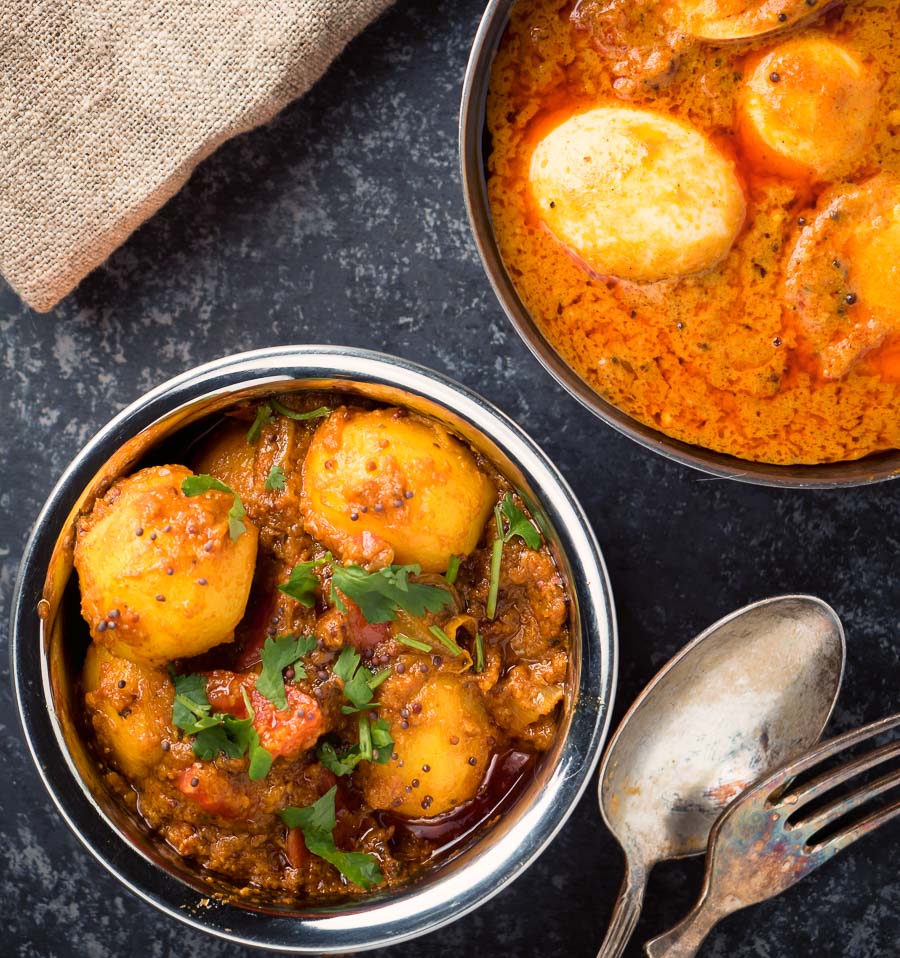 I'm not super clear on the origin of Bombay potatoes. Some say it started in Goa where potatoes were introduced to India.
Others claim this is a mostly British dish that was introduced to anglicize Indian cooking.
It's big in Bombay as well. Guess that's why they call it Bombay aloo. Aloo is potato in Hindi.
Doesn't really matter where Bombay potatoes come from though. What matters is you can make them at home.
Serve them to friends. Or just eat them all up yourself. I know I'm guilty of doing that…
Learn how to make Bombay potatoes (video)
Pick your potatoes wisely
Choice of potato is important. Probably the most important thing in this recipe. You want a waxy potato. Floury potatoes like russets are good for mashed potatoes.
If you want Bombay potato mash then try that. Otherwise stick to waxy. I like whole waxy potatoes the size of golf balls. That works well for me.
I like round too. Square cut is a bit more delicate. You are boiling the potatoes before you make the curry.
They will be a bit soft. Round seems to hold up better. For me, anyway. Guess I'm a bit picky…
Bombay aloo. Bombay potatoes. Potato curry. Who cares what it's called. What matters is it's delicious. And you can make it at home. Try it. It may surprise you.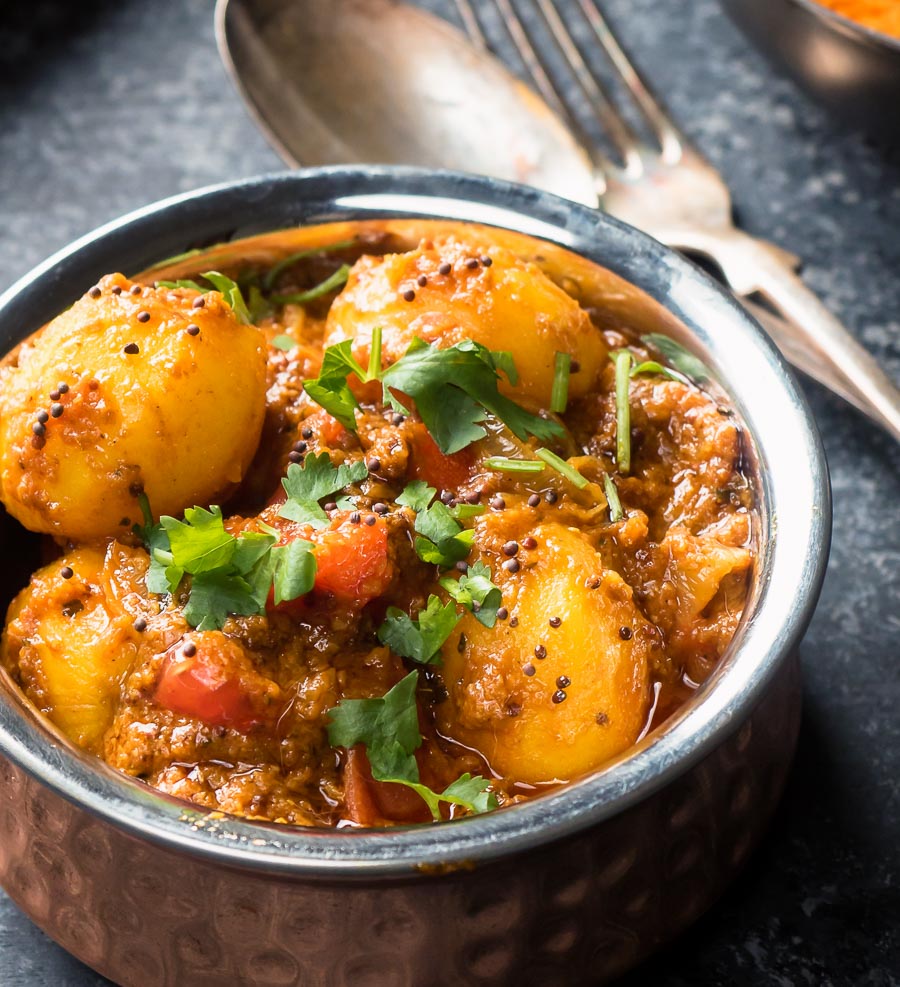 Bombay potatoes
Call them Bombay potatoes. Or Bombay aloo. Either way it's one seriously delicious potato curry.
Ingredients
Potatoes
6-7

small waxy potatoes, peeled

– around the size of golf balls

1/2

tsp

turmeric

2

tsp

salt
Spice mix
1

tsp

indian restaurant spice mix – recipe link below

1/2

tsp

cumin powder

1/2

tsp

coriander powder

1/2

tsp

kashmiri chili powder

– or more to taste

1/2

tsp

kasoor methi

– dried fenugreek leaves

1/2

tsp

kosher salt or 1/3 tsp table salt
Bombay potatoes
3

tbsp

neutral vegetable oil

the cooked potatoes

3-4

tbsp

onion

sliced about 1/8 inch thick

1

tsp

mustard seeds

2

tsp

garlic ginger paste

– recipe link in notes

1/2

tbsp

tomato paste

diluted with 1 tbsp water

10

oz

curry base

– recipe link in notes

1/2

tsp

amchoor powder

or the juice of 1/6 lemon

1/2

small

tomato

coarsely chopped

cilantro

to taste
Instructions
Do your prep
Make the spice mix. Combine all the spice mix ingredients in a small bowl.

Dilute the tomato paste with the water.

Cook the potatoes. Combine the potatoes, turmeric and salt along with enough water to cover. Bring to a boil. Simmer until you can just push a fork into the potato without resistance. Be gentle. You don't want to break them up.

Have everything ready to go. Onions chopped. Garlic ginger paste standing by. Curry base pre-heated. Ingredients at hand. Be ready. It's going to go fast from here.
Make the Bombay potatoes
Heat the oil in a medium skillet over medium low heat .

Add the potatoes to the hot oil and fry until they just start to colour. This firms them up so they don't self destruct when you make the curry.

Remove the potatoes and set aside. Add the onions and cook over gentle heat until translucent. You are trying to keep them from browning. I know – anti-Indian cooking but this time that's what you want.

When the onions are translucent, raise the heat to medium. Add the mustard seed and cook around 20 seconds.

Turn down the heat and add the spice mix.. This is the critical step. Stir it constantly for 30 seconds. If it starts to darken lift the pan off the heat. You want the spice mix to cook in the oil but not burn.

Turn the heat up to medium high. This is important. The heat is what makes curry base work and gives the this dish its Indian restaurant flavour. As you become more comfortable with this technique try pushing it. Add the diluted tomato paste and stir until bubbles form (the oil will likely separate). This takes around 30 seconds to one minute depending on the heat.

Add 3 oz of

curry base

. Stir until bubbles form (little craters really), around 30 seconds. Think lively boil. Watch the edges of the pan. The curry can stick here. Sticking is OK. Just scrape it back into the base. Burning is bad.

Now add the remaining curry base and stir briefly. Let it cook until the bubbles form again. This takes 1-2 minutes.

Turn the heat down to low. Add the potatoes. Cook until the potatoes are warmed through and the sauce thickens. This takes about 3 minutes.

Add the chopped tomatoes and amchoor (or lemon if you aren't using amchoor). Stir to combine. Cook for another minute or two.

Garnish with a bit of chopped fresh cilantro and green chili if you like. Serve. Enjoy.
Notes
The recipe for curry base is here.
The recipe for indian restaurant spice mix is here.
The recipe for garlic ginger paste is here.
If you haven't read about Indian restaurant technique yet, do that before you start cooking. It's a good read. Worthwhile.
Have all your ingredients prepped and ready to go.
If you are making multiple curries, have your curry base warming in a pot on the stove. If you are just making one, microwave it to warm it up right before you start cooking.
Nutrition
Serving:
2
servings
|
Calories:
395
kcal
|
Carbohydrates:
45
g
|
Protein:
5
g
|
Fat:
22
g
|
Saturated Fat:
1
g
|
Sodium:
642
mg
|
Potassium:
1063
mg
|
Fiber:
6
g
|
Sugar:
3
g
|
Vitamin A:
450
IU
|
Vitamin C:
49.4
mg
|
Calcium:
27
mg
|
Iron:
2.9
mg