Potato leek soup. So good. So easy. Something wonderful from the simplest of ingredients.
Potato leek soup is one of my favourite soups of all time. There is something magic about taking such basic ingredients and creating a dinner party worthy dish.
Potatoes. Leeks. Onions. Stock. Cream. Butter. Salt and white pepper. Nothing to it. But put them together. Wow. That's the magic of cooking. It's why I do it. No flour. No cornstarch. And no thickeners other than the potato. The real deal.
I know. Seems a bit poetic for a basic potato leek soup. But it's satisfying. Everybody loves it. Really, really good.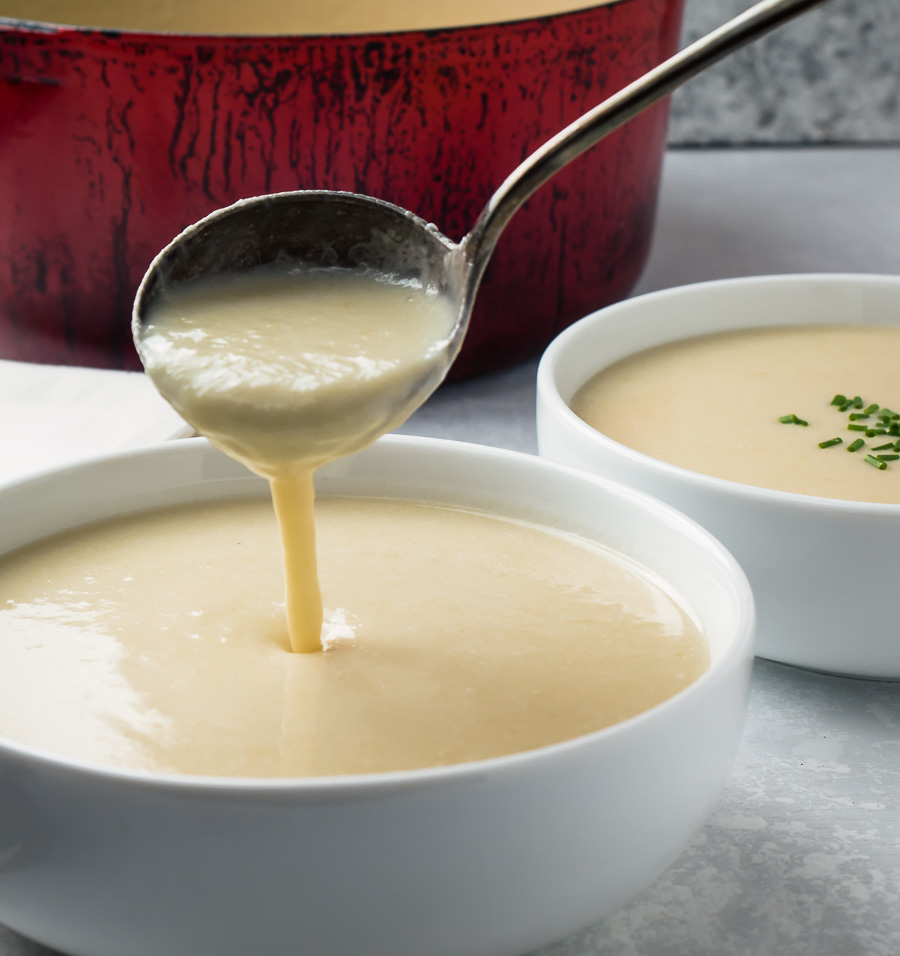 Pick your ingredients wisely
Choice of ingredients matters here. You want a floury potato. Russets work really well. Waxy or even semi-waxy potatoes don't work at all. The texture sucks. Kind of gloppy. Or lumpy. Or both.
You want leeks with lots of white. Don't put the green parts into your soup. You'll get a funny green leek potato soup. Not the creamy white with just a hint of green. You eat with your eyes first.
Technique is important. That's where the magic is. Take your time making potato leek soup and it will be great. Rush it and not so much.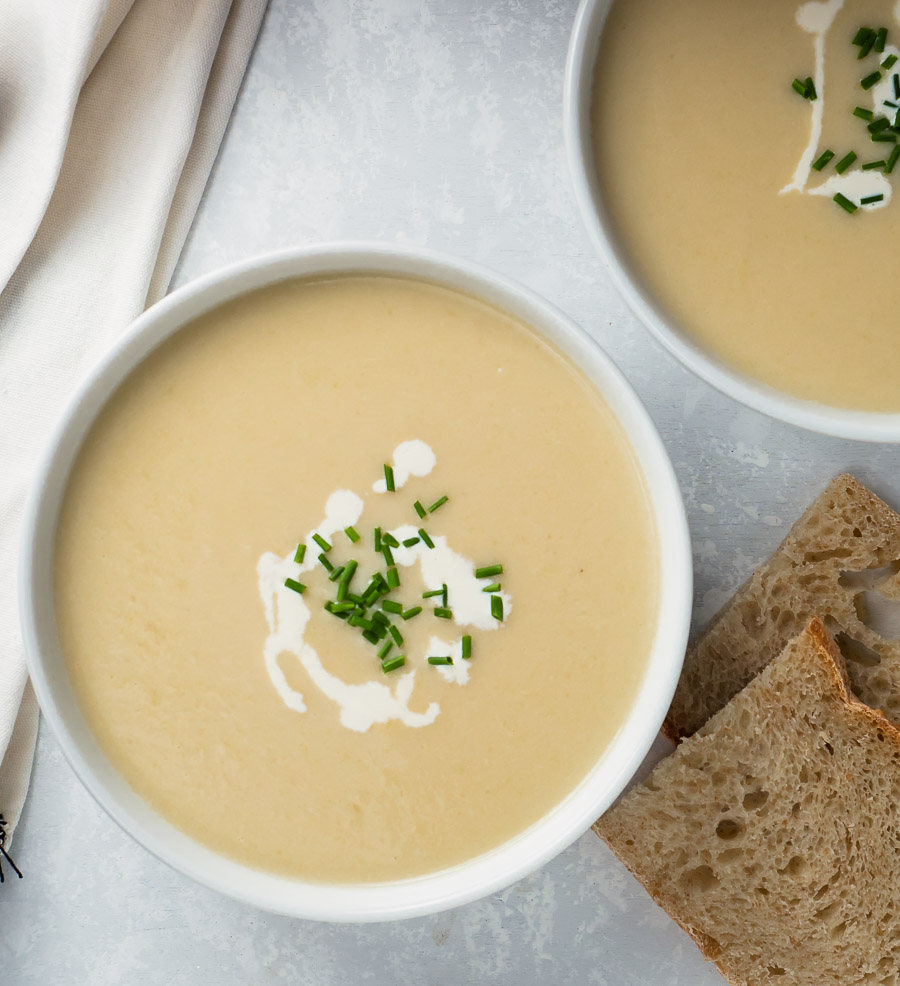 Take your time
The key is to take time sweating the onions and the leeks. Melt the butter with the leeks and onions in the pot. Don't let the butter brown. And take your time. Let the onions and leeks sweat slowly over low heat. It takes as long as it takes.
Don't let the onions and leeks brown. That throws the flavour you are looking for. Too strong a taste. Potato leek soup needs to be delicate. Balanced.
Once the onions and leeks are soft it's easy. Toss in the potatoes and the stock. Add a bit of salt. Simmer until the potatoes are fully cooked. Easy to pierce with a fork.
Puree the soup in a blender in batches. I don't like an immersion blender for this. Too hard to get all the bits of leek. Nobody like little bits in this soup.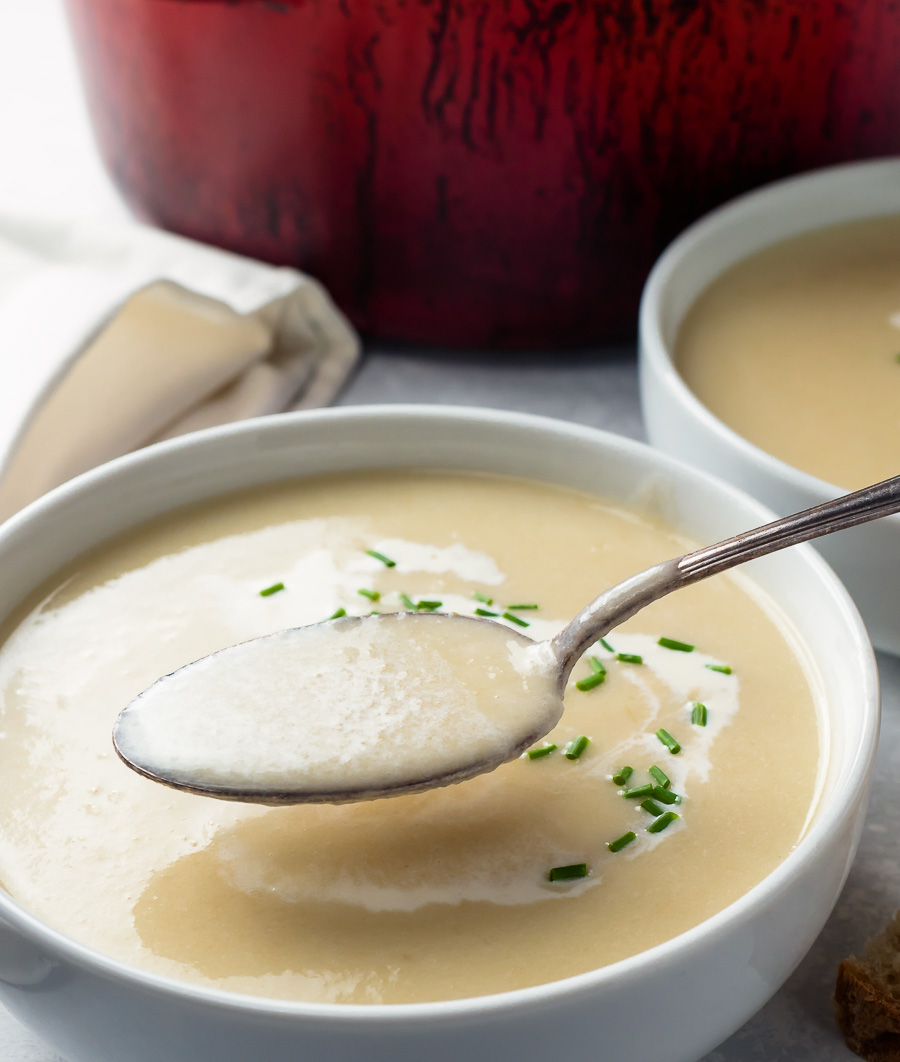 It's easy to time this soup
At this point you can stop until dinner time. Let it sit on the stove while you cook the rest of the meal. When it's time to serve, reheat the soup to a simmer.
Take it off the heat and add a few tablespoons of hot soup to the whipping cream. Stir. Add a couple more tablespoons of hot soup. Now add the soup and cream mixture into the potato leek soup. Stir. Adjust the salt. Good to go.
Long time readers of glebekitchen will note that this is a re-tread of an old, old post. I wanted to redo it with better instructions. Nicer pictures. Try to convince you to make potato leek soup.
As with the original adding a bit of truffle salt take this soup from fantastic to extra-ordinary. If you want to make a soup that knocks the socks off your guests, that's how. People selling truffle salt often try to tempt you with this combo. If that doesn't convince you…
Potato leek soup. Simple, straightforward ingredients. A bit of technique. And at the end. Magic.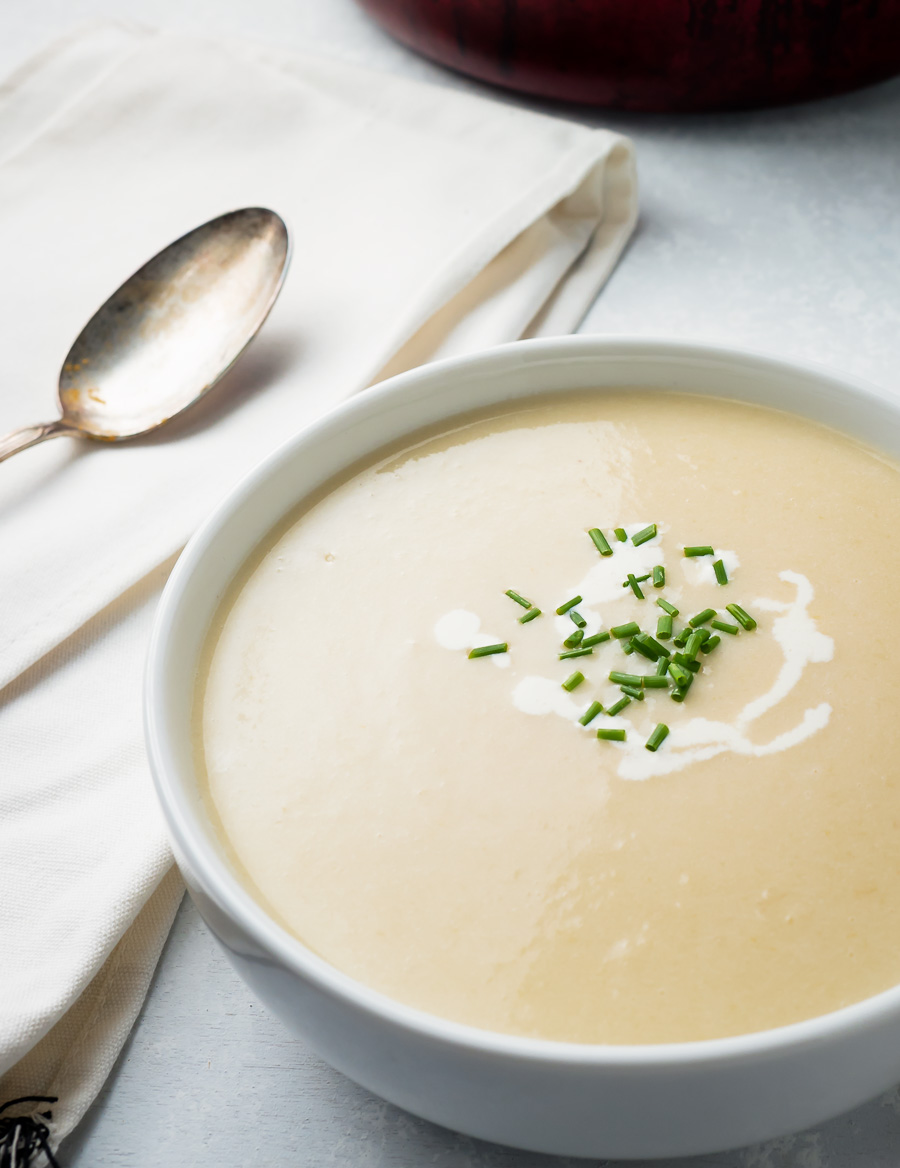 potato leek soup
Potato leek soup. Make something magical from the simplest of ingredients.
Ingredients
3

Tbsp

butter

2

medium onions diced

3-4

leeks white and lightest green portion only

diced

12

oz

floury potatoes diced.

Russets work well - do not use waxy potatoes

6

cups

low sodium chicken stock

- homemade is always nice

1

cup

35% whipping cream

salt to taste

- or truffle salt if going for the optional wow factor

white pepper

minced chives to garnish
Instructions
Combine the butter, onions and leeks in a pot large enough to hold all the soup. Place over low heat. Stir until the butter is fully melted. Continue to cook, stirring every minute or two until the leeks and onions are soft. Really soft. This could take as long as 20 minutes. It takes as long as it takes

Add the diced potatoes, a big pinch of salt and chicken stock and simmer until the potatoes are tender, around 15-20 minutes.

Let cool slightly and puree in a blender. An immersion blender leaves little bits behind. That's not a great option here.

One little trick to be aware of. If you are pureeing in a blender you need to take the little cap in the middle of the top out to let the steam escape. Not doing this is a pretty good way to get soup on the ceiling. Seriously. Dangerous.

At this point the soup is ready to finish. You can set it aside until dinner if you want. Just heat it up right before you go to the next step. Or you can just go on from here. It's easy that way.

Temper the cream. Put it in a bowl and add a couple tablespoons of hot soup. Stir. Add a couple more tablespoons of hot soup. Stir again. Add the soup and cream mixture into the pot with the rest of the potato leek soup. Stir.

Adjust the seasonings. If you are doing the truffle salt option use that. Otherwise use regular or kosher salt. Add the salt slowly, maybe a 1/2 tsp at a time and creep up on perfectly seasoned. Adding salt is easy. Taking it away is impossible. Season with a bit of pepper, give it a good stir and serve.

Ladle into bowls, garnish with a bit of minced chives and serve.
Notes
If you can get your hands on fresh sorrel this is a nice flashy variation. Sweat some sorrel in butter. Follow the recipe above but omit the truffle salt. Puree the wilted sorrel in a bit of soup to make a sorrel puree. Ladle the soup into the bowl and then spoon some of the sorrel puree into the middle of the soup. Cut through the circle with a knife to drag the green sorrel puree through the white leek and potato soup. Prepare for adulation from your dinner guests and serve.
Nutrition
Serving:
6
servings
|
Calories:
300
kcal
|
Carbohydrates:
20
g
|
Protein:
8
g
|
Fat:
22
g
|
Saturated Fat:
13
g
|
Cholesterol:
69
mg
|
Sodium:
152
mg
|
Potassium:
600
mg
|
Fiber:
2
g
|
Sugar:
3
g
|
Vitamin A:
1500
IU
|
Vitamin C:
14.8
mg
|
Calcium:
89
mg
|
Iron:
3.3
mg