Karahi chicken curry done restaurant style. All the great tastes of classic karahi chicken with that thick, rich gravy you only get in restaurants.
This is a Northern Indian street food classic adapted to restaurant style cooking. Like you would get in a restaurant. Not like you usually make at home.
I like chicken karahi done homestyle. It's a relatively simple curry but it has great balance. And it's a bit different. But when I make it restaurant style I like it better.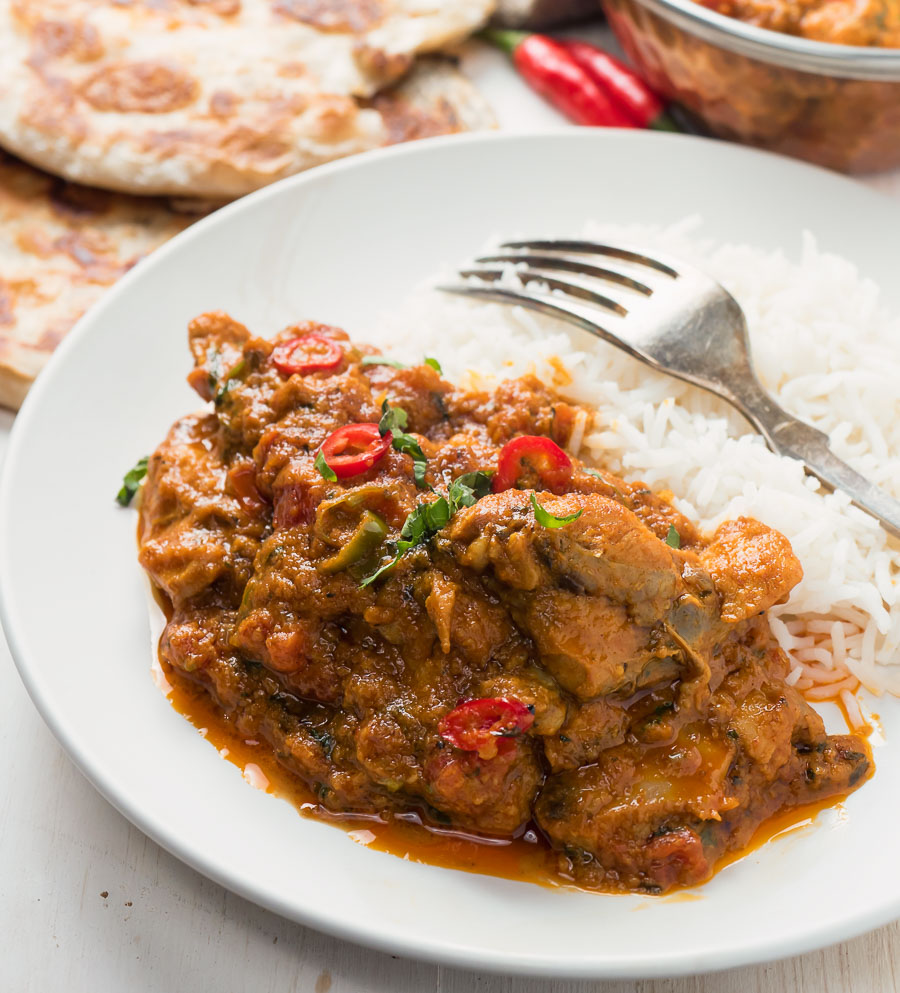 Karahi chicken is something new to try
There's something about the luscious restaurant style sauce that works really well with the brightness of the fresh tomatoes. The cream adds a bit of richness. Upscales it.
Not the usual yoghurt you see in most recipes. That little bit of cream really makes the dish. Taste it before and after you add it. You'll see how big it is…
Karahi chicken is little different than the usual suspects. But you can't live on jalfrezi and tikka masala forever. At least I can't.
There are about a million regional dishes in India. OK. Maybe that's a slight exaggeration.  I have a book I bought in India that has around 1600. In one book. One book!
But you only see the same 30 things on every Indian restaurant menu. Over and over. Why?
It's boring. A bit dull. They are some of the greats, mind you. A good rogan josh or madras is a wonderful thing. But come on. Mix it up. Try something new. A billion people can't be wrong.
Chicken karahi is something new. I like new. I've seen it at a couple of restaurants. But not many. Pretty rare. Don't think I've ever seen in my home town.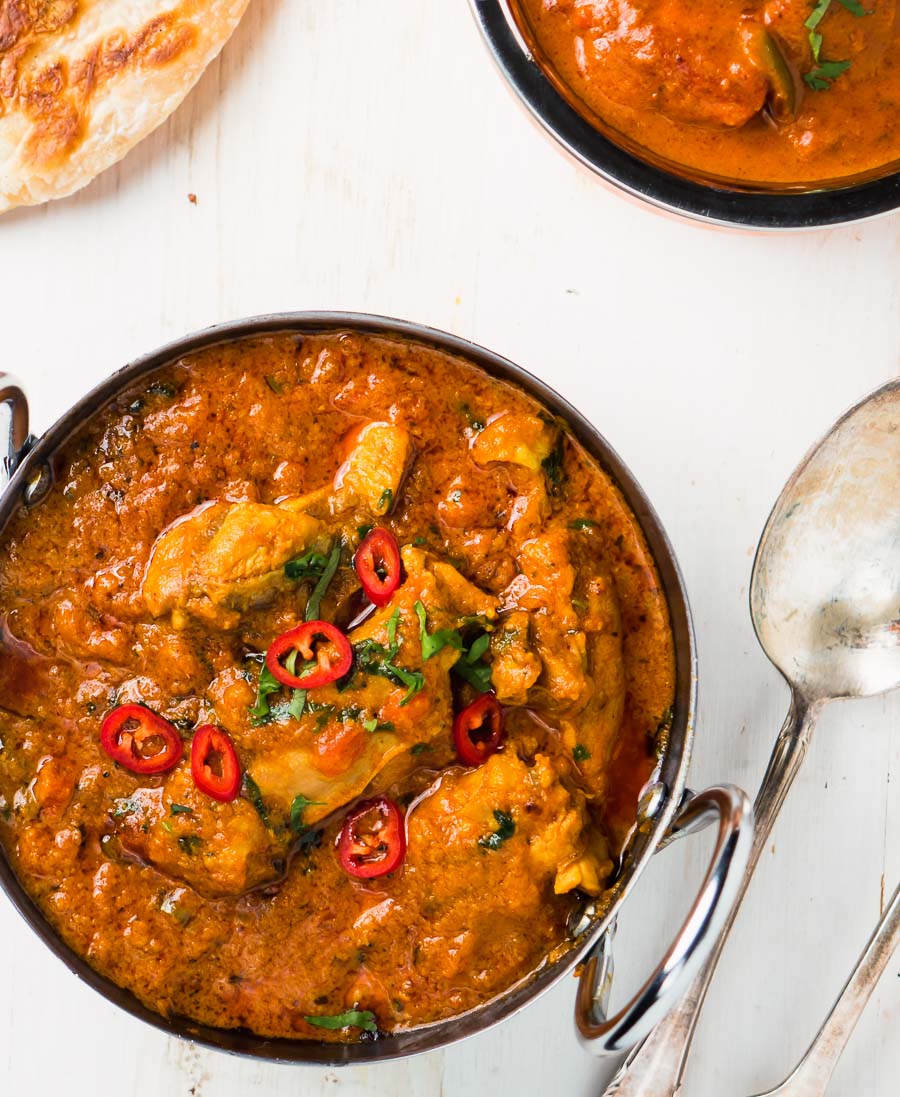 Restaurant style but familiar
But it has the homestyle tastes. The classic mom in the kitchen cooking up a storm tastes. Nothing unusual here. Just simple ingredients put together in a way that works.
And the nice thing about karahi chicken is it doesn't call for a bunch of ingredients you've never heard of. The spices are straightforward. You can get almost everything from your local grocery store.
The fenugreek leaves are the only oddball ingredient. You might have to hit an Indian grocer to get them. But they add a certain something. So make the effort to get some if you can.
If you are new to Indian restaurant cooking the big classic dishes will be all you will want to cook. That's natural.
But if you've been at it for a while. If you are looking to mix it up. And if you like homestyle Indian as well as restaurant curries. Then karahi chicken is a great one to try.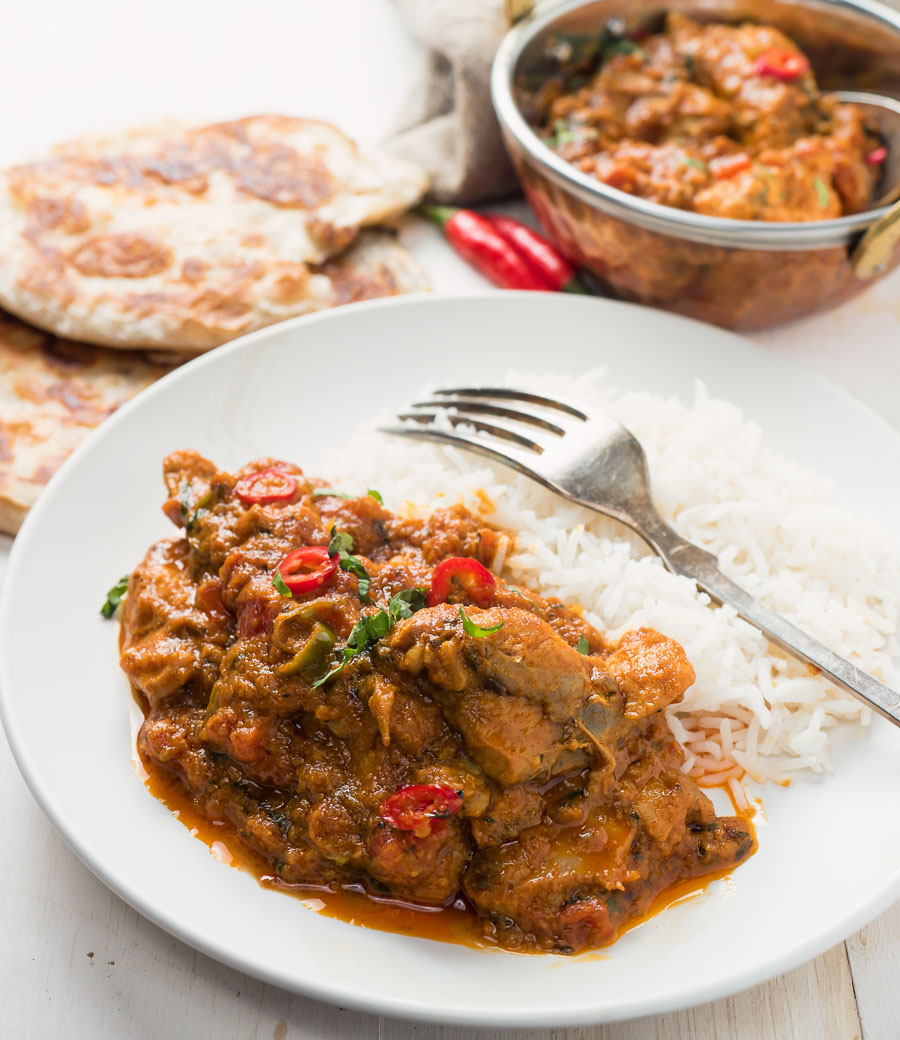 karahi chicken curry
Get those great karahi chicken curry flavours with the rich, lush sauce you only get in restaurants.
Ingredients
The spice mix
1

tsp

ground coriander

1

tsp

ground cumin

1/2

tsp

kashmiri chili powder

1/2

tsp

kasoor methi - dried fenugreek leaves

1/4

tsp

black pepper

- coarsely ground

1/4

tsp

turmeric

1/2

tsp

kosher salt
The chicken
12

oz

boneless skinless chicken

- 3 thighs or 1 large breast

1

tsp

curry powder

1/2

tsp

kosher salt

chicken stock to cover
Karahi chicken
3

tbsp

vegetable oil

2

tbsp

onion - finely diced

1

tbsp

tomato paste - plus enough water to get to the consistency of passata

4

tbsp

fresh tomato

diced

1

tbsp

garlic ginger paste - recipe link below

1-2

green chili

sliced

15

oz

curry base

- recipe link below

1/6

lemon - juiced

all of the spice mix

the pre-cooked chicken

1

tbsp

cilantro leaves

- finely diced

2

tbsp

heavy cream
Instructions
The spice mix
Combine all the spice mix ingredients. Set aside.
Pre-cook the chicken
Add the chicken, curry powder and salt to a small pot. Cover with chicken stock and bring to a simmer.

Cook until the chicken is just done. This takes about 10-12 minutes.

Drain the chicken and set aside.
Chicken Karahi
Be ready. Have your curry base simmering on the stove. Make your spice mix. Chop all the ingredients and have them at the ready. This is going to go very fast. You don't have time to mess around.

Heat a frying pan over medium heat. Add the oil.

When the oil starts to shimmer add the onion and green chilies. Cook, stirring constantly, until the onions just start to brown on the edges. This takes 2-3 minutes.

Add the garlic ginger paste and cook until it stops sputtering, about 1 minute.

Lower the heat to medium low. Add the spice mix. Cook, stirring constantly, for about 30-45 seconds. You want to bloom the spices in the oil. You don't want to burn it. If you burn the spices, start again. There's no fixing it.

Add the diluted tomato paste. Stir to combine and cook for about a minute.

Turn the heat up to medium high. Add 3 oz of the curry base. Stir to combine and cook until it it starts to crater. Little holes will appear. See the guide to Indian curries to understand what this means if you aren't sure.

Add another 6 oz of curry base. Stir to combine and cook until it craters.

Now add the remaining curry base. Cook until it craters and reduce the heat to low. Add the chicken stir to mix. Simmer for about 3 minutes.

Add the fresh chopped tomatoes, cilantro and lemon juice and cook for another 2 minutes or so. If the curry gets too dry add a bit more curry base.

Add the cream. Stir to combine. Serve. Enjoy!
Notes
The recipe for garlic ginger paste is here.
The recipe for curry base is here.
If you haven't read about Indian restaurant technique yet, do that before you start cooking. Have all your ingredients prepped and ready to go.
If you are making multiple curries, have your curry base warming in a pot on the stove. If you are just making one, microwave it to warm it up right before you start cooking.
Nutrition
Calories:
500
kcal
|
Carbohydrates:
17
g
|
Protein:
37
g
|
Fat:
32
g
|
Saturated Fat:
21
g
|
Cholesterol:
129
mg
|
Sodium:
1210
mg
|
Potassium:
993
mg
|
Fiber:
2
g
|
Sugar:
3
g
|
Vitamin A:
840
IU
|
Vitamin C:
16.1
mg
|
Calcium:
34
mg
|
Iron:
2.2
mg