Chicken marsala is a classic Italian restaurant dish. Pound some chicken flat, flour it up, fry it up with some mushrooms and douse it with marsala wine. Not bad. Not great. And more work than it's worth. Why not do away with the scaloppine? Go in a more rustic, hearty direction? Bring it into cacciatora territory? I bet that's where chicken marsala comes from anyway. Italian home cooking five hundred years ago. I say let's go back.
This is a family style dish but all the elements are the same. Dust the chicken in flour. Sauté the chicken to brown it. Use the rendered chicken fat to fry up the mushrooms. Roast the chicken to finish cooking it. Deglaze with marsala wine. Add some stock and a bit of balsamic vinegar. Serve the chicken over the mushrooms. I don't think you even need to serve it with sides. Maybe a bit of polenta but nothing more. Simple, rustic, delicious.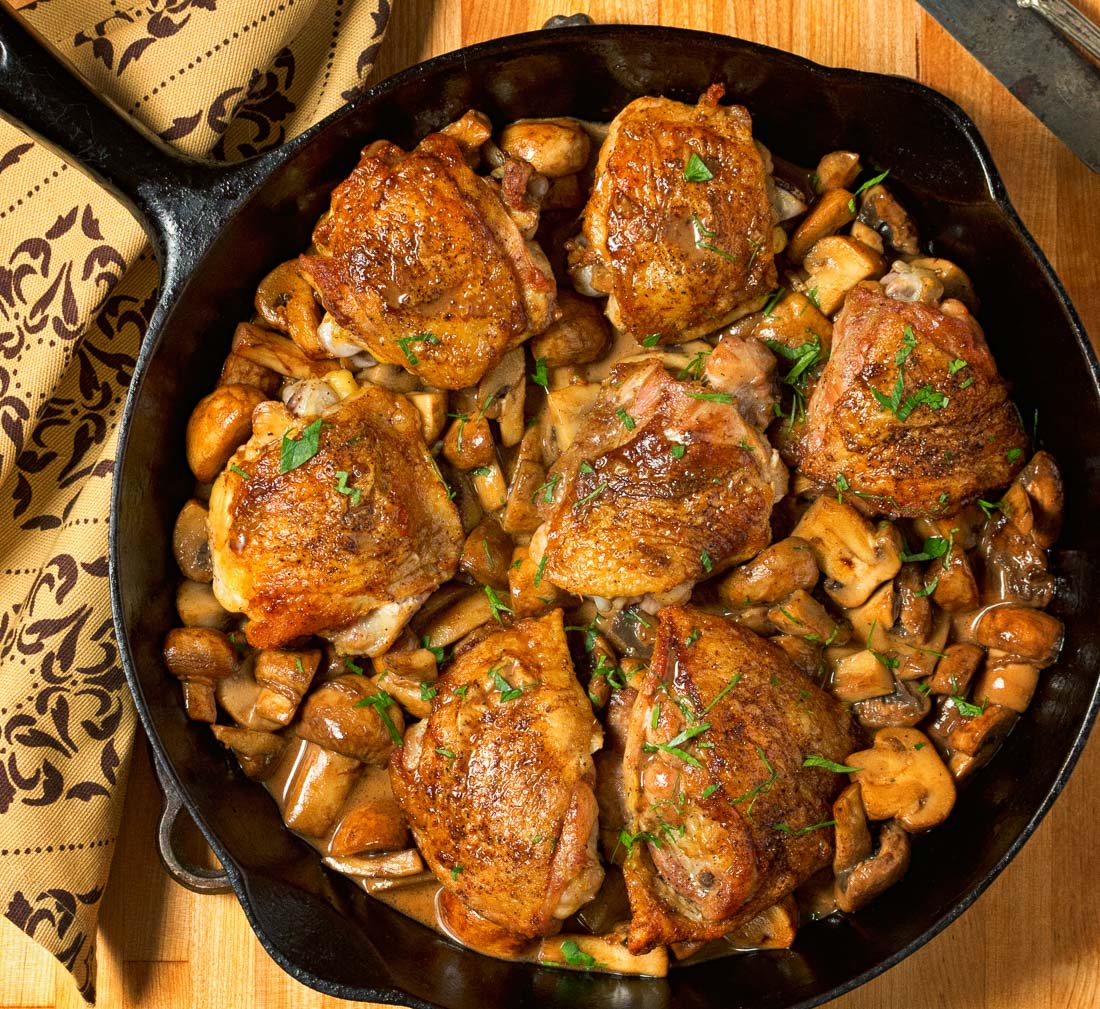 chicken marsala
This is rustic chicken marsala. Use skin-on, bone-in chicken for best results.
Ingredients
8

chicken thighs

- bone-in, skin-on

1

lb

mushrooms

quartered

2

Tbsp

oil

1

cup

chicken stock

1/2

cup

marsala wine

1

Tbsp

balsamic vinegar

1

sprig

thyme

2

Tbsp

butter
Instructions
Pre-heat the oven to 375F.

Quarter the mushrooms.

In a small sauce pan, reduce the stock by half. This will save time and help keep the chicken hot later on.

Season the chicken with salt and pepper. Dust the chicken with flour.

Heat a large skillet over medium heat.

Film the pan with olive oil.

Place the chicken thighs in the pan, skin side down and saute for about 5 minutes, until golden on the skin side. Be careful not to burn the flour.

Remove the chicken and set aside.

Saute the mushrooms in the same skillet, using the oil in the pan.

Season the mushrooms and remove them from the skillet.

Return chicken and accumulated juices to the skillet. Nestle the thyme sprig between the thighs and place in the oven.

Roast until the chicken reaches an internal temperature of 165F.

Remove the chicken from the pan and deglaze with the marsala wine, scraping up any fond in the pan.

Add the stock and reduce slightly. Add the balsamic vinegar and cook a couple minutes more.

Return the mushrooms and mushroom liquor to the pan. Simmer until the mushrooms are heated through.

Off heat, stir in the butter, one tablespoon at a time.

To serve, place mushrooms on the plate. Place two chicken thighs overtop the mushrooms and drizzle the sauce around the chicken.