Thai nam jim or Thai dipping sauce is crazy flavourful and dead easy. Garlic, shallots, lime juice and hot chilies. It's a Thai wonder sauce.
Thai dipping sauce is great on just about everything. Maybe not ice cream but other than that. It's called nam jim.
That's actually just another way of saying Thai dipping sauce so that's not particularly useful information.
The flavours are wonderful though. Salty, sweet, spicy and sour. The core flavours of Southeast Asia.
Let the flavours come together when you make Thai dipping sauce
The only thing to plan for is a bit of time to let the flavours combine. It's great when you first mix it up.
But it's even better if you give it a bit of time to come together. Not a ton of time. Not overnight. But an hour or two. Makes all the difference.
Or better yet. Mix up a batch and keep it in the fridge. Have it ready to go. And use it whenever the mood hits.
That makes it a condiment I guess. It's a lot better than ketchup so I say it's worth the space. And it gets better when it sits for a few days.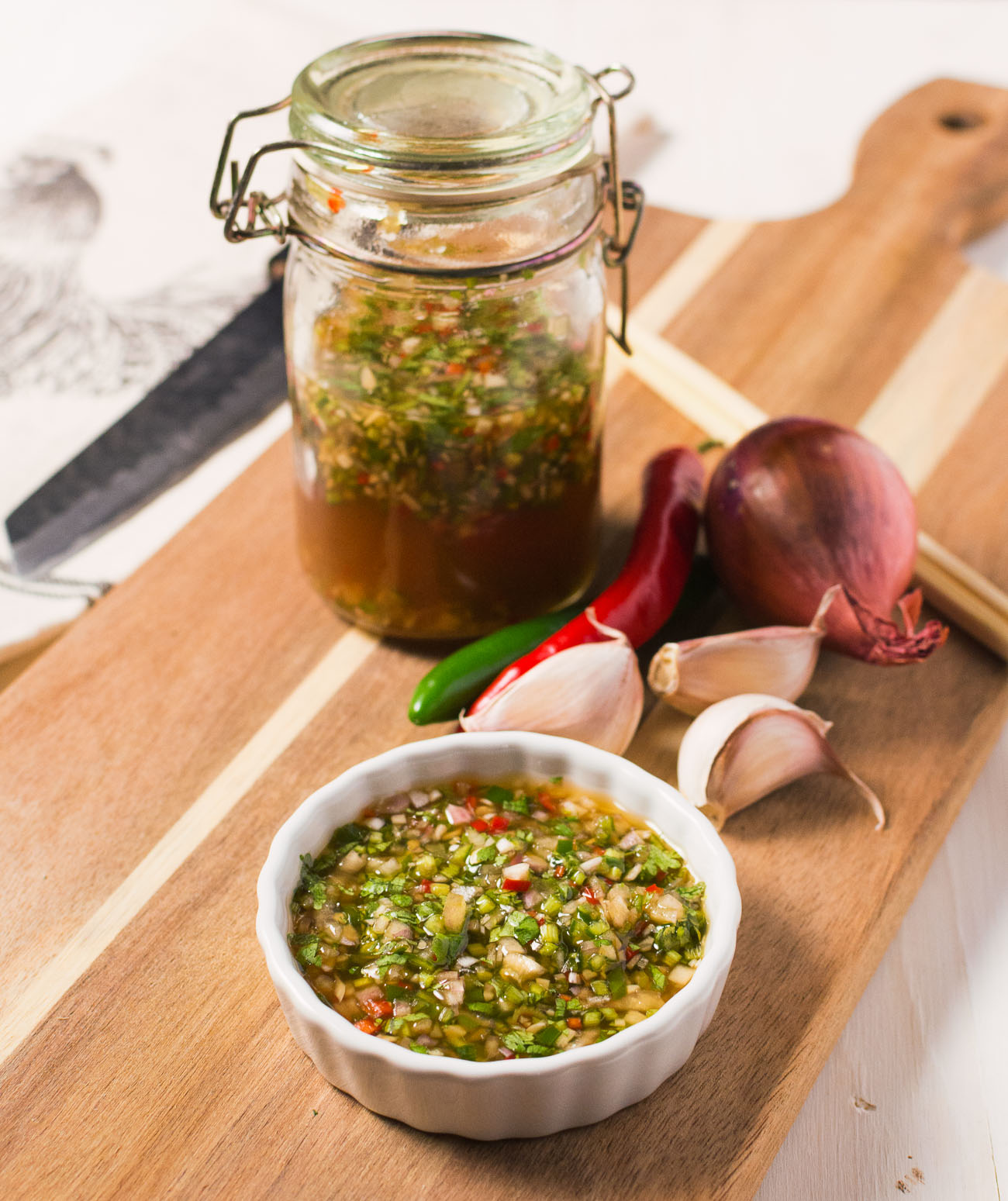 Nam Jim makes a great dressing
This sauce works as a dressing as well. Add a bit of oil and drizzle it on a steak or chicken salad.
On a budda bowl. With grilled meat or chicken. Like a Thai chimichurra. Tossed with chicken wings.
Tossed with noodles. And that's before you even dip anything in it. Like I said – great with just about everything. Good enough to eat with a spoon.
Thai dipping sauce is super easy to make
This one is about as easy as it gets. You can just take everything, toss it into a food processor and pulse it.
Don't puree it though. You want little bits of everything in this sauce.
That's the easy way.
If you if you have a good knife and you like to use it, you can mince everything up. It's good practice with your knife with a prize at the end. Knife skills matter.
You will find new ways to use this sauce
This one is a little bit of tasty kitchen magic. The flavours are assertive. But in a way that compliments just about everything it touches.
In noodles. On noodles. Next to noodles. With grilled chicken. Or pork. Poached shrimp. On a fried egg. With a roast chicken.
Thai dipping sauce is one of those things you can't really explain. But that's why it's kitchen magic.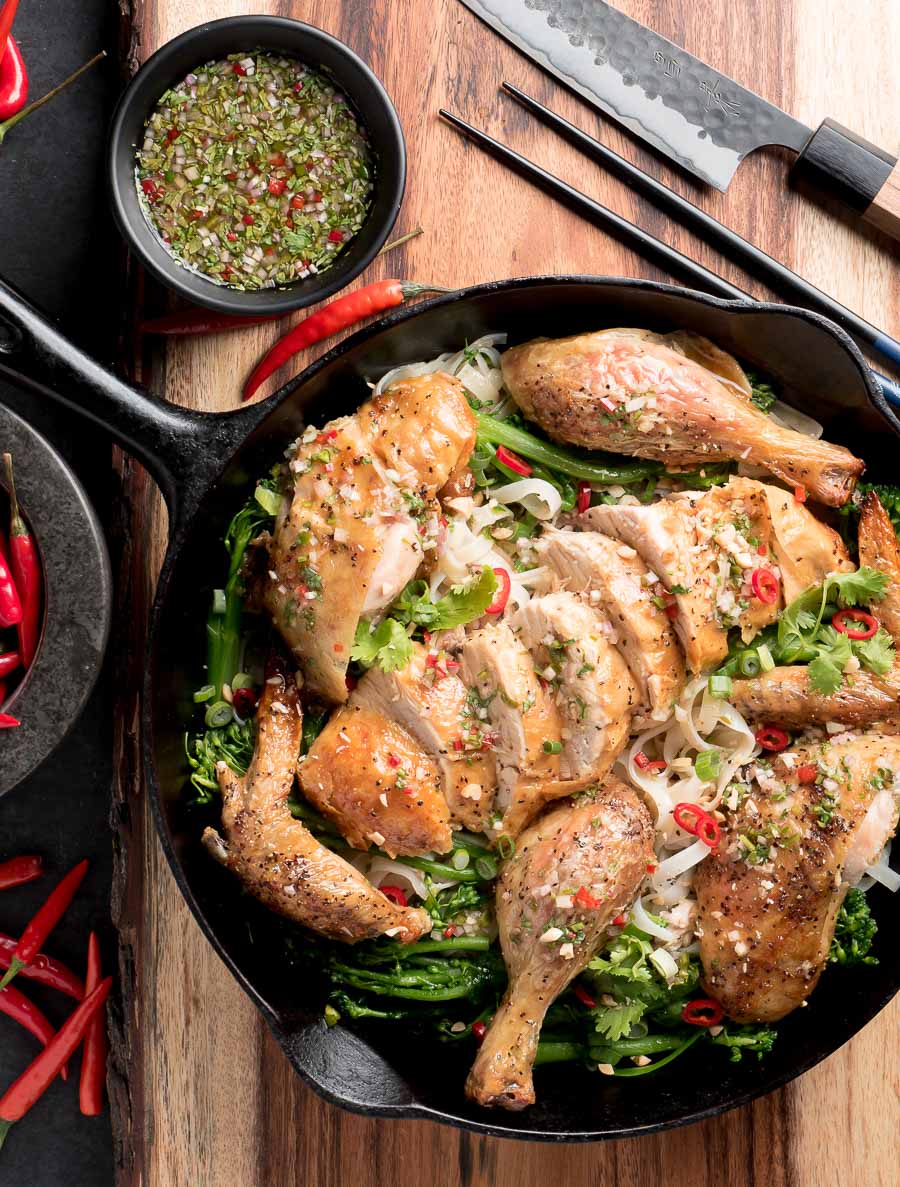 thai dipping sauce
This Thai dipping sauce has all the core South Asian flavours rolled into one. It works as a salad dressing or accompaniment to grilled meat and poultry.
Ingredients
1/4

cup

fish sauce

1/4

cup

lime juice

– fresh squeezed

2

green chilies

seeded and minced

1

red chili

seeded and minced

1/4

cup

shallots

minced

1

large clove garlic

– as finely chopped as you can

1/4

cup

minced cilantro

1/4

cup

brown sugar

1/4

cup

water
Instructions
Combine ingredients. Stir.

Let sit for an hour or more to let the flavours combine.
Notes
I like finger hot chilies for this recipe. Not crazy spicy but lots of flavour. If you can't get them then you could substitute a jalapeño.
Nutrition
Serving:
2
cups
|
Calories:
146
kcal
|
Carbohydrates:
36
g
|
Protein:
2
g
|
Sodium:
2439
mg
|
Potassium:
227
mg
|
Fiber:
1
g
|
Sugar:
31
g
|
Vitamin A:
350
IU
|
Vitamin C:
47.9
mg
|
Calcium:
35
mg
|
Iron:
0.6
mg