It's a funny thing. Chinese chicken curry is a bit addictive. There's not much to it. A simple dish really. But somehow it just works.
It tastes like China went to India on the way to the west. Except there's nothing really Chinese here. Nothing particularly Indian either.
I think it actually went from India to the UK to Hong Kong. Back to the UK and then off to the rest of the world. That's my theory anyway. Probably wrong.
It got a little further from the motherland every step of the way. Until it became unrecognizable as Indian. Or Chinese. Not much of an endorsement. I know.
But for some reason I like it. A lot of people like it. There's no explaining affairs of the mouth. Sometimes you just have to give it what it wants.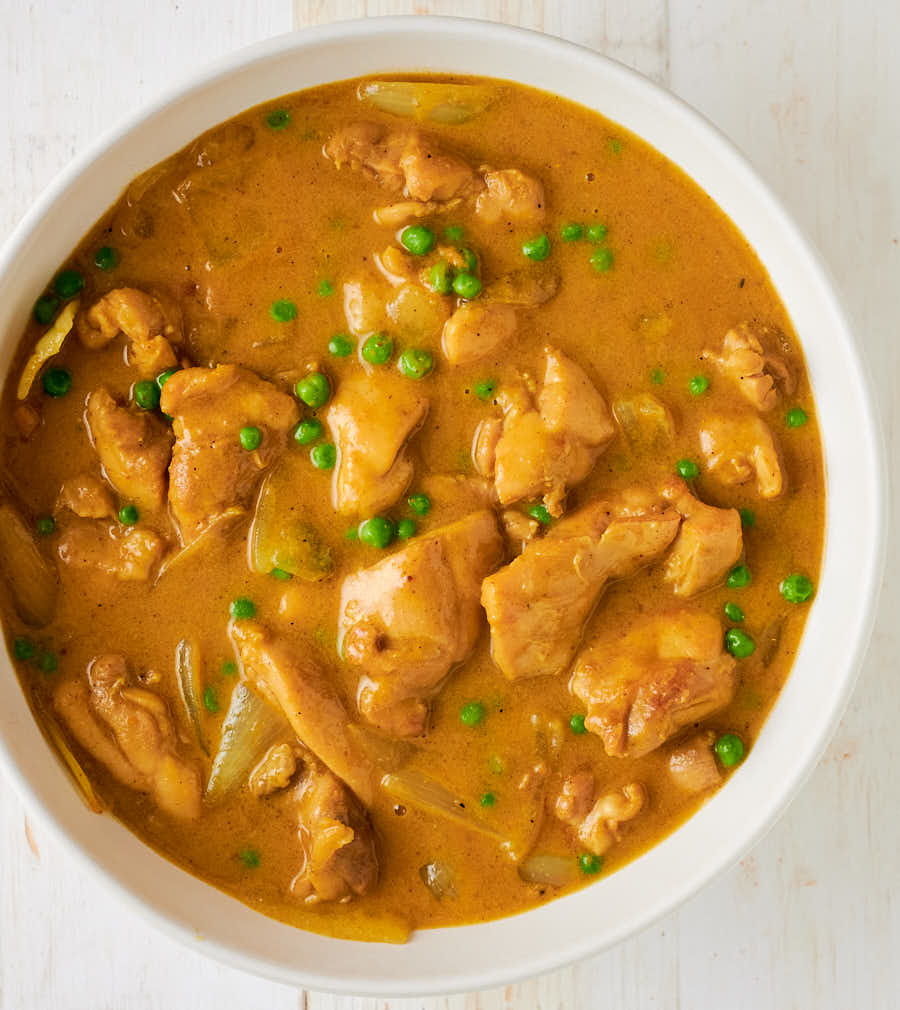 This is the easiest curry you will ever make
I cook a lot of Indian. Look around. There are more than a hundred Indian recipes on glebekitchen. There's a section on global curries too. I love curry.
Chinese chicken curry is the easiest curry I make. By a long shot. There's almost nothing to it.
Which makes it the perfect any night curry. You can make this in less time than it takes to cook rice. And you need rice with Chinese chicken curry. So that works out nicely.
Stir fry some chicken. Add a few aromatics. Toss in a little spice. Some stock. A bit of coconut milk. Some potato starch. Done. For real.
Ready in around 10 minutes. It's absolutely crazy how fast this comes together.
No curry pastes required
There's a whole industry built around Chinese curry paste. Videos on how to make it. It's not huge like the Japanese cubes. But it's a thing.
Which perplexes me a bit. Because there really isn't a lot to it. Stop and look at the ingredient list on a commercial paste.
Flour. Oil. Curry powder. MSG. That's it. The whole list.
Those with sharply honed culinary skills will immediately see that's roux with curry powder and a bit of yum yum.
Which begs the question. Why would you give up valuable storage space for that? Especially if it has to go in the fridge.
I don't know about you but I have zero room to spare in my fridge. There's no way I'm trading my gochujang tub or my miso collection for something I can make in minutes.
Glebekitchen is about cooking from scratch. You aren't here to read about following instructions on a package. At least I hope you aren't.
If you do make paste go crazy
There's definitely something to be said about making your own paste. It gives you control. Lets you take your Chinese chicken curry to the next level.
What you shouldn't bother with is what you get in a commercial paste. Curry powder. Flour. Fat. That's just not worth the effort.
If you want to go the distance then go the distance. Develop your own custom spice profile. Play with funkier ingredients. Lemongrass. Fruit. Citrus. Aromatics. Skies the limit really.
Custom paste is Chinese chicken curry addict territory. If that's you then this probably isn't the recipe for you.
This one is for the rest of us. For those of us that want a quick and easy fix. On a Tuesday night.
You don't actually need a wok for Chinese chicken curry
I'm a big fan of a good wok. A well-seasoned carbon steel wok is the perfect weapon for a lot of Asian dishes. Great for tossing ingredients around.
So you'd think I'd suggest a wok for this dish. Problem is it doesn't really bring a lot of value to this dish.
And you really shouldn't put your wok in the dishwasher. So it's an unwieldy pan you need to hand wash. And oil before you put it away.
If you feel you need the cred in front of guests go for it. It's never a bad idea to work on your wok skills.
But bottom line. No wok required. If you use yours it's really just for fun. A big skillet works. A pot does too.
You could probably make Chinese chicken curry in a bucket. This one is as easy as it gets.
To be clear. I haven't made this in a bucket. And it is actually pretty hard to bloom spices in a bucket. Masterchef territory. Don't try this at home.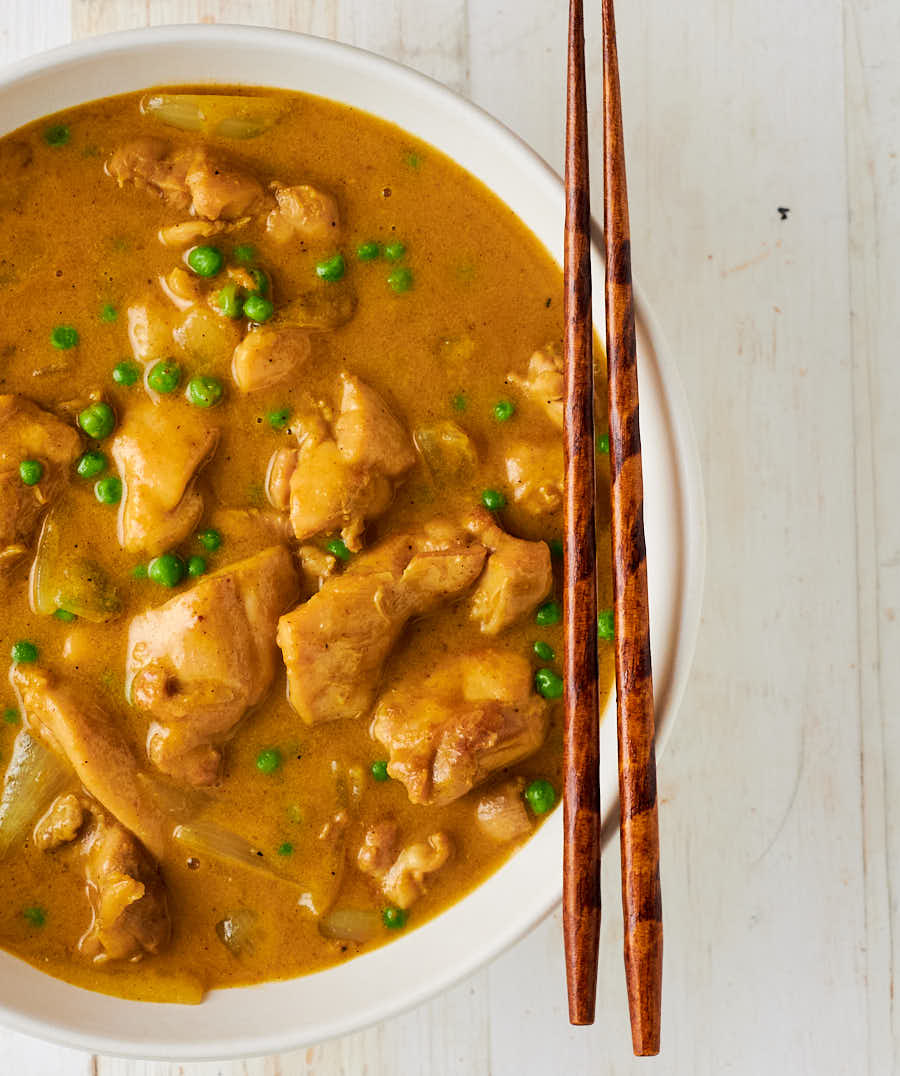 The curry powder is the thing
All curry powders are not created equal. That should be obvious. There are about 100 different masalas or spice blends at my local Indian grocer.
So just picking any run of the mill curry powder for Chinese chicken curry is not a recipe for success. The blend matters. The flavour profile matters.
I've tried this one with a few different commercially available blends. The results have varied.
I suppose I should just come up with one for Chinese chicken curry. That's on the to do list. But I have a lot on the to do list. It will be a while.
Regular commercial curry powder is OK. It's a bit flat. For this dish anyway. Missing some key nuances.
Madras curry powder is no better. A bit spicier maybe. But not right on it's own.
I didn't try garam masala. Because garam masala is a finishing spice. It's not meant to be the backbone to any dish. Question anyone who tells you otherwise.
Malaysian meat curry powder brings a lot to the table. It has star anise, black pepper and fennel. Those are important flavours for this dish.
But it has a lot of chili in it as well. I like that. If you want a Chinese chicken curry with a kick Malaysian curry powder works.
Turns out there is no silver bullet. At least I can't find one. Nothing works straight off the shelf. But the fix is super easy.
A little five spice mixed in with regular curry powder. That's the right blend.
The regular curry powder brings the base flavours. The five spice adds the nuances. Pushes it into the zone. This is a tale of two spice mixes.
I make a copycat version of Bolsts if you want to try mixing up your own curry powder. Much cheaper. But you don't get the fancy tin.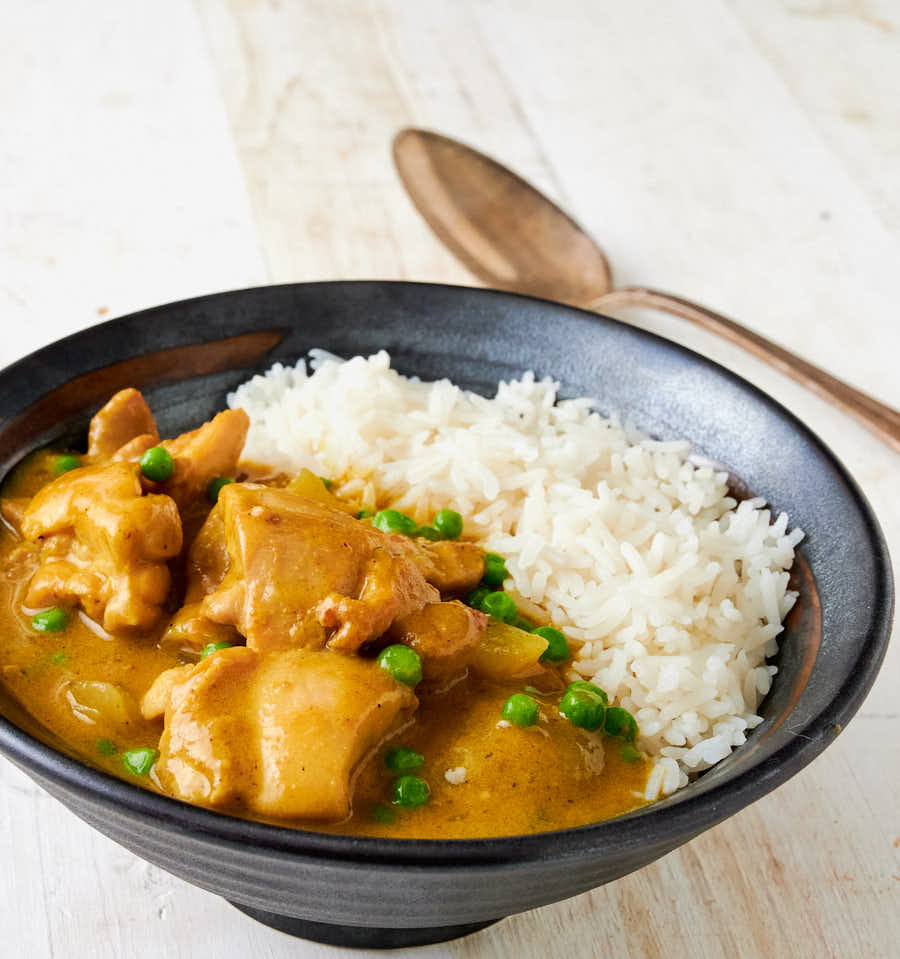 Pick your vegetables
You can put whatever vegetables you like into Chinese chicken curry. Within reason I guess. Avacado is not going to work. Beets probably won't rock anyone's world.
Onions are a must I think. That's the only one I'm going to say has to be there. The one mandatory ingredient.
Peas are a classic addition. I like peas. And they are credible. Keema matar amazing. That's my defence.
Potatoes are unconventional. But if you want to bulk the dish out a bit potatoes work. I like them in this dish. Pre-cook them and toss them in at the end.
I also like peppers. Green peppers especially. The char you get when stir frying really does it for me. If you've ever made an Indian jalfrezi you know what I mean.
I don't always add peppers. I have to be in a bit of a mood. But when I am they hit the spot. When I add peppers I do pull out the wok.
I don't like celery or carrot in this dish. So I leave them out. But they are classic ingredients.
It's up to you. Do what you want. What makes you happy is what matters. Peas and onions make me happy. But you do you. It's your mouth.
Potato starch is the new cornstarch
I'm going out on a limb. Poking at the status quo. You may think I'm crazy. That's OK. I think I'm crazy. But I can never leave well enough alone.
Cornstarch is (until now) the undisputed king of thickening agents in Chinese cooking.
It's held the crown for 5000 years or so. Since the beginning of recorded culinary history anyway. It has cred. Serious cred. I made that up. But it is the champion.
And I'm taking a shot at it. Because I think there's a better way. For Chinese chicken curry anyway.
Cornstarch is a little easier to work with. You can add it too soon and recover. It's not delicate. But it does have some drawbacks.
Undercook it and you can taste it. It gets gloppy when it cools. Looks OK in the pan. But not always so great on the plate. You have to have a delicate touch.
These problems go away with potato starch. It thickens at a lower temperature. So it's almost impossible to under-cook. It cools more gracefully.
And it looks better. In the pan. And on the plate. That's the one that does it for me. The sauces are a little silkier. A little less cloudy.
That's why I like potato starch better. That's why I think you will like potato starch better.
The downside is it doesn't stand up to overcooking as well as cornstarch. So you have to add it right at the end.
And it doesn't reheat as well as cornstarch. That's its Achilles heel. Cornstarch is still the king of leftovers.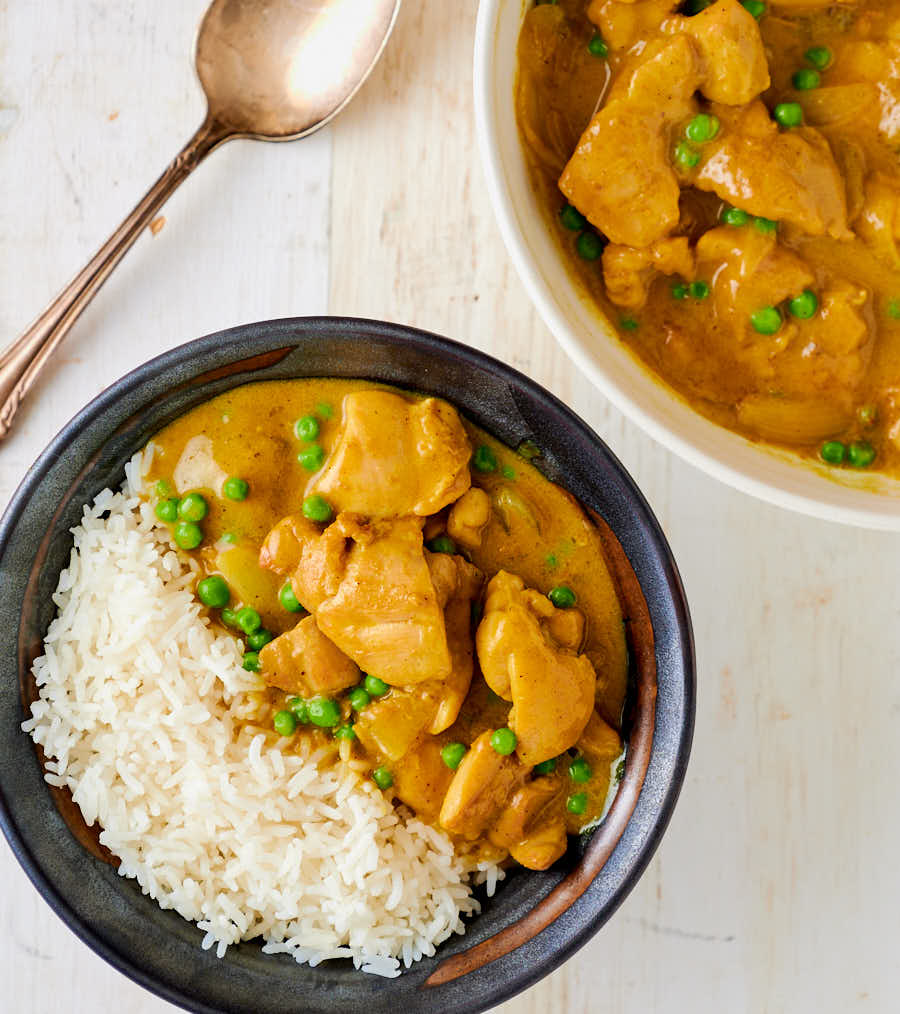 MSG is not optional in Chinese chicken curry
There. I said it. And I mean it. MSG is why Chinese chicken curry works. It's an essential ingredient. In my opinion anyway.
The thing that keeps you putting it in your mouth. That's the MSG.
I'd say it adds that "je ne sais quoi" to the dish. Except I know exactly what it adds. Umami. Pure umami. And that is what makes this dish what it is.
I don't use it in most recipes on glebekitchen. So when I do suggest MSG it's because it matters. And even then I try to make it optional if I can.
But for this dish I don't think you can leave it out. Not and get anything worth eating.
If you aren't going to add MSG to this dish you probably just shouldn't make it. You won't be happy. It's a subtle thing. But it's surprisingly important.
You may not find something called MSG in your local grocery store or Asian grocer. It hides in plain sight though.
In Asian markets look for Ajinomoto. That's a brand name for pure MSG. In Europe Knorr Aromat stands in. It's salt and MSG and a few other bits and bobs.
If neither of those work look for Chinese bouillon powder. Read the ingredients. It's almost always full of MSG.
Key takeaway. You aren't going to be impressed with this one if you don't use MSG.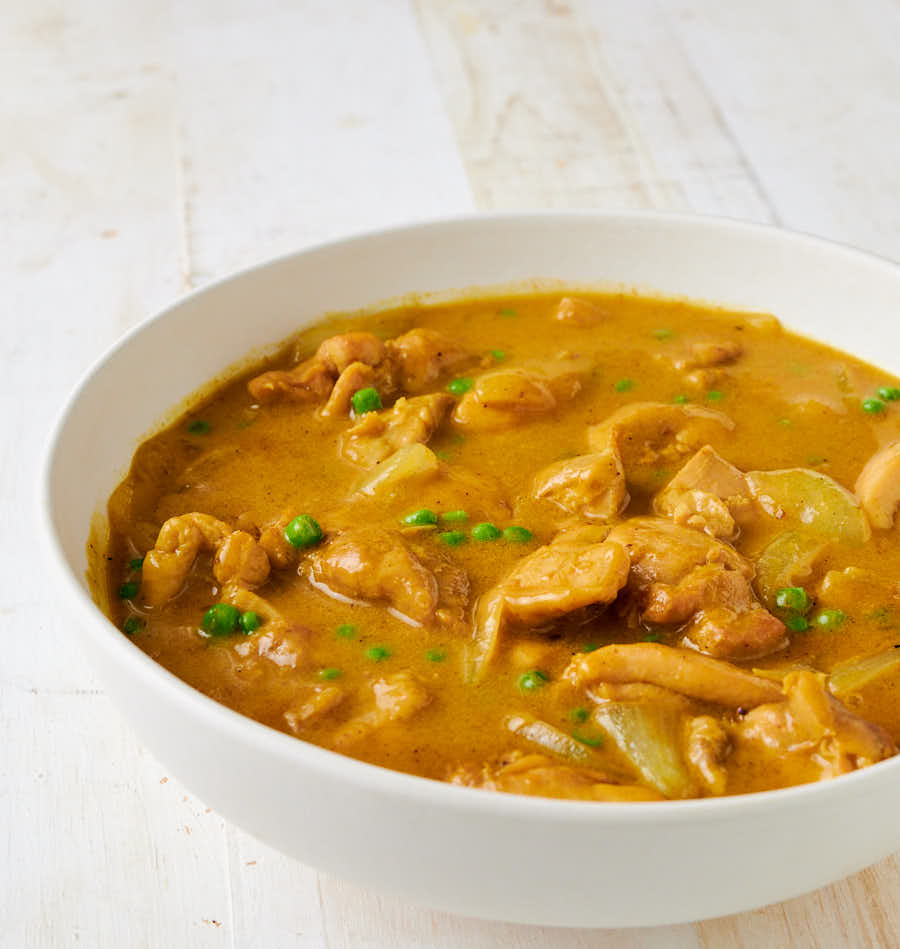 The magic that is Chinese chicken curry
This one is a bit of a puzzle. I'm actually not sure why it works. I only know that it does. It's not particularly lush. The flavours are not complex. There's no real depth.
It's kind of trashy really. Low brow. The peanut butter and jelly sandwich of curries. There's absolutely no reason I should like this. And yet I do.
I almost didn't do this one. I'm still not sure why I did. Yet somehow while I write this I'm thinking I want to do it as a noodle dish.
Plus it takes about 10 minutes once you're done a very little bit of prep. A curry in 10 minutes. That has to count for something.
Chinese chicken curry. It makes no sense. But I keep coming back to it. You might too. This one is just a conundrum.
Chinese chicken curry
Chinese chicken curry is what happens when Indian goes traveling.
Ingredients
The marinated chicken
12

oz

chicken thighs

boneless, skinless and cut into small bite size pieces

1

tsp

shaoxing wine

1

tsp

soy sauce

all purpose or light

1

tsp

potato starch

cornstarch is OK too
Chinese chicken curry
3

tbsp

neutral oil

vegetable, canola etc

the marinated chicken

1

cup

diced onion

fairly large dice

1/2

cup

green pepper, carrot, celery etc

optional and see note

1

tbsp

garlic ginger paste

– or 2 cloves of garlic and 1/2 inch knob of ginger extremely finely diced

1

tbsp

curry powder

1/2

tsp

five spice powder

1

cup

low sodium chicken stock

– stock is not bouillon cubes

1/4

cup

coconut milk

1

tbsp

shaoxing wine

1

tsp

sesame oil

1/2

tsp

monosodium glutamate

– just do it. It matters…

1/4

cup

peas

– see note

1 1/2

tsp

potato starch

mixed in a couple tablespoons of water. Corn starch is OK too.

1/4

tsp

kosher salt

– you may need a little more at the end. Depends how salty your shaoxing wine is and if you omit the MSG.
Instructions
Do your prep
Combine the chicken with the marination ingredients (1 tsp shaoxing, 1 tsp light or all purpose soy and 1 tsp of potato starch or cornstarch).

Stir vigorously to combine. Set aside for at least 10 minutes and up to 30 minutes.

Chop your onions. Prep your garlic and ginger if not using paste. Chop whatever vegetables you are using. Measure out your spices, stock and coconut milk. This goes really fast. Be ready.
Make the Chinese chicken curry
Heat your wok (or big skillet) over medium high heat. Don't use a bucket. That was a joke.

Add the oil. Swirl the oil up the sides of the wok. Turn the heat up to high. Yes. You want real heat here.

Add the chicken and cook, stirring constantly, until the chicken is just opaque.

Toss in the onions and sturdy vegetables if using, the garlic and ginger (or paste), the curry powder and the Chinese five spice.

Stir fry for about 90 seconds. Add the stock, coconut milk, salt and monosodium glutamate. Stir to combine thoroughly.

Add 1 tablespoon of shaoxing wine and 1 teaspoon of sesame oil.

Add the peas and bring to a boil. Turn the heat down to a simmer. Cook until the chicken is done. This should take 3 or 4 minutes (depends on the size of your bites). If you are concerned you are going for an internal temperature of 170F.

Give the potato starch slurry a last minute stir (it settles) and add it to the curry. Bring to a simmer to thicken.

Taste for salt. If you are using shaoxing from a grocery store it has salt and you should be good but if not add a little at a time. You can always add salt. You can never take it away.

Serve with plain white rice. I like jasmine. I'm thinking I'd like this as a noodle dish too. Something to think about.
Notes
When you add your vegetables matters. Classic aromatics go in first. Onions, carrots, celery and peppers. They all go in at once. 
Delicate vegetables like peas go in after the stock and coconut milk. Frozen peas can go in just thawed. Fresh shelled peas should be blanched beforehand.
Nutrition
Calories:
488
kcal
|
Carbohydrates:
17
g
|
Protein:
26
g
|
Fat:
35
g
|
Saturated Fat:
9
g
|
Polyunsaturated Fat:
8
g
|
Monounsaturated Fat:
16
g
|
Trans Fat:
0.1
g
|
Cholesterol:
97
mg
|
Sodium:
598
mg
|
Potassium:
669
mg
|
Fiber:
4
g
|
Sugar:
5
g
|
Vitamin A:
197
IU
|
Vitamin C:
14
mg
|
Calcium:
66
mg
|
Iron:
4
mg