Simple dal. Really simple dal. Really tasty dal. Fresh. Bright. Satisfying. This one has everything going for it.
Dead easy. Delicious. Cheap. That's an amazing combo. Doesn't happen often. So when I find it I stick with it.
Get to know this one. Seriously. It's a house favourite around here.
Simple dal is about simple ingredients
There really isn't a lot to this recipe. Which is exactly why it works. A few great ingredients can be better than a lot of mediocre ingredients.
Each ingredient contributes. No ingredient gets lost in the mix. Sometimes less is more.
Not too spicy. Not in your face. It's like Indian mild. Harmonious. That's not a word I use often when describing Indian flavours. But in this case it fits.
Tomatoes. Good tomatoes please. A little spice. Some green chili. Onion. Garlic. Salt. And a handful of cilantro. That's simple dal. Diabolically simple dal.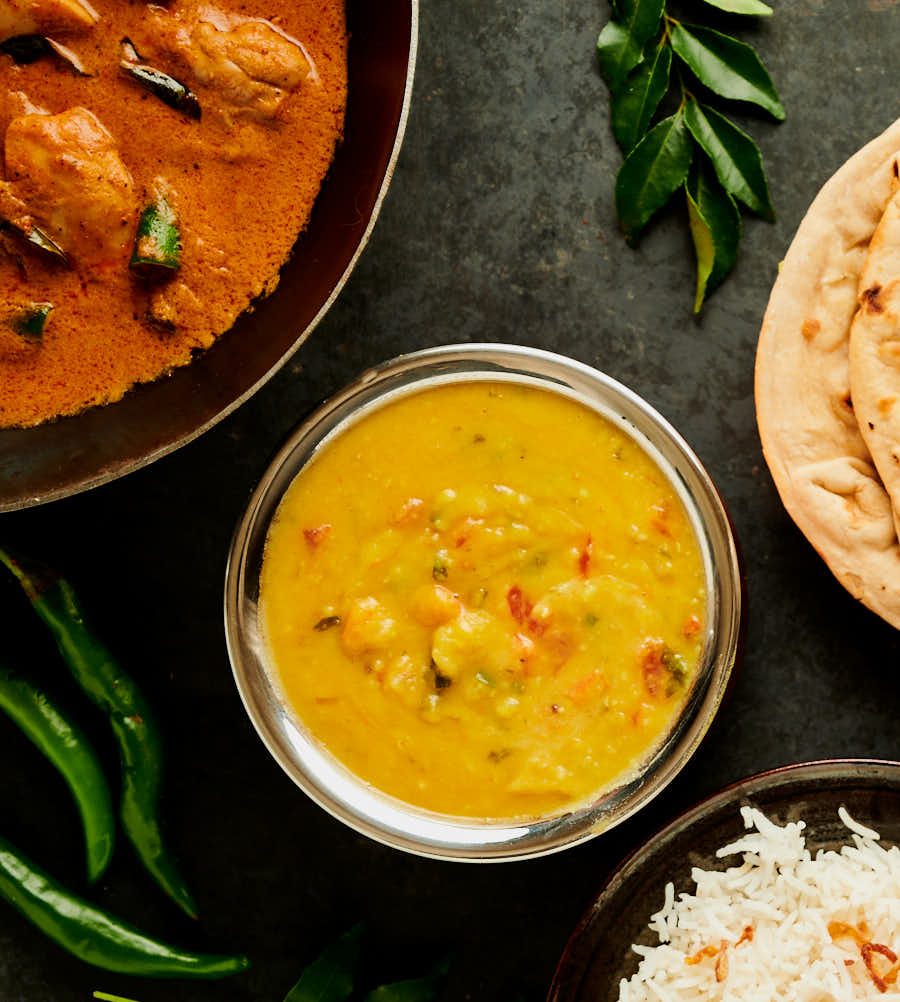 Stretch your food buck
Lentils are cheap. Lentils are good for you. And lentils can be delicious. You may not realize that yet. But it's true.
I am not vegetarian. I don't have vegetarian tendencies. I'm not anti-plant though. I'm just pro-omnivore. I love vegetarian food. Right next to non-vegetarian food.
I'm not trying to convert anyone. I don't have an agenda. I'm just saying that on any given Thursday this simple dal and a chapati is enough to make me happy.
And on a Saturday I like this one next to a jalfrezi. Or a madras. Or both. With butter chicken. Or lamb dhansak. This one is the little black dress of lentils.
I already have way too many dal recipes on glebekitchen. And I'm putting up another one.
Not because it's a great way to stretch your budget. Or because it's heathy. Or good for the planet.
I'm putting it up because it's delicious. And because my wife said "I can't believe you've never posted this one."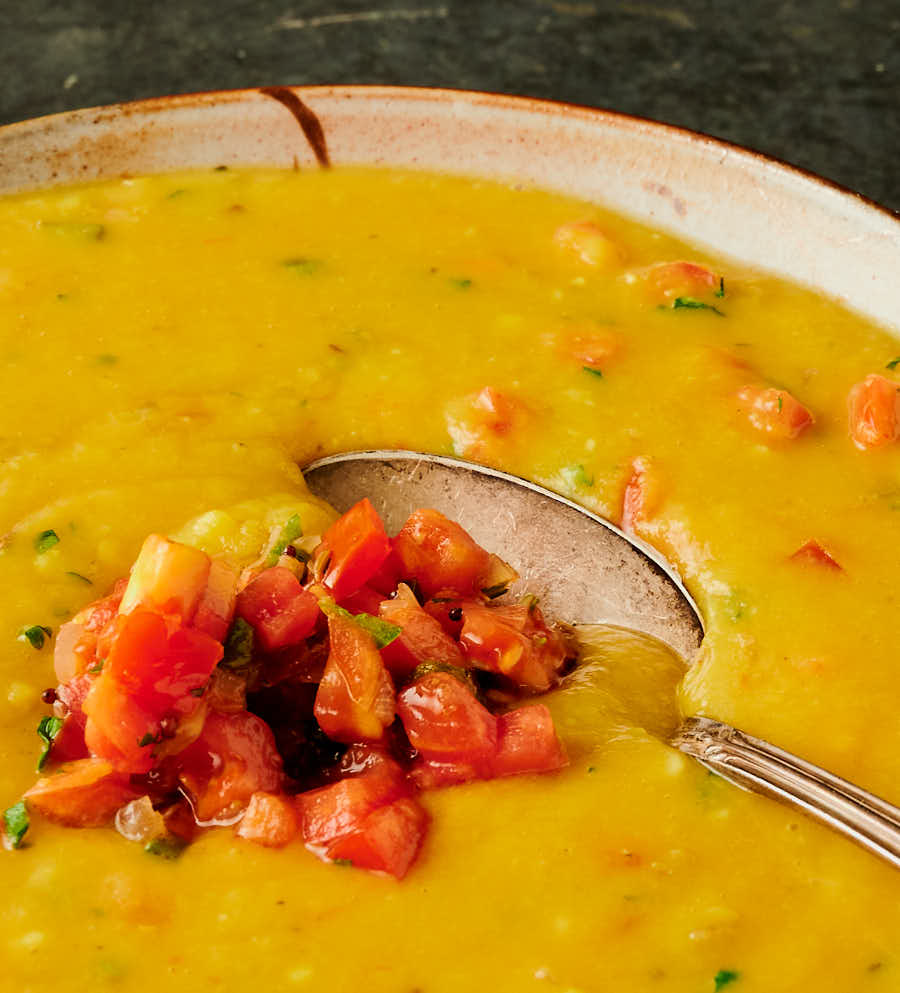 Indian or Indian-ish?
I don't know that this is actually a thing in India. Nobody has ever served it to me. It's a little different.
Indian cooking is about contrasts. Butting things up against each other. It's like a jazz band.
Everything is moving in slightly different directions. But somehow it all hangs together.
This simple dal isn't like that. It doesn't just hang together. It is together. All the flavours moving in the same direction. Like a classical string quartet. Harmonious.
Which puts it somewhere between the Indian you expect and the Indian you should get to know. That's what I call Indian-ish.
But it isn't really that either. Simple dal is its own thing I guess.
Garlic isn't always in your face
You walk into a kitchen. Someone is cooking garlic in oil. It slams into you. An assault on the senses.
That is totally wrong for this dish. SImple dal is not about being in your face. Harmonious remember? Luckily there's more than one way to cook garlic.
Think of the mellow flavour that is roasted garlic. Mild. Creamy. Gentle. That's what this is about.
Except there's no roasting involved. You just toss in some whole garlic cloves with the dal and let it happen while the dal cooks.
A mellow garlic infusion. That is the magic here. The one little trick that makes this work. The backbone of this recipe.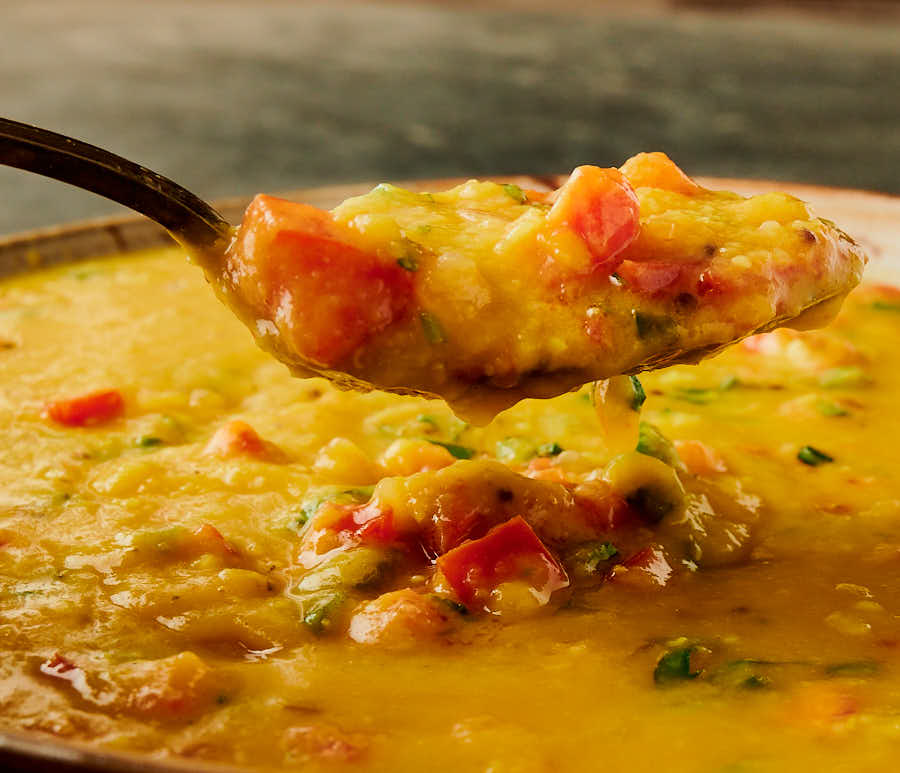 Jalapeños are the right green chili for simple dal
I know what you're thinking. "Jalapeños? How is that right? How is that even a little bit Indian?"
And I understand that. Finger hot or jwala chilies should be perfect for this dish. They are the green chili for everything Indian.
But they are not right for this dish. The wall of the chili is too thin. They bite a little too hard. The flavour profile isn't quite right.
Jalapeños are not a very Indian choice. But they bring a brightness. And the thicker wall delivers that flavour perfectly.
It might seem like a subtle point. But it makes a big difference. Trust me on this one. Finger hots are a big step in the wrong direction.
The tomatoes are the thing
This dish leans heavily on fresh tomatoes. Good tomatoes make for really good simple dal. Great tomatoes and you have a mind-blower.
Average tomatoes and you will have a solid dish. Not quite magical. But pretty darn good.
Lousy dead of winter tomatoes? I think you can figure that out. Just don't bother. You won't understand this dish at all.
I don't make simple dal after November. Or before May. I pull this one out when the tomatoes let me. Sad. But true.
Simple dal always leaves me wanting more
The English have an expression. They say some things are "more-ish". Something that is "more-ish" is something that makes you eat more of it.
I've never actually used that expression in a sentence. Never said it out loud. Until right now. Simple dal is absolutely "more-ish".
It's a bit of an odd one. The recipe might not jump out at you. Wouldn't jump out at me either. Except I know. And now you do too.
I really shouldn't post this one. Because I'm guessing it will become your favourite. And all my other dal recipes will be lonely.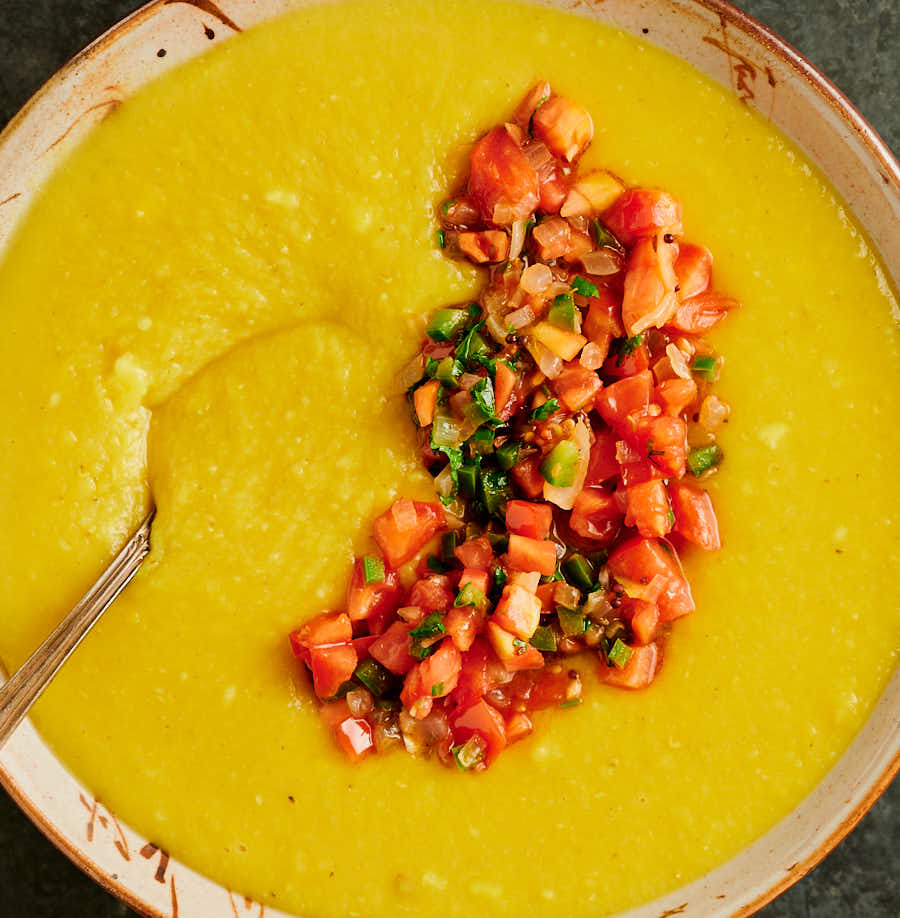 Really simple dal
An easy dish that just bursting with summer flavour
Ingredients
The dal
1

cup

masoor dal

– those little red lentils you see everywhere

3 1/2

cups

water

6

cloves

garlic

1/2

tsp

turmeric
The final flavour burst (the tarka or tempering)
1

cup

onions

finely diced

3

tbsp

neutral oil

1/2

tsp

cumin seed

1/2

tsp

mustard seed

1

jalepeno

seeded and finely diced

1

large

tomato

you want summer tomatoes for this

3

tbsp

cilantro

minced

1

tsp

kosher salt

– you want to use about half this much table salt
Instructions
Make the dal
Combine the lentils, water, whole garlic cloves and turmeric.

Bring to a simmer, reduce heat and cover. The order matters. Bringing the pot to a boil when covered gets incredibly messy. Trust me. I've done it. More than once.

Cook until the lentils have disintegrated. Stir them along the way to prevent them from sticking. You want lentil mush. Like a sauce almost. If you can see a whole lentil you need to cook them some more. This should take about 45 minutes.

Remove from heat and set aside.
Make the final flavour burst (the tarka or tempering)
Do this while your lentils cook if you're pressed for time.

Heat a not too big skillet over medium low heat. Add the oil. When the oil starts to shimmer add the onions. Sweat the onions, stirring occasionally, until soft and translucent. This takes around 5 minutes or so.

Toss in the diced jalapeño and cook for another minute.

Add the cumin seed and mustard seed. This is the tricky part. You want the oil to form little bubbles around the seeds. See them all move just a little. Like a whole spice rave in the pan. Let the spices party for about 30 seconds.

Toss in the tomato and the cilantro and continue cooking until the tomato is just warmed through.

Fold the mixture into the dal. Add the salt. Taste. You are going to need more. Creep up on the salt profile that works for you.

Serve as a side dish with tandoori chicken or the curry of your choice. Or serve it as a main with an Indian flatbread. I'm in heaven with this dal and a paratha or chapati.