Singapore noodles are a delicious jumble of BBQ pork, shrimp, red peppers and rice vermicelli all wrapped up in a crazy tasty curry package. Seriously good eating.
It's easy too. Fast food. I love it when fast food is this good. Better than takeout. On a weeknight. From your kitchen. What's better than that?
This is an old recipe. One I've been tinkering with for years. I've made a few small tweaks. And I took new pictures. But it's pretty close to the original.
I upped the noodles slightly. I don't break them any more. And I replaced kashmiri chili powder with garlic chili sauce.
Singapore noodles are not from Singapore
Fun fact. Singapore noodles were invented in Hong Kong. A Cantonese dish. That's become big in Canada and the US. Australia too.
But they aren't a thing in Singapore. Except in Cantonese restaurants I guess.
I love a good back story. So I tried to figure out why they are called Singapore noodles.
Couldn't come up with much. A bit of a marketing play by the inventor. To make them sound exotic. Cosmopolitan.
A nod to the Indian influence on Singaporean cuisine maybe. That's credible. I made that up. No proof of that anywhere.
If you know a better story leave a comment. I'd love to hear.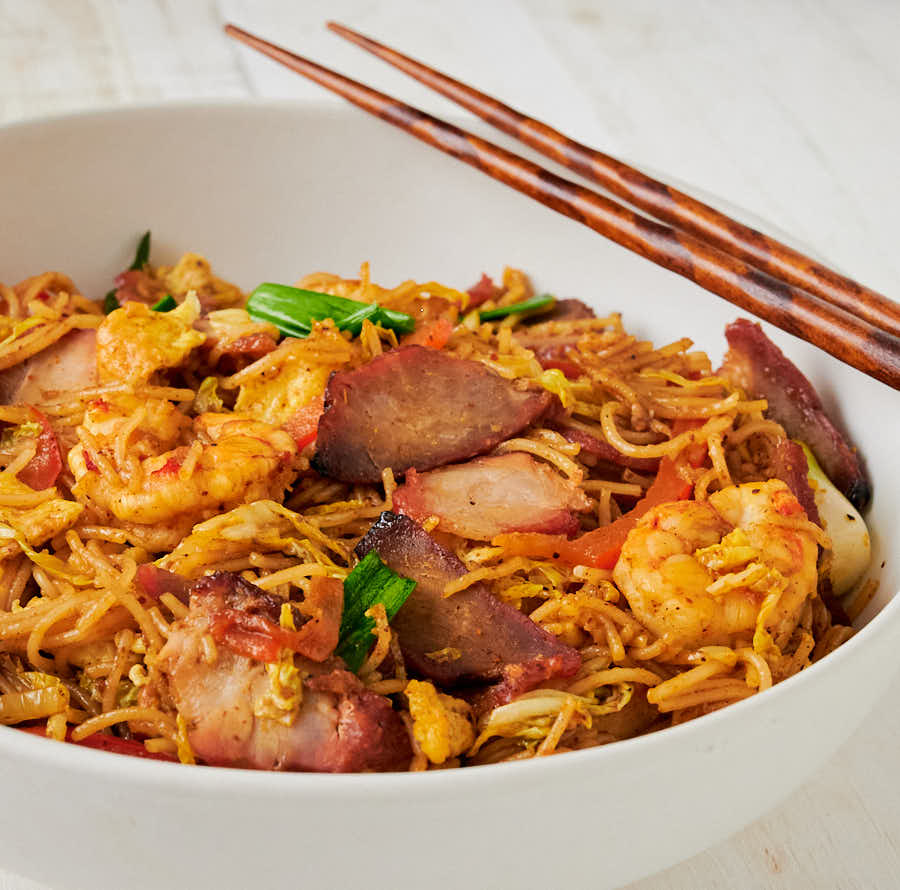 Better than takeout
I have to come clean here. I came up with this as a knee jerk reaction. To Singapore noodles I got from a local Chinese takeaway. A pretty famous one in fact.
They sucked. Badly. I don't know how to sugar coat it. Terrible. A whole lot of noodles. Day-glo yellow from turmeric. Not much other curry flavour.
A couple microscopic shrimp. A couple shards of BBQ pork. Bland. So boring it was work just to eat.
Almost turned me off Singapore noodles. Yes. Really. It was really that bad.
But it didn't. Because I know Singapore noodles can be a great dish. Think about it. Indian flavours and Asian noodles. What's not to love?
Made me wonder how anyone would screw something up so badly. So I started tinkering. And this is what I came up with.
Big tastes. Quality ingredients. And lots of them. Not stingy. Balanced.
Char siu. Real shrimp. No micro-shrimp here. Red pepper. Napa cabbage. Green onion. Noodles. All wrapped up in that slightly spicy curry flavour.
Better than takeout is a bold claim. Risky. But if your takeout is serving up anything even remotely close to what they are serving here I think I'm safe.
A little Indian technique brings the flavour
There's a trick I use whenever I add a lot of raw spices to a dish. I bloom them. It's culinary magic.
It's actually food science. Spices contain oil soluble spices. Frying spices in oil extracts those flavours. Gets them into the oil.
And that oil goes everywhere. So the flavour goes everywhere. Great taste. In every bite.
It's fundamental to Indian cooking. But I use it for Mexican. And I use it for Singapore noodles.
It's super easy. Heat up your oil. Medium low. Add the curry powder. Let it cook for about a minute. That's it.
Instant curry infused oil. No raw spice taste. It works. Every time.
That's the gee whiz to this recipe. Singapore noodles are really just curry flavoured noodles with stuff.
Just make sure you turn your hood fan up to max when you do it. Trust me on that one.
Perfectly cooked shrimp please
I'm a bit obsessive when it comes to shrimp. They have to be perfectly done. I'm just not a fan of overdone shrimp. So I have a trick. Yes. Another trick.
I poach them ahead of time. Use a timer. And shock them in ice water to stop the cooking. So I get it right. Consistently.
I'll let you in on a secret. I suck at cooking shrimp. I can't toss shrimp into a wok and stir fry them until they are cooked perfectly. That's hard enough.
But somehow magically keep them just right while I cook other things in the wok? That's really hard. Too hard for me.
So I pre-cook whenever I can. I don't like guessing. Not if I can help it anyway.
If you are a shimp stir fry grand master fill your boots. My hat's off to you. You're better at this than I am.
If you aren't then maybe think about the pre-cook thing. It's not as flashy. But it works. I'm not proud. I pre-cook.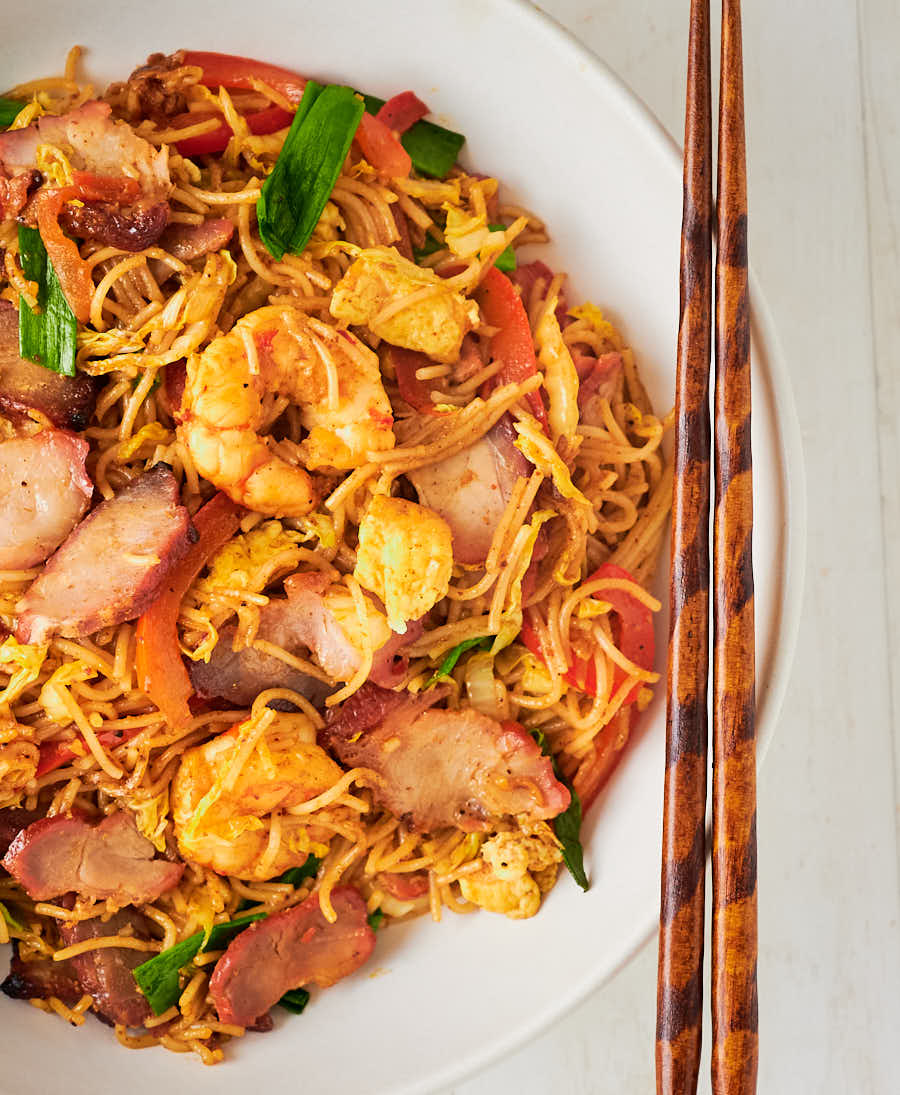 Char siu is amazing in Singapore noodles
You can make this dish with chicken. Chinese sausage. Vegetarian. But I like it best with char siu. Chinese BBQ pork. Slightly fatty roast pork makes it special.
You can make char siu. It's not hard. There are lots of good recipes out there. Just make sure you use pork shoulder. Or pork collar if you can find it.
But I said this was easy. Fast. SO grab some at your local Chinese grocery. I do that. If you have a Chinese grocery nearby try it.
It's tasty. And way easier. Makes Singapore noodles an any night dinner.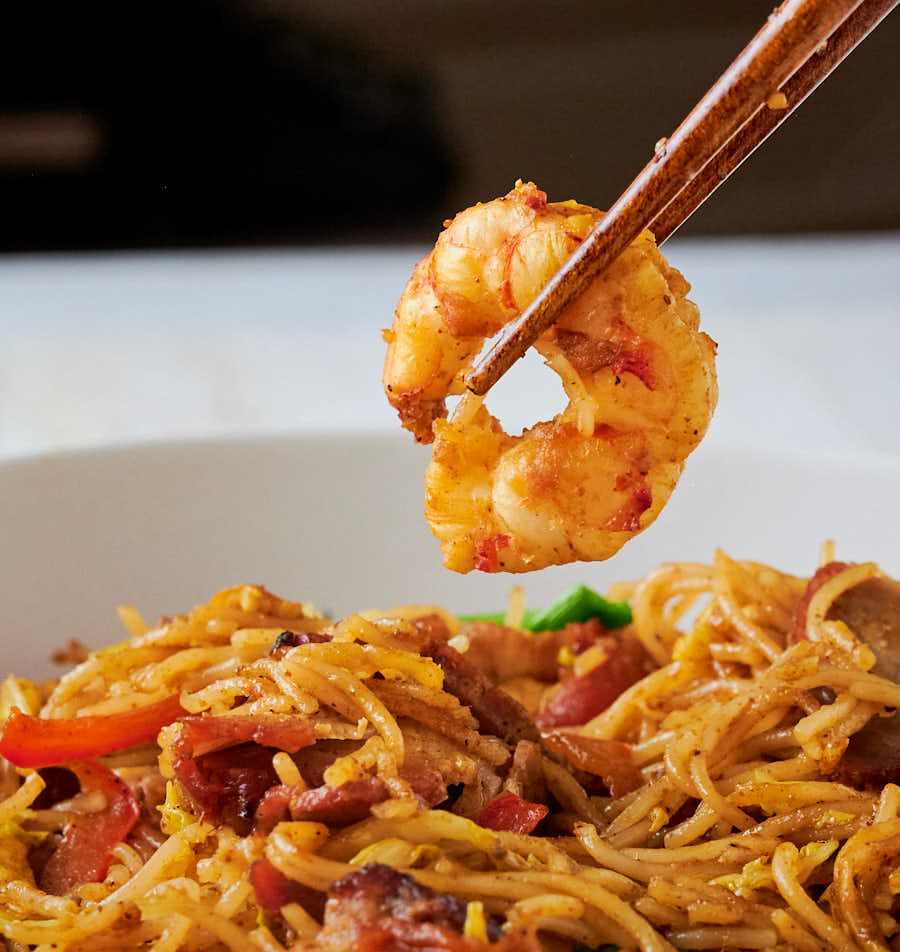 Get your noodles right
This is a noodle dish. So the noodles matter. A lot. Huge surprise there. I bet you're gobsmacked.
Rice vermicelli is the noodle for this dish. And nothing else will do. They work. They are what this dish is about.
But they are not without their challenges. Underdone and they are toothy. Not that great.
Overdone they are mushy. That's worse. Mushy noodles makes for terrible noodle dishes. Just. Not. Good.
So pay attention. Roll back a tiny bit on whatever the package tells you to do. If they say soak for 7 minutes cut that to 5. And please don't boil them.
You want them just barely on the firm side of perfect. Because they will get cooked a little more in the dish. Just barely doesn't mean crunchy. It means slightly toothy.
I can't tell you exactly what to do here. Different brands of rice vermicelli behave differently. Annoying. I know. But there's nothing I can do here.
Read the instructions on the packet. Take 15 percent out of the recommended time and you should be OK. Pay attention to the results. So you'll know exactly what to do next time.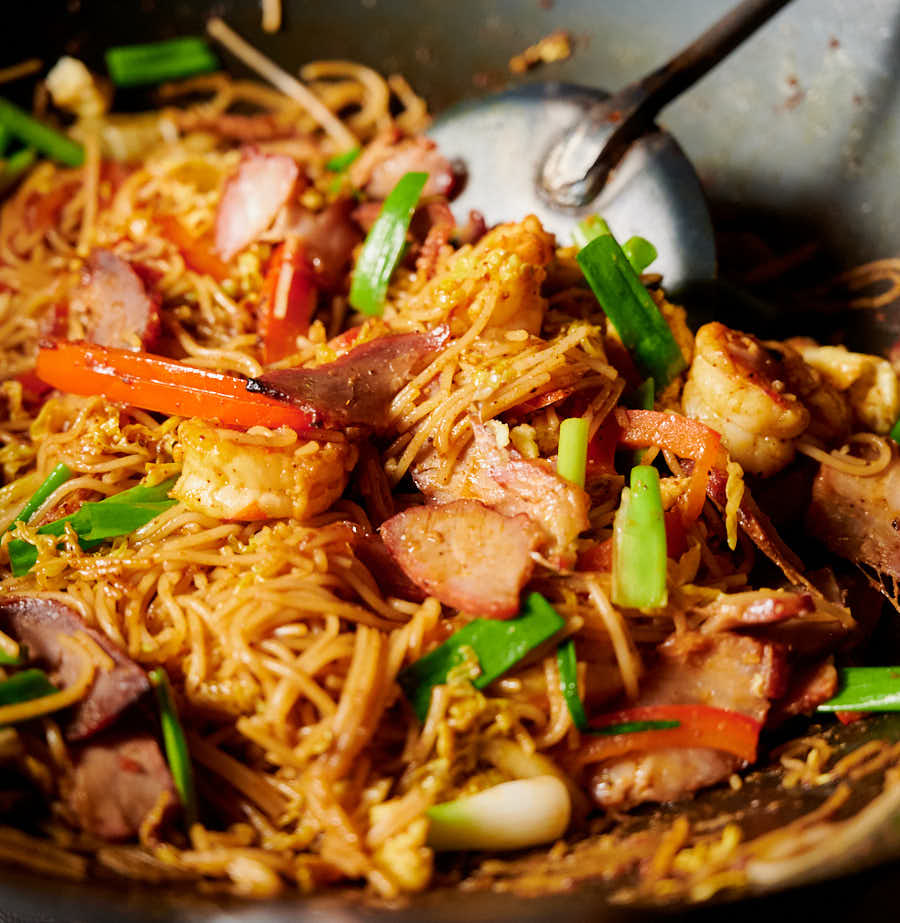 The right tool for the job
This one is a little tricky. The pan you cook this in makes a difference.
Stir-fried noodles are not without their challenges. They stick. You need to manage that. You will go insane if you don't.
Use all the oil. That's a good place to start. Less oil. More sticking.
A big skillet can work. It's not without its challenges though. The angles are wrong. So it gets messy. And it pretty much has to be non-stick.
A non-stick wok might seem like a good idea. It's the right shape. The right volume. But there are problems with that too.
Teflon breaks down at temperatures well below where you will be using your wok. That's something that has always perplexed me.
"Please buy this pan that is perfectly safe unless you use it the way you expect to". How does that make sense?
There is one pan that ticks all the boxes. Perfect for stir-frying noodles. A really well seasoned carbon steel wok.
The oil and the wok seasoning keeps sticking to a minimum. There's a ton of room to toss things with abandon. And it's just an awesome thing to own and use.
Buy yourself a good wok. Season it well. Take good care of it and it will take good care of you. Being at one with a wok is a bit of a hassle. But the rewards are worth it.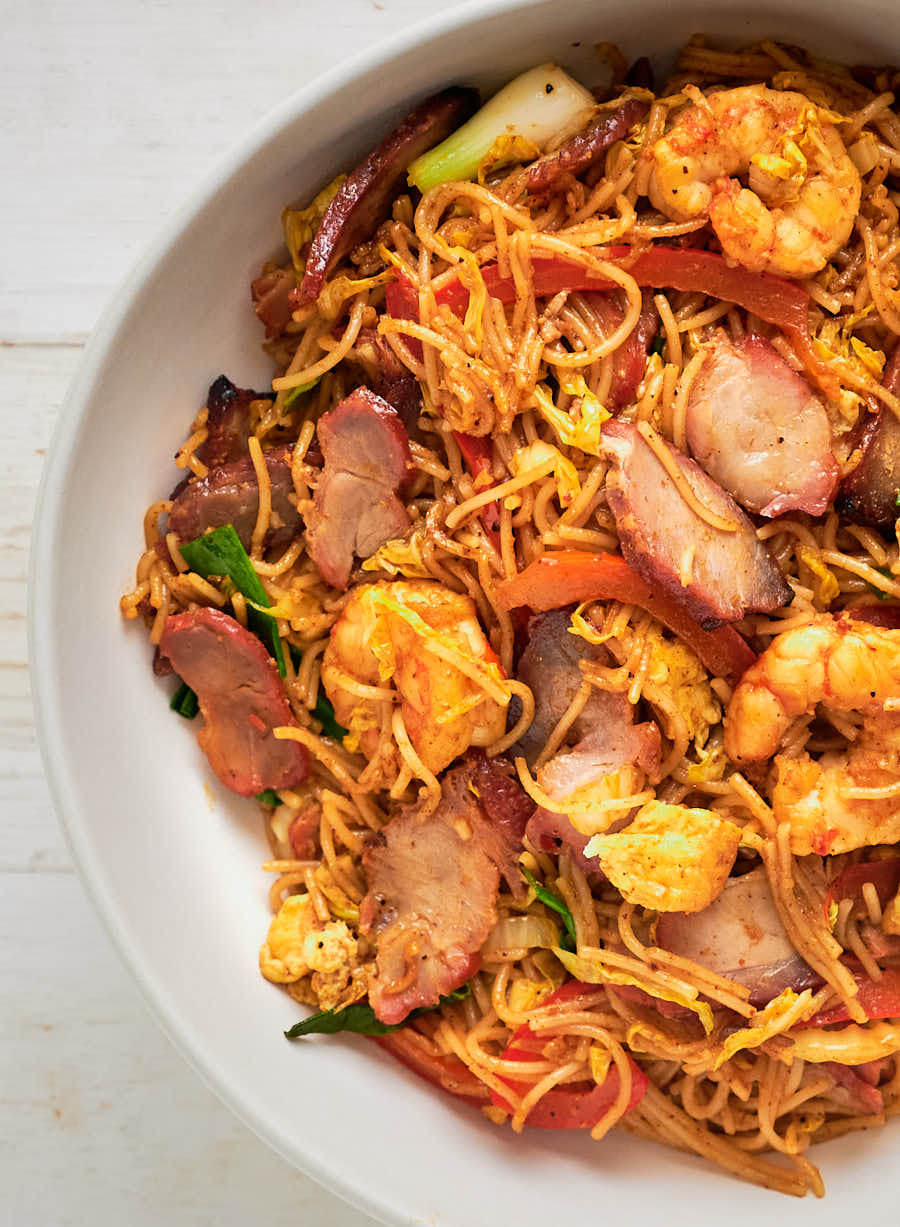 Help stamp out bad takeout Singapore noodles
Singapore noodles. Done right. Lots of stuff. Bold curry flavour. Try it. You may never order takeout again.
It took a bad experience to get me to do this. But I'm really glad I did. Because I'll never order takeout Singapore noodles again. Now I know better.
Give this one a go. I bet you'll stop ordering them if you do. Better than takeout. I think anyway.
singapore noodles
These Singapore noodles are a fast and easy weeknight meal that will make you wonder why you ever ordered takeout.
Ingredients
4

oz

rice vermicelli noodles

6

large

shrimp

31-40 count or larger

6

oz

bbq pork

char siu – thinly sliced. You can get this at Asian markets.

1

small

red pepper

julienned

1

cup

napa cabbage

thinly sliced

3

green onions

cut into 1 inch pieces

2

eggs

pinch

gochugaru

optional

3

tbsp

oil

1

tbsp

garlic ginger paste

Garlic ginger paste is a real time saver but if you don't have any 2 cloves of crushed garlic and a 1/2 inch slice of ginger chopped as finely as you can get it works too.

1

tbsp

curry powder

2

tsp

garlic chili sauce

2

tbsp

shaoxing cooking wine

a dry sherry would work

1

tbsp

light soy sauce

1/2

tsp

sesame oil
Instructions
Pre-cook the shrimp
Run frozen shrimp under cold water to thaw.

Bring 3 cups of salted water to a rolling boil. Remove from heat. Add the thawed shrimp. Let stand 6 minutes for 31-40 count. 7 minutes for 21-25 count. 8 minutes for 16-20 count. Count refers to the number of shrimp per pound. It will say on the package.

Remove the shrimp from the water. Submerge in ice water to stop cooking. Perfect shrimp every time.
Do your prep
Put the noodles in a large bowl. Pour boiling water overtop. Soak for around 2-3 minutes. Drain. The noodles are now ready. Don't boil them. That makes mush.

Beat the eggs with the gochugaru if using.

Combine the soy, shaoxing, sesame oil and garlic chili sauce in a small bowl and stir to combine.
Singapore noodles
Heat 1 tsp of oil in a non-stick skillet large enough to hold all the ingredients over medium heat.

Scramble the eggs. This won't take long. Don't overcook. If you are feeling fancy make a little omelette and slice that. Pretty but not necessary. Set the eggs aside and wipe out the skillet.

Heat the remaining oil over medium heat. Add the garlic ginger paste and fry until it stops sizzling. This should take less than a minute.

Turn the heat down to medium low. Add the curry powder. Stir to mix with the oil. Cook, stirring constantly, for about a minute. This is called blooming the spices. You wind up with a curry infused oil. It is going to make this dish special. It's a great technique for Indian and Mexican cooking as well.

Add the red pepper and Napa cabbage. Cook for about 2 minutes. You want it to soften slightly but not get mushy.  

Add the pork and cook for about a minute to warm through. Add the green onion and shrimp. Cook another 30 seconds. Add the pre-soaked rice vermicelli. Pour in the soy, garlic chili sauce, sesame oil and shoaxing wine mixture. Give everything a good stir. Cook for 1 minute.

Fold the egg into the mixture.

Toss to combine. Tongs help here. This is the hardest part of the whole recipe. Getting the stuff distributed into the noodles is maddening. Don't obsess over it. They can't do this in restaurants either. Toss it for 20-30 seconds. That is probably as good as it's going to get. Just put the bits that don't get incorporated overtop when you serve. It will look good that way.
Nutrition
Serving:
2
servings
|
Calories:
641
kcal
|
Carbohydrates:
56
g
|
Protein:
26
g
|
Fat:
32
g
|
Saturated Fat:
5
g
|
Polyunsaturated Fat:
8
g
|
Monounsaturated Fat:
18
g
|
Trans Fat:
0.1
g
|
Cholesterol:
215
mg
|
Sodium:
752
mg
|
Potassium:
673
mg
|
Fiber:
4
g
|
Sugar:
3
g
|
Vitamin A:
2022
IU
|
Vitamin C:
61
mg
|
Calcium:
112
mg
|
Iron:
4
mg