I'm going to stop you right here. If you want soggy fried rice. Overloaded with stuff. Then this one is not for you. This is chicken fried rice like they serve at restaurants.
No carrots. No peas. Just rice. And chicken. A few carefully selected seasonings. And the right technique.
Fried rice is all about technique. Don't let anyone tell you otherwise.
Simple. Amazingly addictive. The perfect side to any takeout restaurant style dinner. With the kung pao. The General Tso's. Beef and broccoli. See where I'm going?
I'm doing this one because it's the rice dish I keep coming back to. The rice dish I find myself eating standing in front of the fridge. In the middle of the night.
I love this rice. Not really sure why. But I do. So I go with it.
This is a master recipe
This isn't a great recipe to leave things out. Or to vary the technique. Or to change the ingredients.
Except the chicken. You can absolutely swap that out. Same technique. Different fried rice.
A little char siu makes this pork fried rice. Scrambled egg. Shrimp fried rice. Vegetable fried rice. Go where your heart takes you. Just keep the pieces small. And don't add too much.
What really matters is the technique. Get that down and you can go anywhere with this recipe.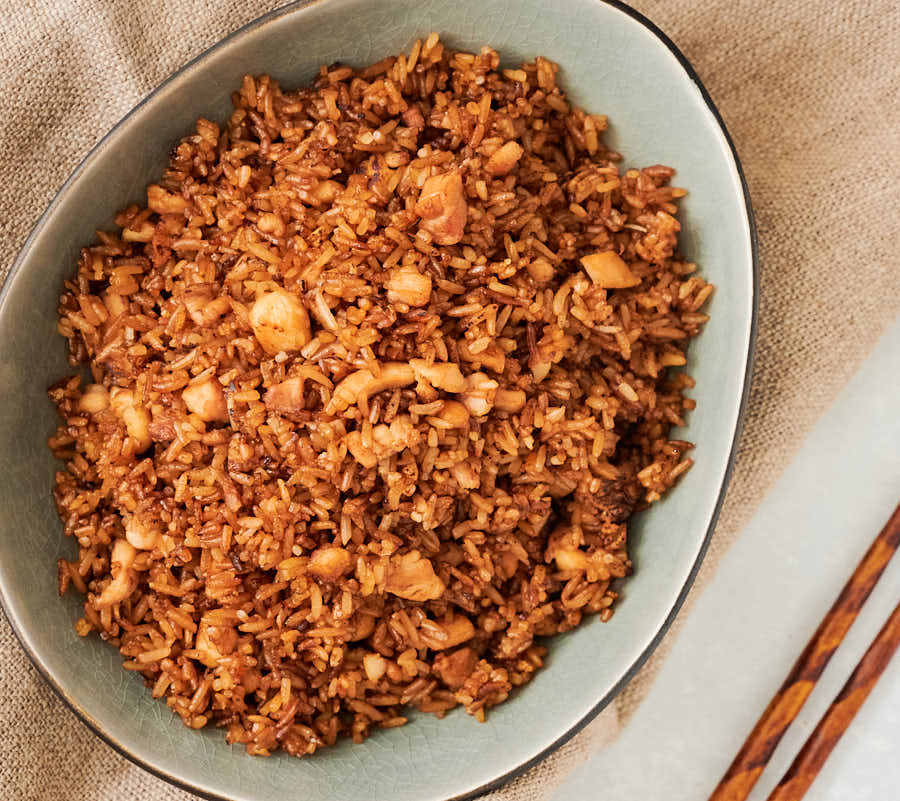 The rice must be dry
Freshly cooked rice is a wonderful thing. Fragrant. Delicious. One of life's pure and simple culinary joys.
But it sucks for fried rice. No other way to describe it. Anyone that tells you to use freshly cooked rice has never made fried rice.
Or they've made really bad fried rice. That's possible too. I'm just going to say it. It is impossible to make good chicken fried rice with steaming hot rice.
Rice needs to be dry for chicken fried rice. Moisture is a killer. A one way ticket to mushy town. I never want to go to mushy town.
Conventional wisdom says day old. Day old works. Pretty much guarantees success. What's even better is dry and a day old.
I keep mine in the fridge in a Tupperware with the lid dropped on top but not sealed.
I want dry. If it sticks to your fingers when you pull it out of the fridge it's not dry.
If you're really jammed for time you can make emergency rice. Cook your rice.
Spread it out on a baking sheet. Let it cool. Stick it in the fridge for a few hours uncovered.
Emergency rice works – sort of. Not as well as dry overnight rice though. I wouldn't count on it if I had guests coming for dinner.
So plan ahead. One day. It's hard. I know. But if I can do it then anyone can.
I use jasmine rice. Not because jasmine rice is the best. But because I like jasmine rice. And I know it works for chicken fried rice.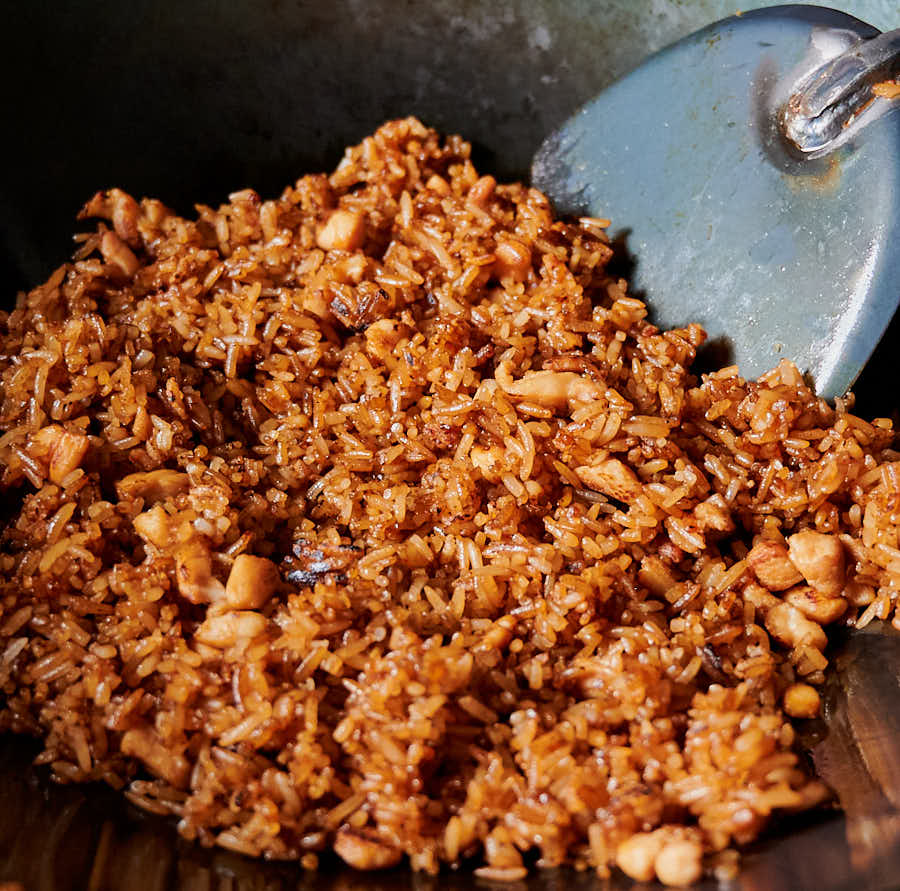 Choice of soy matters
Recipes that call for "soy sauce" are a little disingenuous. I think anyway. I stock seven different soy sauces. Could get it down to five if I tried. But I'm not going to.
The differences are not subtle. Japanese soy is so wrong for this dish. Thai soy is wrong for this dish. Chinese all purpose soy is wrong for this dish.
You need Chinese dark soy. Trust me. You'll want it for all sorts of recipes. The flavour is a little different. The colour is really different.
Dark soy is what makes this rice look good. It's what makes chow mein look good. It's what makes a lot of Chinese dishes look good.
Just bite the bullet. It probably won't kill you to own two different soys? Did I mention I stock seven?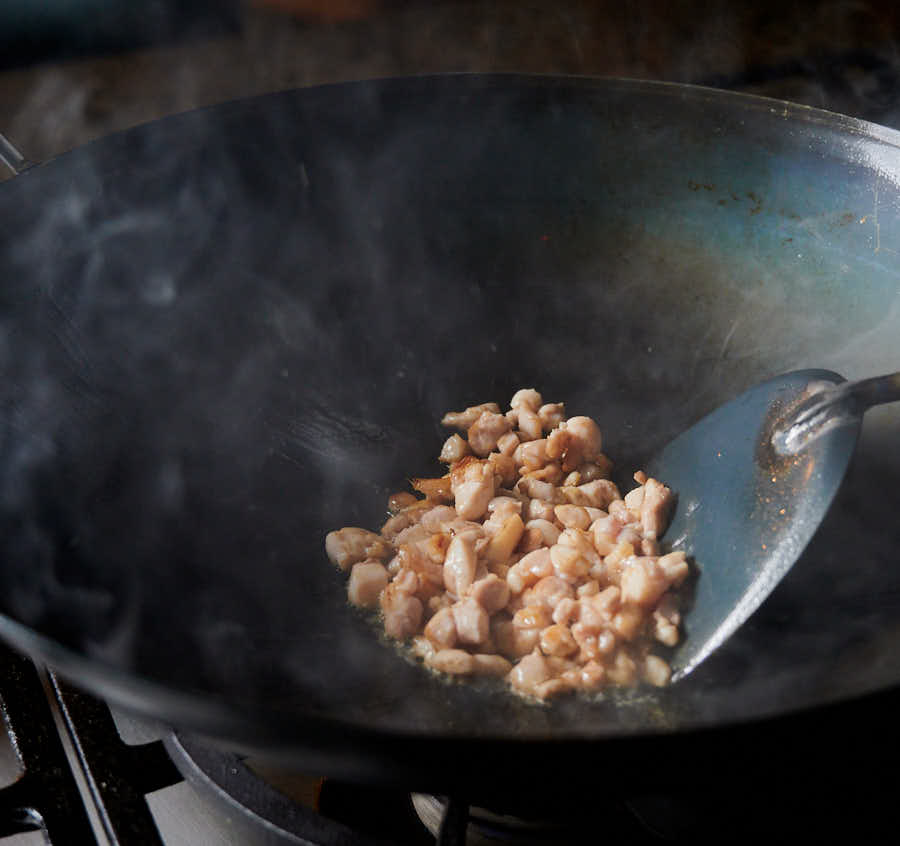 Technique matters for chicken fried rice
Nobody is going to want to hear this. Making restaurant chicken fried rice is work. Three to five minutes of uninterrupted time at the stove.
A wok is really helpful too. And a chuan. That's the wok spatula you see at Chinese restaurant supply stores. Super handy thing to have.
You have to keep the rice moving in the wok. That's what makes fried rice work. Frying rice. Bet you didn't see that coming.
It's a bit of a pain. But there's no getting around it. It's work but it's worth it. Dries things out. Firms up the rice.
You'll know you're done when every little grain is separate. Ever so slightly toothy. And a little bit shiny.
Be careful though. Cooking chicken fried rice for too long might be worse than not cooking it enough.
And I can't tell you exactly how long to cook it. Sorry. I'm not in the kitchen with you. I don't know how hot your stove gets. Don't know how dry your rice is.
It should take somewhere between three and five minutes. But the exact number is something you need to figure out yourself.
Taste it along the way. The first time anyway. To dial in your stove. And your wok. And the cook. After that you'll know. It will become second nature.
Great technique makes great fried rice. There's really no getting around that.
You want as much heat as you have available
Restaurants have high output stoves. Asian restaurants have crazy high output stoves. Somewhere between a jet engine and the sun.
Well maybe not quite that much. But five times what you have in your kitchen. For real. So use what you have. Don't go medium high. Crank your stove. Really crank it.
You paid for the high setting on your stove. Get your money's worth. If you get into trouble turn it down.
Or lift the wok off the stove. You can always fall back if you need to. But start at 10. My guess is you'll wish it went up to 11.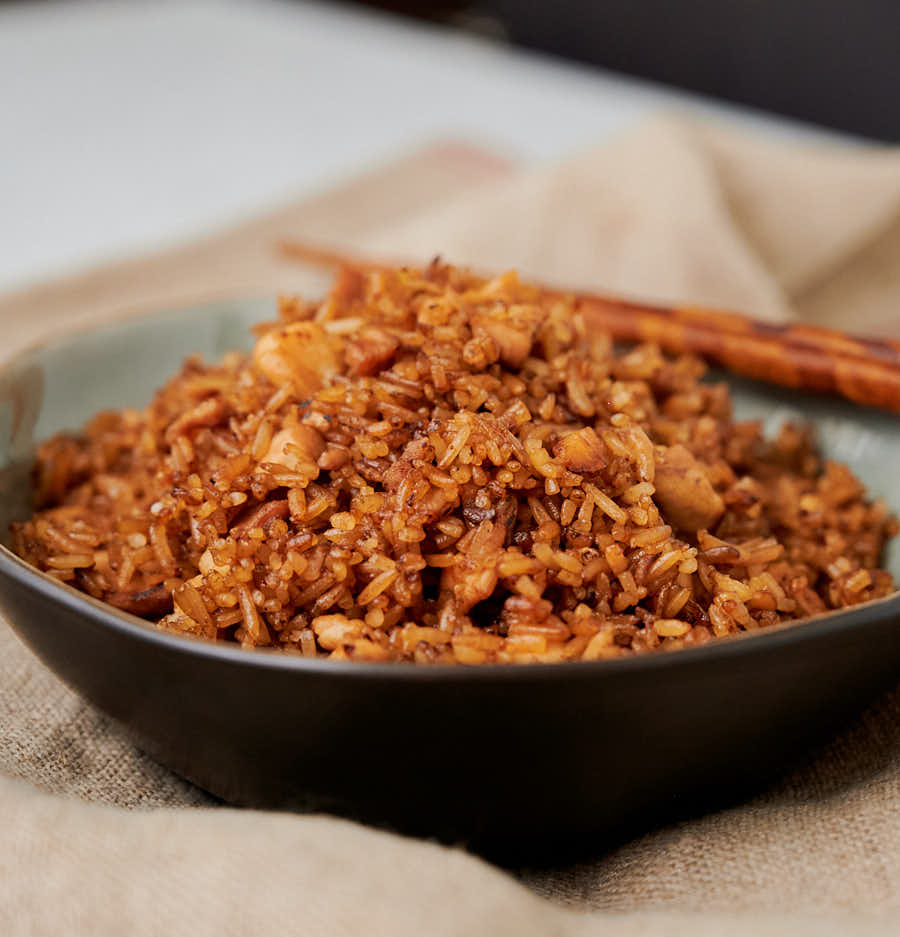 You need this chicken fried rice in your life
This one is simple. Not a lot of ingredients. It's about technique more than anything. There aren't really any shortcuts. It's work.
But it is so worth it. I make this one all the time. I bet you will too.
And I bet you'll wind up eating it cold standing in front of the fridge in the middle of the night. That's OK. There's nobody there to judge.
chicken fried rice
Make chicken fried rice just like your local restaurant
Ingredients
Cooked rice
1

cup

jasmine rice

1 1/4

cup

water

1/2

tsp

kosher salt

– use half as much table salt
Chicken fried rice
the cooked rice from above

– you remembered to cook it yesterday right?

1

tsp

dark soy

– I like Pearl River Bridge but please use a Chinese dark soy

1/4

tsp

monosodium glutamate

– optional but not really. It makes a difference.

1/2

tsp

kosher salt

– maybe half that if using table salt. Remember you salted the rice…

1/8

tsp

white ground pepper

– optional but I like a little bite

4

oz

chicken thigh

cut into small pieces

1

tbsp

neutral oil

– like canola or vegetable

1/4

cup

extras – (e.g peas and carrots)

– very optional – don't go crazy here. Less is more.
Instructions
Make the rice
Combine the jasmine rice, water and salt.

Bring to a simmer. Cover and reduce heat to low.

Remove from heat and let stand for 5 minutes. Fluff the rice and transfe it to a container and store, loosely covered, in the refrigerator (see note if pressed for time).
Chicken fried rice
Heat your wok over high heat. If you oiled your wok before you put it away then it should just start to smoke. Add the oil and swirl it around to coat the wok as best as you can.

Add the chicken and cook until almost done. Stir constantly (stir fry) it to keep it moving. This should only take two minutes or so.

Add the cold rice, dark soy, salt, and MSG and white pepper if using.

Your stove is running flat out right? As much heat as you can bring to bear?

Stir fry the rice constantly. Keep in moving in the wok. Use your spatula or chuan to break up any clumps. Stir fry for about a minute.

Add in any extras (see note) and keep stir frying.

After about 3 to 5 minutes total your rice should be a bit firm and every piece should be distinct. On my stove that usually takes closer to 5 minutes. Taste it along the way so you can learn how it progresses.

You're done. To serve you can just put it out as is or maybe sprinkle a bit of chopped green onion overtop to garnish.

Serve this alongside your other favourite takeout style dishes.
Notes
The easiest thing to do is to cook your rice the day before. If you forget or decided to make this today you can cook the rice, let it cool and then spread it on a cookie sheet. Put it in the fridge for a couple hours and you will be OK. Maybe not perfect. But OK…
I'm not the fried rice police. It's your mouth. Do what makes you happy. If you want to add peas and carrots and onions and garlic go for it. But don't overload the rice. If you are using extras timing matters. Onions should go in with the chicken. Garlic should go in right before you add the rice.
Peas, carrots or any other vegetables should be blanched. They are not going to get cooked enough by just stir frying with the rice.
Nutrition
Serving:
4
g
|
Calories:
263
kcal
|
Carbohydrates:
37
g
|
Protein:
8
g
|
Fat:
9
g
|
Saturated Fat:
2
g
|
Polyunsaturated Fat:
2
g
|
Monounsaturated Fat:
4
g
|
Trans Fat:
0.04
g
|
Cholesterol:
28
mg
|
Sodium:
654
mg
|
Potassium:
116
mg
|
Fiber:
1
g
|
Sugar:
0.1
g
|
Vitamin A:
22
IU
|
Vitamin C:
0.01
mg
|
Calcium:
18
mg
|
Iron:
1
mg