Sometimes dinner can be fast. And delicious. This is one of those times. Chicken chow mein with black beans.
A little spicy. A lot savoury. And loaded with umami flavour. Deceptively simple. Seriously tasty. This is not your run of the mill chow mein.
And the best part? 30 minutes start to finish. Who says you can't have great food on Tuesday? I love great food on Tuesday.
Chow mein is a noodle dish
Full disclosure. Up front. This chicken chow mein is not a bowl full of stuff with a bit of noodles. This is a bowl of noodles with just the right amount of stuff.
A dish for Asian noodle lovers. Like me. If I wanted a plate of stuff I'd make a plate of stuff.
It is in the name. So I don't think I'm way out there with this. Chow mein translated is stir-fried noodles. Noodles. Not stuff.
The noodles are the thing
It's amazing how much information there can be in a name. Stir-fried noodles. That an unsubtle hint. Means the noodles are going to get stir-fried. Cooked in a wok.
Fully cooked noodles plus more heat equals mush. And nobody likes mush. There's a reason you never see mush on a restaurant menu.
So the noodles need to be a little underdone when they hit the wok. That's the goal. The thing you need to do. To make everything come out perfect.
Problem here is I can't tell you exactly how long to cook your noodles. I'm not there in the kitchen with you. I don't have your exact brand of noodles. What I can do is offer guidelines.
I usually cut back the cooking time by about a quarter. Three minutes for a four minute noodle. 45-50 seconds for a one minute noodle.
It's a kind of sort of calculation. And it depends on the noodle. This one you have to figure out on your own.
I get that it's a bit of a pain. But once you do figure it out you'll be golden forever. Pay attention to your noodles and everything else will fall into place.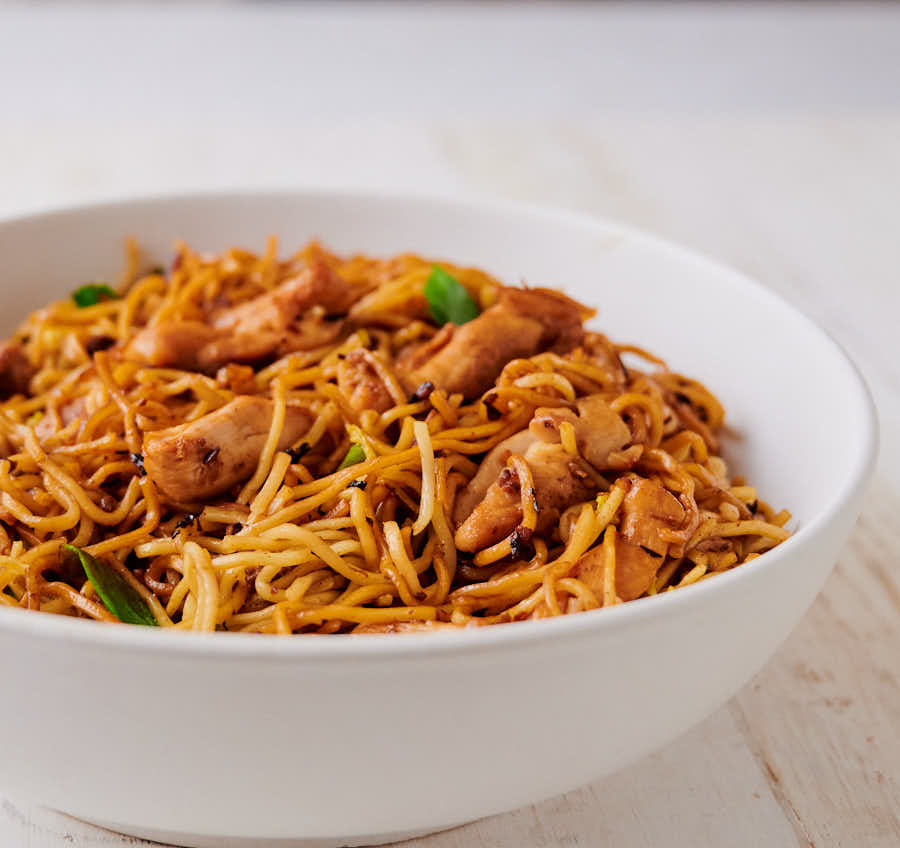 You need to get to know fermented black beans
This dish begins and ends with fermented black beans. They are the backbone. There's a reason they are in the title.
They sound scary. A bit nasty even. The packaging isn't particularly inspiring either. I can get why you might be leaning towards giving them a pass.
But that would be a mistake. They aren't scary. Or nasty. They are really, really good.
And not in a weird "you'll acquire a taste for them" either. They are just good. And you probably know the flavour.
Anything you've ever seen on a Chinese menu that says black bean? Like beef in black bean sauce? That just exactly what these are.
Fermented black beans smell good. And if you can handle the salt they taste great straight up.
If these were called black bean umami flavour bombs you'd already be using them. You know you would. Great ingredient. Terrible marketing…
There is no reason not to try them. Seriously. Pretty much everyone likes them. They just might not know it. Yet.
Velveting chicken is key for black bean chicken chow mein
Never heard of velveting? You're in for a treat. It's huge in Chinese cooking. This is a technique you absolutely need to learn.
Those unbelievably tender bits of beef in your local beef and broccoli?
That's not beef tenderloin. Not even top sirloin. It's inside round. Also known as topside beef. It's cheap beef that's been through the velvet experience.
Works with chicken too. Just not quite the same way. Beef velveting typically relies on baking soda. That stuff is a tenderizing sledgehammer.
Chicken isn't as problematic. It's already pretty tender. Just needs a little extra magic to push it over the edge. And to make sure it browns up.
It's a simple thing. And it makes a big difference. Slice the chicken. Toss it into a bowl. A splash of shaoxing wine. A little light soy. And cornstarch.
Let that sit for 30 minutes. Fry it up and enjoy tender, tender chicken. It's not absolutely necessary. But it is a very nice to have.
If you're really jammed for time cut the marination time to 10 minutes. Let it sit while you do the rest of your prep.
Or learn to plan just a little bit better. I did. And I am really not good at planning. Some things are just worth it.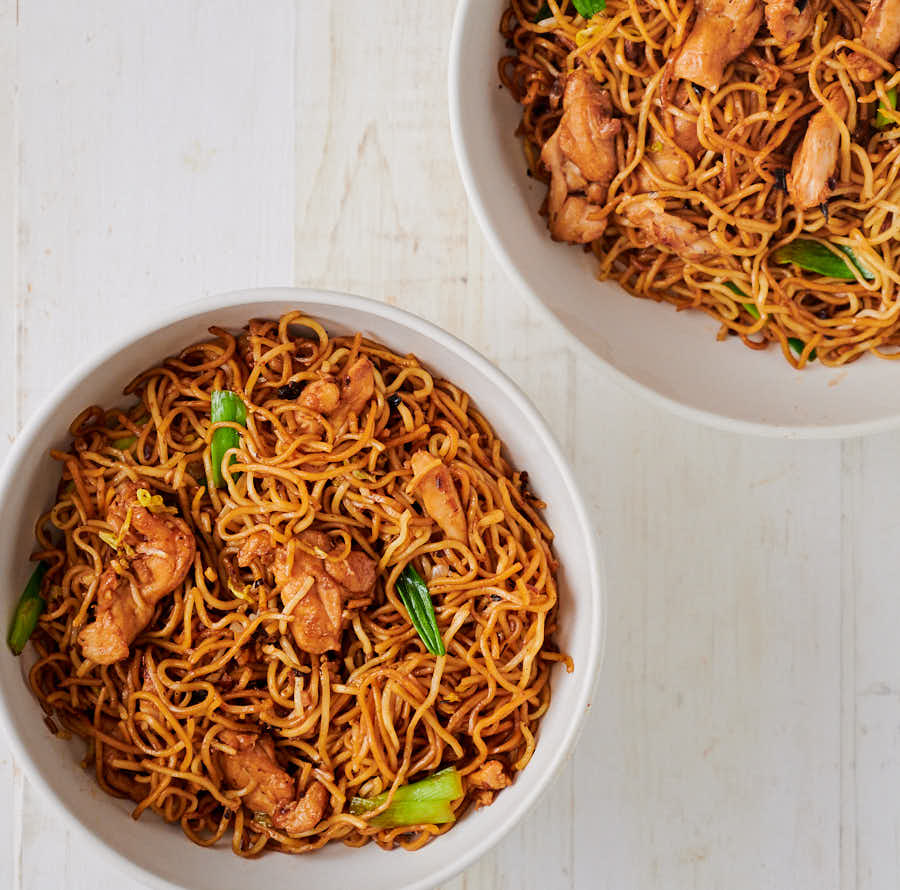 All soy sauces are not created equal
I have seven different soy sauces in my fridge. Insane? Maybe. But I have them because all soy sauces are not the same. Not even close.
Thai is nothing like Japanese is nothing like Chinese. Factor in dark, light, low sodium and all-purpose and you get to seven different soy sauces.
Thai is a bit restrained. Balanced. Works incredibly well for Thai and Vietnamese.
Japanese is smooth. Mild. Subtle. Complex. All the words you'd expect to associate with Japanese cuisine come through.
Chinese soy is exuberant. Assertive. A little bit in your face. And it's absolutely the perfect soy for Chinese cooking. Bet you didn't see that coming.
Having trouble with the math? Japanese regular and low sodium. Thai dark and light. Chinese light, dark and all-purpose.
I could lose the low sodium and all-purpose. I suppose. But when you get to five what's two more?
This is not a run of the mill chicken chow mein
I'm not crazy about the status quo. I get that there are things that are just right. And I respect that. I cook it. But I don't blog about it. Somebody else has already done it.
This time I'm playing it fast and loose. Going for flavour. And bending the rules to get there. If you're looking for Panda Express I'm pretty sure this one isn't for you.
Chow mein translates to stir fried noodles. I'm good with that rule. This is a noodle dish. And I have a wok.
But there's no oyster sauce in this chicken chow mein. Sorry. No sugar either. And I'm using dark soy because I want the colour. And the complexity.
Fermented black beans don't really belong in chow mein. But I'm adding them.
Because they're a bit of magic. Bring an amazing depth of flavour to just about anything.
And an ingredient I don't think anyone puts into chicken chow mein. Garlic chili paste. Unconventional. But delicious. Did I mention I don't colour inside the lines?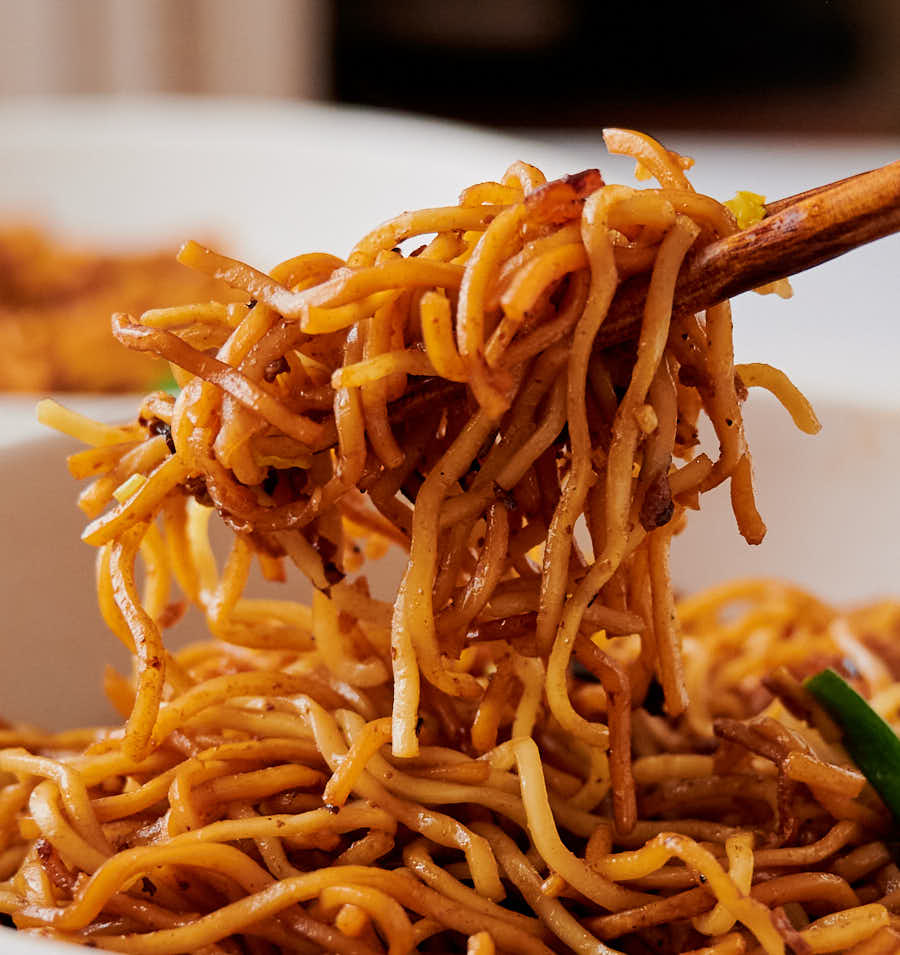 Thick or thin noodles
Some like their noodles thin. Some like them thick. I love all Asian noodles so I'm easy. But for chow mein I fall in the thin noodle camp.
The balance of flavour seems better to me with a thin noodle. Chow mein is not a saucy dish. It's dry. Thick noodles in a dry dish is too much noodle for me.
I like thick noodles in saucier dishes. In soups. With peanut sauce. Thin noodles for chow mein. That's how I roll.
But it's your mouth. And you should always put what you like best in your mouth.
So use the noodles you like. What makes you smile is all that matters. Nobody should judge what goes on in your kitchen. And if they do who cares about them?
A little glebekitchen trick
I have a dirty secret. It's not right. It's not Chinese. Don't flame me. I already know I'm a heretic.
I use garlic ginger paste to make my life easier. There. Now you know.
I always have homemade garlic ginger paste in my fridge. Because I cook a lot of Indian. I use it for Vietnamese. For when I'm just free-styling in the kitchen.
And it works great in a lot of Chinese dishes too. May not be a thing. But it should be. Just makes life so much easier. So you can make great food on a weeknight.
Use it anywhere you need roughly equal parts of finely chopped garlic and ginger. Crushing garlic is pretty easy. Chopping ginger super fine is real work.
It saves time. And it works well. The key is homemade though. Store bought just isn't all that good.
Pretty bad actually. I've been known to compare it to wet cardboard. And that's when I'm in a charitable mood.
Garlic ginger paste takes a not insignificant time suck out of Chinese cooking. Perfect for when you want something special on a Tuesday night.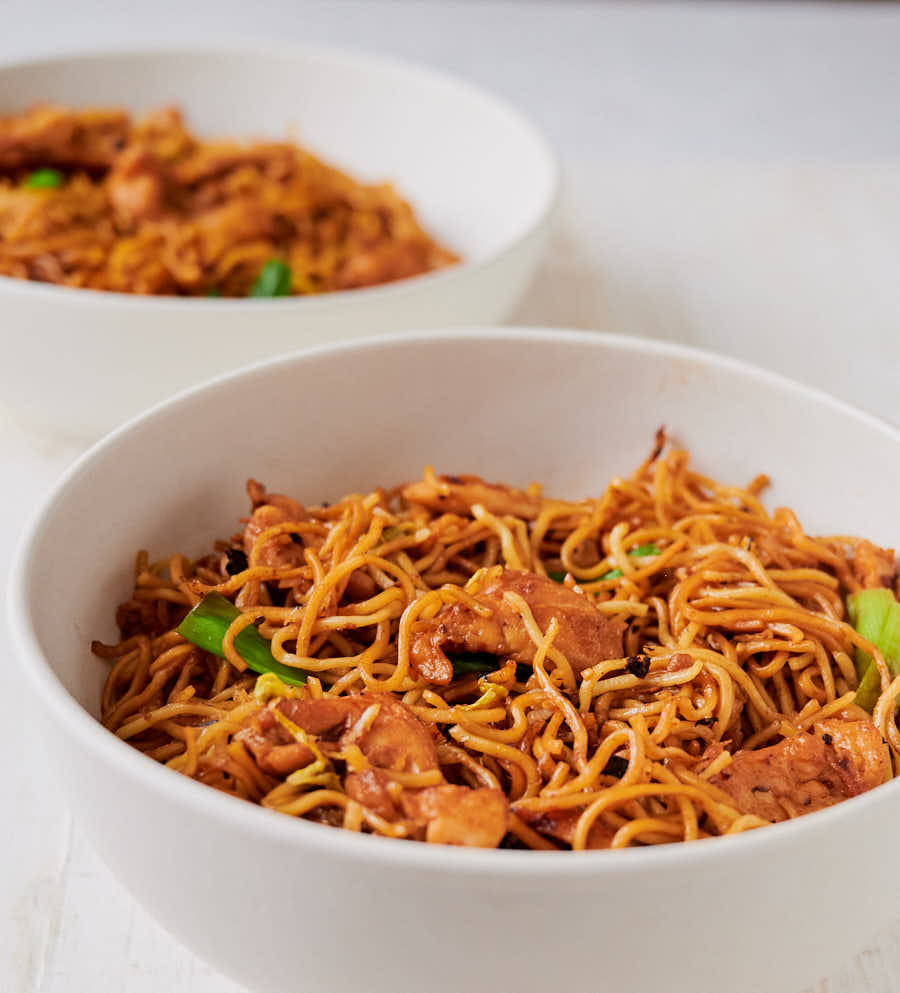 Get to know your Asian grocer
I'm super annoying. I know. I'm always asking for ingredients you don't already have.
If you're new here you have a choice to make. You can just leave now. Avoid going down rabbit hole after rabbit hole.
That's the easy choice. But it's also the boring choice. I think anyway.
Or you can get into it. Learn something maybe. Have fun. Eat great food. That you cooked.
There aren't that many ingredients in this dish. And every one of them will be really useful if you want to cook Chinese at home.
Make black bean chicken chow mein
This one isn't conventional. Bends the rules a bit. This is not the same old same old takeaway chow mein.
If you're even the slightest bit adventurous. And you like chicken chow mein. Then this one is for you.
Come colour outside the lines. It's fun. And it's tasty. Did I mention you can make this on a Tuesday?
black bean chicken noodles
A little spicy. A little salty. Loaded with flavour. If you like Chinese noodles this one is for you!
Ingredients
Velvet the chicken
1

tbsp

shaoxing wine

2

tsp

light soy

1

tbsp

corn starch

10 oz

chicken thighs

3 boneless, skinless and cut into thin slices. About 3/16 of an inch if you can pull it off.
"The sauce"
1

tbsp

shaoxing wine

1

tbsp

dark soy

1

tbsp

light soy

2

tsp

chili garlic sauce

– I don't like to do product endorsements but I use Huy Fong chili garlic sauce (the green lid).
The noodles
1

lb

fresh chow mein noodles

cooked just under the directions on the package. Mine take one minute to slightly toothy.

3

tbsp

fermented black beans

– available at Chinese/Asian markets

1

cup

napa cabbage

– thinly sliced and fairly tightly packed

4

green onions

aka scallions

2

tsp

minced garlic

– see note

1

tsp

minced ginger

– see note

3

tbsp

neutral oil

– divided (2 tbsp and then 1 additional tbsp)
Instructions
Do your prep
Velvet the chicken. Slice the chicken as close to 3/16 inch as you can get it. Put it into a bowl big enough to comfortably mix (restaurant tongs are perfect for this) and add the shaoxing and light soy. Sprinkle a half tablespoon of cornstarch overtop and mix. Now sprinkle the remaining half tablespoon and stir again. Set aside for 30 minutes.

Soak your fermented black beans in cool water for at about five minutes. Rinse and smush with the flat side of a spoon. You want the black beans crushed but not obliterated. Little chunks is fine.

Combine the dark soy, light soy, shaoxing wine and chili garlic paste. This is "the sauce".

Chop the scallion whites into a small dice. Chop the green into one inch pieces.

Slice the cabbage thinly.

Mince the garlic and ginger. Or pull out your jar of homemade garlic ginger paste.

Be ready. This goes really, really fast.
Get your noodles ready
Put a pot of water on to boil.

When you are ready to start making dinner boil your noodles following the instructions specific to the noodles you have but remember to cut back the cooking time 20-25 percent. Mine (thin) take one minute to get to an ever so slightly toothy texture that will wind up perfect in the final dish. I can't tell you exactly how long. I'm not there in the kitchen with you. I don't know what noodles you are using. Sorry.

I have a pasta pot so I can pull the noodles out of the hot water. This works great because I can leave the hot noodle water (noodle water is like pasta water except it's more exotic. No not really) in the pot and just sit the noodles in the strainer. When I'm about to add the noodles I just dunk them in the hot water to loosen them up.
Make the black bean chicken chow main
Heat your wok over medium high heat until it just starts to smoke. I'm assuming you have a wok and you oiled it before you put it away here. Heat it until it's hot but not crazy, melting hot is really what I'm suggesting here.

Add two tablespoons of oil. Splash it around the sides of the wok and then add the chicken. Spread it around so it's not all piled up and wait. Yes. Wait. The antithesis of stir frying.

After about 45 seconds to a minute start to stir fry. The chicken should be nicely browned on one side. Assuming you pulled off the 3/16th recommendation the chicken will be done as soon as you can't see anything obviously underdone.

Turn the heat down to low. Use a slotted spoon to remove the chicken and set aside.

Turn the heat back up to medium high and add the third tablespoon of oil.

Add the scallion whites, cabbage, garlic and ginger (or garlic ginger paste) and stir fry for about 30 seconds then add the crushed fermented black beans. Stir fry for another 30 seconds.

Dunk the noodles into the reserved hot water if that's how you set things up, drain (shake and drain again) and add them to the wok.

Toss the noodles to get them coated with the oil and grab up the black bean garlic.

Add the green onion pieces and reserved chicken. Give everything a lively stir to combine.

Add "the sauce" you prepared above and stir to combine.
Notes
If you follow glebekitchen and cook the Indian recipes you've probably come across garlic ginger paste. If you make it yourself (not the stuff in jars at the grocer) then you can substitute a tablespoon of garlic ginger paste for the minced garlic and ginger. It works and cuts down on prep for this recipe.