Sometimes I do blog posts just for me. This is one of those times. This is my go to coleslaw. Posted so I have always have it handy.
This isn't even my recipe. It's from The New York Cookbook by Molly O'Neill. That book has about a million recipes in it. I have no idea how I found this one.
But I did. About 300 years ago. And I've been making it ever since.
You'd think I would have it memorized by now. I almost do. But somehow I'm never 100 percent sure. The quantities are close. 1 cup vs 3/4 cup. Which is which?
So I'm writing it down. So I can always find it. Seriously. This one is for me. I'm not joking…
But you can make it too. I hope you do. It's definitely worth making. I think anyway.
I wasn't planning to post this. The notion just popped into my head as I was making it. I'm not even at home.
Grabbed the pics with my phone. I promise I'll try harder next time…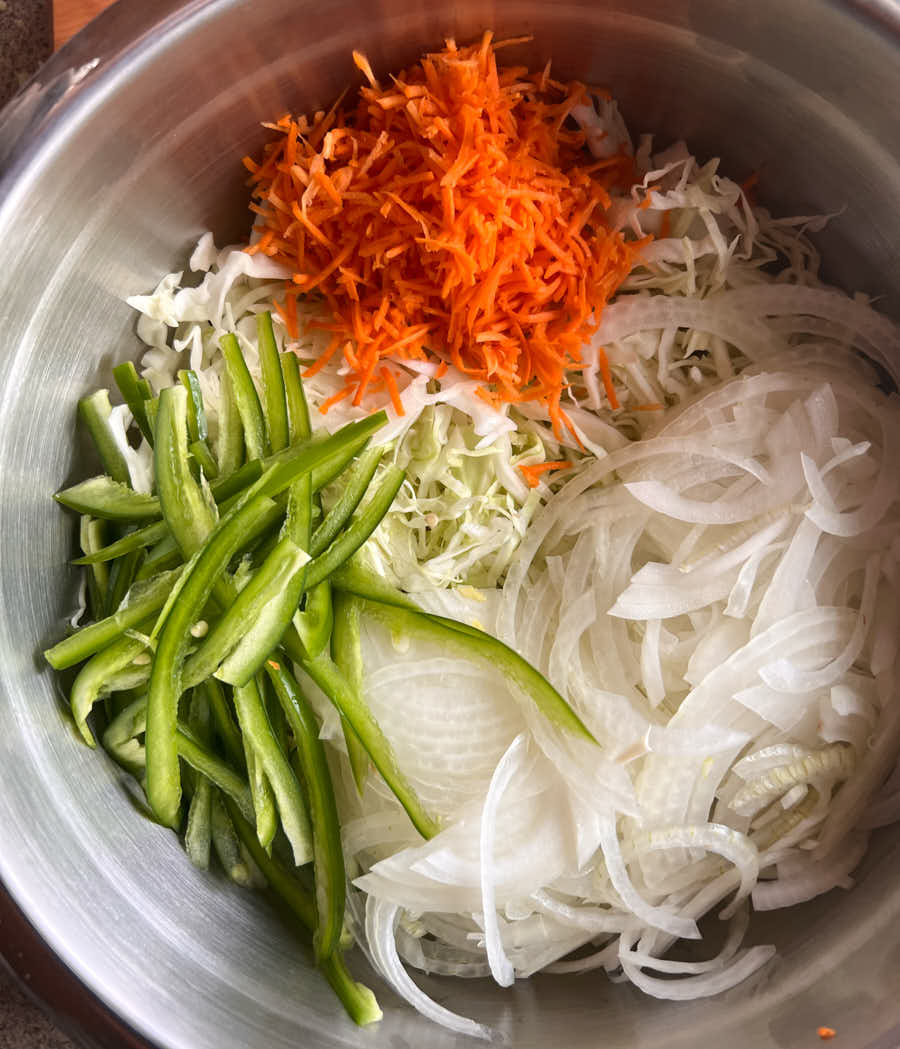 Coleslaw with a tangy bite
I love this coleslaw. Because it is the perfect counterpoint to big barbecue. I serve it with ribs. With brisket. Pulled pork. Anything fatty. If it doesn't fly. Or swim. Then this is the one.
It works because it's not creamy. It's a little tart. And a little sweet. Has just the right amount of crunch.
Creamy coleslaws have their place. Creamy coleslaw is great with grilled chicken. Or turkey. A hamburger even. Kind of somewhere between salad and potato salad.
But for pork and brisket and beef ribs I always, always, always turn to this one.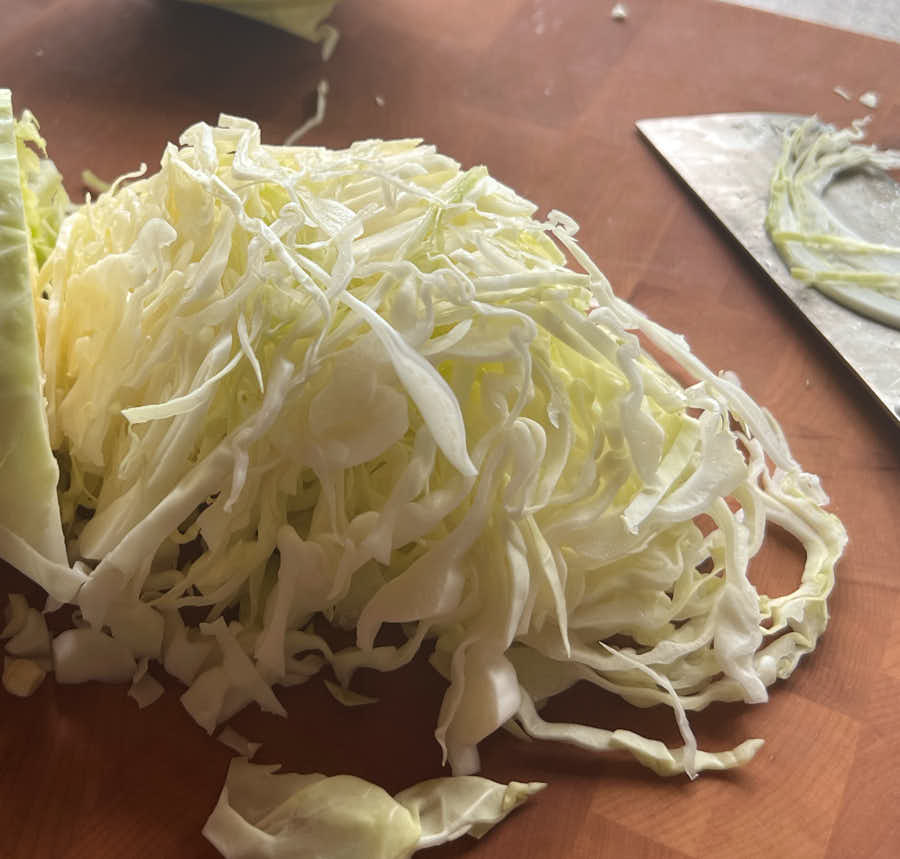 There are no secret ingredients in this slaw
This slaw is about cabbage. And Spanish onion. There's a little green pepper. For a hint of flavour. And some carrot for colour.
I do swap in jalapeños for green peppers. Adds a nice bite. That's my only twist on the original.
Nothing too unusual about the dressing either. A bit low brow. But it works. Somehow. Candidate for Ripley's museum maybe?
Vinegar. Nasty white vinegar. The stuff you use to clean with. I've finally found a second use for it. Pickling. That's a given. And this killer coleslaw.
Sugar. Plain white sugar. Refined sugar. Just sweet. Nothing fancy here.
Oil. Vegetable oil. Or canola. A neutral oil. The less flavour the better. Not olive oil. Absolutely not olive oil. That would suck. A lot.
Salt and mustard powder round out the list. Super simple. Crazy delicious. Not sure exactly why it works. But it does.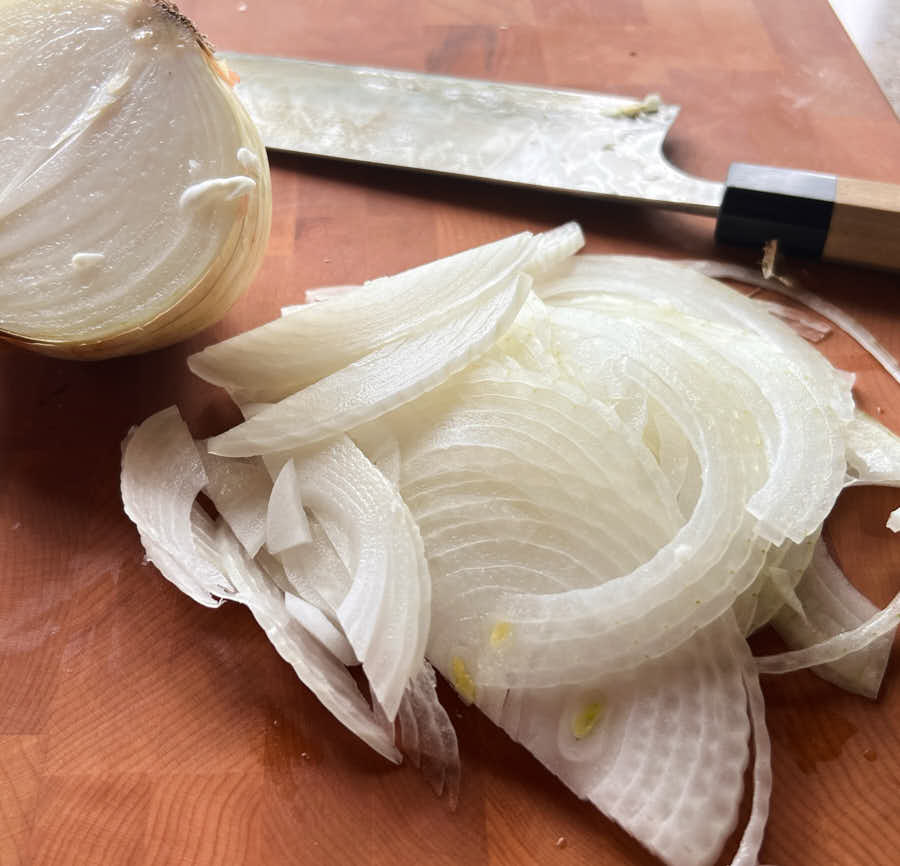 Hot dressing hits cool cabbage and magic happens
What makes this one a little different is how the ingredients come together.
Cabbage. Onion. Green pepper. Carrot. That's every coleslaw ever.
The gee whiz here is the dressing. A hot dressing. Boiling hot in fact. Sounds crazy. But that little bit of insanity is what makes this coleslaw great.
Hot dressing wilts cabbage. A bit. Softens everything. Just enough. Pour it on and stir. Really stir. Toss it into the fridge and wait. 4 hours is good. Overnight is better.
And somehow, inexplicably, everything just comes together nicely. The whole is greater than the sum of the parts. Cliche. But true.
You won't believe. Until you try it for yourself. And then you will be converted.
I don't know when I became a coleslaw evangelist. But it seems it happened. When I wasn't looking.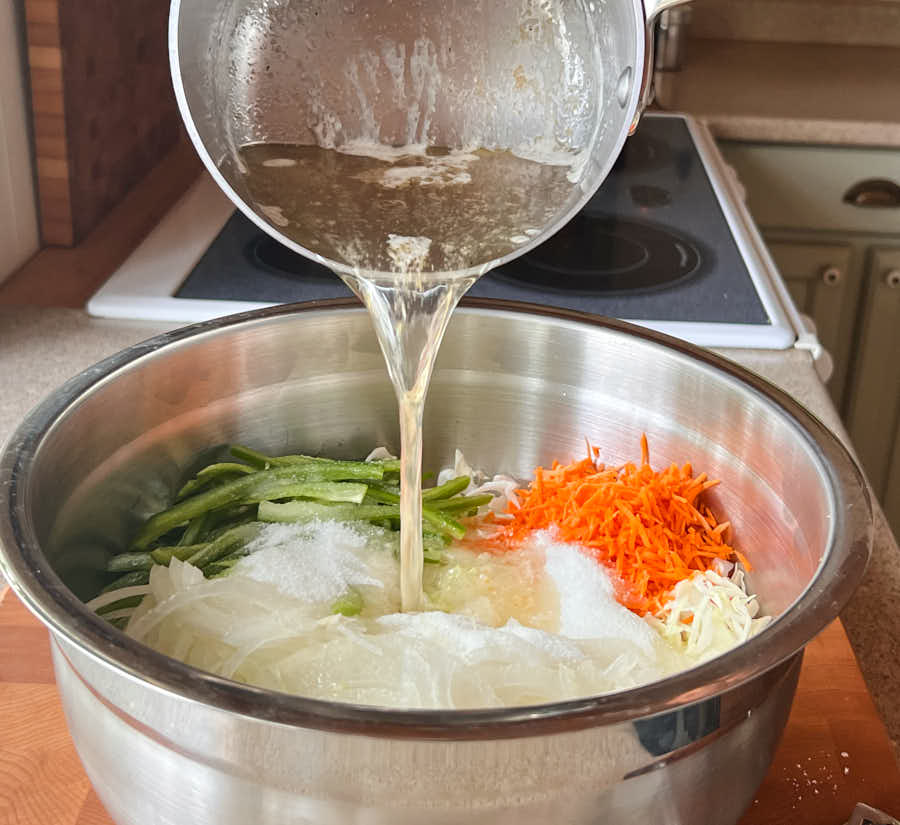 It's healthier than you think
There's a lot of sugar in this recipe. And a lot of oil. Might seem alarming at first. But it's necessary. Part of the technique. But it isn't part of what you actually eat.
The key to this coleslaw is moving the cabbage mixture through the hot dressing. To get the wilting action. So you need enough hot dressing. It won't work otherwise.
Most of that dressing is going to wind up in the bottom of the bowl. You'll see. It's not going in anyone's mouth.
It's a bit wasteful I suppose. But it's also way less calories than the nutritional calculator spits out.
Unless you drink the dressing I guess. You do you though. It's a free culinary universe. FWIW – I don't drink it.
This is my one true coleslaw
I am always experimenting. Can't help myself. Tinkering. Trying new things. That's who I am. I can never leave well enough alone.
There's always something I want to change. Evolve. Refresh. Renew. Or even just throw everything I think I know out the window. And try something completely different.
Which is why this coleslaw is special to me. I don't mess with it. I just make it. Over. And over. And over.
I know I'm in a rut. There's no doubt about it. But the wonderful thing is I just don't care.
Because it's part of who I am. This one stays forever.
Killer coleslaw
Simple, tangy and a little sweet. This coleslaw is perfect with richer BBQ
Ingredients
The dressing
1

cup

white vinegar

– yes, the super nasty stuff. It works.

1/4

cup

white sugar

3/4

cup

neutral oil

1

tbsp

kosher salt

– plus maybe a bit more to taste once it's cooled

1

tsp

mustard powder

– I use Keen's brand but any powdered mustard will do.
The coleslaw
1

small

green cabbage

– sliced as thin as you can

1

large

spanish onion

– sliced as thin as you can

1

green pepper

– julienned. If you like a little bite a couple large, seeded jalapeños are a nice touch.

1

large

carrot

– shredded

3/4

cup

white sugar

– in addition to the sugar in the dressing
Instructions
Prep the vegetables
You want thin. As thin as you can. Grab a sharp knife. Core the cabbage. Set the flat side down and start shaving.

Same story for the onion. Except you don't need to core it.

Julienne the pepper and shred the carrots.

Put everything into a heat proof bowl and make the dressing.
Make the dressing
Combine the oil, vinegar, 1/4 cup of white sugar, salt and mustard powder in a small saucepan.

Bring to a gentle simmer. Make sure the sugar has dissolved.
Assemble the coleslaw
Pour the hot dressing over the vegetables.

Grab a set of tongs and mix everything together. Really mix. Keep the vegetables moving through the hot dressing for a minute or two.

Cover and refrigerate 4 hours. I like this slaw best the next day but it's nearly as good after 4 hours.

To serve use tongs to pull the coleslaw from the bowl. You'll leave all the excess dressing behind this way.
Nutrition
Serving:
8
g
|
Calories:
325
kcal
|
Carbohydrates:
33
g
|
Protein:
2
g
|
Fat:
21
g
|
Saturated Fat:
2
g
|
Polyunsaturated Fat:
6
g
|
Monounsaturated Fat:
13
g
|
Trans Fat:
0.1
g
|
Sodium:
896
mg
|
Potassium:
237
mg
|
Fiber:
3
g
|
Sugar:
29
g
|
Vitamin A:
1646
IU
|
Vitamin C:
47
mg
|
Calcium:
48
mg
|
Iron:
1
mg