Shanghai sweet and sour spare ribs. Tang Cu Pan Gu. That's Mandarin for seriously tasty.
Tender pork ribs. A sticky garlic black vinegar sauce. Sweet and sour in perfect balance. Complex. Tangy. Addictively delicious. I can't stop eating them.
This may not be what your takeaway is making. Not yet anyway. But it is what they should be making.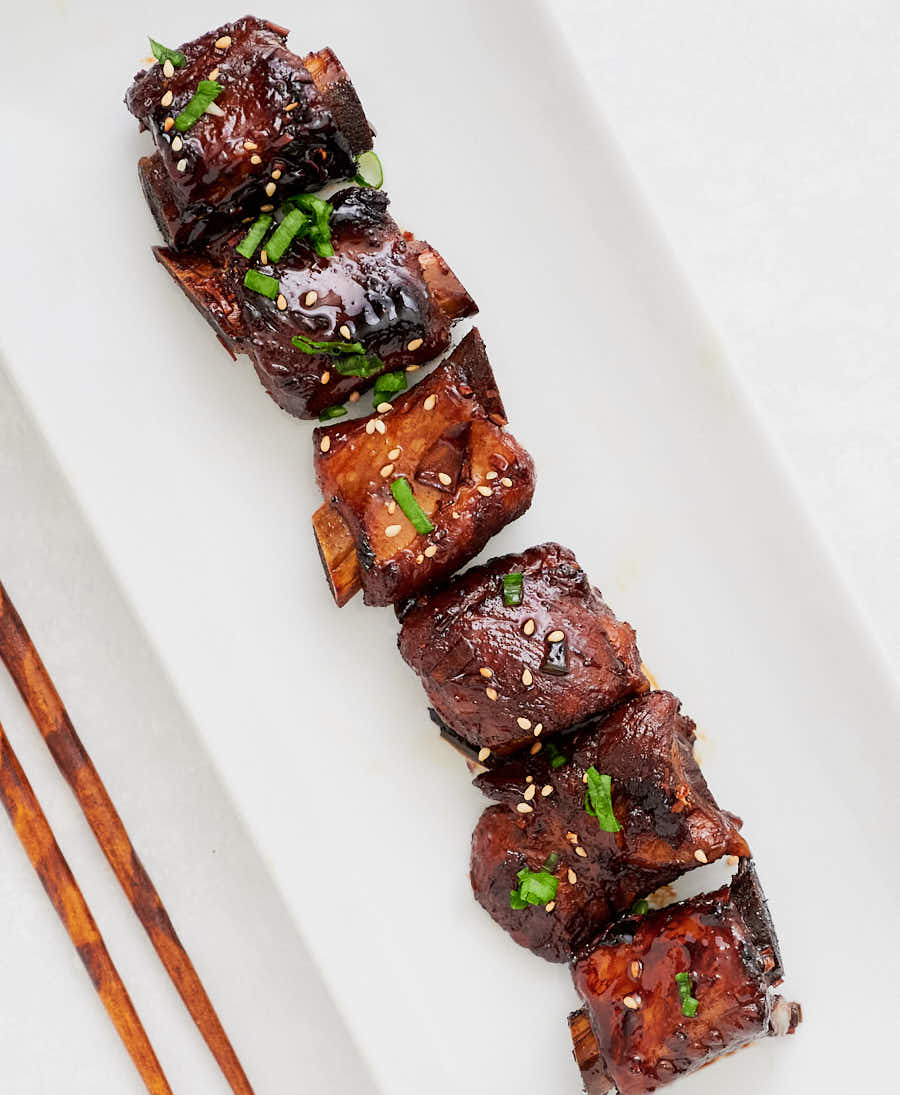 The sour in sweet and sour spare ribs comes from black vinegar
You've probably never heard of black vinegar. It sounds scary. But it's not. It's vinegar. Not that different from other vinegars.
It's sour. Has vinegar in the name so that shouldn't be a surprise. But it's more than just sour. It has a lot going on. Hints of anise. Malt. Umami.
It's China's answer to balsamic vinegar. Craft vinegar. That doesn't mean balsamic is interchangeable though. Don't make that mistake. No matter what the internet says.
Definitely worth getting your hands on a bottle. It's not just for Shanghai sweet and sour spare ribs. You'll find other uses for it.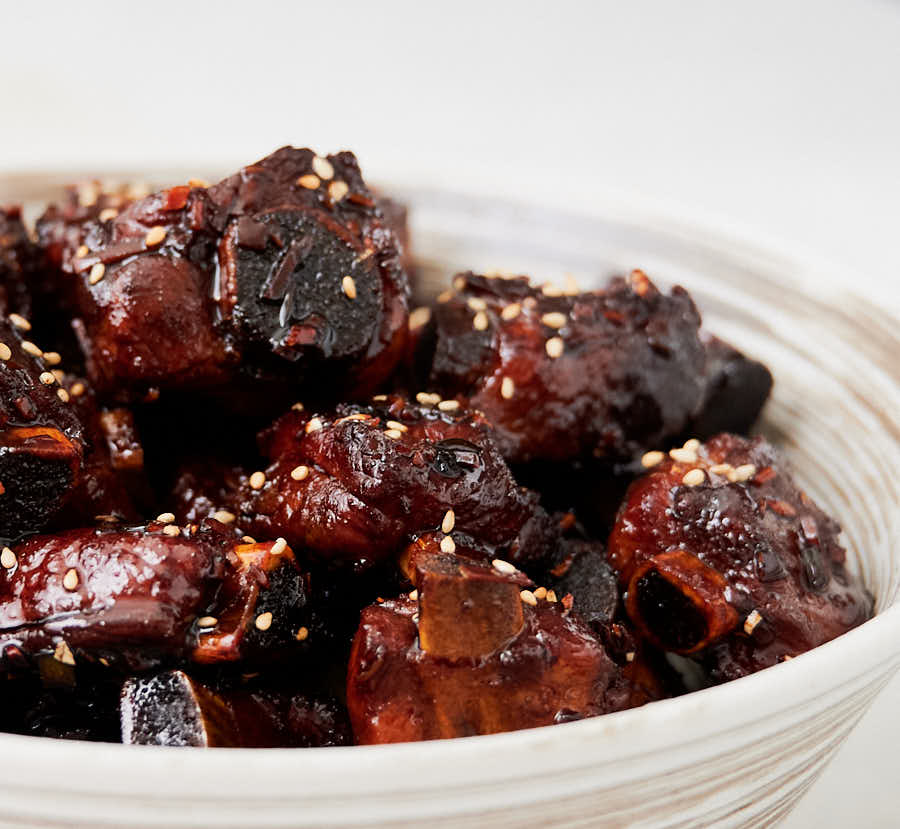 Sweet and sour spare ribs are mostly about technique
This is a rib recipe. Ribs are slow food. And this starts off as a slow food type recipe.
Before you even pull out your wok you need to braise the ribs. That's technique number one. One everyone needs to know.
Not just a regular braise. Not quite. I'm borrowing from my tonkotsu ramen broth. Blanching. Toss the ribs in a pot. Enough water to cover the ribs. Bring it to a lively boil for a minute or two.
You'll see a mess of gunk form at the surface. I don't like gunk. Nobody likes gunk. That's why it's called gunk. If it was good they'd call it crema.
So down the drain it goes. Wipe out the pot. Give the ribs a quick rinse under cold water and return to the pot.
Add water to cover the ribs again. A few flavourings this time. Shaoxing wine. Soy. Star Anise. A gentle simmer. And time. Time to get the ribs tender.
Tender can be a guess. Stick a fork in the ribs. Take your best guess. But I like a more disciplined approach. Internal temperature is how I do it.
These ribs are ready at around an internal temperature of 195F. 198F is probably OK too. But 185F is probably not. That's the magic of cooking wit science.
Easy. Repeatable. Foolproof. An instant read thermometer is secondon my list of favourite kitchen tools. Right after sharp knives.
A good set of restaurant tongs are third on my list if you're wondering.
Don't dump the broth
The liquid left over after you braise the ribs? That's pork stock. Tasty, tasty pork stock. With great Asian background flavours.
Do not pour that down the drain. It's tasty stuff. And tasty stuff makes for tasty dishes. Like an Asian inspired pork noodle soup.
Yes. Pork noodle soup. That's not a thing. Not yet. But it could be. Should be even. It's delicious. I'll be replacing this text with a link to one as soon as I publish it.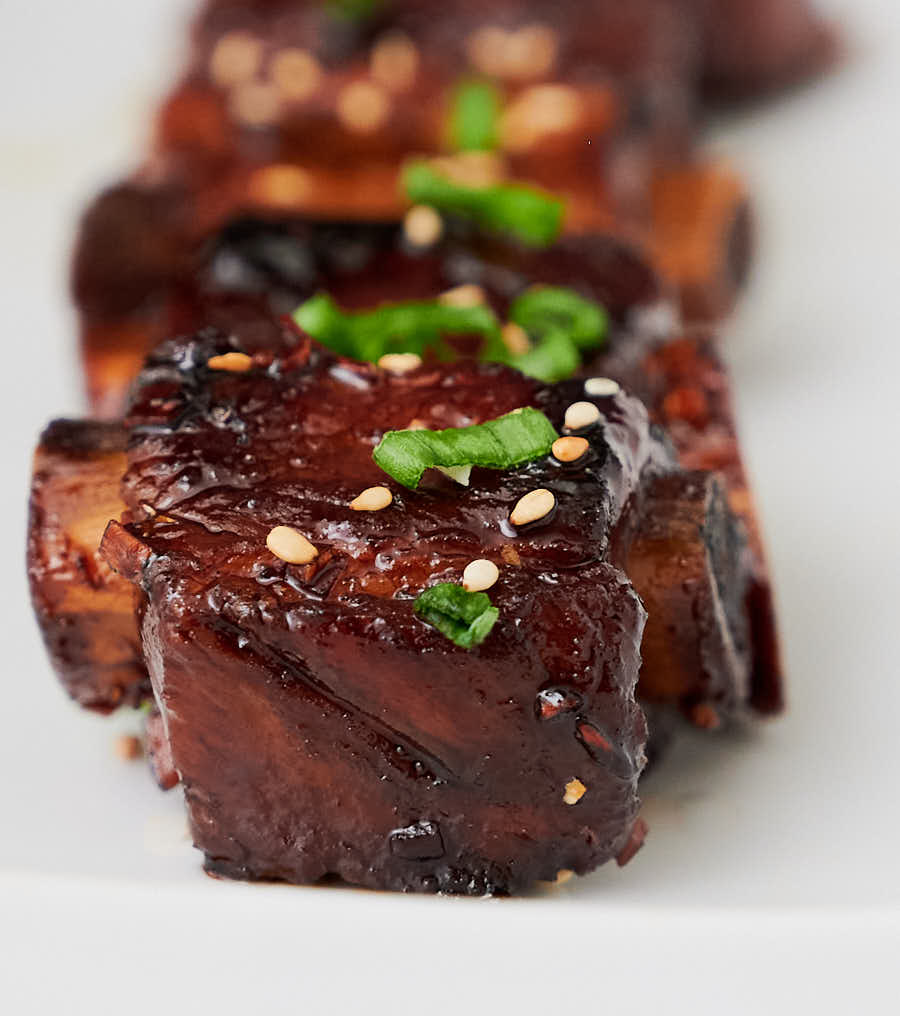 Shanghai sweet and spare sour ribs go fast in the wok
Hopefully you have a good sized wok. Or a big skillet and nerves of steel. This part goes fast. Braising is slow. Wok cooking is fast.
Heat the oil. Add the rock sugar. And wait for it to melt. That's the sweet in sweet and sour ribs. It's also why I think a wok is key for this recipe. Narrow at the bottom.
Melting sugar in oil isn't something I do a lot. But it's a super handy trick. And by the time the sugar melts it magically turns a lovely caramel colour.
Ribs go in next. This is where having a wok spatula is a wonderful thing. Best $15 I've ever spent. And I got a super fancy one.
Leave the wok on the stove. Use the spatula to move things around. Unless you have big wok mojo. In which case go nuts.
You want the ribs well coated with the candy oil. That's the goal. When everything starts to look shiny and delicous you know you're done.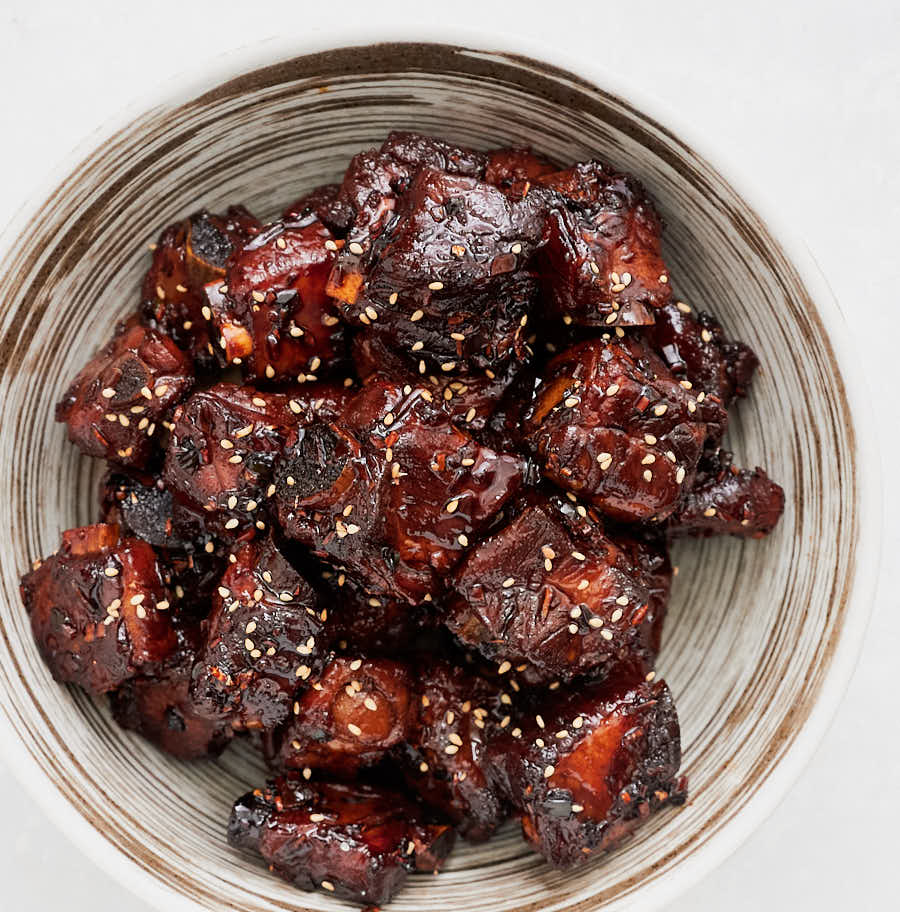 Choice of soy matters
If you've never done a soy tasting you should put it on your bucket list. In the super easy section. But still. The subtleties are amazing. And they're not all that subtle.
Thai is not the same as Indonesian is not the same Japanese is not the same as Chinese. And there are variations from each country. It's a bit of a rabbit hole.
So it shouldn't be a huge surprise that Chinese soy is right for Chinese. But it doesn't stop there.
There's all purpose soy. That's probably what you have in your fridge. Jack of all trades. But not really. I don't think anyway.
It can stand in for light soy. Pretty close I find. So I don't really understand why you wouldn't just stick with light. And leave the all purpose at the store.
And there's Chinese dark soy. Any time you see a dark, shiny Chinese dish it's a safe bet there's dark soy in the mix.
Have a look at the pictures. Shanghai sweet and sour spare ribs is all about the dark soy. If you don't have it you need to go shopping. It's magical stuff.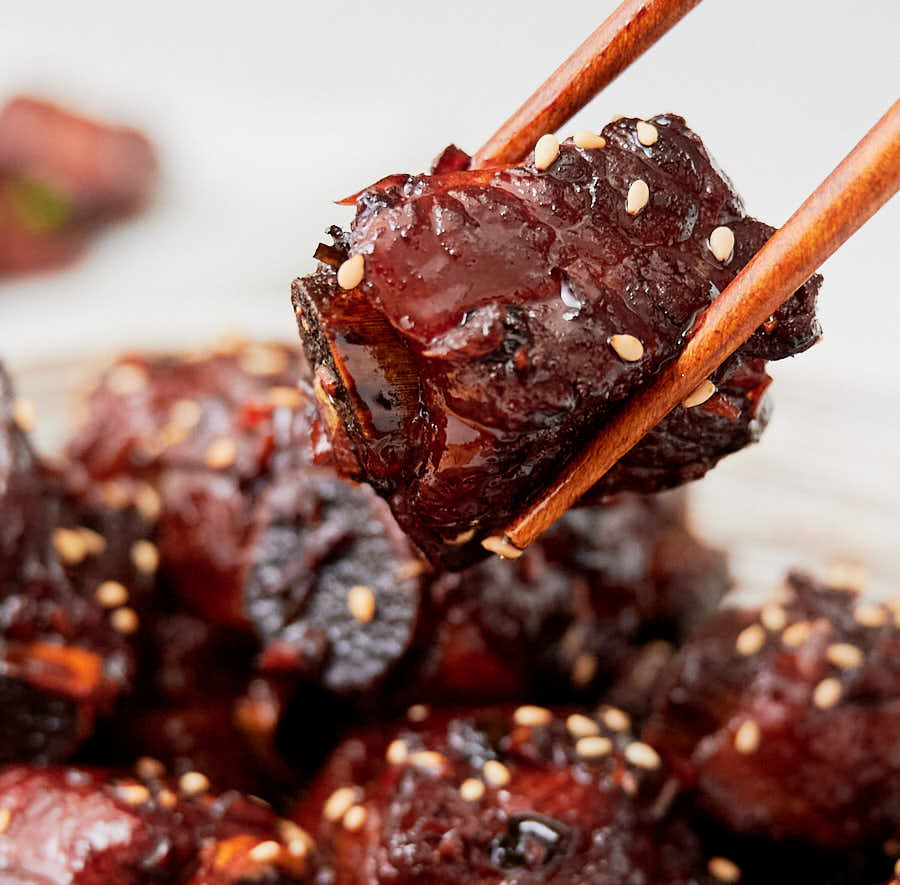 You need to try these sweet and sour spare ribs
Tang Cu Pan Gu. Shanghai sweet and sour spare ribs. Doesn't matter what you call them. What you need to do is make these.
There's a lot going on. The fattiness of the ribs. Balanced by the acid in the black vinegar. Sticky sweet but not cloying. A bit salty. Like a good barbecue sauce.
Garlic, chili and sesame oil for complexity. Dark soy to bring it home. Deceptively simple. Seriously delicious. Shanghai sweet and sour ribs. I'm a fan.
Shanghai sweet and sour spareribs
Impossibly delicious and outrageously sticky sweet and sour pork ribs
Ingredients
Pre-cooked spareribs
1.5

lbs

spare ribs

cut into individual ribs and into one inch pieces. Your grocer or butcher should be able to help.

3

tbsp

all purpose soy

2

tbsp

shaoxing wine

1

star anise

enough water to cover
The sweet and sour ribs
the pre-cooked ribs from above

2

tbsp

neutral oil

– something with a high smoke point like canola or safflower. Not olive oil. Please not olive oil.

2

Ounces

rock sugar

– by weight. About 1/4 cup

1

tbsp

minced ginger

2

tbsp

minced garlic

1

tbsp

minced fresh green chili

– seeded finger hot or jalapeño work nicely

2

tbsp

dark soy

1

tbsp

black vinegar

– available at Chinese groceries

1

tsp

sesame oil

1/2

tsp

ajinomoto

aka MSG (optional but not really optional)

1

tbsp

shaoxing wine
Instructions
Braise the ribs
Blanching meat when making stocks is a great trick I am borrowing from making Tonkotsu broth. Grab a pot large enough to hold the ribs, cover with water and bring to a boil over medium heat. Let them boil a couple of minutes.

You should be looking at a big raft of gunk at this point. Strain the ribs, discarding the liquid and give them a good rinse under cold water. Why cold? Because the ribs are hot and you are going to have to handle them.

Depending on how gunked up the ribs are you may have to rinse each rib individually. The pork broth you are going to make here is great for noodle soups. You will want to keep it.

Combine the 3 tbsp all purpose soy sauce, 2 tbsp shaoxing wine, the star anise, water and the now blanched ribs in the same pot (rinsed of any gunk from the previous step). I prefer a pot over a wok here but that's just me. Do what you know.

Bring to a simmer, cover and cook until the ribs are just tender. If you have an instant read thermometer 195-200F is your target. This should take between 1 and 2 hours. Depends on just how meaty your ribs are.

Remove the ribs from the liquid. Strain the liquid and store in the fridge. When cooled, skim the fat from the surface. You now have some great stock for an Asian noodle soup.

If you get into these ribs you can make big batches and freeze them. That way you can make these ribs any night of the week.
Make the ribs
Do your prep. This is going to go fast. Chop your garlic, ginger and chilies. Combine the soy, black vinegar and sesame oil in a small bowl. Measure out your shaoxing wine.

Preheat your wok. I'd say 12 inches is about the minimum diameter you want here.

Add the oil and rock sugar. Stir until the sugar melts and you turns light caramel colour. This should take three or four minutes.

Add the ribs and toss until they are well coated with the caramel. You'll be able to clearly see what is coated and what is not.

Add the garlic, ginger and chilies. Cook, tossing the ingredients in the pan for about 30 seconds. You want to keep things moving here to make sure you don't burn the garlic.

Turn the heat up. Add the soy/vinegar/sesame oil mixture. Pour it down the sides of the wok. It isn't easy getting wok hei at home. Everything helps. Add the MSG if using.

Cook for about a minute. You want things to reduce a bit. Then add the shaoxing wine. Cook another minute or so.

Serve garnished with sesame seeds if you like.
Notes
This recipe serves 4 as part of a larger meal (rice, ribs, vegetables and maybe another protein or noodle dish) in a takeaway style dinner. If you are just mowing down on ribs it's more likely barely enough for two.
Nutrition
Calories:
487
kcal
|
Carbohydrates:
17
g
|
Protein:
20
g
|
Fat:
36
g
|
Saturated Fat:
10
g
|
Polyunsaturated Fat:
7
g
|
Monounsaturated Fat:
15
g
|
Trans Fat:
0.3
g
|
Cholesterol:
95
mg
|
Sodium:
386
mg
|
Potassium:
362
mg
|
Fiber:
0.3
g
|
Sugar:
14
g
|
Vitamin A:
37
IU
|
Vitamin C:
7
mg
|
Calcium:
32
mg
|
Iron:
1
mg