Lamb keema matar. Never heard of it? That's a shame. Because it's crazy delicious.
Lamb. Spices. A rich sauce. And a serving of vegetables built in. Peas in fact. May sound strange. But it works. Really, really well.
And you can make it in 30 minutes. From a standing start. That's just good living. I think anyway.
Lamb keema matar is a dish you should be making
Everybody's heard of chicken tikka masala. Butter chicken. Lamb saag. These are the safe choices. Tasty.
Really tasty. But maybe a little conventional. Uninspired. If that's your thing then stop reading now.
But if you want to stretch a little? Put a toe outside your comfort zone? Give your tastebuds a treat? Then you really should try lamb keema matar.
It's a glebekitchen house favourite. Has been for years. It's the one that gets requested the most. Along with restaurant chicken biryani. You should try that too.
Keema means ground meat in Hindi. Matar is peas. Keema matar. Ground lamb with peas. In a lush restaurant gravy.
And if you really hate peas just leave them out. this one is pretty amazing without them. Keema curry. That's a thing too.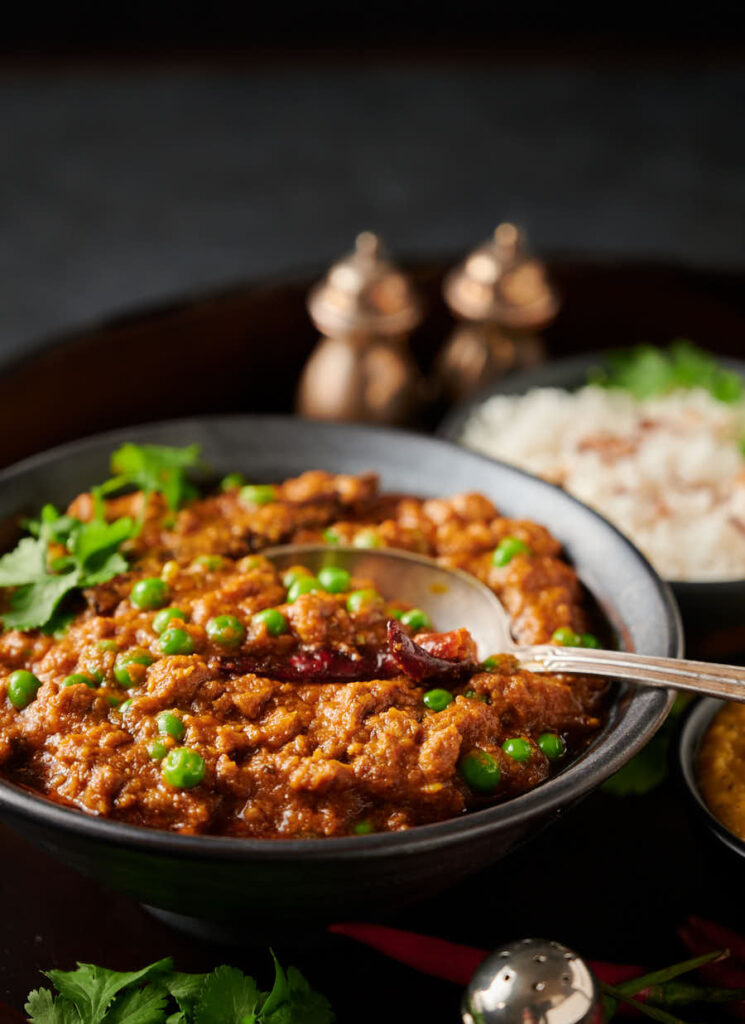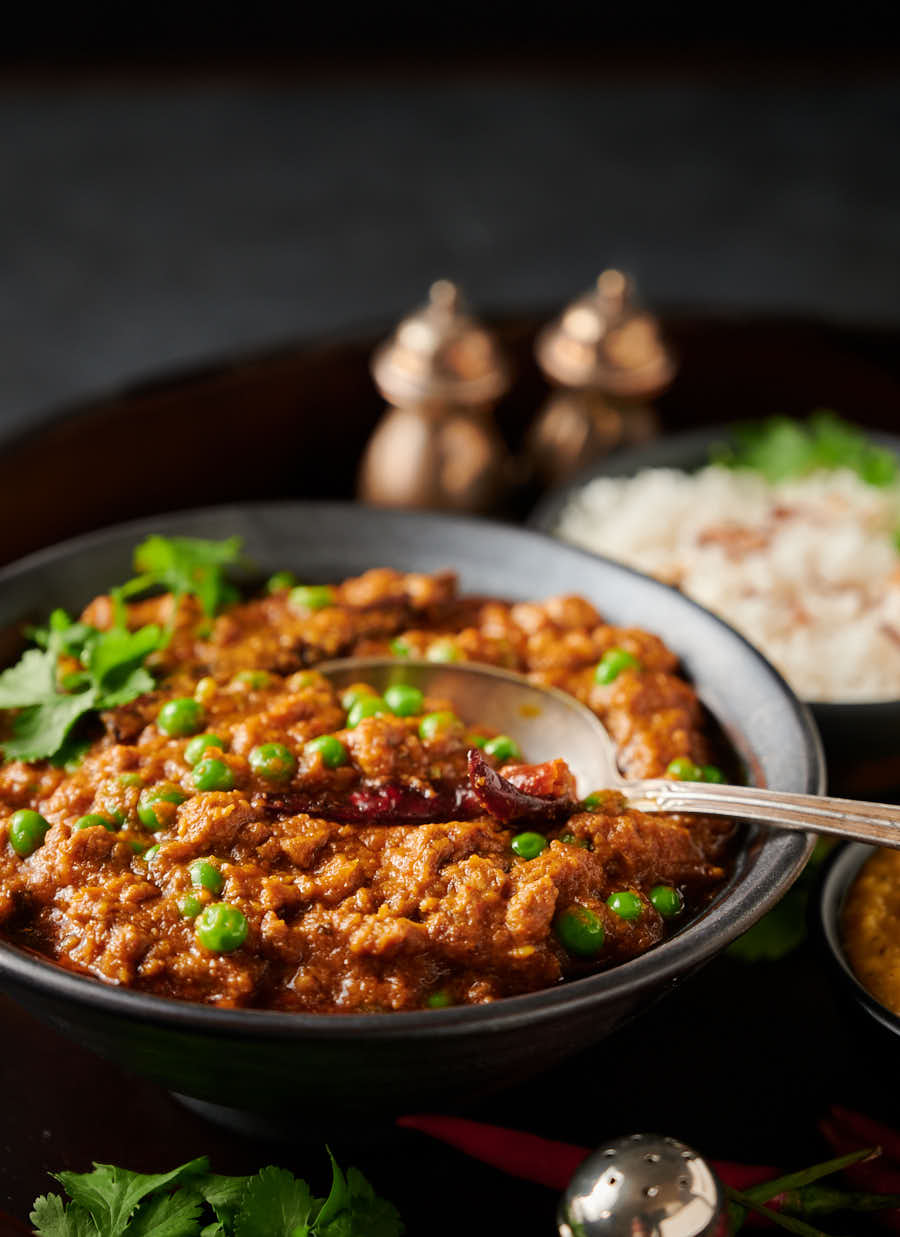 Restaurant results without the fuss
Ever wonder why your curries never turn out like the ones that you get at your favourite local? There's a reason. A good one.
Almost every recipe on the internet uses traditional Indian techniques. Restaurants don't. Simple as that. They have a different approach.
Restaurants use an onion gravy as the foundation of their dishes. That's the trick. Why you can't get your curries to taste like theirs.
They call it base gravy. Or curry gravy. They make huge pots of it. There's a whole section full of recipes doing it just like the restaurants. Exactly like the restaurants.
Takes time though. A lot of prep. A few techniques to master.
If you want to go deep you can read about Indian restaurant curry at home. It's a whole new world.
Or you can make this. It comes very close. Without the work. Curry gravy in 10 minutes. That's what makes this weeknight cooking.
Up to you. Make curries twice a week? Every week? Full blown restaurant technique is for you.
Tight on time? Only make a couple curries a month? The 30 minute approach is probably a better bet.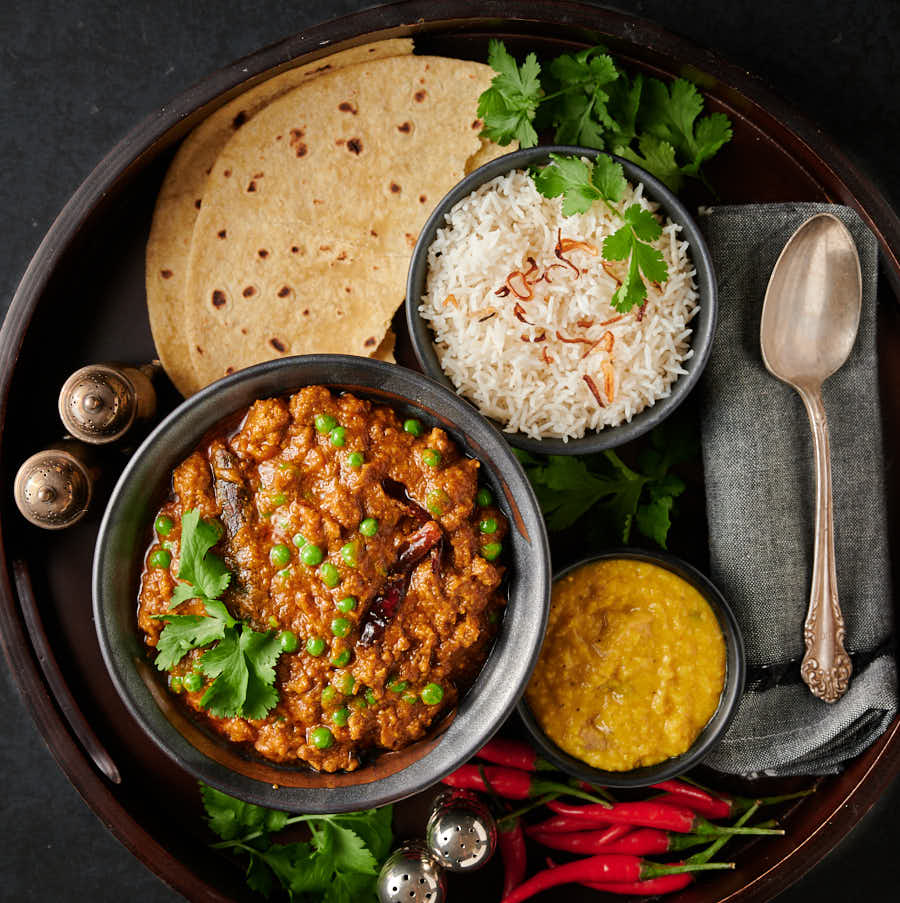 Cook the lamb then make the keema matar
That's a counter-intuitive statement. If you've been cooking Indian for a while you know. There's a lot of braising going on in an Indian kitchen. A lot.
Restaurant style is different. They cook to order. Can't sit around waiting for the lamb to cook with customers waiting.
"Ready to order?"
"Yes, thank you. I'll have the lamb curry please".
"Excellent choice. That will be 95 minutes. Would you like a cocktail in the meantime?"
Pre-cooked proteins. That's how Indian restaurants roll.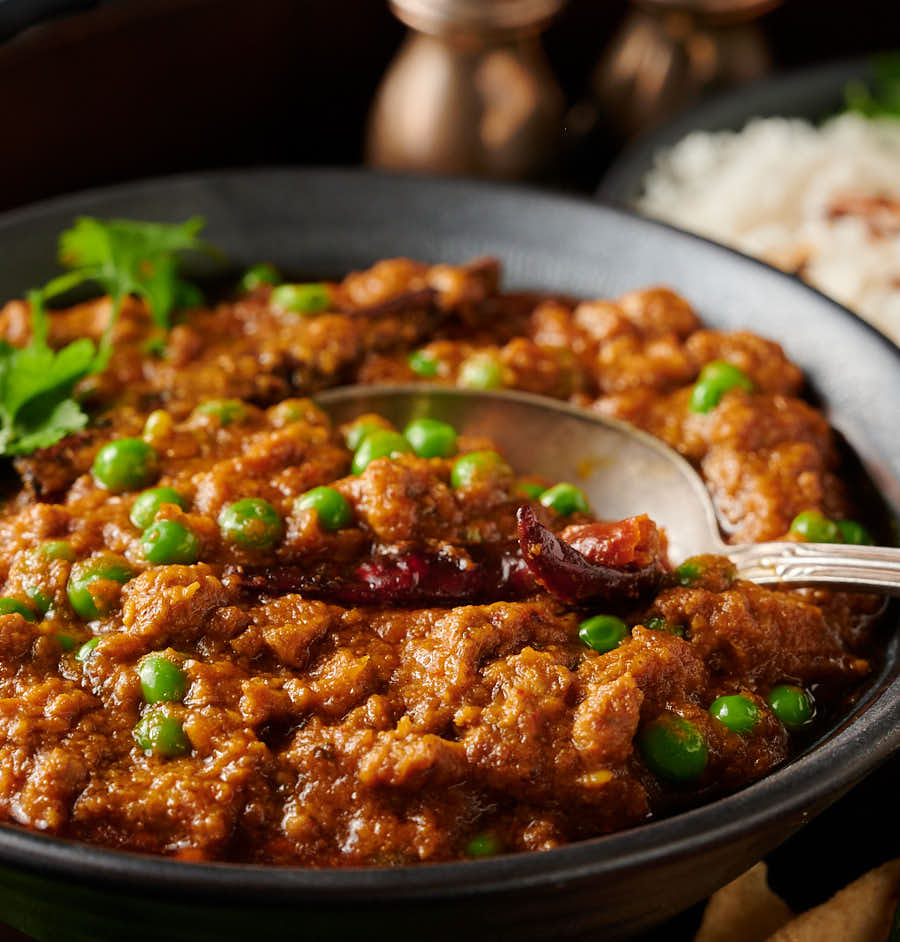 This is a busy 30 minutes
This isn't the simplest of curries. There's a lot of moving parts. I can do it in 30 minutes. On a good day. And I don't have to stop to check the recipe.
So maybe budget 40 minutes. This isn't a race. Better to burn an extra 10 minutes and have fun. Nobody needs stress in the kitchen.
Or think about prepping the keema the night before. That works too. Makes this recipe a breeze. An easy 30 minutes. 22 minute lamb keema matar even.
Want really easy? Prep the onion paste ahead of time. That makes it a 15 minute dish. Perfect for a dinner party.
A couple curries. A fancy pilau rice if you feel like showing off. Maybe a nice green salad to start. That's an easy night in the kitchen. Easy and impressive. Who doesn't want that?
Try keema matar
30 minute keema matar. Lamb with peas. Fast. Delicious. Restaurant results. It just works.
If you've made it this far I'm guessing you are ready to broaden your horizons. Try this dish. You may wind up liking it as much as I do. That wouldn't be a bad thing at all…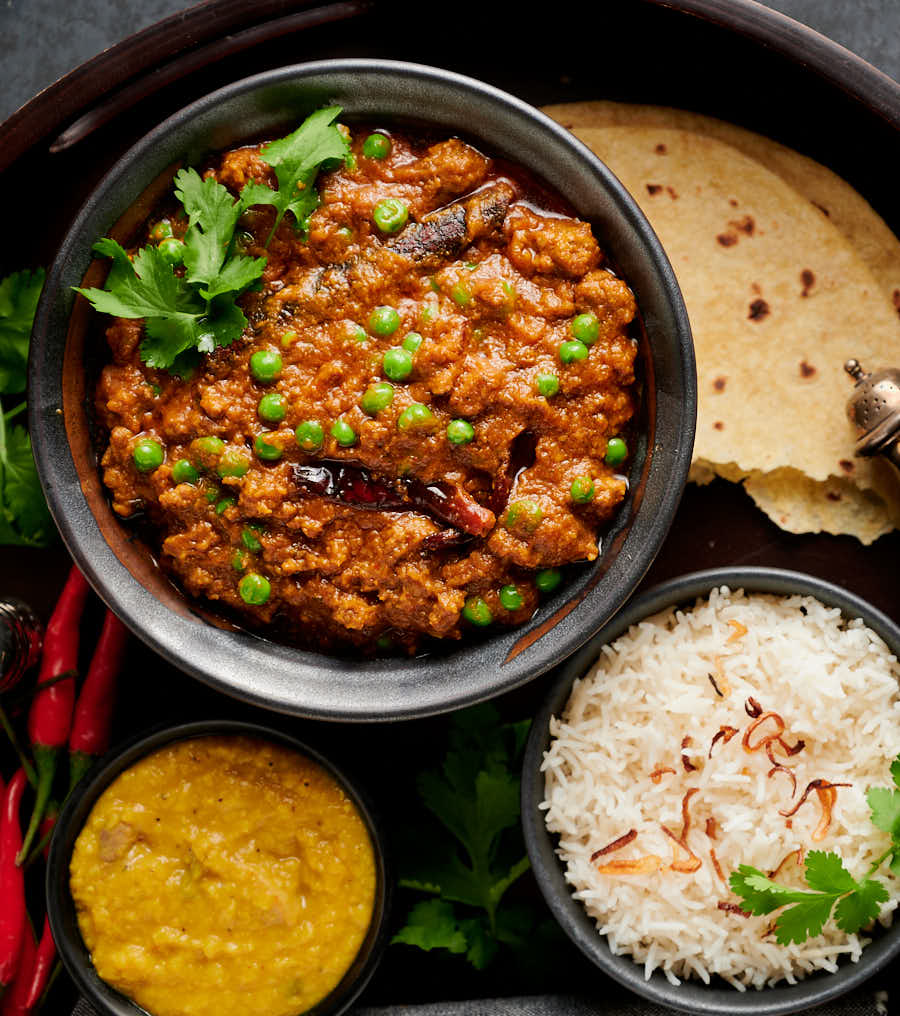 lamb keema matar
Keema matar a lamb curry you need to try.
Ingredients
The onion paste
2

cups

onions – coarsely chopped

2

tbsp

neutral oil

– think canola, safflower, vegetable…

1

cup

water
The keema
12

oz

ground lamb

2

tbsp

neutral oil

1

black cardamom

– black is not the same as green. Just leave it out if you can't get it.

2

inch

cassia bark

– cinnamon bark

2

tsp

garlic ginger paste

– you can buy it but it is so much better if you make it yourself

1/2

tsp

kasoori methi

– aka fenugreek leaves

2

tsp

madras curry powder

1/2

tsp

kosher salt

– use about half this much if you are using table salt

2

tsp

tomato paste

– diluted in about two tablespoons of water

2/3

cup

water
spice mix
1

tsp

cumin

2

tsp

coriander powder

1

tsp

turmeric powder

1

tsp

mild kashmiri chili powder

1

tsp

kasoor methi

– dried fenugreek leaves

1

tsp

kosher salt

– use a bit less if you are using table salt
keema matar
12

oz

lamb keema

– the full amount of the recipe link below. You can take out the whole spices or not. Up to you.

4

tbsp

the lamb fat thrown by the keema

– make it up to 4 tbsp with neutral oil if you don't have enough from the lamb

2

tbsp

garlic ginger paste

– see notes

the spice mix

from above

2

tbsp

tomato paste

plus enough water to dilute it to the consistency of tomato sauce

the onion paste

from above

1

tsp

tamarind paste

homemade or store bought

1

cup

peas
Instructions
Make the onion paste
Place the onions in a microwave safe dish and cover with cling wrap. Do yourself a favour. Punch a couple holes in the wrap to let the steam escape. Microwave at 70 percent until the onions are soft and translucent. This takes about 10 minutes in an 1100 watt microwave oven.

Remove the onions from the microwave. Be careful. They will be hot. Let them cool slightly. 

Place the onions, 2 tbsp vegetable oil and 1 cup of warm water in a blender and puree until smooth. This is your onion paste.
Make the keema
Start your keema as soon as the onions go into the microwave.

Pre-heat your skillet over medium heat.

Add the oil. Once it starts to shimmer add the bay, cardamom if using and cassia bark. Cook until little bubbles form around the spices – about 30 seconds.

Add the garlic ginger paste. Cook until the sizzling stops. This should take less than a minute.

Reduce heat to medium low and stir in the kasoor methi, madras curry powder and salt. You want the spices and oil to be fully combined. Homogenous is a good way of thinking about it. Cook for around 30 seconds.

Turn the heat back up to medium. Add the diluted tomato paste. Stir to combine. Again homogenous is a good word. Cook for about 30 seconds.

Add the lamb. Break it up and cook until it no longer looks raw then add the water.

Continue to cook until the water has evaporated. This should take about 10 minutes.

While the lamb cooks use the time to finish making the the onion paste. Do your prep. Cook your peas. Measure out your spices. Dilute the tomato paste.

When all the water has evaporated remove the lamb from the pan and set aside. Keep the lamb fat in the pan. Lamb fat is delicious. Seriously.
Make keema matar
Cook the peas. If they are frozen microwave until warm. If they are fresh shelled peas, drop them into boiling salted water and cook until they turn bright green (probably a couple minutes if they are fresh). Check one. If you like them more done keep cooking until you get what you like.

In a small bowl, combine the cumin, coriander, turmeric, Kashmiri chili powder, kasoor methi and salt. This is your spice mix.

Heat the lamb fat you saved from the keema in a large skillet. If you don't have 4 tbsp add a bit of neutral oil.

Add the garlic ginger paste. Cook, stirring, until the garlic ginger paste stops spluttering. You'll see what I mean when you do it.

Turn the heat to medium low. Add the spice mix. Stir continuously until it starts to smell really good (about 30 seconds). This is called blooming the spices. It's a key Indian cooking technique. Watch it carefully. If it looks like it's sticking or burning lift the pan from the heat. If the spices burn you need to start over. No way around that.

Add the diluted tomato paste and stir to combine. Turn the heat up to medium. Cook for 1 minute.

Add half the onion paste and turn the heat up to medium high. Stir to combine. Cook for about a minute. Add the rest of the onion paste and stir again. Cook, stirring occasionally for about 4 minutes. Don't worry if it looks dry. You can add a bit of water at the end.

Turn the heat down to medium low. Stir in the tamarind paste. Cover and simmer for another 5 minutes. Add the pre-cooked keema. Simmer to heat the keema through. Add the peas. When the peas are warmed through you are good to go.

If the curry is a bit thick add a bit of water or chicken stock and stir. Taste for salt and adjust as needed.

Garnish with a of cilantro if desired.
Notes
Make your keema ahead of time and have it ready to go.
You can buy garlic ginger paste but it's easy to make and homemade is way better. Here's an easy recipe for garlic ginger paste. If you cook Indian fairly often it's so worth it to whip up a batch. It will keep for a few weeks in the fridge.
Nutrition
Serving:
4
servings
|
Calories:
444
kcal
|
Carbohydrates:
14
g
|
Protein:
35
g
|
Fat:
28
g
|
Saturated Fat:
18
g
|
Cholesterol:
161
mg
|
Sodium:
893
mg
|
Potassium:
703
mg
|
Fiber:
4
g
|
Sugar:
5
g
|
Vitamin A:
465
IU
|
Vitamin C:
12
mg
|
Calcium:
58
mg
|
Iron:
3.2
mg