Indian chicken biryani is a magical thing. It's party food. And there's a reason. Everybody loves it. It's just really tasty stuff.
If you have ever made biryani you know what I'm talking about. It's the moment you crack it open. The aromas reach out of the pot and grab you. You take that first bite. And you know you've made something special.
Traditional biryani is a labour of love. It's real work. Worth it. So worth it. But it takes time. And it's tricky. So it isn't easy to get your fix.
The hardest thing is the rice. Biryani calls for rice that's 70 percent cooked. Then you take raw chicken. Toss it in. Finish cooking the rice and hope the chicken cooks. Not trivial. Doable. But not trivial.
It works. But there's an easier way. Restaurant style.
Restaurants aren't making biryani for 100 at once and hoping you'll come in and ask for it. They make it to order. Like everything else in an Indian restaurant. And this is how.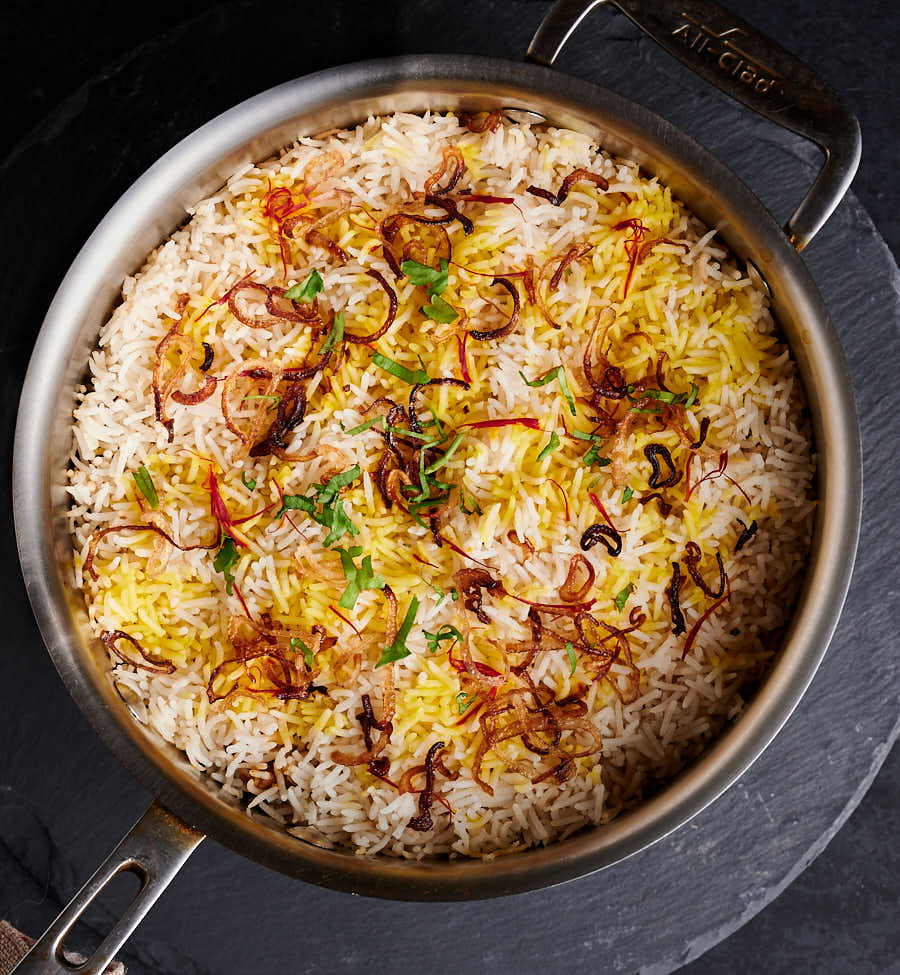 Chicken biryani restaurant style
This isn't stir fried rice. There are a few recipes out there that tell you to stir fry a bunch of stuff. Toss in some pre-cooked basmati. Mix it up. And call it done. This isn't one of those.
You could simplify it. You could pre-cook the chicken completely. And then just heat your chicken biryani through. But that wouldn't get the magic. The infusion of flavours into the rice.
I bet that's what a lot of restaurants do. Just go as fast as they can. But that's not how I roll. I want it all. I want the taste. The depth of flavour. And I want it fast. Maybe not quite as fast as in a restaurant. But close.
Flavour the rice
Biryani is about rice. That's kind of obvious. But it's about rice that's infused with flavour. It's the combination that make the magic.
So plain white basmati isn't going to cut it. It needs spicing up. That's not hard. Just a few extra ingredients.
And salt. Please salt your rice. It's just not going to work if you don't. This is not the place to watch your sodium.
Nothing to this step really. Just toss the seasoning into the pot. And cook. Easy. But really important. So don't skip this step.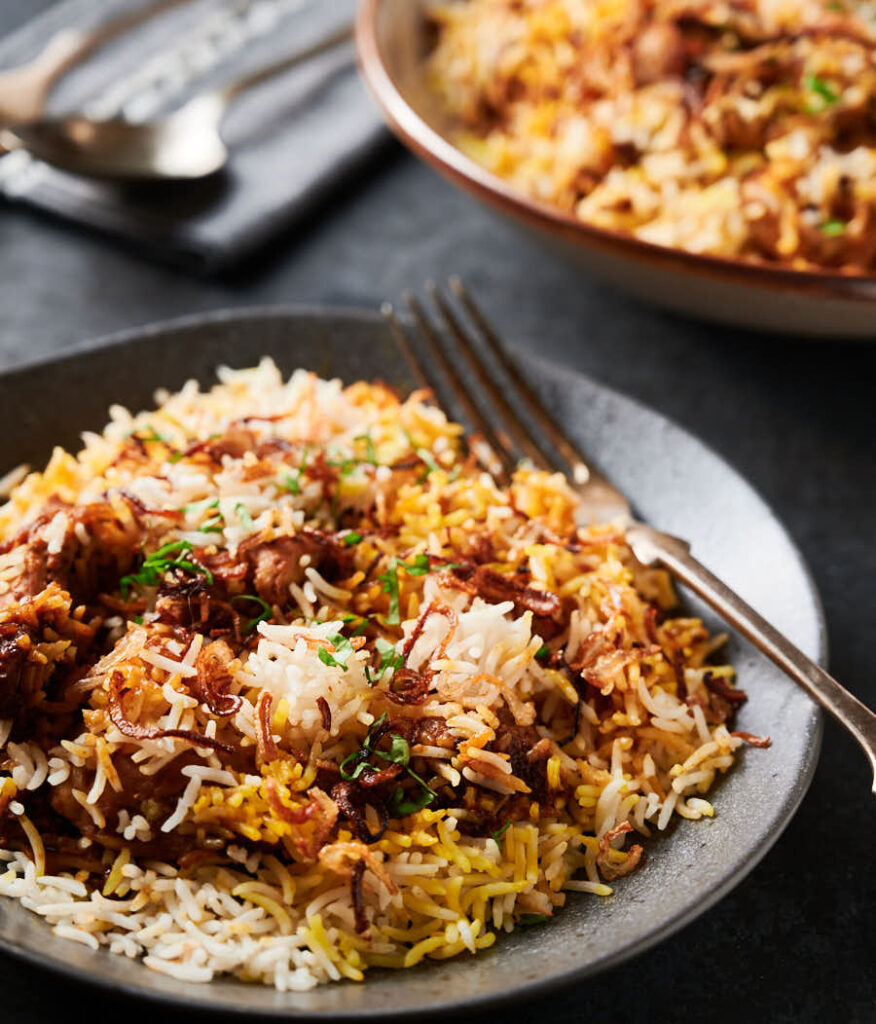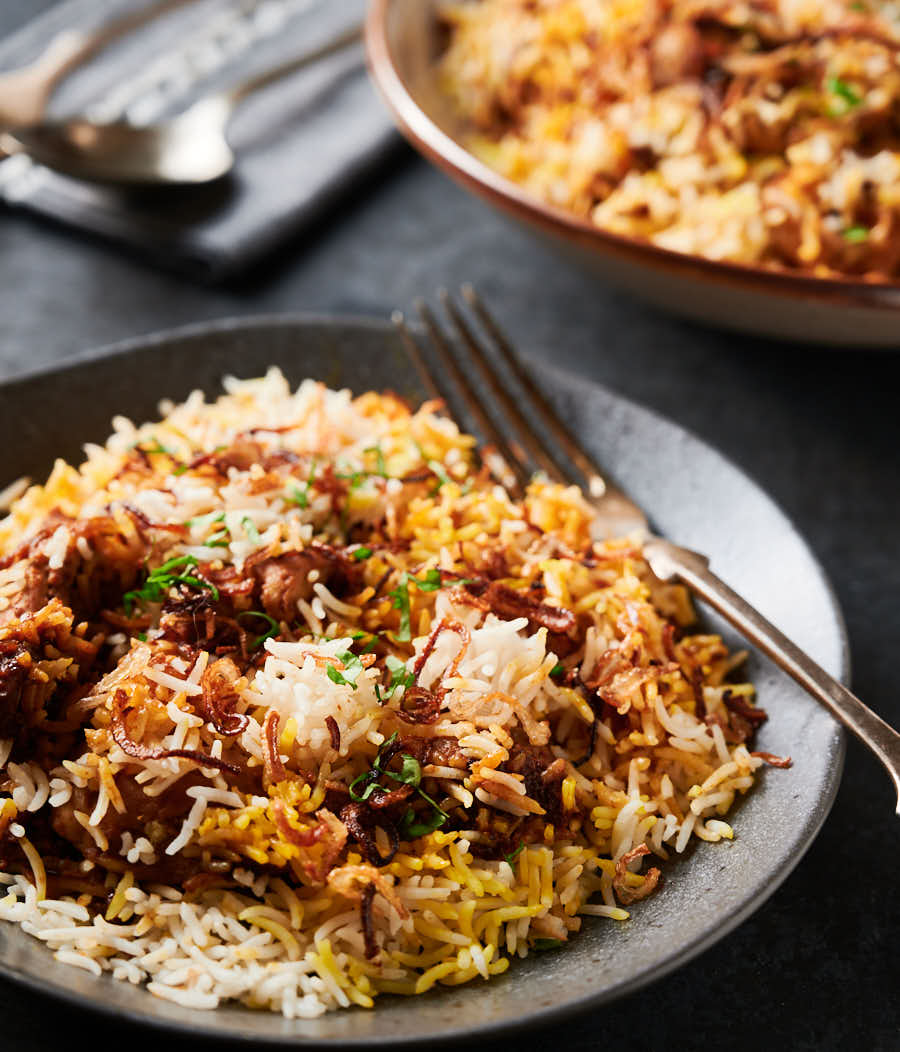 Chicken biryani gets a boost from chicken stock
I'm going to guess this one is not Indian restaurant standard. It might be somewhere. Probably should be. But I haven't seen anyone do it. So I'm going to say this one is a glebekitchen special.
The magic in a biryani comes from cooking the chicken in a sealed pot. It's like pressure cooking chicken flavour into the rice. 15 minutes and half cooked chicken isn't going to cut it.
So it has to come from somewhere. And that somewhere is chicken stock. Not 100 percent chicken stock though. Just enough to get things going in the right direction.
Cook the chicken
Traditional chicken biryani has seared chicken that hasn't nearly been cooked through. That works because the rice can stand a nice long cook. That's why it's parboiled.
Restaurant style doesn't take as long. So the chicken has to be almost cooked when it all goes together. Not a big deal. Just an adjustment in the approach.
The time it takes to sear big pieces of bone in chicken isn't a lot less than the time it takes to cook bite size pieces of chicken thigh. So roughly even from a timing perspective.
And you have the benefit of seriously tasty chicken. So it's a win-win.
Experienced Indian cooks will notice I leave the yoghurt out of this recipe. That's not an oversight. I've tried this with yoghurt. I wanted to love it. I really did. But it doesn't work. It blunts the flavour too much. And glebekitchen is all about flavour.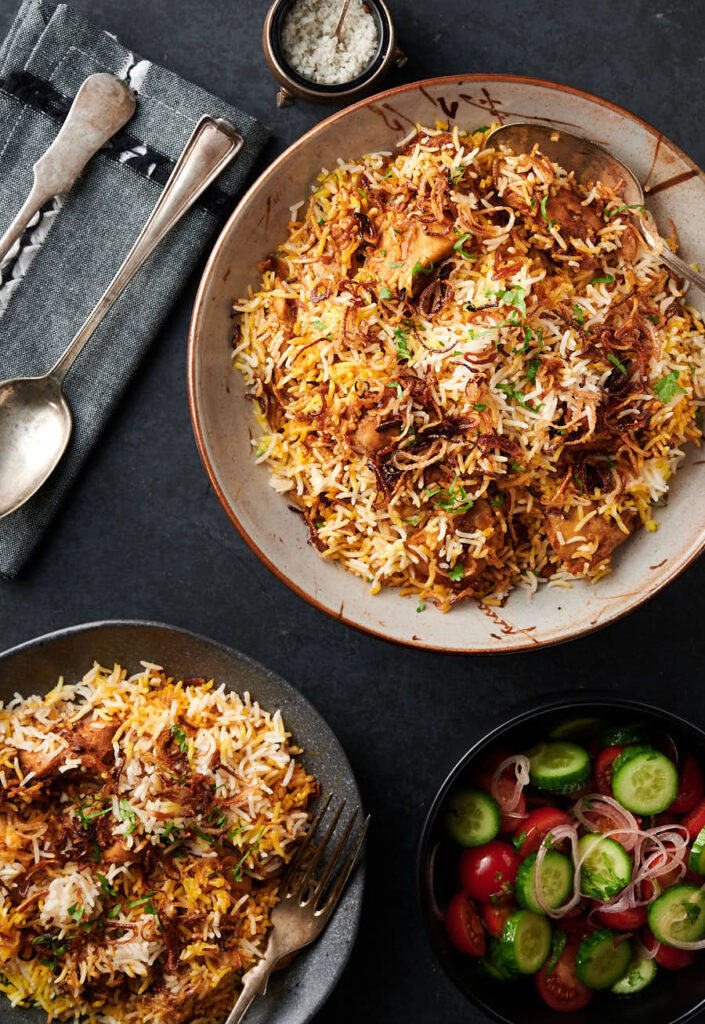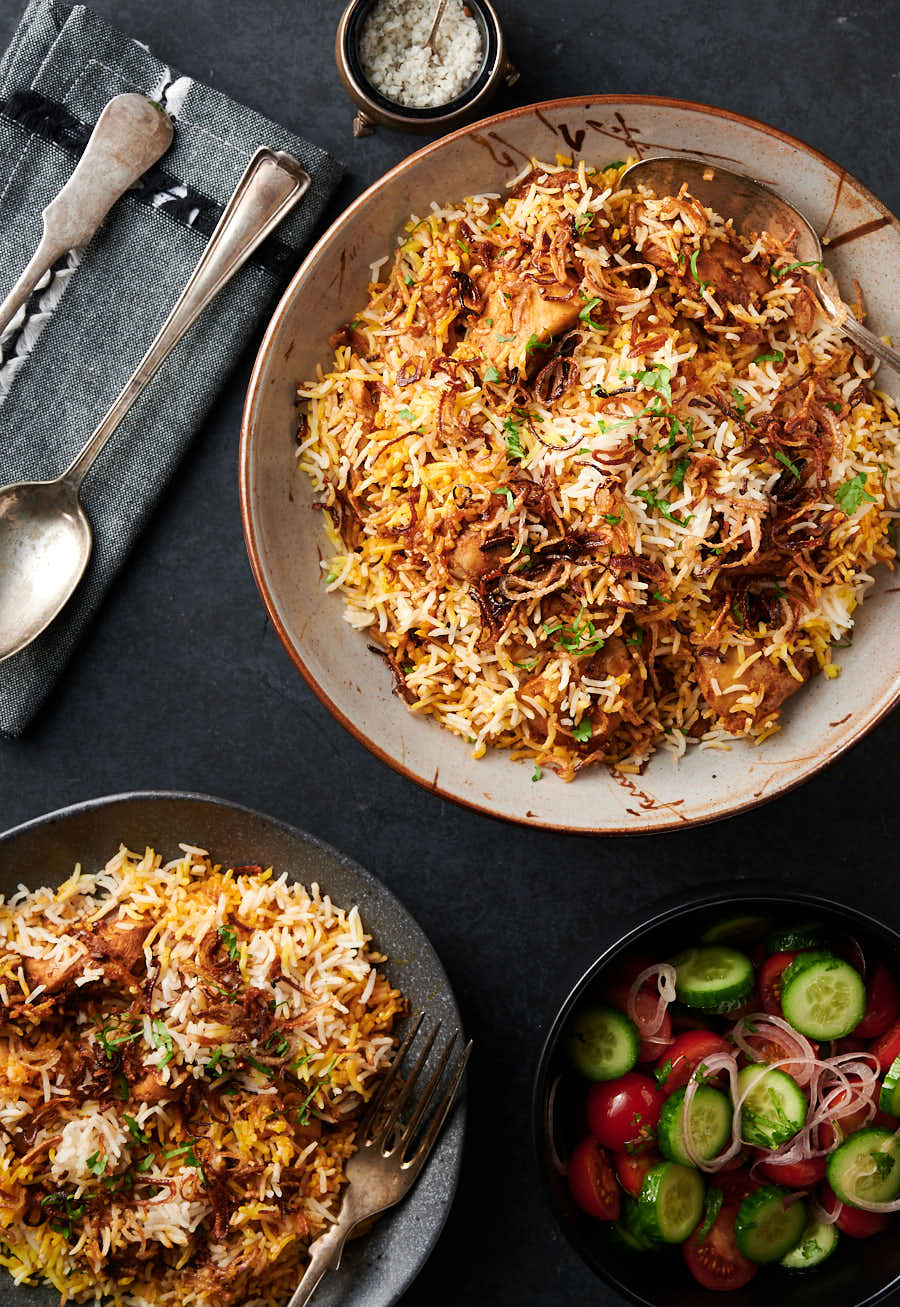 Bake your chicken biryani
This is probably the biggest difference between a classic biryani and the restaurant version. Bake your biryani. Toss it in the oven and close the door.
Classic biryani is cooked on the stove. Or over a fire. Making it for 100 takes a big fire. Super cool videos on YouTube about that. But building a fire is a little too imprecise for a restaurant. Unless you're an absolute master like Francis Mallmann I guess.
Restaurants need repeatability. Predictability. It needs to work. Every. Single. Time.
And they don't have a hundred burners on their stovetops. But they do have ovens. And you can stack a lot of single servings of biryani in an oven.
Makes sense to me. I use the oven whenever I need consistent, even heat. And consistent even heat works well here.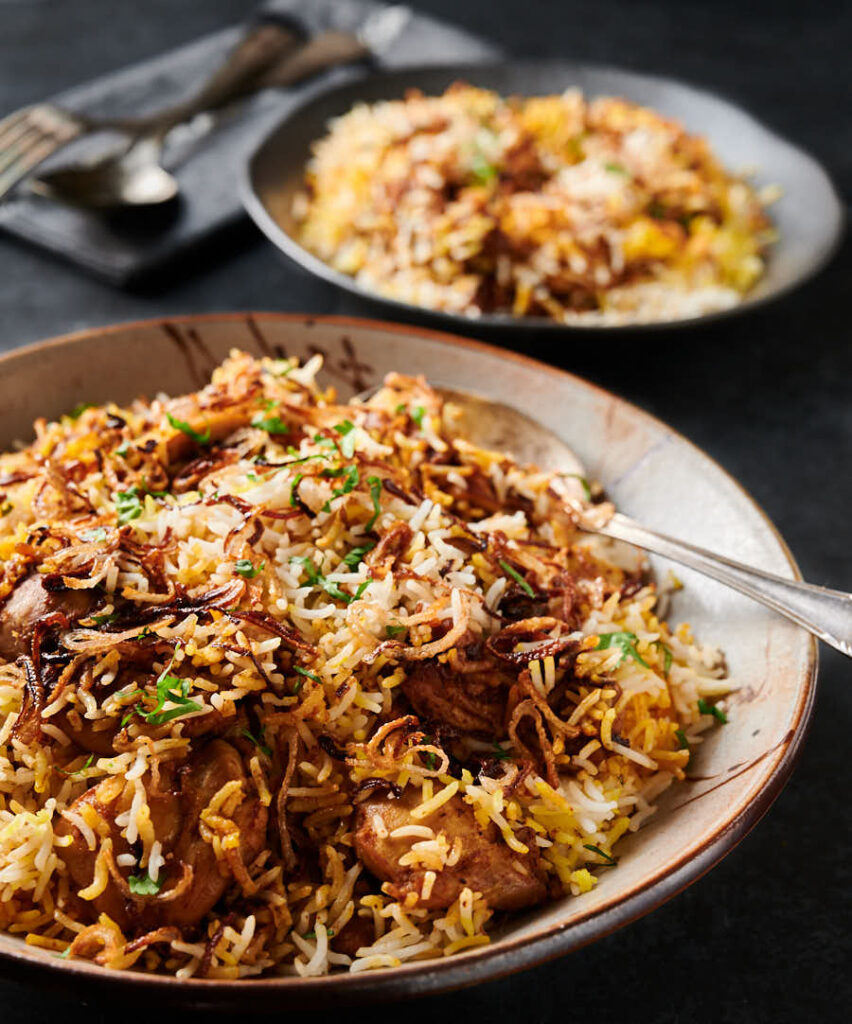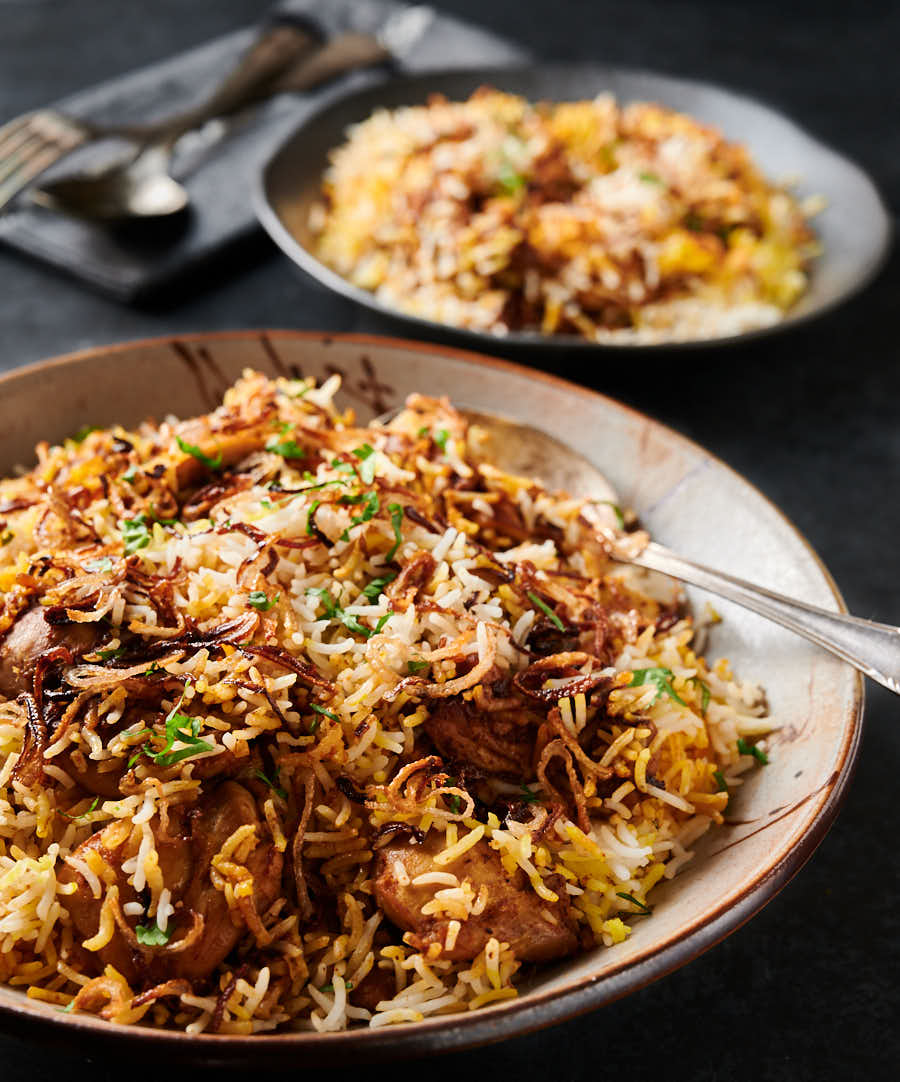 Make this recipe your own
I worked hard to come up with this recipe. I ate a lot of biryani. A lot. Luckily I like it so it wasn't too much of a hardship.
In the end I have a technique. That I can use to mix things up. Lamb. Hyderabadi style. Whatever I want.
And you can do it too. I don't like raisins in my biryani. If you do, toss some in. Want it spicier? A bit of green chili with the cumin seed will fix you up. Richer? Add some ghee to the pot before you put it in the oven.
Whatever you want. Go for it. Make it your own chicken biryani. But make it. Just make it.
chicken biryani – indian restaurant style
Chicken biryani done restaurant style is fast enough to serve any day of the week.
Ingredients
The rice
1 1/2

cups

basmati rice

1 1/4

cups

water

1

cup

chicken stock

– low or no sodium. Bouillon cubes are not chicken stock.

3

green cardamom pods

5

cloves

2

inch

cinnamon bark

also known as cassia

1

tsp

kosher salt
Biryani spice mix
1

tsp

garam masala

1/2

tsp

turmeric

2

tsp

cumin powder

1

tsp

coriander powder

1/2

tsp

kasoor methi

also known as dried fenugreek leaves

1

tsp

kasmiri chili powder

1/2

tsp

amchoor powder

dried mango powder
The chicken
5

tbsp

neutral oil

I use canola

1

lb

chicken thighs

boneless, skinless and cut into three or four pieces per thigh

1/2

tsp

salt

1

cup

shallots

thinly sliced

1/2

tsp

cumin seed

1

tbsp

garlic ginger paste

the biryani spice mix

1

tbsp

tomato paste

diluted with 4 tbsp water
The chicken biryani
the seasoned rice

from above

the cooked chicken

along with all the tasty sauce

1

tbsp

fried shallot

plus more to garnish (see notes if you want to make them yourself)

a few strands of saffron

diluted in a couple tablespoons of warm water

cilantro and fried shallots to garnish
Instructions
Before you get started set your oven on to 350F.
Make the rice
Want perfect rice every time? Get a rice cooker. I don't like one trick kitchen appliances as a rule but I love my rice cooker. Something to think about…

If you do have a rice cooker use it. Just combine the rice ingredients and proceed as you normally do. While the rice is cooking cook the chicken.

If you don't have a rice cooker this is an easy way to make basmati. You can pre-soak, rinse or whatever you want but this works pretty well as written. Blasphemy. I know. But it works. I did this for years until I got a decent rice cooker.

Pick a saucepan with a fairly tight fitting lid that's not way too big. Combine the water, chicken stock, green cardamom, cloves, cinnamon stick, salt and the rice in your chosen saucepan.

Bring to a simmer over medium heat uncovered. Reduce heat to low and cover. Simmer for 20 minutes. Set a timer. Seriously. While this is going on make the chicken (see below).

When the timer goes off after 20 minutes, turn off the heat and let stand an additional 5 minutes. Uncover. Remove the whole spices. They should be just sitting on top. Fluff gently and replace the cover to keep the rice warm.
Make the chicken
Make the biryani spice mix. Just combine all the ingredients in a small bowl. Dilute the tomato paste. Slice your shallots. Have everything at hand.

Heat the oil in a saute pan over medium heat. Add the shallots and cook until they start to brown. They will brown some more in the next couple steps.

Add the cumin seed. Cook for about 30 seconds.

Add the garlic ginger paste. Stir it into the oil and cook until it stops sputtering. Watch it. Don't let it burn.

Turn the heat to medium low. Add the spice mix. Stir to thoroughly combine the oil in the pan with the spices. Cook for about 30 seconds. Really watch it. There should be enough oil in the pan. If the spices start to stick turn down the heat and add a bit more oil.

Add the diluted tomato paste, stir and turn the heat up to medium. Cook about a minute.

Add the chicken and cook, stirring regularly until the chicken reaches an internal temperature of 150F. You want it mostly cooked. It will finish cooking in the assembled biryani.
Assemble the chicken biryani
Use a pot that's about 9-10 inches in diameter. Make sure it has a pretty tight fitting lid.

Put a little more than half the rice in the pot and spread it out in an even layer. Top with the chicken mixture. Add the rest of the rice. Top with the fried shallots/onions (see note if you are making them yourself). Drizzle the saffron water mixture overtop.

Cover the pot with tinfoil and then the lid. The tinfoil adds a little extra seal. It's not quite as good as the dough seal in a traditional biryani but it will work well enough.

Transfer the chicken biryani to the oven and bake for 15 minutes.

After the biryani has baked for 15 minutes remove it from the oven and place it on the stove. Let stand for 10 minutes.

To serve transfer the contents to a platter. It will get a bit messy. That's OK. The mix will look good, especially once you garnish it. It should look just like the pictures because that's exactly what I did.

Garnish with more fried shallots and a bit of cilantro. Dig in and enjoy.
Notes
Fried shallots
You can buy fried onions if you want to make this easier. But I think they are a big step down. It's not that hard to make them.
Slice the shallots thinly. That's key. After that it's just a matter of heating up a half cup of oil in a frying pan. When the oil starts to shimmer add a handful of shallots.
Don't add too much at once. They will bubble up. Pretty sure you don't want a big grease fire so take you time. 
They will start to colour up after couple minutes. When they are a little lighter than you want them transfer them carefully to a plate with a paper towel on them. Use a slotted spoon for this. They will continue to darken a bit out of the oil.
Repeat until all your shallots are cooked. Fried shallots keep for a week or two in a tupperware so if you are making anything that could benefit from a few fried shallots make extra. Lots of things are better with fried shallots. Curries. Spicy Asian soups. Any time you want onion flavour and a bit of crunch.
Really fast restaurant style chicken biryani
This recipe is more about depth of flavour than speed. If you really want to make this dish as fast as a restaurant would, pre-cook your chicken. Have the rice made ahead of time. Follow the cook your chicken step as described. When you add the chicken you won't have to cook it (it's pre-cooked after all) but rather just warm it through.
Toss the pre-made cold rice in a frying pan with a little ghee until warm. Build your biryani as described but bake it  for about 10 minutes. Skip the resting period or cut it down to 5 minutes. It's not as quite as good done this way. Not how I would do it given the choice.  But fast. Like a restaurant.
Nutrition
Calories:
522
kcal
|
Carbohydrates:
61
g
|
Protein:
20
g
|
Fat:
22
g
|
Saturated Fat:
2
g
|
Cholesterol:
65
mg
|
Sodium:
1001
mg
|
Potassium:
364
mg
|
Fiber:
3
g
|
Sugar:
1
g
|
Vitamin A:
226
IU
|
Vitamin C:
1
mg
|
Calcium:
40
mg
|
Iron:
2
mg