Take Indian spices. Bash them up against the flavours of Southeast Asia. And you get cà ri gà. Vietnamese chicken curry. Seriously tasty stuff.
Chicken curry. Sweet potatoes. Carrots. Potatoes. Coconut milk. Lemongrass. Fish sauce. How can this possibly not be awesome?
It's not quite like Indian curry. Familiar. But different. It's more like a soup. Thin. Brothy. Perfect for dipping bread. And that's exactly how you should eat it. With bread. Crazy. But so good.
Vietnamese chicken curry is also really good with rice noodles. Leave the root vegetables out. Serve it up in a big soup bowl. Maybe a bit unconventional. But it works.
I don't get why nobody is doing it. Like a Vietnamese version of laksa. I'm calling that one a glebekitchen original. Please tell me if I'm wrong.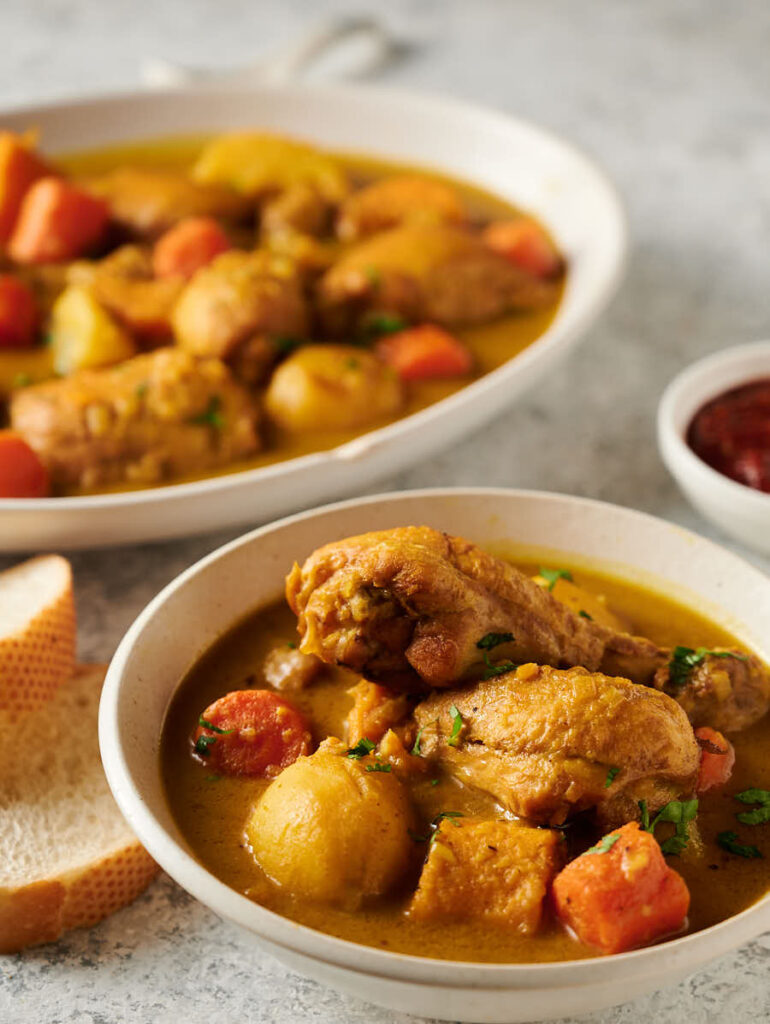 Indian technique makes a better Vietnamese chicken curry
There are a lot of cà ri gà recipes out there that tell you to marinate the chicken in curry powder and then fry the chicken. That's the really hard way. Train wreck waiting to happen.
The chicken sticks to the pot. The spices burn. It can go sideways fast. Maybe not every time. But often enough.
The easy way is to bloom the spices in oil. There's a lot of curry powder in Vietnamese chicken curry. And when you put this much spice in a dish you run the risk of a gritty texture.
I cannot stand gritty curries. So I always bloom my spices in oil. It's easy. And it makes a big difference.
Blooming is just a fancy way of saying frying spices. Hot oil. Moderate heat. Spices. Stir. That's it.
One thing. You need enough oil. That is critical. If you don't have enough you might as well fight spice coated chicken like everyone wants you too.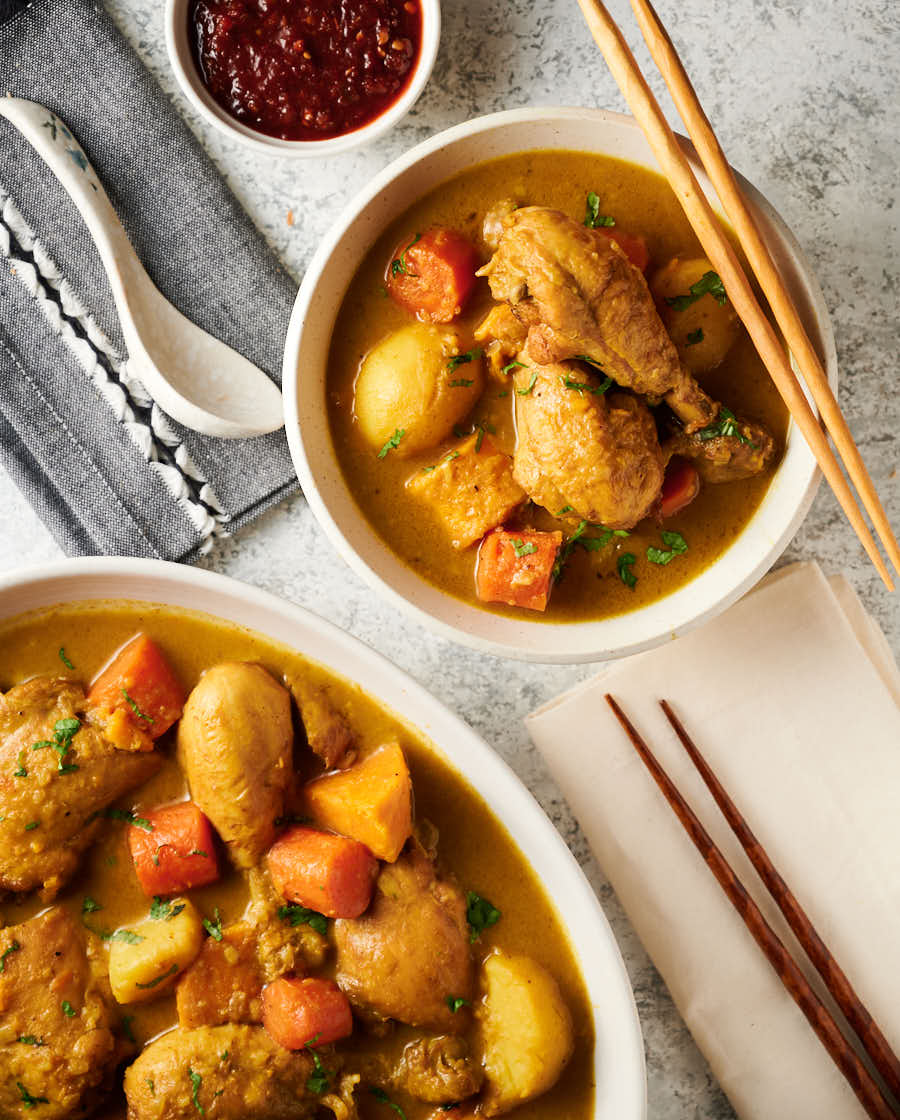 Fry the root vegetables to keep their shape
This is the no-holds barred version of Vietnamese chicken curry. It doesn't have to be this complicated. But this extra step makes a difference.
If you want easy Vietnamese chicken curry skip frying the root vegetables. Brown your chicken in a bit of oil. And follow the rest of the recipe.
Probably a good idea to parboil the root vegetables though. Carrots longest, then potatoes and sweet potatoes last.
But if you want to go for it fry the root vegetables. Not until they're done. Just long enough to colour them up.
It will shorten cooking times. It will make sure the chicken doesn't overcook. And fried does taste better. Don't let anyone tell you otherwise.
And as long as you are frying the vegetables you might as well fry the chicken. It's really no extra work. You're already set up. Like I said. No holds barred.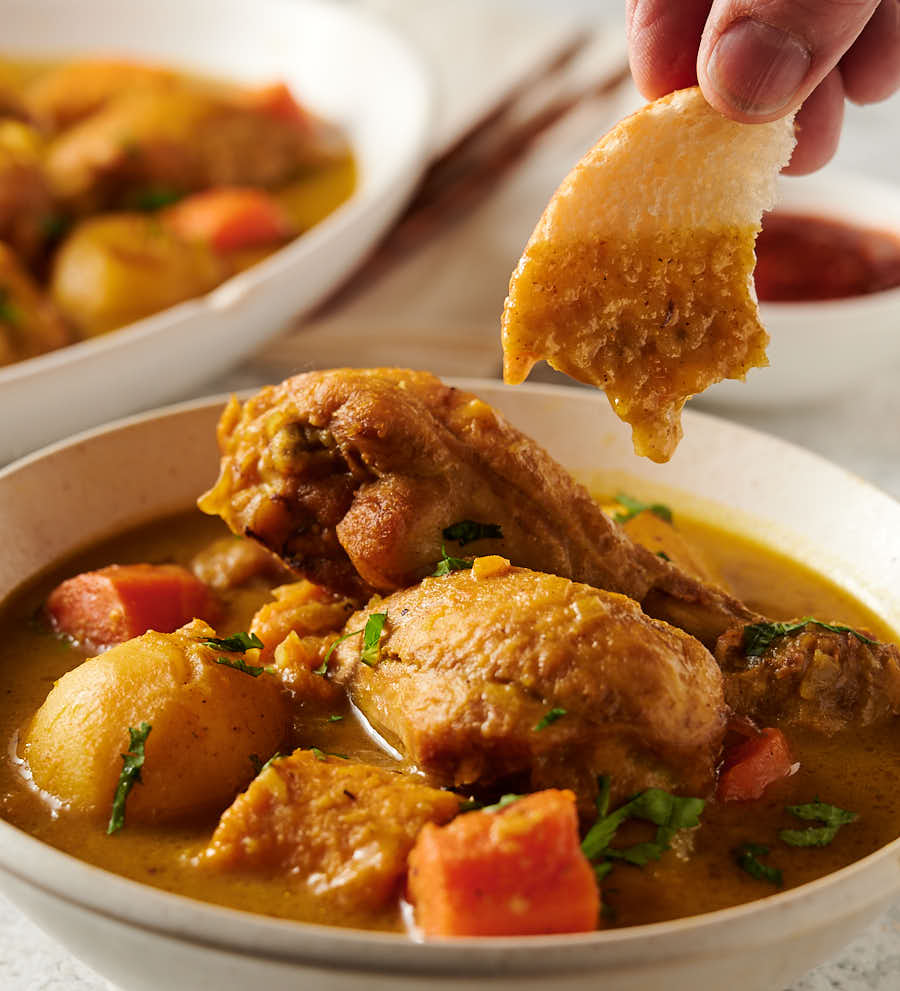 Serve good baguette with your Vietnamese chicken curry
I'm going to get into trouble for this. For sure. I like my Vietnamese chicken curry with baguette way more than rice.
I am not a fan of rice with this curry. And I eat a lot of rice. Just doesn't work for me here. Not saying it's wrong. Just saying it's not for me.
Rice gets lost. I like a spoonful of broth. A bite of chicken. And a bit of bread dripping with sauce. Rinse. Repeat. Lick your bowl clean.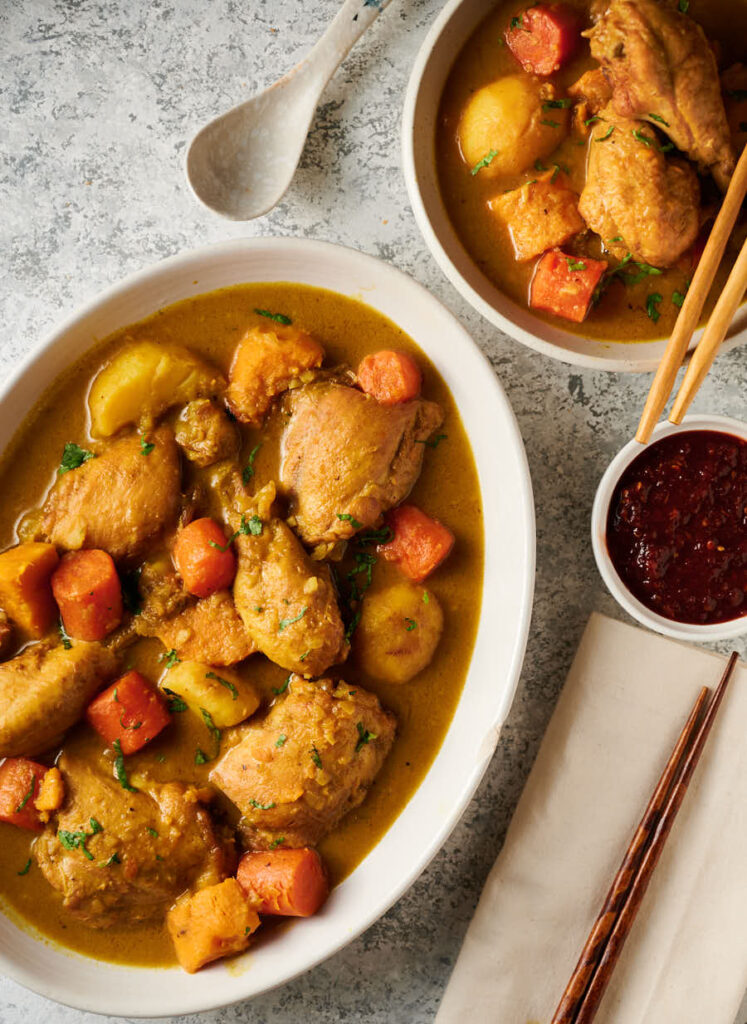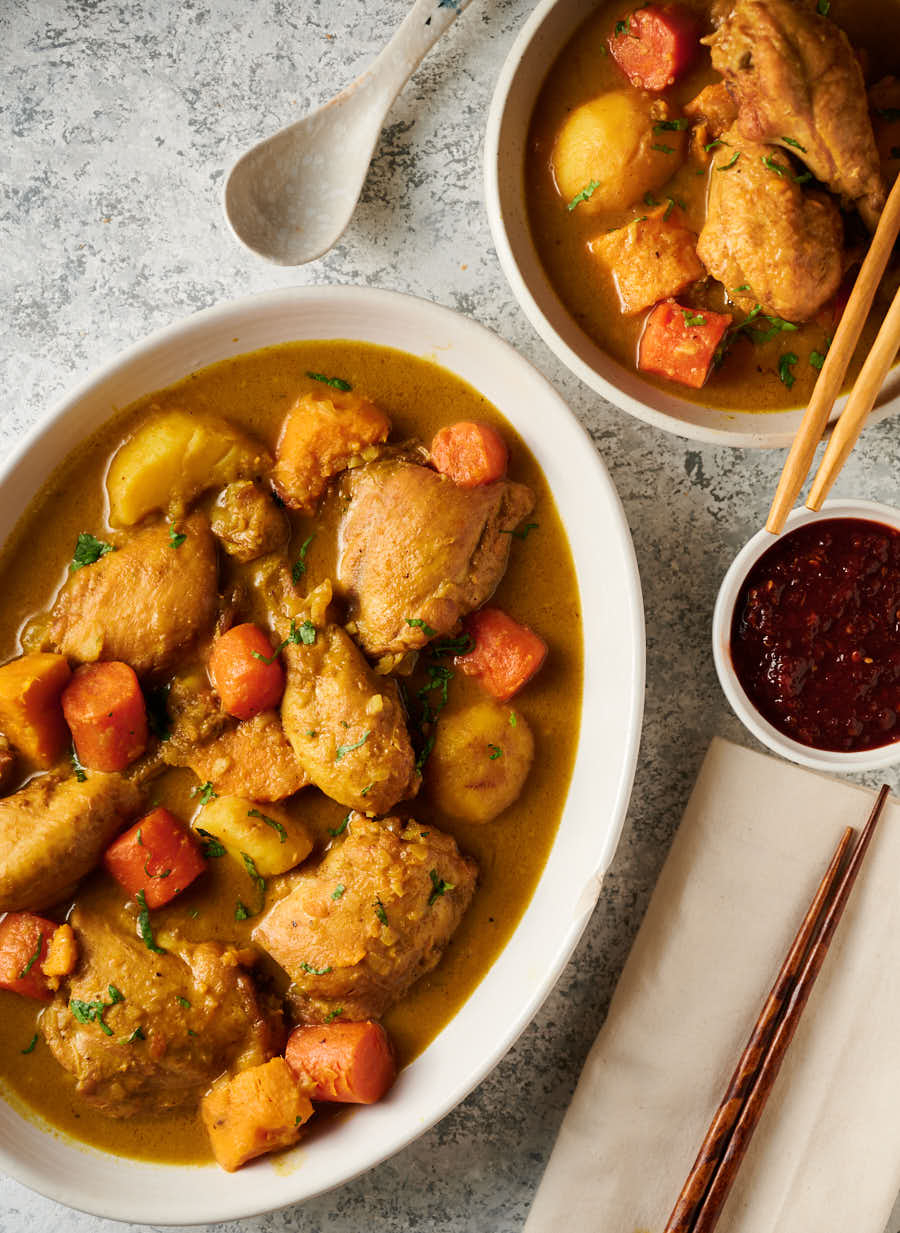 Curry powder matters
This is Vietnamese chicken curry. Not Indian chicken curry. So don't think that using Indian madras curry powder is going to work here.
It is not the same. I have both. I have compared the ingredients. They are not the same. They don't taste the same. Don't even look the same.
It's not actually hard to find Vietnamese madras curry powder. Once you know what you're looking for you will see it in just about every Asian grocer.
Look for a package or a container that says ca ri ni or Vietnamese madras curry powder. Or maybe Vietnamese cari powder. Depends on the brand.
It's actually a pretty safe bet that it's the right stuff if it says madras on it and your Asian grocer doesn't stock Indian.
Make the effort to find it. It matters.
Vietnam meets India meets delicious
This dish mixes up some of my favourite tastes in the world. And it comes out just like you'd expect it to.
It's more Indian than Thai. Closest to Malaysian if I had to pick anything. Doesn't matter really. It's just delicious. And what else matters?
Vietnamese chicken curry. If you are a curry fan and you like Vietnamese then this is one you should try.
vietnamese chicken curry – cà ri gà
Coconut milk, lemongrass, Indian spices and chicken make for one tasty Vietnamese chicken curry.
Ingredients
the spices
3

tbsp

Vietnamese madras curry powder

not Indian madras curry powder

1/2

tsp

black pepper

1

tsp

turmeric

1

tsp

salt

2

bay leaves
The root vegetables
10

oz

sweet potatoes

cut into 1 inch pieces

1

lb

carrots

cut into 1 inch pieces

10

oz

potatoes

cut into 1 inch pieces. I use yukon gold.

oil to shallow fry
Vietnamese chicken curry
2

lbs

chicken

skinless, bone-in. I like a mix of thighs and drumsticks.

1

cup

shallots

diced

3

stalks

lemongrass

cut in half

4

cloves

garlic

minced

1

inch

ginger

minced as fine as you can get it

3

tbsp

fish sauce

– start with 2 tbsp and decide if you want more.

3

cups

chicken stock

no sodium

1 1/2

cups

coconut milk

4

tbsp

vegetable oil

you need this much oil to bloom the spices. They will stick or worse, burn if you cut back.

the root vegetables

the spice mix

cilantro and Vietnamese garlic chili paste to garnish
Instructions
Do your prep
Combine the curry powder, black pepper, turmeric and salt in a small bowl. Get your bay leaves ready

Pick off the tough outer layer of the lemongrass. Cut each stalk into three even pieces.

Peel the carrots, sweet potato and potatoes. Cut them all into 1 inch pieces

Chop your shallots. Mince the garlic and ginger.

Skin the chicken. Give is a liberal sprinkling of salt. You are now good to go.
Shallow fry the vegetables and the chicken
A wok is great for this. If you have one use that. If you don't something around a 10 inch pot should also do the trick. You can go bigger but you will need more oil. You want the oil somewhere around 2/3 of an inch deep.

Heat 2 cups of oil over medium heat (or thereabouts – remember around 2/3 inch deep). You are going for a temperature of around 350F for the oil. Slip in a piece of sweet potato. If lively bubbles form around it you know you're good.

You'll need to do this in 2 batches. Shallow fry all the sweet potatoes and half the carrots. Use a slotted spoon to flip them around so they brown evenly. The sweet potatoes take about 3 minutes. The carrots take about 4 minutes. You are going for lightly browned on the sweet potatoes and kind of blistered looking on the carrots. When they are done transfer them to a bowl lined with paper towel.

For the second batch fry the other half of the carrots and the potatoes. Light brown on the potatoes and blistered looking for the carrots.

The oil is hot anyway so you might as well fry the chicken. GIve it around 2 minutes per side. You want colour but you aren't trying to cook the chicken through here. Transfer them to a bowl (no paper towel required) when the come out of the oil.
Make the Vietnamese chicken curry
Heat the 4 tbsp vegetable oil over medium heat in a pot large enough to hold all the ingredients. Add the shallots and sweat until they are translucent and soft. This should take 3-4 minutes.

Add the garlic and ginger and cook for another minute or so.

Turn the heat down to medium low. Push the vegetables off to one side. You should have a puddle of oil in the middle of the pan. Its time to bloom the spices. Add the spice mix. Stir to make sure all the spice is well coated in oil.

You may need a splash more oil if it looks dry. Don't worry, you can spoon off some of the oil at the end if you want. Blooming the spices is really important so err on the side of a bit too much oil.

Cook the spices for about 90 seconds to 2 minutes. Be careful. You don't want the spices to burn. This step is critical. It's also a really good trick to have in your bag for anything heavy on spice (think Indian and Mexican).

Add the coconut milk, the chicken stock and 2 tbsp of fish sauce. Give it a good stir. Add the carrots, potatoes and the chicken. Hold the sweet potato back. It takes a little less time to cook sweet potatoes.

Toss in the lemongrass and bay leaf. Bring to a simmer and cook for about 10 minutes.

Add the sweet potato and cook until the chicken reaches an internal temperature of 170F for dark meat. This should take another 15 minutes. If you are using white meat you are going for 160F. Probably want to add your sweet potato in around 5 minutes sooner for white meat.

To serve garnish with cilantro. Pass the garlic chili sauce along for people to add a bit more zing if they want. Serve with good crusty baguette.
Nutrition
Serving:
4
servings
|
Calories:
739
kcal
|
Carbohydrates:
47
g
|
Protein:
31
g
|
Fat:
51
g
|
Saturated Fat:
33
g
|
Cholesterol:
82
mg
|
Sodium:
1910
mg
|
Potassium:
1653
mg
|
Fiber:
9
g
|
Sugar:
9
g
|
Vitamin A:
29196
IU
|
Vitamin C:
21
mg
|
Calcium:
154
mg
|
Iron:
10
mg