Easy pad thai. That's three words that make me smile. This is the classic noodle stir fry that everybody loves. Famous for a reason. It's absolutely delicious.
There's no reason you can't make it yourself. It's a snap to make. Comes together in no time. Perfect for weeknight dinners.
This is street style cooking. High heat. Everything ready to go. Just bang it out. Like you were working a stall in Bangkok. Simplified ingredients. Same technique.
Full disclosure. This post is a re-tread. I have been playing with this recipe since I originally published it. This is the new and improved version. Expect it to change again in a couple years.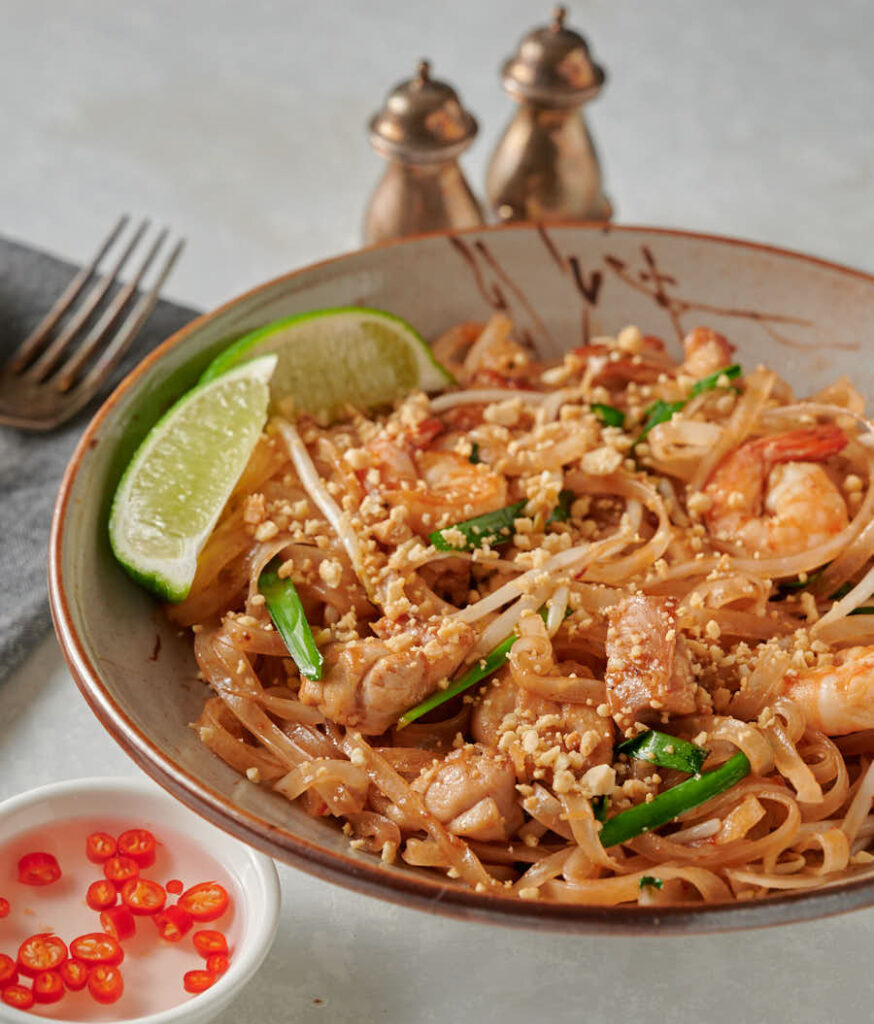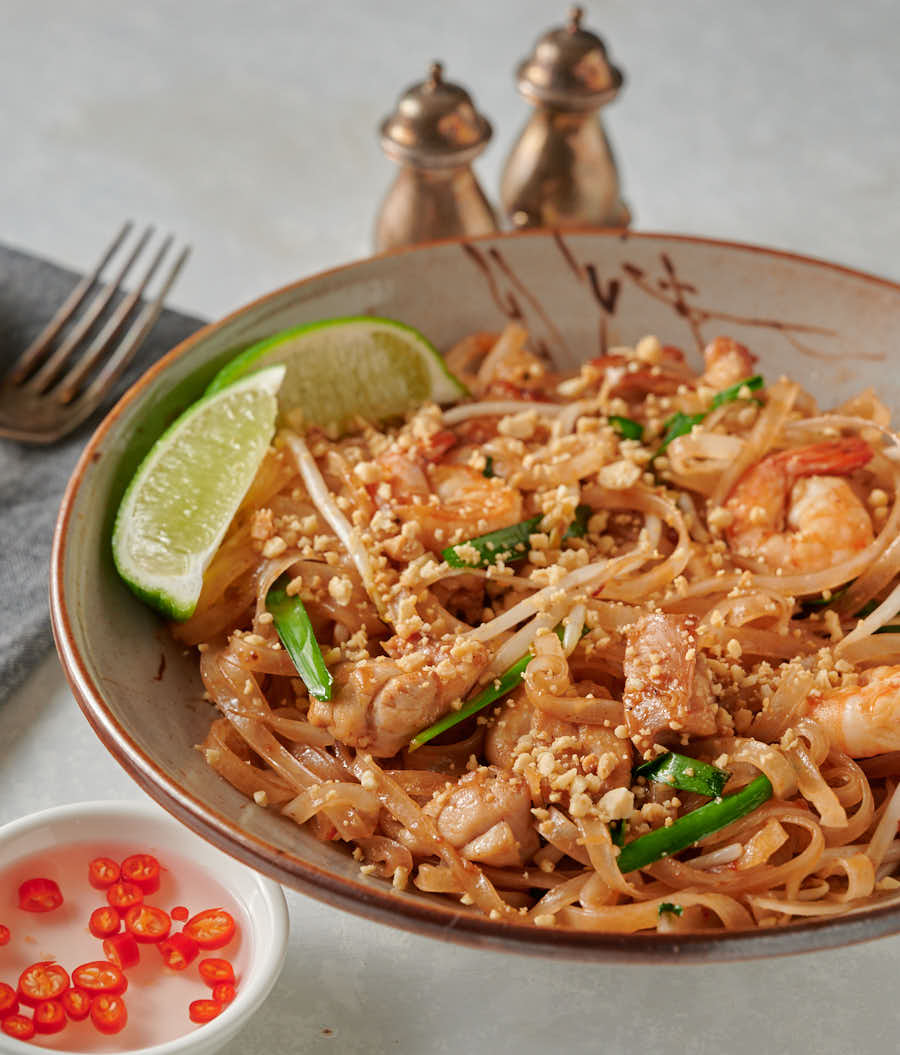 I've been making this easy pad thai forever
There was a time before Internet. Hard to believe. But true. The dark ages.
Back then, you had to figure things out the hard way. PBS. Cookbooks. Word of mouth. Wasn't so easy.
I learned how to cook this dish in the only cooking class I ever took. Taught by a Thai woman who I would credit for this recipe. Except I have no idea what her name was.
The recipe has drifted a fair bit over the years. But I still have my original notes. So I know it's really her recipe. With some of my technique on top. Some tweaks. Easy pad thai glebekitchen style.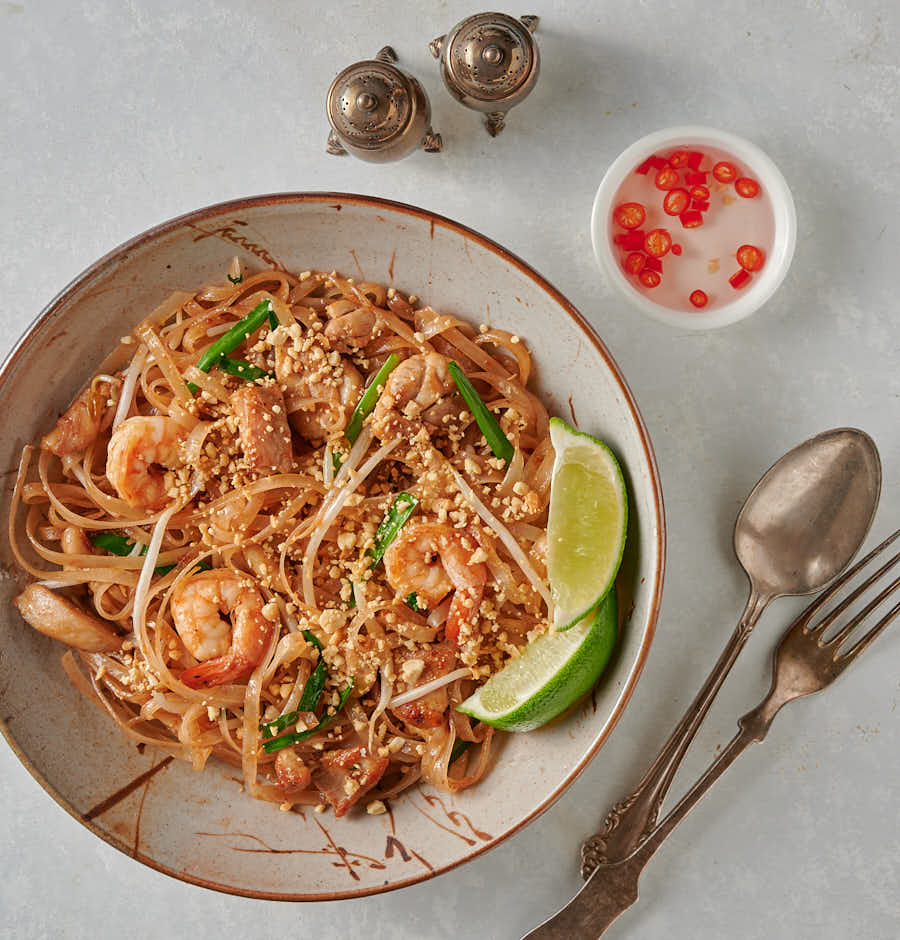 This is weeknight cooking
I make a more complicated version. Dried shrimp. Palm sugar syrup. Salted radish. Blazing high heat. More in line with traditional recipes.
I make all sorts of Thai noodle dishes. I'm a rice noodle addict. My name is Romain and I have a problem.
But I keep coming back to this one. When I want something fast. It's fast, happy food for me.
This is pad thai for when you don't feel like going the distance. No dried shrimp, no salted radish, no palm sugar and no marinated tofu. Simple. But so tasty.
Don't fear the fish sauce
A word on fish sauce. There is no substitute. Seriously. If you eat at Thai or Vietnamese restaurants, you eat fish sauce. You may not know it. But you do.
Soy sauce is not a substitute. Soy sauce will destroy this dish. Kill it. Like
"This is about the worst thing I have ever put in my mouth" bad. Just. Don't. Do. It.
Luckily, you can find fish sauce at a big grocery store. It's not exotic any more.
Probably worth hitting a decent Asian grocer though. For a better fish sauce brand. Pay the extra three dollars. There's a lot of variability. Google "fish sauce review". You'll see.
If you like Thai or Vietnamese it's worth getting good fish sauce. It's the backbone of these cuisines. I have three different types on the go right now.
Fish sauce doesn't go in the fridge. So it's not so bad. My soy sauce collection on the other hand…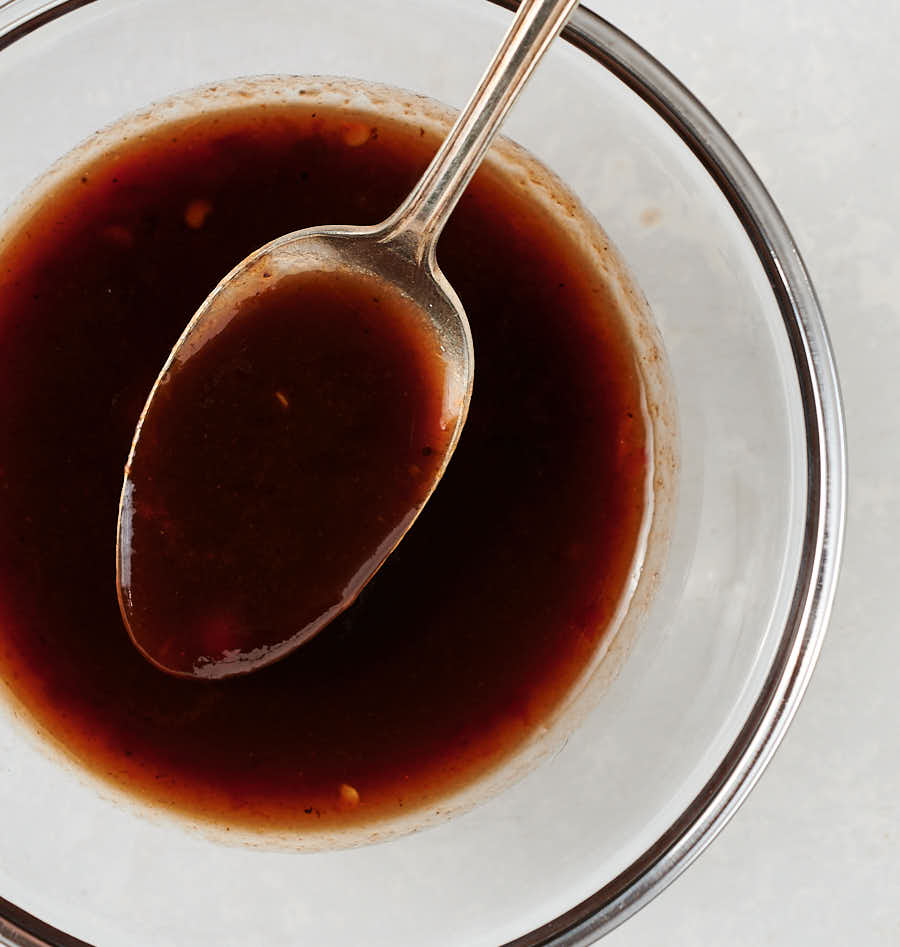 The sauce is the thing
It's a simple thing. Mix a few ingredients together. Done. But the sauce is what makes this dish what it is.
Tamarind paste is the key. It has this complex, slightly sour taste. Not like anything else.
Worth it for this dish alone. But so good in so many recipes. Tamarind and Indian. Tamarind and Thai. Latin. Cocktails. Just get some. You won't be sorry.
You can play with this recipe. Probably should play with this recipe. Modify it to your taste. Add tofu or scramble an egg. Leave out the chicken.
Whatever you want. Just don't mess with the sauce.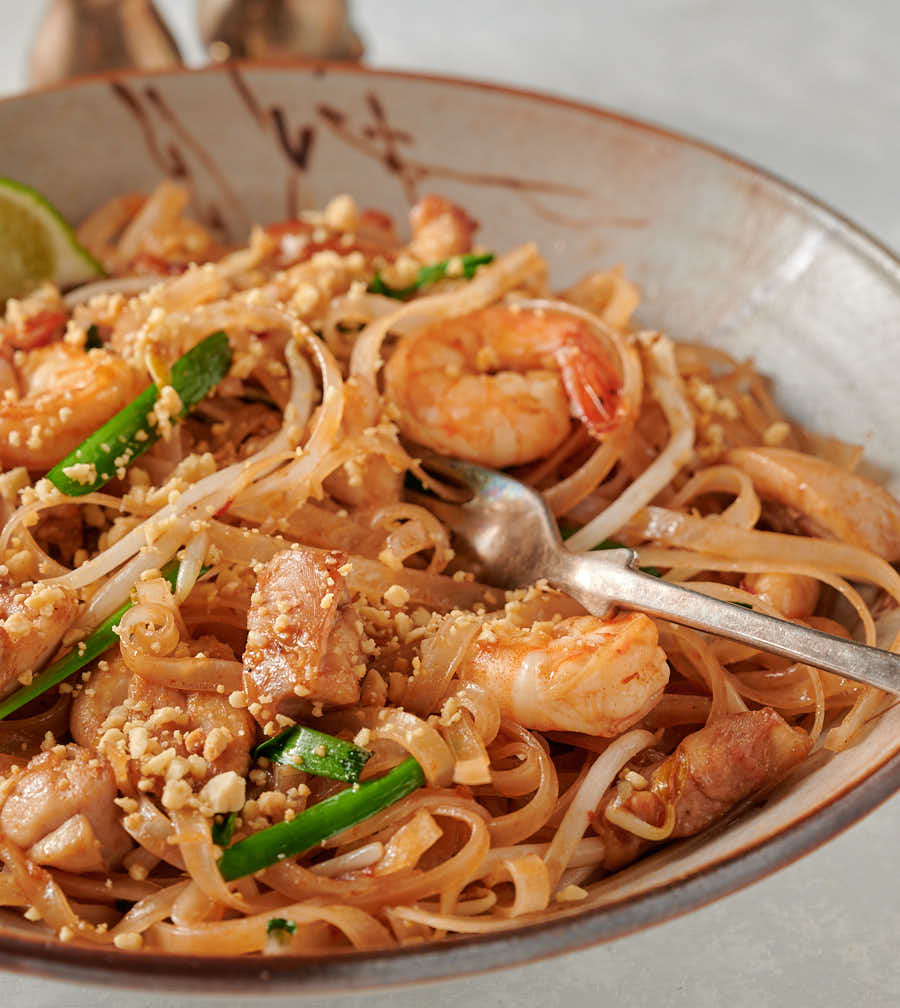 Don't boil your noodles for pad thai
I cannot stress this enough. Soak your rice noodles in hot water. This is critical. Critical. Did I mention this was important?
Keep boiling water away from rice noodles any time you are stir frying them. Boiling water makes mushy noodles. Unless you nail the timing. And mushy noodles makes terrible pad thai. Simple as that.
Soak your noodles in hot water for 30-45 minutes. Just do it. You will be bitterly disappointed if you don't. You want them pliable. A bit toothy. Think 85 percent of the way there. They will finish cooking in the wok.
One thing to note. All rice noodles are not created equal. I can't say I understand. But I do know all brands do not soften at the same rate. So you are going to need to figure this out for yourself. Annoying. I know. Sorry. I can't help you here.
Serve with lime wedges, chopped peanuts, cilantro and vinegar soaked chilies on the side. Maybe some extra bean sprouts. Let everyone customize to taste.
Don't try to make more than two servings at a time
Stir frying doesn't scale. Never does. And that's especially true here. Unless you have a jet engine for a burner. And a wok the size of a car. Then maybe it might work. If you live.
You need to maintain some sort of balance. Heat. The ability to move things around in the wok. And volume. Up the volume and the others go down.
And that's going to disappoint. For sure. Truth be told this recipe works even better if you cut it in half. Cook one portion at a time. That's real street cooking.
Easy pad thai any time you want it
This is easy pad thai. For Tuesday night. For any night. Easy. Any day. Every day.
Next time you feel like picking up the phone to order in make this instead. You won't be sorry.
easy pad thai
This is a simple straight forward pad Thai that uses easy to get ingredients. Do your prep before you start cooking. This dish comes together in under 10 minutes.
Ingredients
Pad thai sauce
4

Tbsp

fish sauce

2

Tbsp

tamarind paste

– not tamarind concentrate – that is way too strong.

1

Tbsp

tomato paste

2

tsp

sambal oelek

3

Tbsp

brown sugar
Easy pad thai
8

oz

rice noodles

(ban pho) – about 1/2 a package

4

Tbsp

vegetable oil

8

oz

chicken thighs

boneless, skinless (or one large chicken breast)

6

shrimp

(optional). 31-40 per lb works well here.

2

cloves

garlic

minced

3-4

garlic chives

chopped

1

cup

bean sprouts

2

Tbsp

peanuts

chopped

1

Tbsp

cilantro
To serve
lime wedges

cilantro

vinegar soaked chilies

– see notes

chopped peanuts
Instructions
Do your prep
Soak the rice noodles in fairly hot water for 30-45 minutes. They will turn white but still be quite firm. You want them a little toothy. Not hard. Just toothy. Pliable. 85 percent of the way there. Start checking them after about 20 minutes. This is important.

While the noodles are soaking, do your prep. Chop your vegetables. Cut the chicken into 3/4 inch cubes. Peel your shrimp if using.

Chop your peanuts. I like a mini food processor. You don't want to make peanut butter but you don't want huge pieces of peanut either. If you don't have a mini food processor chop by hand. It takes a while but you'll get there.

Combine the fish sauce, brown sugar, tomato paste, tamarind and sambal oelek. Stir to combine. This is your pad Thai sauce.
Make the pad thai
This goes fast. Be ready. Have everything at hand. Heat a well seasoned wok or large non-stick frying pan over medium high heat. Add the oil.

When the oil starts to shimmer, add the chicken and cook for two minutes. Add the shrimp. Cook until the chicken is just done and the shrimp are opaque – about 3-5 minutes total. Probably closer to 3 than 5 but I don't know how hot your stove is…

Turn the heat way down. If you're cooking on electric just slide it off the burner. Add garlic and cook, stirring, for another 30 seconds. You don't want the garlic to burn. It gets bitter. That's no good.

Crank the heat to max. Mix in the noodles. Stir to coat the noodles with oil. Cook about 45-60 seconds, stirring constantly. Be careful not to break the noodle strands. At this point you want the noodles just done right. Try one to see.

Add the pad thai sauce and stir. Get it all evenly coloured. Remove from heat.

Mix in the garlic chives, cilantro and bean sprouts and chopped peanuts.

Serve, topped with chopped peanuts.

Pass the lime wedges, sambal oelek, cilantro and chopped peanuts to allow people to tweak to their individual tastes.
Notes
Do not double this recipe. Don't do it. If you want to serve 4 make it twice. Double your prep. But make 2 batches. Please.
All brands of rice noodles are not created equal. Some soften faster. Some take longer. You will need to figure this out yourself. You are looking for 85 percent of the way to your final texture. It's super annoying. I know.
Vinegar soaked chilies are just literally that. 3-4 sliced Thai chilies soaked in around 1/2 cup of white vinegar. That's it. This can be really spicy depending on the chilies so be careful.
Play with this recipe. Add tofu. Or don't. Push the noodles to one side and scramble an egg in the wok before you add the sauce. Leave out the chicken. Up the shrimp. Or leave it out. Have fun with it.
Nutrition
Serving:
2
servings
|
Calories:
952
kcal
|
Carbohydrates:
130
g
|
Protein:
28
g
|
Fat:
37
g
|
Saturated Fat:
25
g
|
Cholesterol:
110
mg
|
Sodium:
3378
mg
|
Potassium:
611
mg
|
Fiber:
5
g
|
Sugar:
31
g
|
Vitamin A:
46
IU
|
Vitamin C:
13
mg
|
Calcium:
118
mg
|
Iron:
3
mg