Thai sweet chili sauce is sticky, spicy, sweet and delicious on just about everything. And it's dead easy to whip up. No sense buying it. Just make it when you need it.
I see little jars of Thai sweet chili sauce on the shelves for ridiculous money. And I don't get it. Why pay a bunch for something that you can make for pennies? Whenever you need it.
I get that if you don't cook a lot of Asian that you won't necessarily have sambal oelek or rice vinegar on hand. So maybe it's not the best deal for you. But if you do, this is a no brainer.
Thai sweet chili sauce is super versatile
You know it's great with spring rolls. If you didn't you wouldn't be reading this. But you can use it all sorts of places. Like shrimp cocktail. I'm going to do that recipe soon. Shrimp poached in a tom yum based broth. With this dipping sauce. Killer.
It's great on sandwiches too. A little mayo, some cilantro, Thai sweet chili sauce and a bit of roast pork. Really good. I do that all the time. Almost worth making a pork roast just for the sandwiches.
It works in cool noodle dishes. Some greens. A bit of grilled chicken. Rice vermicelli. A good drizzle of sauce. Simple. Easy. Delicious.
Try it with satay instead of peanut sauce. Don't get me wrong. I love peanut sauce. But if you want to mix it up this stuff works too.
Why choose? Serve both. A creamy peanut bite. A spicy sweet bite. Seriously luxe.
Wings. Thai chili sauce chicken wings. Stop and think about that for a second. How can anyone not want that?
I'm an addict. I know. But wings with this stuff are stupid delicious.
Just toss some wings with a bit of fish sauce, black pepper and granulated garlic. Grill. Over charcoal is best. And serve them with some Thai sweet chili sauce as a dipping sauce. Guaranteed hit.
There's so much you can do with this stuff. It's a bit crazy really.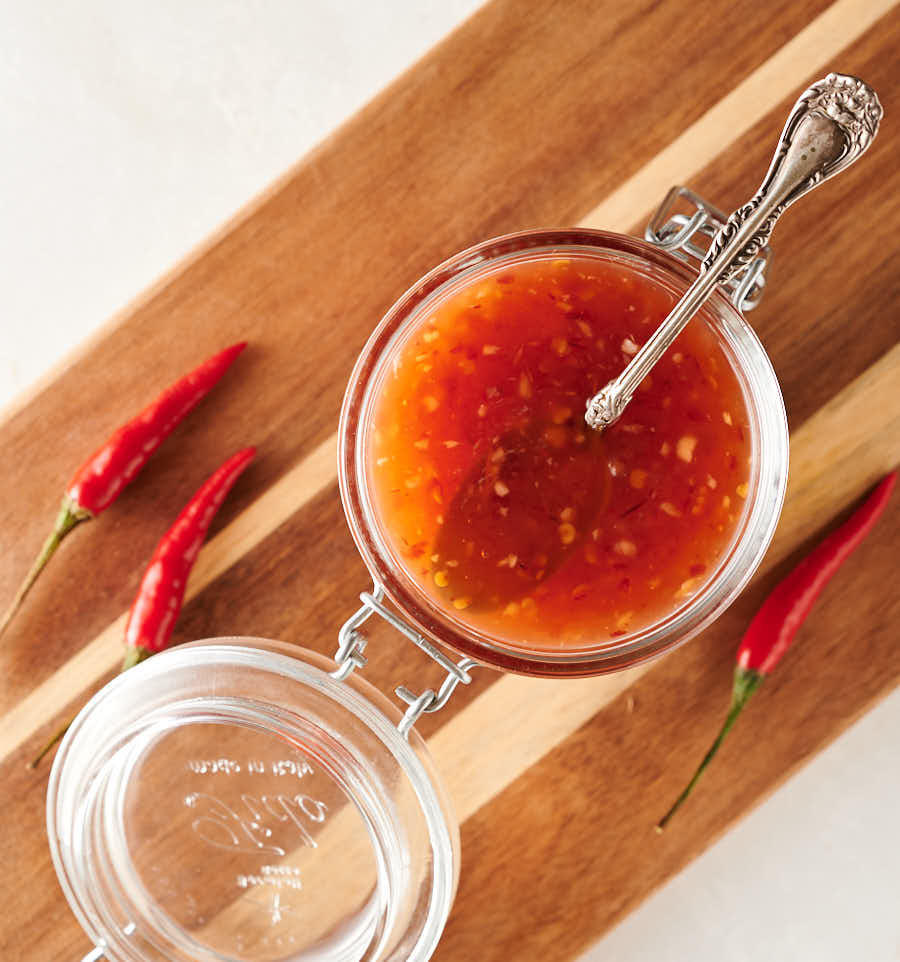 This could be the original BBQ sauce
Think about bbq sauce. It's sweet. It's sticky. Has some spice. Sound familiar? Thai sweet chili sauce makes a great finishing sauce. It's not just a dipping sauce.
Instant spicy Thai flavour. Grill up some chicken. Or a pork chop. Slather on some sauce. Watch out though. It will burn. Just like bbq sauce.
Or grill up some shrimp. When you pull them from the grill toss them with some chili sauce. Easy. Fast. Sticky. Tasty. Try that at your next dinner party.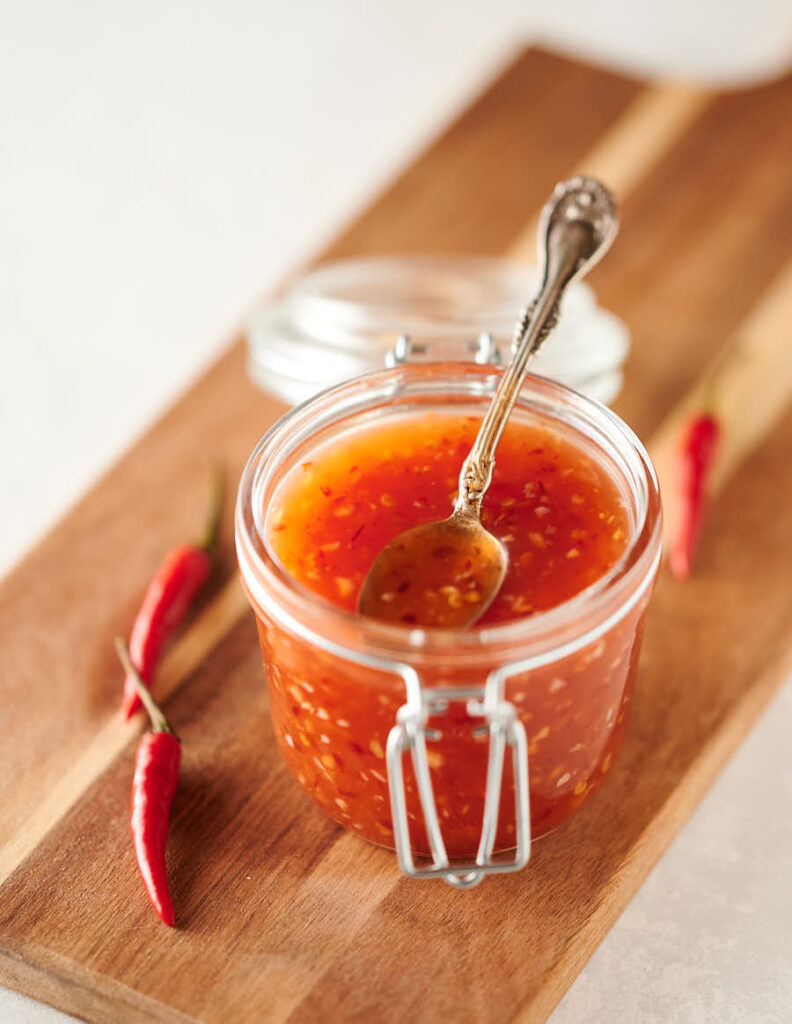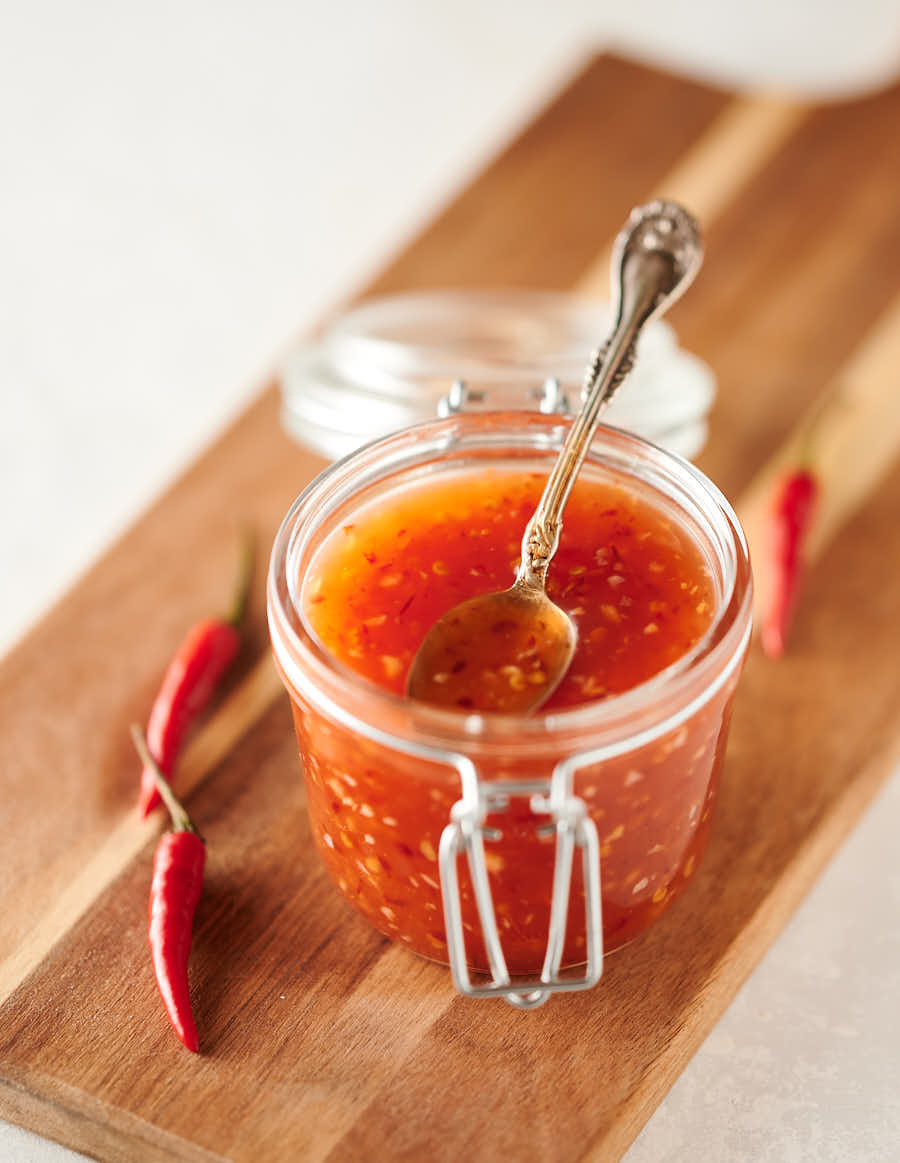 Thai sweet chili sauce is a snap to make
I'm almost embarrassed about this post. There is nothing to it. But it's so good. I had to do it. And it is scratch cooking. So for that it belongs here. You could buy it. But why do that? When it's this easy there's no excuse.
Mix some stuff in a sauce pan. Heat. Done. Seriously. Probably takes longer to read this post than to knock this off.
Make this. Use this. It's so good. And so easy. Be careful though. It will become a household staple.
thai sweet chili sauce
Thai sweet chili sauce is super easy to make. No reason to buy it. Just whip up a batch when you need it.
Ingredients
1/2

cup

rice vinegar

unseasoned

2/3

cup

sugar

2/3

cup

water

plus a couple tablespoons to make a cornstarch slurry

3

tbsp

sambal oelek

2

cloves garlic

minced

1

tsp

kosher salt

4

tsp

cornstarch
Instructions
Combine the rice vinegar, sugar, 2/3 cup water, sambal oelek, minced garlic and salt in a small saucepan.

Heat until the sugar mostly dissolves. It just needs to warm up a bit.

Add the cornstarch to a small bowl. Add a couple tablespoons of water to the bowl and stir to create a slurry. Watch out for clumps. You don't want clumps. You will be chasing globs of cornstarch in your sauce if you aren't careful. I've made the mistake. It sucks.

Add the cornstarch slurry to the other ingredients. Stir to combine. It will be an awful, pasty white mess at this point. Don't freak out. It will clear when it cooks through.

Bring to a simmer and cook about 5 minutes. Doesn't look like an ugly mess anymore right?

Let cool. You are good to go.
Nutrition
Calories:
583
kcal
|
Carbohydrates:
143
g
|
Protein:
1
g
|
Fat:
1
g
|
Saturated Fat:
1
g
|
Sodium:
3370
mg
|
Potassium:
56
mg
|
Sugar:
134
g
|
Vitamin A:
63
IU
|
Vitamin C:
31
mg
|
Calcium:
11
mg
|
Iron:
1
mg