Doro wat is one of the most famous dishes to come out of Africa for a reason. It is seriously tasty stuff. If you like Indian you are going to like this Ethiopian chicken curry.
It's a little different from most of the recipes out there. But stick with me. It will turn out.
It's a lot like cooking Indian. Same basic principles apply. So I've applied Indian technique to make this version. How I would make it if I were running an Ethiopian restaurant.
Berbere is the backbone of doro wat
Berbere is finally getting the recognition it deserves. I see it in specialty stores. Sometimes it even shows up in grocery stores.
I can get it at a local Ethiopian bakery for next to nothing. So I don't bother making it. If you have an Ethiopian bakery where you live ask them for their berbere while you are picking up some injera bread to go with your doro wat.
If you're not familiar with berbere it's an Ethiopian spice mix. Think Indian masala but with an Ethiopian twist.
It's not that different either. A lot of common spices. Not all the spices are the same though. And I think that's what makes it special.
I love it. I've been using it for years. In a lot of places. It's great in doro wat. Lots of Ethiopian dishes in fact.
It makes a great dry rub for grilled chicken. A little peanut butter and some berbere is fantastic in a chickpea curry. A great seasoning for dal. Versatile stuff.
Watch out for pseudo-berbere. It should not be mostly salt. It should be African chilies and spices. Look at the bowl of spice in the pictures. If it doesn't look like that you aren't likely to wind up somewhere good…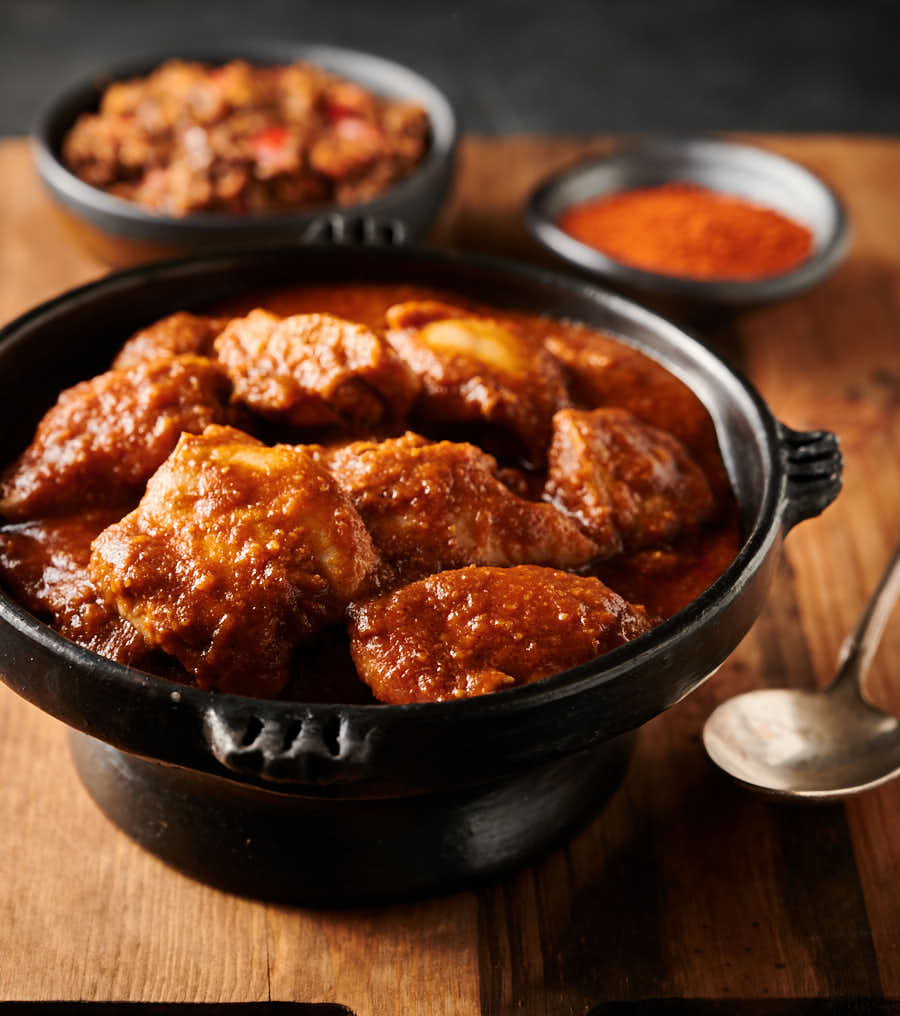 Injera bread works really well
On it's own injera is seriously sour sourdough flat bread. The texture is unique. Like eating a sour sponge. Not as bad as I'm making it sound. But it's a bit of an acquired taste.
Until you mix it with Ethiopian food. Then it just works. Somehow. That sour tang comes together with the berbere. Makes something wonderful.
I don't understand it. But I like it. And it has a million years of culinary evolution behind it. OK – maybe not a million. But it's been figured out. Try it. You'll see.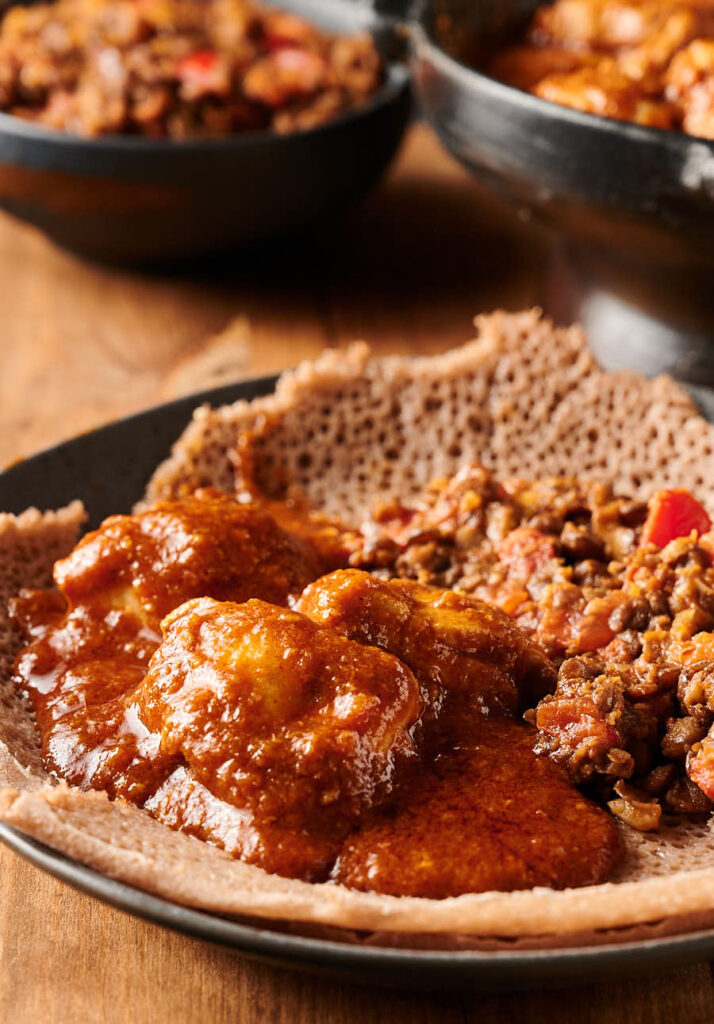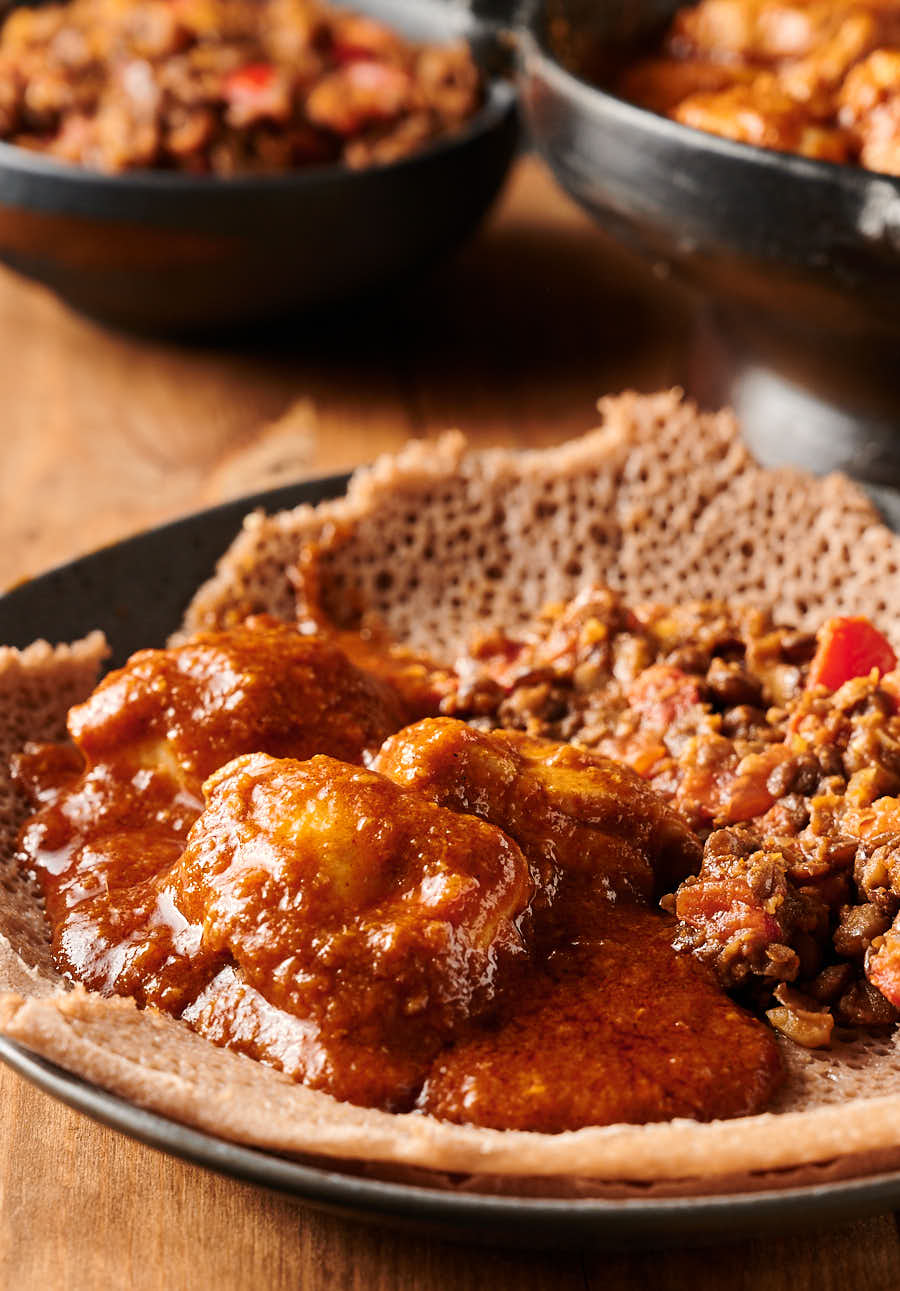 A little Indian restaurant technique
This is a slightly unconventional approach to doro wat. People that jump straight to the recipe will be scratching their heads.
Stop and think about it. Doro wat starts with browning lots of onions. Just like Indian. There's garlic and ginger. Just like Indian. And spices to bring it together. Just like Indian.
So why not make it like Indian? Like an Indian restaurant in fact? Indian restaurants have been using something called curry base to cook to order forever. Look around this blog. Lots of Indian restaurant recipes here.
That's what this recipe is about. A simplified curry base. Some Indian restaurant mojo. And Ethiopian flavours.
Pre-cook and puree the onions. Hit them with a blast of heat. Instant Maillard reaction. No need to brown the onions forever. Just like an Indian restaurant.
Bloom the spices in some ghee. Get the most out of the spices. Easy. And delicious.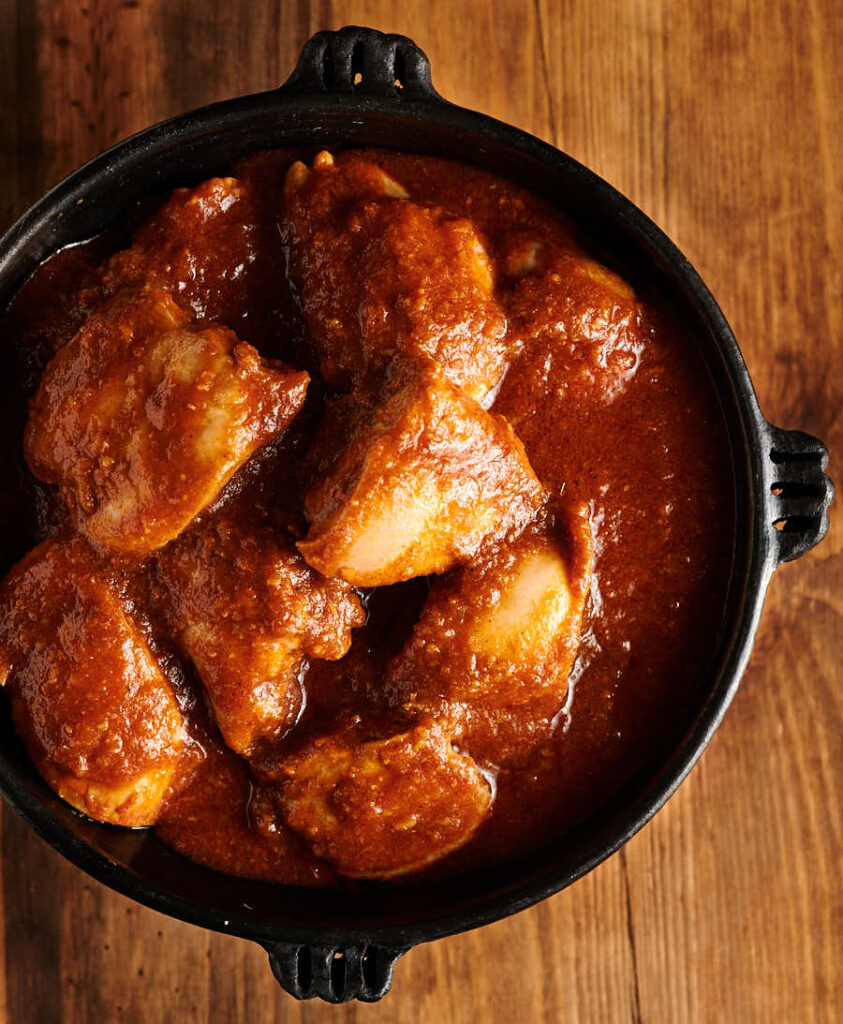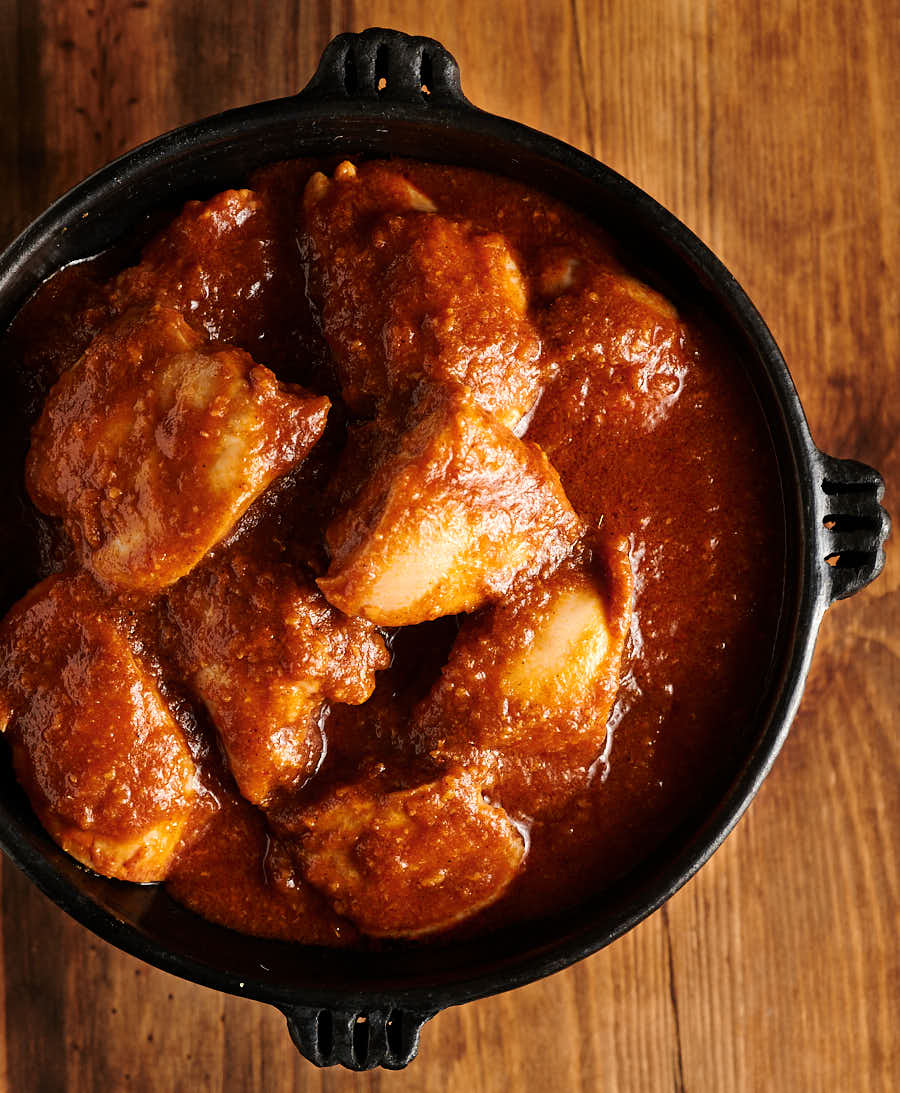 Simplified niter kibbeh makes this doro wat easy
How's that for a sentence full of words you've never heard?

Niter kibbeh is a secret weapon in the Ethiopian culinary arsenal. It's clarified butter jacked up with all kinds of flavour. Onion. Garlic. Spices. And stuff you've never heard of.
It's really good. And it's a pain to make. You wind up with lots of it. If you're going deep into Ethiopian cooking it's worth trying.
But if you just want to make doro wat today it's overkill. This is the easier way.
Ghee is clarified butter. If you cook Indian it's worth having around. You can buy it. Or make it. Either way it's the starting point of any niter kibbeh.
A couple of the main spices toasted in ghee gets you part of the way there. The onions, garlic and ginger in the main recipe get you most of the rest. It's not the same. Not saying it is. But it's close.
It all comes together fast
Once you have ghee and you've made the onion paste dinner is only 20 minutes away. Weeknight cooking. Weekend results.
Serve it with injera bread. Maybe a lentil dish. Ethiopian feasting on a Tuesday night. Why not?
doro wat – Ethiopian chicken curry
Doro wat is an Ethiopian chicken stew loaded with that wonderful berbere spice.
Ingredients
The onion paste
2

cups

onions – coarsely chopped

2

tbsp

vegetable oil

1

cup

water
doro wat
6

boneless skinless chicken thighs cut into 3 pieces per thigh.

1/6

lemon

juiced

2

tbsp

Ethiopian berbere

– increasingly available at specialty food shops. If salt is listed in the first 4 ingredients keep looking.

2/3

tsp

kosher salt

– use a bit less if you are using table salt

1

pinch

fenugreek seed

– like 3-4 seeds

1

black cardamom pod

2

tbsp

garlic ginger paste

– see notes

4

tbsp

ghee
Instructions
The onion paste
Place the onions in a microwave safe dish and cover loosely. Microwave at 70 percent until the onions are soft and translucent. This takes about 10 minutes in an 1100 watt microwave oven.

Remove the onions from the microwave. Be careful. They will be hot. Like burn you with the steam hot. Let them cool slightly.

Place the onions, 2 tbsp vegetable oil and 1 cup of warm water in a blender and puree until smooth. Set aside.
doro wat
Cut the chicken thighs into 3 pieces each. Squeeze the lemon juice overtop. You can use whole chicken thighs (bone-in) if you want. This is glebekitchen. There are no rules here. Except more flavour is better. That's a good rule.

Heat 4 tbsp ghee in a pot over medium heat. You should start to see it just shimmer a bit.

Toss in the black cardamom and fenugreek seed. Let cook about 20 seconds. You will see little bubbles forming around whole spices.

Add the garlic ginger paste. Cook until the garlic ginger paste stops spluttering.

Turn the heat to medium low. Add the berbere spice powder. Stir continuously until it starts to smell really good. This takes around 30-40 seconds. Watch it carefully. If you burn the spices at this point you have to start over. This is called blooming the spices. It is one of the secrets to Indian cooking and it works well here.

Add half the onion paste and turn the heat up to medium high. Stir to combine. Cook for about a minute. Add the rest of the onion paste and stir again. Cook, stirring occasionally for about 4 minutes. Don't worry if it looks dry. The chicken will release juices as it cooks and all that flavour is going into the doro wat. Tasty stuff.

Turn the heat down to medium low. Add the chicken and stir. Cover and simmer until the chicken is done. It's done when you measure the internal temperature and it says 170F – ok, there might be a few rules around here – about 12-15 minutes. Cooking times will go up a bit if you are using whole bone-in thighs. You really shouldn't ever trust times. An instant read thermometer is probably the most important kitchen tool after pots and knives…

Check it after 12 minutes. If it's looking like it will be a bit thin finish it off uncovered. Taste for salt and adjust as needed.

Serve with injera bread to mop it up. Eat with your hands. No knife and fork required. Get into it. Have fun.
Notes
You can buy garlic ginger paste but it's easy to make and homemade is way better. Here's an easy recipe for garlic ginger paste. If you cook Indian fairly often it's so worth it to whip up a batch. It will keep for a few weeks in the fridge.
If you don't want to go to the effort of making (or buying) garlic ginger paste just use 1 tbsp grated ginger and 1 tbsp of minced garlic.
Watch out for berbere spice mixes that have salt as a major ingredient (its always a good idea to read ingredients). If you must use it just leave the salt out and hope it doesn't wind up too salty. Or better yet, toss it and find some real berbere…
Nutrition
Serving:
4
servings
|
Calories:
434
kcal
|
Carbohydrates:
8
g
|
Protein:
34
g
|
Fat:
29
g
|
Saturated Fat:
17
g
|
Cholesterol:
199
mg
|
Sodium:
742
mg
|
Potassium:
532
mg
|
Fiber:
2
g
|
Sugar:
4
g
|
Vitamin A:
41
IU
|
Vitamin C:
8
mg
|
Calcium:
34
mg
|
Iron:
2
mg