If you want crazy tasty rice to go with your curries, pilau rice is just the thing you need on the table tonight.
And it's easy. Really easy. Like no-brainer easy. If you can boil water, you can make pilau rice.
OK – maybe it's a little more complicated than boiling water. But not a lot. Seriously. Want to nail it every time? Read on.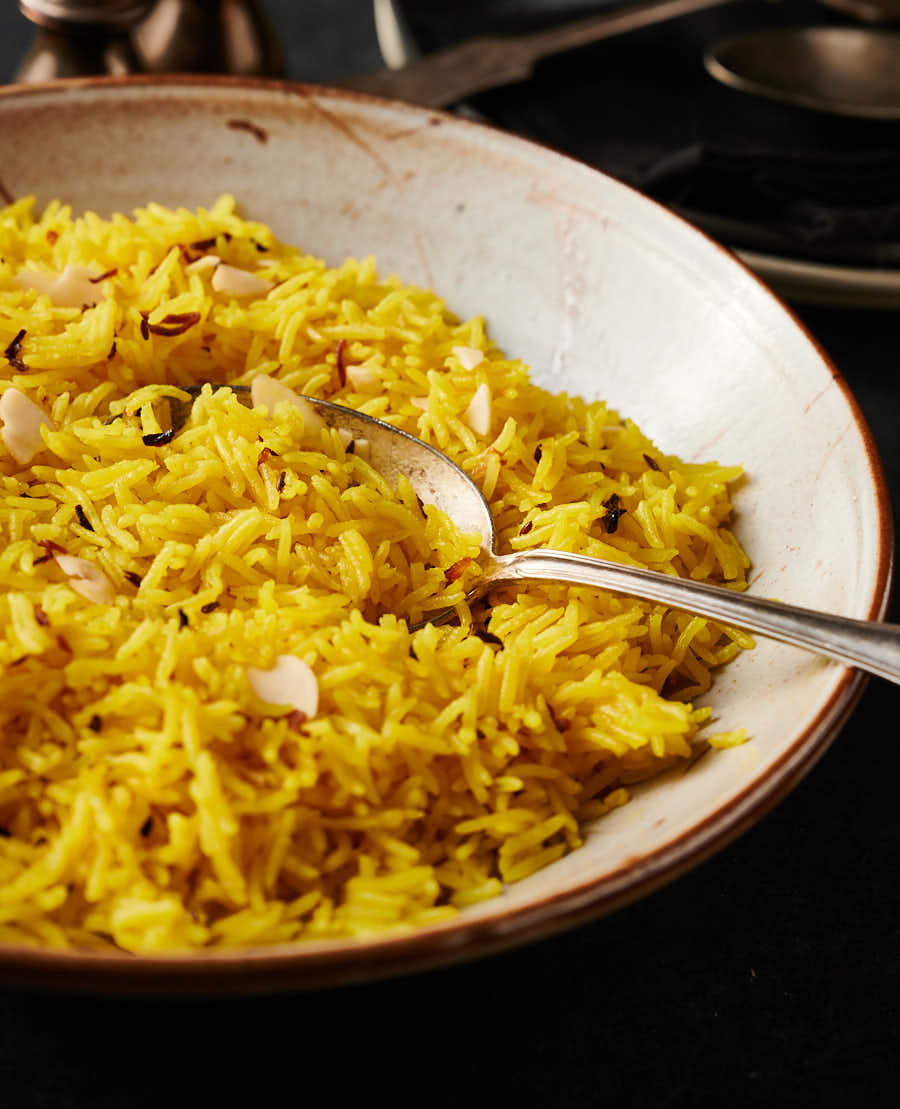 Foolproof basmati rice
There are a lot of opinions on cooking rice. One mug. Two mugs. A finger deep above the surface. Up to your first knuckle.
Rinse. Don't rinse. Soak. Don't soak. Make it standing on one foot. But only facing east. Except Tuesdays. Tuesdays you face west.
I have a theory about that. If it works all these different ways it's probably near bullet proof.
I don't know that for a fact. But if everybody has a way to make rice. And they are all different. Then it's probably pretty hard to screw up.
I have my way. And I know it works. So it's what I go with. This has never failed me. And it's precise. No feel. A formula. Scale it up or down. It just works.
1 cup of rice. 1 and 1/2 cups of water. A teaspoon of kosher salt. Bring to a simmer uncovered. Cover and reduce the heat to low. Set a timer for 20 minutes. Wait.
After 20 minutes turn off the heat. Reset the time for 5 minutes. When that second timer goes off you are good to go. It is just that easy.
Want 2 cups of rice? Use 3 cups of water. Two teaspoons of kosher salt. Everything else stays the same.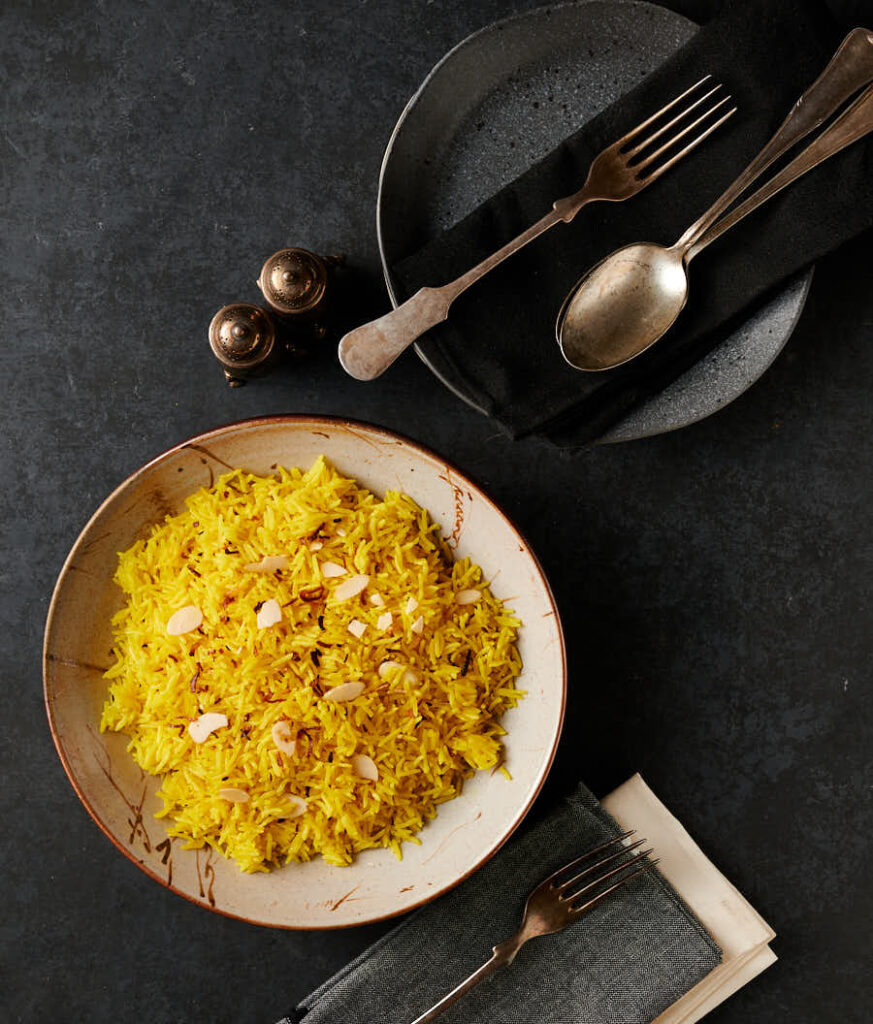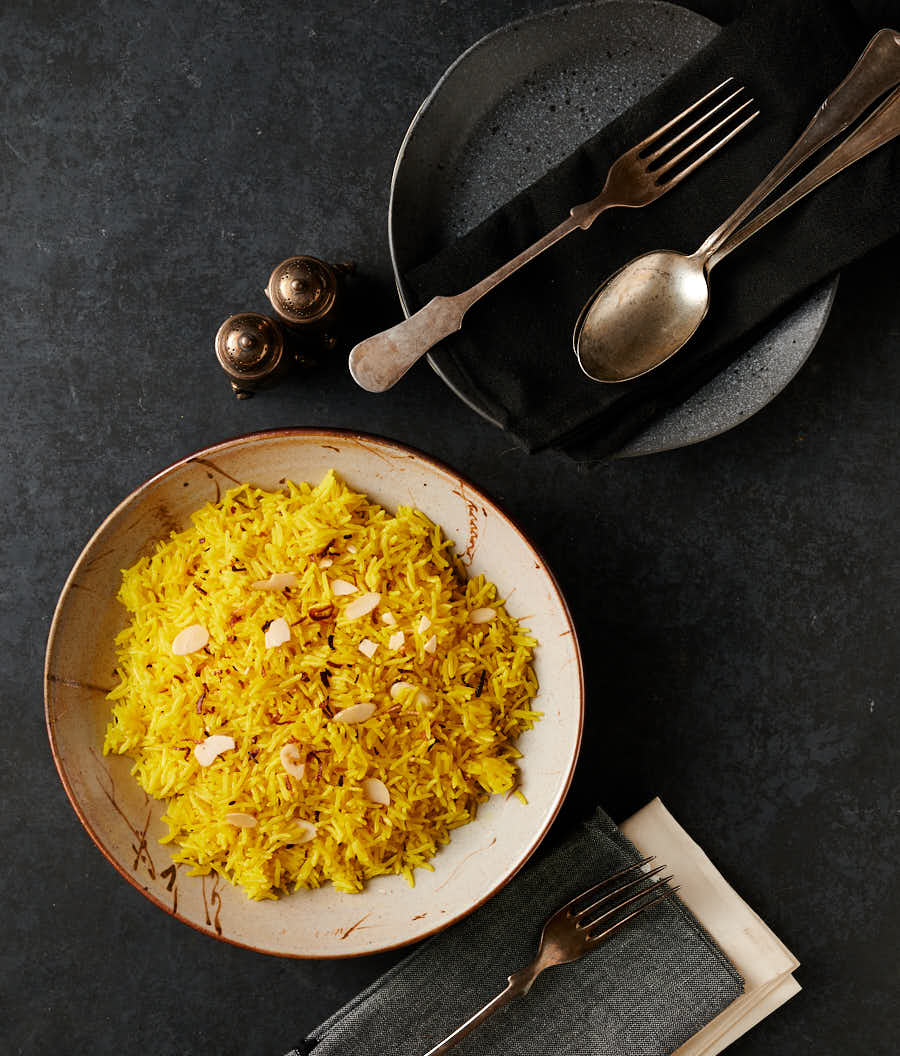 Pilau rice is just seasoned rice
There's no mystery here. Rice. Water. Aromatic spices. Salt. And some ghee to make it a bit decadent. That's it. You are just building on the foolproof basmati technique above.
You can dress it up if you want. Add peas. Top it with fried onions. Flaked almonds. Whatever you want.
But at the end of the day this is just rice. Really tasty rice. But just rice. There's no secret. No magic. And it doesn't need to be a big production.
I never thought I'd write this post. It actually never occurred to me that anyone would care.
But I get asked. A lot. So here it is. Happy to share.
Three simple things make pilau rice
When I make pilau rice I want three things. I want it yellow. Turmeric takes care of that.
I want the aroma to blow me away. That's where the whole spices come in.
And I want it lush. Rich. I want every grain of rice wrapped in flavour infused buttery goodness. A little ghee takes care of that.
What I don't want is to spend a lot of time and effort making it. Call me lazy but I don't see the point. Nobody needs this to be more difficult than it needs to be.
If I want rice to be the star I make chicken biryani. I love a good biryani. But if it's a supporting player, this technique does it for me. I serve pilau rice on the side. With other dishes.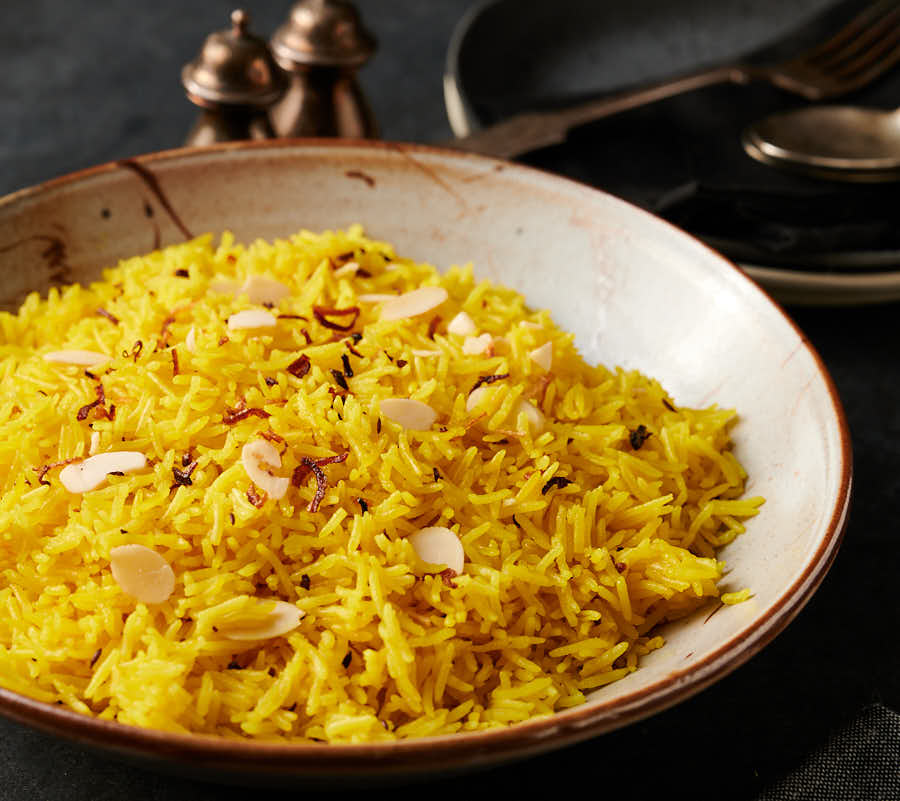 Bloom your spices in ghee
The difference between pulau rice and Tuesday night white rice is one simple step. Bloom some whole spices in ghee. Before you cook you rice.
I grew up Indian. So I'm pretty happy with plain basmati rice. I think it's the perfect counterpoint. Balanced. But I get that people want flash. And pulao rice brings a little bit of flash.
From an execution perspective rice pilau and white basmati rice are really close. So if you want rice pilau, it's barely any extra work.
Melt some ghee. Toss in some whole spices. Fry briefly. Add the rice. Stir. Add the water. And just make rice. that's it. Like I said. Easy.
You can make pilau rice as complicated as you want. Or you can just do this. And focus on the star of your Indian meal. Your call. I like it easy.
Easy Indian pilau rice
This the fastest way I know to make truly delicious pilau rice
Ingredients
1

tbsp

ghee

4

green cardamom

1

2" piece

cassia bark

1/2

tsp

cumin seed

1

tej patta

Indian bay leaf (optional)

1

cup

basmati rice

1 1/2

cups

water

1 tsp

kosher salt

– a bit less if you are using regular sea salt

1/2

tsp

turmeric
Instructions
Pick a pot with a tight fitting lid. For 1 cup of rice a 2 quart saucepan is a good size.

Heat the ghee over medium heat.

Add the green cardamom, cassia bark and cumin seed. Little bubbles should form around the spices. Cook for around 30 seconds.

Add the rice and stir. Add the water. For basmati using this technique the proportions are always 1 rice to 1 and 1/2 water. One tsp of kosher salt per cup of rice.

Add the turmeric and Indian bay leaf (tej patta). Bring to a lively simmer.

Reduce the heat to low and cover. Set a timer for 20 minutes. Do something else for a while.

When the timer goes off (20 minutes after you covered the pot), turn of the heat. Do not uncover. Move the pot off the burner.

Set a timer for 5 minutes. Keep doing something else. After five minutes remove the lid and gently fluff the rice. Inhale that aroma!
Notes
You can use this to recipe to cook plain white basmati rice as well. Just skip the steps with the ghee and spices. Rice, water, salt and this technique work every time.
I sometimes replace the turmeric with Indian restaurant mix powder when I want seriously flavoured rice. 
Nutrition
Calories:
210
kcal
|
Carbohydrates:
39
g
|
Protein:
4
g
|
Fat:
4
g
|
Saturated Fat:
2
g
|
Cholesterol:
10
mg
|
Sodium:
8
mg
|
Potassium:
76
mg
|
Fiber:
1
g
|
Sugar:
1
g
|
Vitamin C:
1
mg
|
Calcium:
23
mg
|
Iron:
1
mg