Korean bbq shrimp. Think cajun bbq shrimp but with big Korean flavours. Classic Louisiana meets Asia in a mess of buttery goodness.
I've been a fan of cajun bbq shrimp for most of my life. It was my favourite ways to eat shrimp. Until now.
Now it's tied with Korean BBQ shrimp. I knew Korean BBQ shrimp was going to be good. Just wasn't quite ready for how good.
I had all sorts of words running through my head when I tasted it for the first time. Words like ridiculous. Unbelievable. Stupid delicious. Crazy talk. I know. But still…
Butter and spice and everything nice
There's really not a lot to this recipe. Which is why it amazes me. Although I really shouldn't be surprised.
It's shrimp. And butter. Garlic. Lots of garlic. And gochugaru. Those wonderful Korean chili flakes. Fish sauce. Lemon. And cilantro.
How could that not be good? It's everything good in one pan. And then you serve it up with good, crusty bread to sop up the sauce. That's just seriously good living.
It's rich. Don't plan on having this for dinner. Unless you are trying hard to gain weight. And you can handle a ton of butter.
It's meant as an appetizer. One with serious flash. Perfect for when you want to show off. When you want to wow your friends. And it's easy. I mean really easy. I won't tell if you don't.
Korean BBQ shrimp isn't a thing. It's not even Korean. Fusion maybe. Although I really don't like that term. Korean inspired is more accurate.
This is one hundred percent glebekitchen. And I'm pretty pleased with myself. Can you tell?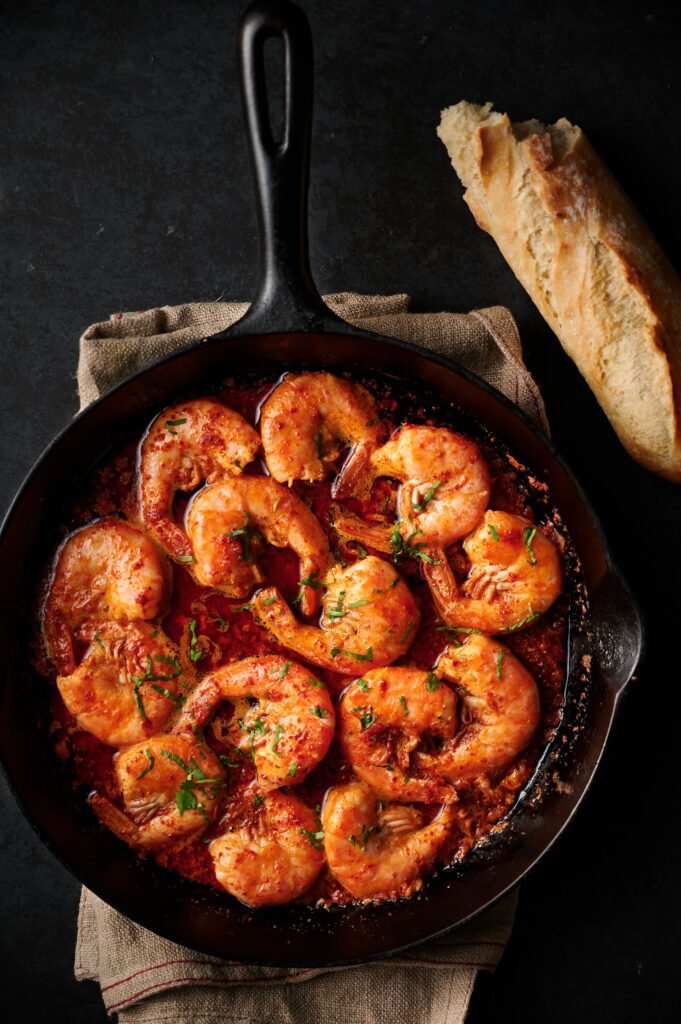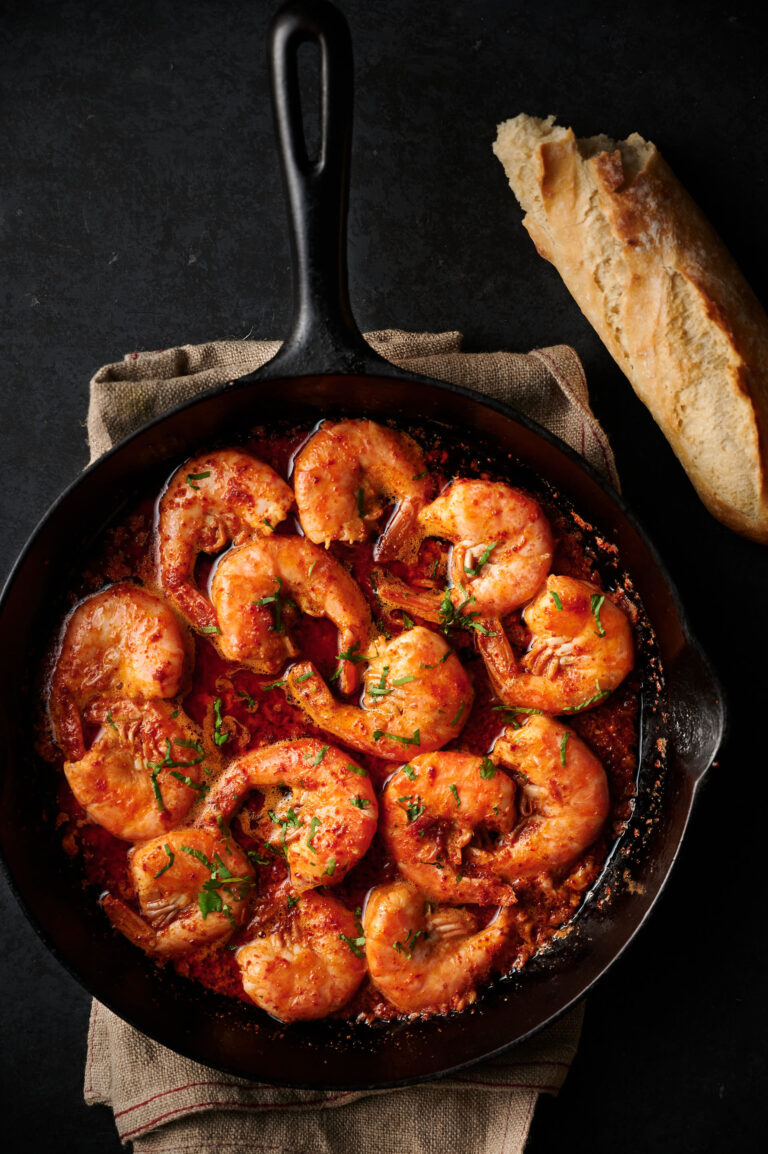 No grill required for this Korean BBQ shrimp
I'm not sure why cajun BBQ shrimp are called BBQ. There's no BBQ. No grill. There isn't even BBQ sauce.
Legend has it a New Orleans restaurant came up with the dish in the 1950s. Because it was kind of red they decided to call it BBQ shrimp. Doesn't make a lot of sense to me. But that's the story.
So I'm calling this Korean BBQ shrimp. Not because it has anything to do with barbecue. Or grilling. But because it's a whole lot of butter and spice. Just like the original.
Don't overcook your shrimp
There's only one way I can think of to screw this dish up. Overcooked shrimp.
If you cook the shrimp to death this isn't going to be good. You want juicy. You always want juicy. When was the last time you heard someone say "I wish these shrimp were dry and rubbery."
There's enough butter to cover up mistakes here. That's true. But why not go for gold. Perfect shrimp. In a perfect sauce.
Be gentle. As soon as the shrimp are pink you are good to go. It's easy to overcook shrimp. So watch them closely.
And leave the shrimp in the shell. Shells add flavour. Not a ton. But a little something. This is a messy dish. Have fun with it.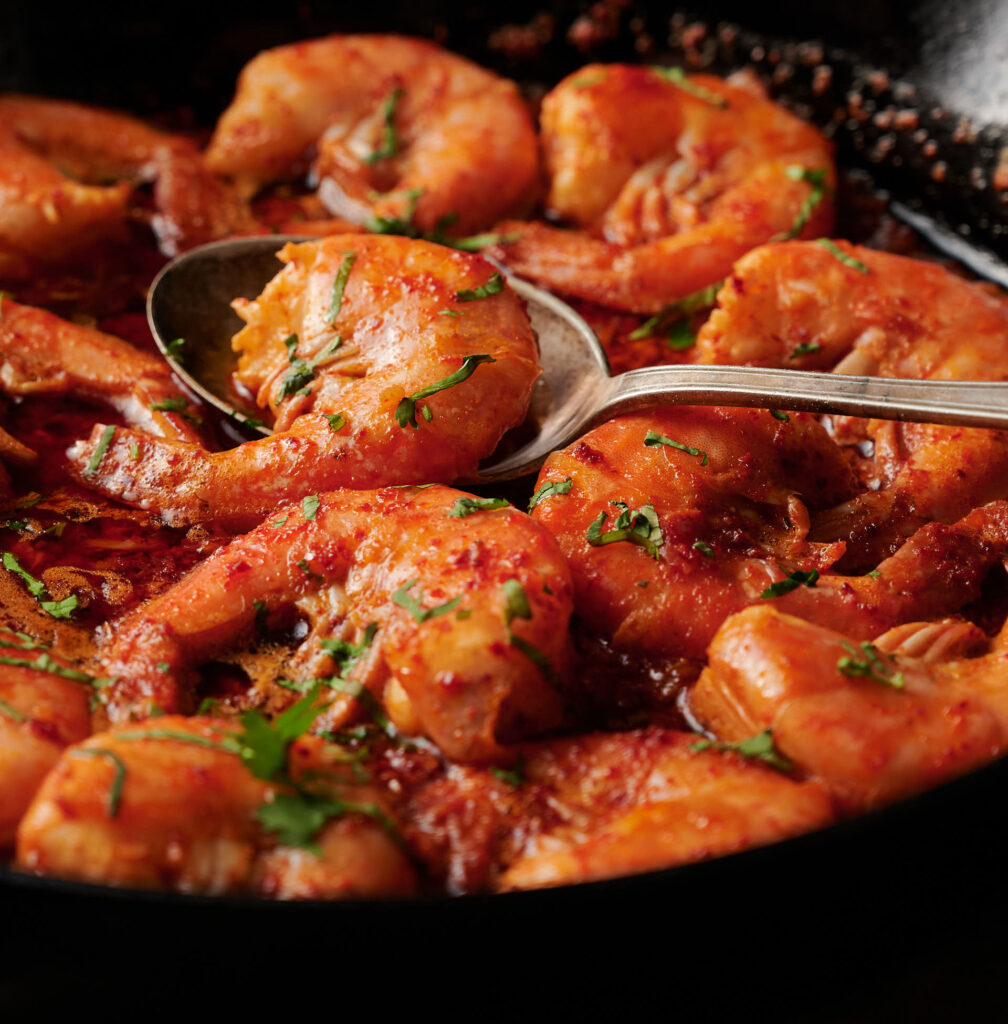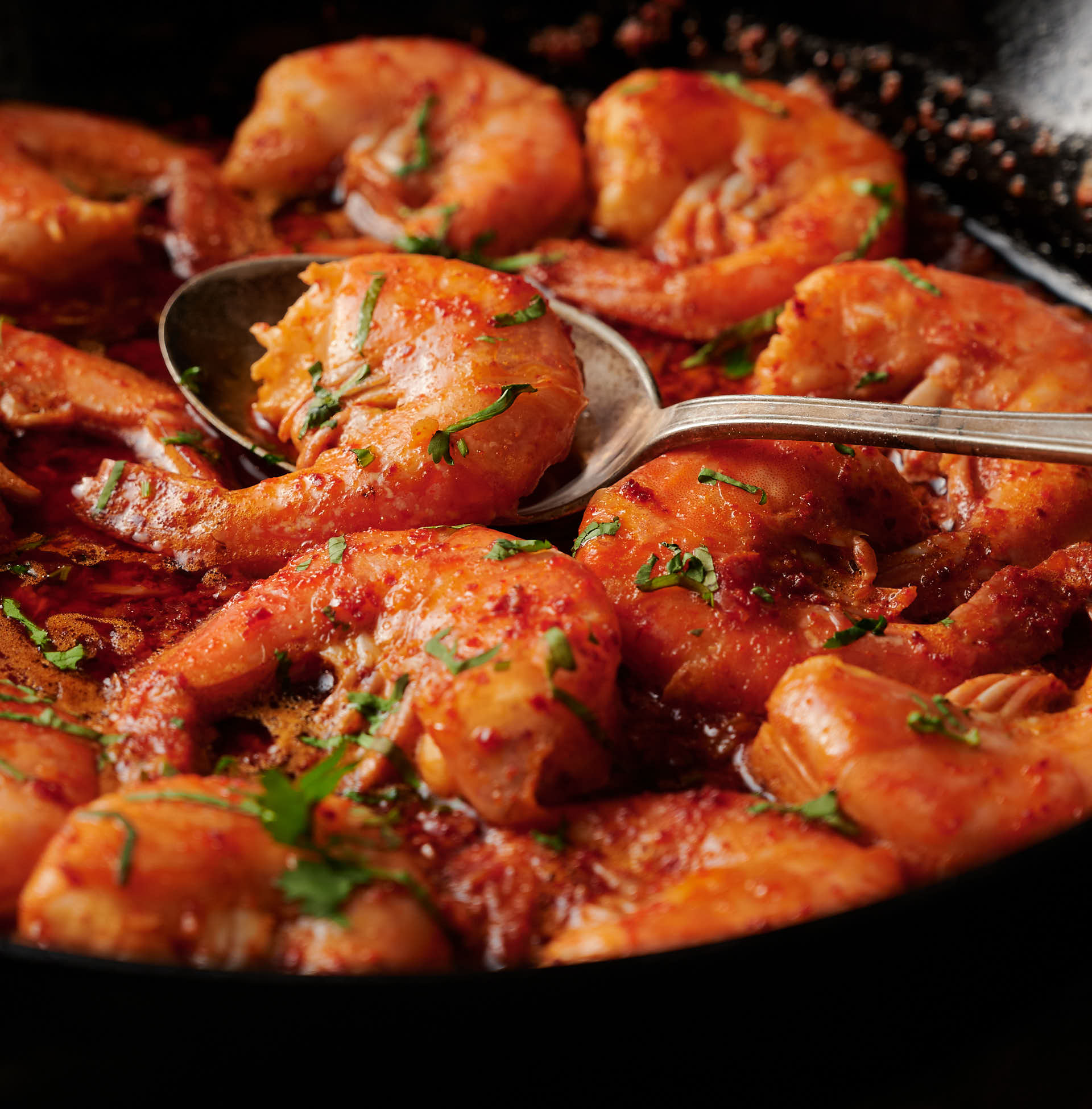 Korean BBQ shrimp in a little over 10 minutes
This is whip it up while your friends are having drinks food. 10 minutes. Maybe 15 on the outside.
Melt a stick of butter in a pan big enough to hold the shrimp in a single layer.
Add the garlic, gochugaru, fish sauce and lemon. Let it simmer gently for a few minutes.
Toss in the shrimp. In one layer. That's important. One layer. Poach them in the sauce for about 3 minutes.
Flip the shrimp. Poach for another 3 minutes. Garnish with cilantro and serve with crusty bread.
That's it. Crazy delicious Korean BBQ shrimp in no time flat. Try it. If you like shrimp and you like Korean flavours you are going to love Korean BBQ shrimp.
And so will your friends. Make this for them. They'll think you're an absolute kitchen rockstar. This could be the tastiest thing you've never heard of.
korean bbq shrimp
Korean BBQ shrimp are buttery, spicy and absolutely decadent. Serve with lots of crusty bread to sop up the sauce.
Ingredients
12

shrimp

16-20 per pound

1/2

cup

unsalted butter

2

cloves

garlic

crushed

1 1/2

tsp

fish sauce

1 1/2

tbsp

gochugaru

– korean chili flakes (not powder)

1/4

lemon

juiced

cilantro to garnish
Instructions
Melt the butter over medium low heat in a skillet large enough to hold the shrimp in a single layer. If you aren't doubling the recipe you don't need a very large pan.

Add the garlic and gochugaru. Cook gently for about 2 minutes. You don't want the garlic to take on any colour here. Think garlic butter.

Add the fish sauce and lemon juice. Keep cooking over low heat for 2-3 minutes. You want a gentle simmer.

Add the shrimp and continue cooking over low to medium low heat. GIve them 3 minutes. Again, gentle simmer. Little bubbles.

Flip the shrimp. If they are uniformly pink you are good. If you still see a bit of grey turn the heat up a smidge.

Cook the shrimp for another 3 minutes. If they were still a little grey when you turned them flip them and cook a minute more. You want just pink. Don't overcook your shrimp. Please don't overcook your shrimp.

Garnish with a little cilantro and serve with crusty bread to sop up the spicy garlic butter.
Nutrition
Serving:
4
servings
|
Calories:
235
kcal
|
Carbohydrates:
3
g
|
Protein:
5
g
|
Fat:
24
g
|
Saturated Fat:
15
g
|
Trans Fat:
1
g
|
Cholesterol:
106
mg
|
Sodium:
369
mg
|
Potassium:
102
mg
|
Fiber:
1
g
|
Sugar:
1
g
|
Vitamin A:
1600
IU
|
Vitamin C:
5
mg
|
Calcium:
48
mg
|
Iron:
1
mg