Lamb vindaloo is on every menu of every Indian restaurant in the world. And it's there because it is one of the greats. Like madras. Or jalfrezi. It's just really, really good.
OK. Maybe not every Indian restaurant. But almost all of them. Not easy to find one that doesn't have it.
I'm biased, mind you. Lamb vindaloo is one of my favourites. Right up there with lamb madras.
There's just something about lamb and spicy curries that works. The richness and depth of the lamb plays beautifully against assertive flavours. Balance.
This is not traditional style lamb vindaloo
The title says it. This is restaurant style lamb vindaloo. This is not the classic Goan dish.
It's not pork. There isn't even that much vinegar here. No description of vinha d'alvos. No romantic story about the Portuguese coming to India. Sorry.
This is what you get when you go out for dinner. Pretty much anywhere in the world. Except maybe India.
If you want authentic vindaloo like you ate in Goa, this is not it. Don't say I didn't warn you.
What it is is tasty. Really tasty. Lick your plate clean tasty. At least for me.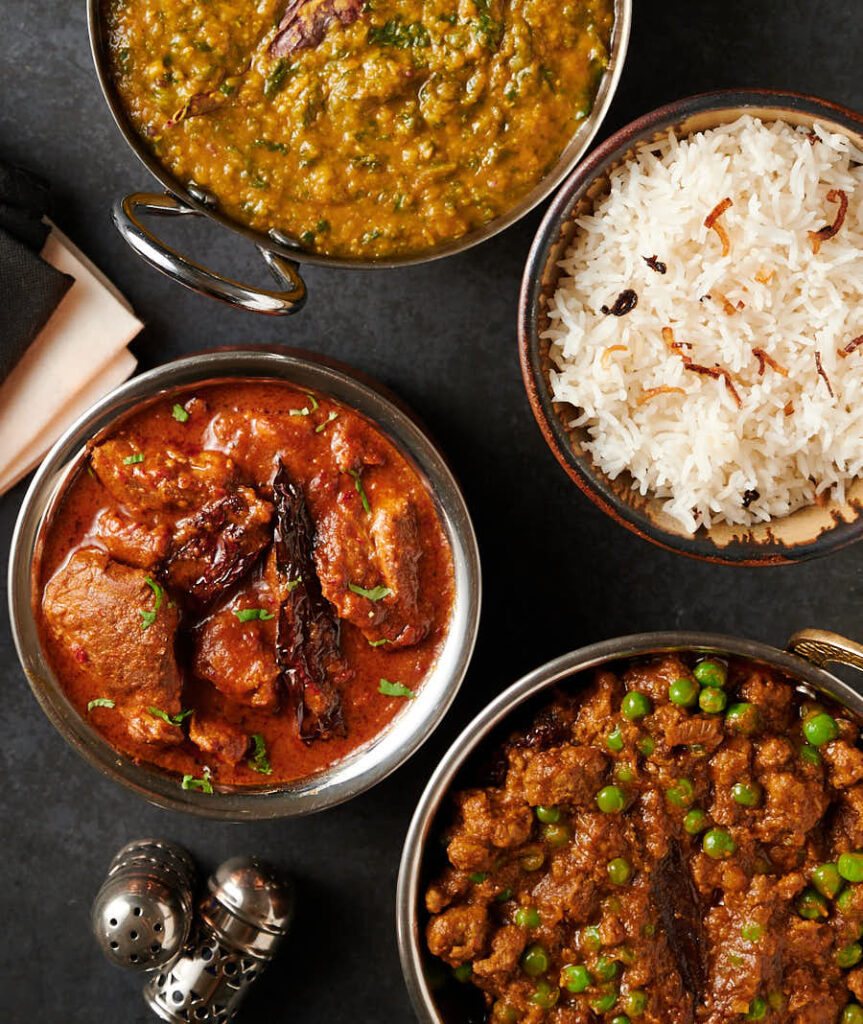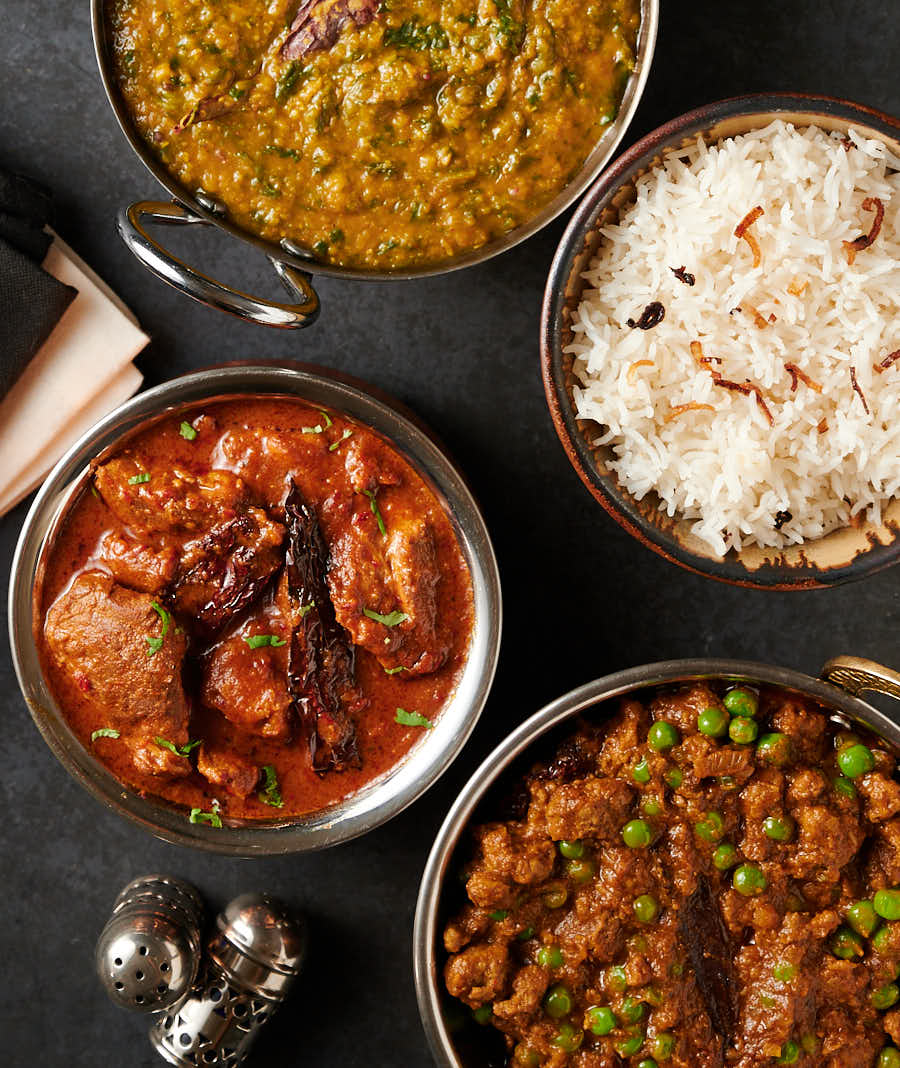 Vindaloo paste makes this dish
I struggled with restaurant style vindaloo for a long time. Just couldn't get it right. Because I followed conventional wisdom.
Took charming my way into an Indian restaurant kitchen to figure it out. I can't remember what I was asking about.
Maybe their paratha technique. Or their butter chicken base. Who knows? But when I saw a line cook tossing a paste into a pan it all came together for me.
And now I use a paste. For vindaloo. Always.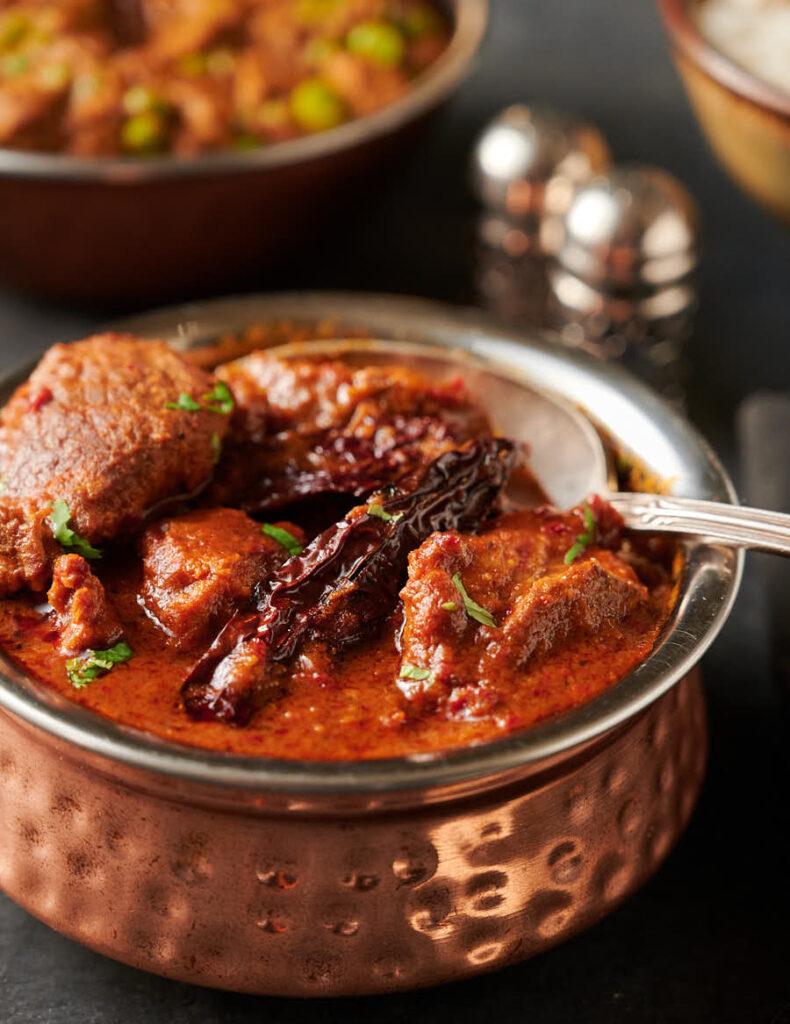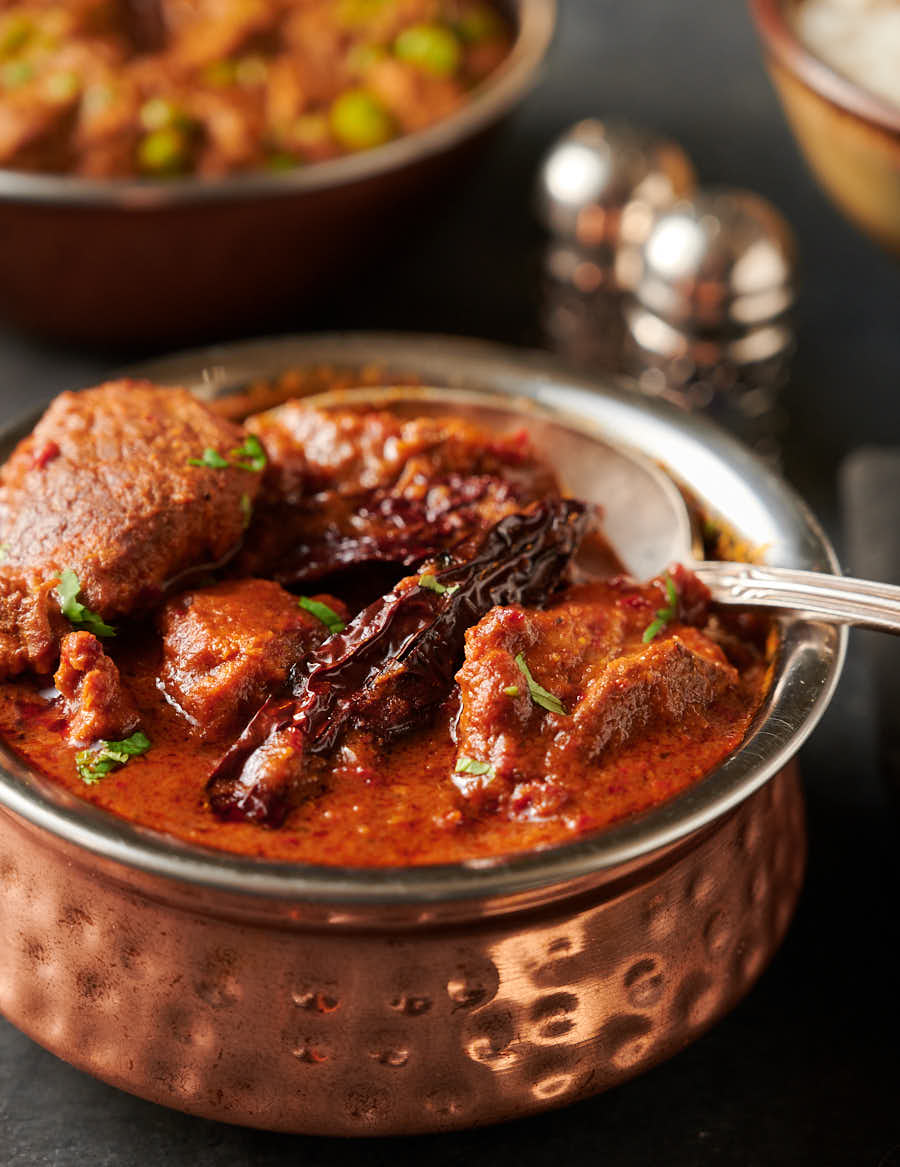 Don't fear Kashmiri chilies
There are 10 kashmiri chilies in the recipe. And a tsp of kashmiri chili power. It sounds like a lot. You'd think it would be incendiary.
But it isn't. Kashmiri chilies aren't all that hot. They are a nice balance of spice and chili flavour. I love them because I can add a lot without things getting crazy.
Don't get me wrong though. This is not butter chicken. As written it's fairly spicy. If you've cooked other curries from glebekitchen you'll know I spice to medium hot.
Flavour first. Fire second. That's how I roll. This one is a little spicier than usual though. But not crazy hot. Still lots of flavour here.
If you like a spicier vindaloo just add some hot chili powder in with the dry spices. You know what you like. If you want pretty hot add a teaspoon.
If you want a blazing hot go for two teaspoons. It starts to be hot for the sake of being hot at that point.
I like flavour so I don't go past two teaspoons. That's pushing the flavour towards just tasting like chili powder. I am all about balanced flavours.
But it's your call. It's your dinner. Do what makes you happy. Be true to yourself. I'm not the curry police.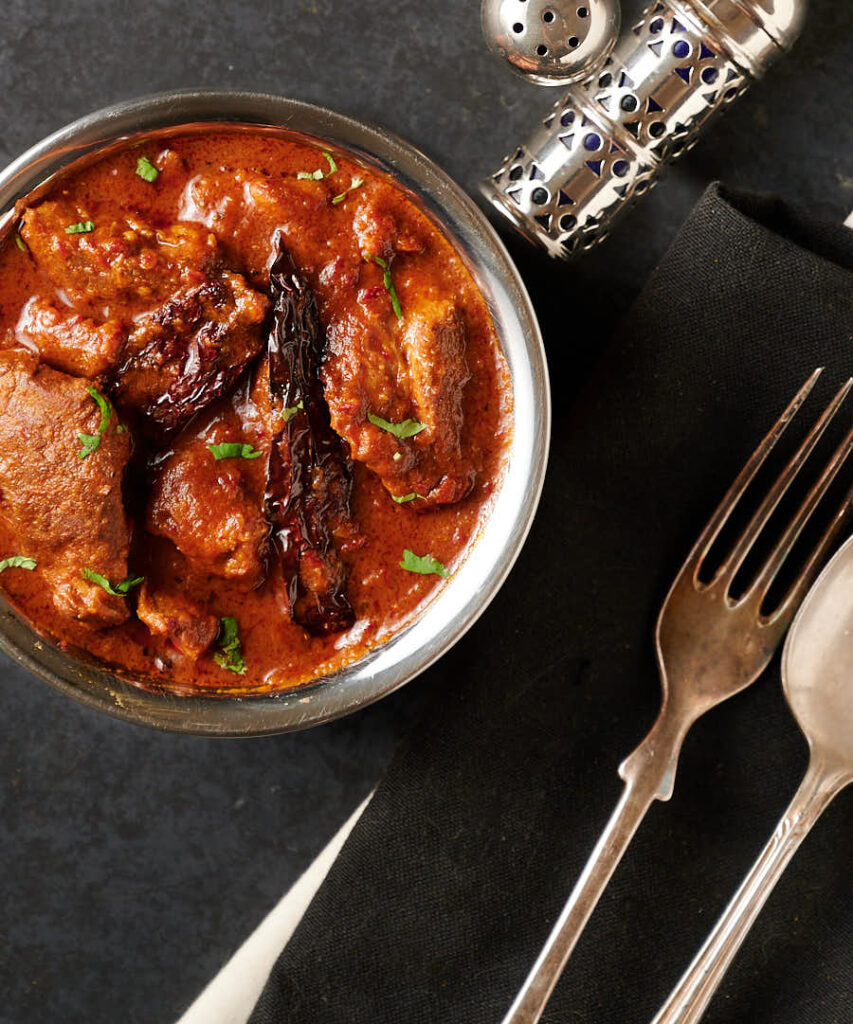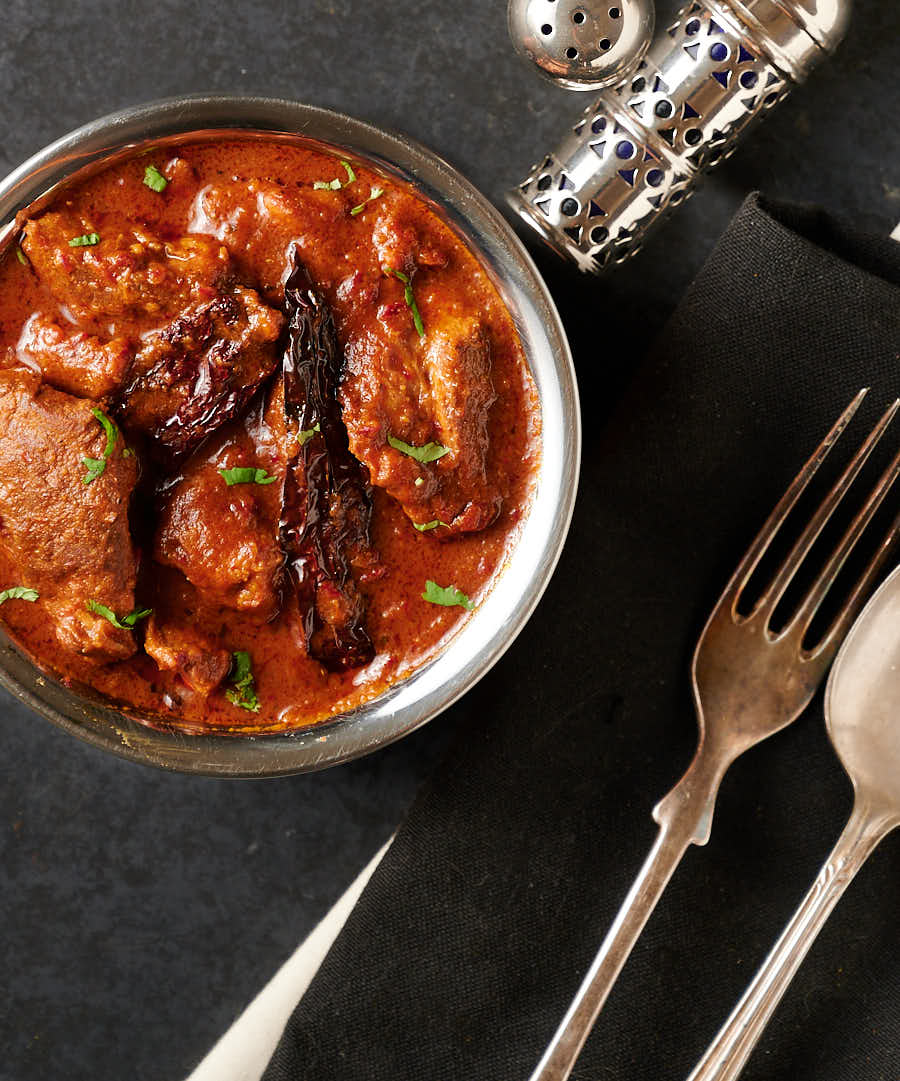 Lamb vindaloo – the king of curries
King of curries is a pretty strong assertion. Maybe too strong. Everybody has their favourite.
But for me it's up there. Lamb. Spice. Sweet. Sour. There's complexity of flavour here. As long as you don't stomp on it with tons of chili powder you'll see.

It may wind up at the top of your list too.
lamb vindaloo – restaurant style
Vindaloo paste is the key to this lamb vindaloo recipe. It makes a huge difference.
Ingredients
Vindaloo paste
8

dried kashmiri chilies

1

large shallot

chopped

2

tbsp

garlic ginger paste

1

tsp

paprika

1

tsp

cumin powder

1/2

tsp

ground black pepper

2

tsp

malt vinegar

1 1/2

tbsp

vegetable oil

2

tbsp

water

or a bit more – enough to get it to puree
Lamb vindaloo
2

tbsp

vegetable oil

2

dried kashmiri chilies

1

tsp

Indian restaurant spice mix

– recipe link below

1

tsp

kashmiri chili powder

1

tsp

kasoor methi

– dried fenugreek leaves

1/2

tsp

kosher salt

all the vindaloo paste

1

tbsp

tomato paste

diluted in 2 tbsp water

15

oz

curry base

– recipe link in the notes

1

tsp

tamarind paste

1

tsp

jaggery sugar

– can substitute brown sugar

1/2

tsp

worcestershire sauce

– seriously, it really adds a little something

12

oz

lamb stew

Cut into 1 inch cubes and pre-cooked (see note). I prefer shoulder for this if you can get it
Instructions
Make the vindaloo paste
Stem and seed the kashmiri chilies (not the ones in the curry – just the ones in the paste).

Soak your kashmiri chilies in hot, hot water for a few minutes. Drain and repeat. Repeat again. You may not need the third soak. You want them hydrated. Soft.

Combine all the ingredients in a mini food processor or your blender.

Puree. It will probably fight you. Scrape it down into the bowl try again. If that doesn't work add a bit more water and try again. You don't want a ton of water so add a bit at time. If it still doesn't go, add a bit more. Until it does go. Super annoying. I know.
Make your lamb vindaloo
Do your prep. The vindaloo paste is ready to go, right? You've pre-cooked your lamb? Combine the Indian restaurant spice mix, kashmiri chili powder, kasoor methi and salt in a small bowl. Preheat your curry base. Dilute the tomato paste. Now you're good to go.

Heat your frying pan (don't use non-stick) briefly over medium heat. Add the oil. It's ready when the oil just starts to shimmer. You may notice I'm using less oil that usual. That's because there's some in the paste as well.

Add the Kashmiri chilies and cook for about 10 seconds. Flip them and cook another 10 seconds. You should see little bubbles form around the chili. You want it toasted. Not burned. Be careful.

Turn down the heat and add the combined spice mix, kashmiri chili powder, kasoor methi and salt. This is the critical step. Stir it constantly for 30 seconds. If it starts to darken lift the pan off the heat. You want the spice mix to cook in the oil but not burn. If your spices burn start again. It can't be saved.

Turn the heat up to medium high. This is important. The Maillard reaction makes this work. Google Maillard if you don't know what I'm talking about. It gives curry it's Indian restaurant flavour. Add the diluted tomato paste and stir until bubbles form. This takes around 30 seconds to one minute depending on the heat.

Add 3 oz of curry base. Stir until bubbles form, around 60 seconds. It's like a lively boil except the curry base is frying in the oil.

Now add 6 oz of curry base and stir briefly. Let it cook until the bubbles form again. Let it cook about 2 minutes.

Add the rest of the curry base and let cook until the bubbles form. Stir in the tamarind paste, sugar and worcestershire sauce. Turn the heat down to low and add the pre-cooked lamb.

Let the curry simmer for about 5 minutes. If it gets too thick add a bit more curry base. Do not add water.

Garnish with cilantro and serve with rice or Indian flat bread and a good dal on the side.
Notes
Indian restaurant spice mix is used in many recipes on glebekitchen.
Curry base is a key ingredient in Indian restaurant style cooking.
Pre-cooking lamb
Pre-cooking your lamb is easy. Like making a super simple stew. Combine one pound of lamb with 1 tsp of your curry powder of choice and 1/2 tsp of salt. Add enough water to cover. Bring to a simmer.
Cook until the lamb is tender. This should take about an hour for shoulder but depends on how big your pieces of lamb are. Might take a little longer. Lamb leg takes less time typically so if you are cooking leg start checking after about 30-40 minutes.
I like to make large batches of pre-cooked lamb at once. I then use a food saver and freeze individual curry portions so I can have lamb curry any time.
Nutrition
Serving:
2
servings
|
Calories:
533
kcal
|
Carbohydrates:
18
g
|
Protein:
36
g
|
Fat:
34
g
|
Saturated Fat:
23
g
|
Cholesterol:
111
mg
|
Sodium:
975
mg
|
Potassium:
856
mg
|
Fiber:
4
g
|
Sugar:
7
g
|
Vitamin A:
1573
IU
|
Vitamin C:
3
mg
|
Calcium:
25
mg
|
Iron:
5
mg